Kevin Ho
Kevin Ho is one of the co-founders of Optimism, an Ethereum layer 2 scaling solution.
Early Life & Education
Kevin Ho holds a Bachelor of Science in Engineering (B.S.E.) degree in Computer Science with a specialization in Digital Media Design from the University of Pennsylvania. He pursued this course of study from 2014 to 2018. Prior to his university education, Ho attended Harvard-Westlake School from 2010 to 2014. [1]
He got involved in blockchain after attending ETH Waterloo 2017, where he participated in the hackathon and built an exchange built on top of the Xerox protocol called "Xerox Exchange". [2]
Career
Prior to his role at OP Labs, from October 2018 to October 2019, Kevin worked as a Hacker for Cryptoeconomics.study. During his tenure in the Greater Los Angeles Area, he led the development of Cryptoeconomics.study, a free and open-source blockchain protocol course. His work involved providing educational resources and promoting the understanding of blockchain technology and its economic principles. [1]
Optimism
Since October 2019, Kevin Ho has been serving as a Co-Founder at OP Labs, the company behind Optimism blockchain and its ecosystem.[1]
See something wrong?
Report to us.
Kevin Ho
Did you find this article interesting?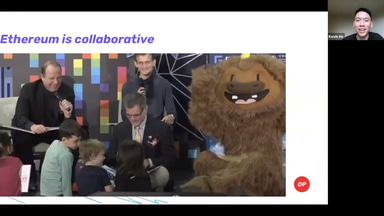 REFERENCES
[2]
LedgerFest 21: Kevin Ho, Co-Founder of Optimism
Jul 31, 2023