L.J. Brock
L.J. Brock is the Chief People Officer (CPO) of Coinbase, a centralized exchange (CEX) platform for buying, selling, transferring, and storing cryptocurrencies. Prior to his current position, he assumed multiple executive positions such as CPO, Vice President, and Senior Director at different companies. [1][2]

Education
L.J. Brock completed his Bachelor of Science (BS) in Business Administration at the University at Albany, SUNY in 1995. He then earned an MBA in Business Administration from the J. Mack Robinson College of Business at Georgia State University in 2003. [3]
Career
L.J. Brock's professional career began at Keane Consulting, where he served as a Recruiter in the CRM Practice from July 1998 to June 1999, honing his skills in talent acquisition. [4]
He then joined Sapient, where he held the position of Manager, Recruiting in Atlanta, Georgia, United States for 2 years and 6 months from June 1999 to November 2001, contributing to recruitment strategies and processes. [4]
His career continued to flourish at The Trizetto Group as Director, Staffing from November 2001 to January 2003, a role in which he managed staffing functions within the organization. [4]
L.J. Brock returned to Sapient, this time as a Senior Manager, from June 2003 to December 2006, in Atlanta, Georgia, United States, where he furthered his career in people management. [4]
He then joined Experian as Director of Talent Acquisition, Americas, in Costa Mesa, California, United States, from January 2007 to March 2008, focusing on talent acquisition in the Americas region. [4]
Moving forward, L.J. Brock worked with Red Hat for 8 years and 1 month in Raleigh, North Carolina, United States, starting as Vice President of Talent Acquisition and People Infrastructure from October 2011 to March 2014, followed by the role of Vice President of Global Talent Group and People Infrastructure from April 2014 to April 2016, where he made contributions to the company's people management strategies.
Following his tenure at Red Hat, L.J. Brock took on the role of Senior Managing Director and Chief People Officer at Citadel LLC in Chicago, Illinois, United States, from April 2016 to March 2019, where he played a pivotal leadership role in human resources and people management.
Since March 2019, L.J. Brock has been working at Coinbase, where he currently serves as Chief People Officer, continuing to contribute to the company's human resources and people management strategies. [4]
In addition to his role at Coinbase, L.J. Brock has also served as an Advisory Board Member at Modern Executive Solutions since February 2021, offering insights and guidance to the organization. [4]
Furthermore, L.J. Brock has invested in Swing Racquet + Paddle as an Investor since October 2019, contributing to the growth and development of the company. [4]
See something wrong?
Report to us.
L.J. Brock
Did you find this article interesting?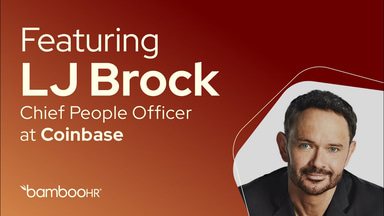 REFERENCES
[1]
The Org Profile
Sep 29, 2023
[2]
Protocol Profile
Sep 29, 2023
[3]
Linkedin Profile
Sep 29, 2023
[4]
Linkedin Experience Section
Sep 29, 2023