Loi Luu
Loi Luu is a co-founder and the former CEO of Kyber Network, a decentralized, on chain, liquidity protocol based on Ethereum. Loi Luu is currently the chairman of the Kyber Group and the founder of a venture builder focused on Web3 startups called, Caliber. [1]
Education
From 2009 to 2013, Loi Luu studied at Vietnam National University, Hanoi and obtained his Bachelor's degree in Computer Science. Following his undergraduate studies, Loi Luu pursued a Doctor of Philosophy (Ph.D.) in Computer Science at the National University of Singapore from 2014 to 2017. [2]
Career
From August 2013 to July 2014, Loi Luu worked as a Research Assistant at the National University of Singapore's Security Lab, School of Computing. During this one-year period, his responsibilities primarily focused on conducting research in the fields of System Security and Programming Languages. [3]
From November 2017 to November 2020, he served as a Blockchain Advisor at Kambria, located in Silicon Valley, California. Throughout his three-year tenure, he provided advisory services, leveraging his expertise in blockchain technology to support Kambria's initiatives. [3]
Starting from May 2018 and continuing to the present, Loi Luu has been an Advisor and Investor at Sygnum, based in Switzerland. He has been involved with Sygnum's mission to develop the foundational infrastructure for the future of digital assets utilizing blockchain technology. [3]
Kyber Group
In May 2017, Loi Luu founded Kyber Network, a decentralized liquidity protocol. As the co-founder and CEO of Kyber Network, he has been leading the organization in Singapore, where the company is headquartered. [3]
Additionally, since December 2020, Loi Luu has been a self-employed Founder of Kyber Ventures, the investment arm of the Kyber Group. Kyber Ventures operates globally and Loi Luu has been working remotely to provide support and guidance for the team. [4]
On January 18, 2022, Loi Luu stepped down from his position as CEO of Kyber Network and started working in the leadership team as the Chairman of the Kyber Group. [5][6]
"After 4.5 years, I finally decided this is the best time for me to step down from the CEO role of Kyber to prepare for the next high growth stage of the project. It's a long journey, particularly in crypto, and I'm super proud of all the achievements that we have unlocked."
Venture Funds
Since September 2021, Loi Luu has been serving as a Technical Advisor at UVM Signum Blockchain Fund on a part-time basis. Located in Singapore, his role involves providing technical expertise and guidance to the fund in the realm of blockchain technology. [3]
In April 2023, Loi Luu became the founder of Caliber, a venture builder focused on Web3 startups. Caliber collaborates with new founders, considering themselves as co-founders of each startup. They offer financial support, engineering resources, research, product strategy, and logistical assistance to facilitate the success of these startups. [3][7]
See something wrong?
Report to us.
Loi Luu
Did you find this article interesting?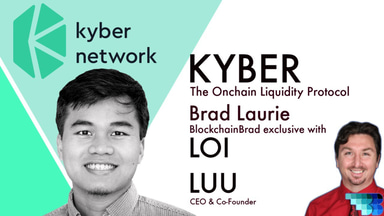 REFERENCES
[1]
Golden profile
May 17, 2023
[2]
Linkedin profile
May 17, 2023
[3]
Linkedin Experience section
May 17, 2023
[4]
Kyber Ventures
May 17, 2023
[5]
Stepping down from CEO announcement
May 17, 2023
[6]
Kyber official new CEO announcement
May 17, 2023
[7]
Caliber linkedin
May 17, 2023