Lost Relics
Lost Relics is an ARPG (Action-Adventure role-playing Game) powered by Unity and utilizing Enjin blockchain loot for probably rare and valuable items.[1]Explore Talmuth and scour the dark underbelly while you embark on Quests in search of precious artifacts and save the townsfolk from terrifying beasts! Precious Artifacts you find are Enjin ERC-1155 Ethereum blockchain items which are tangible assets with real value, allowing you to trade, sell or own forever!
Overview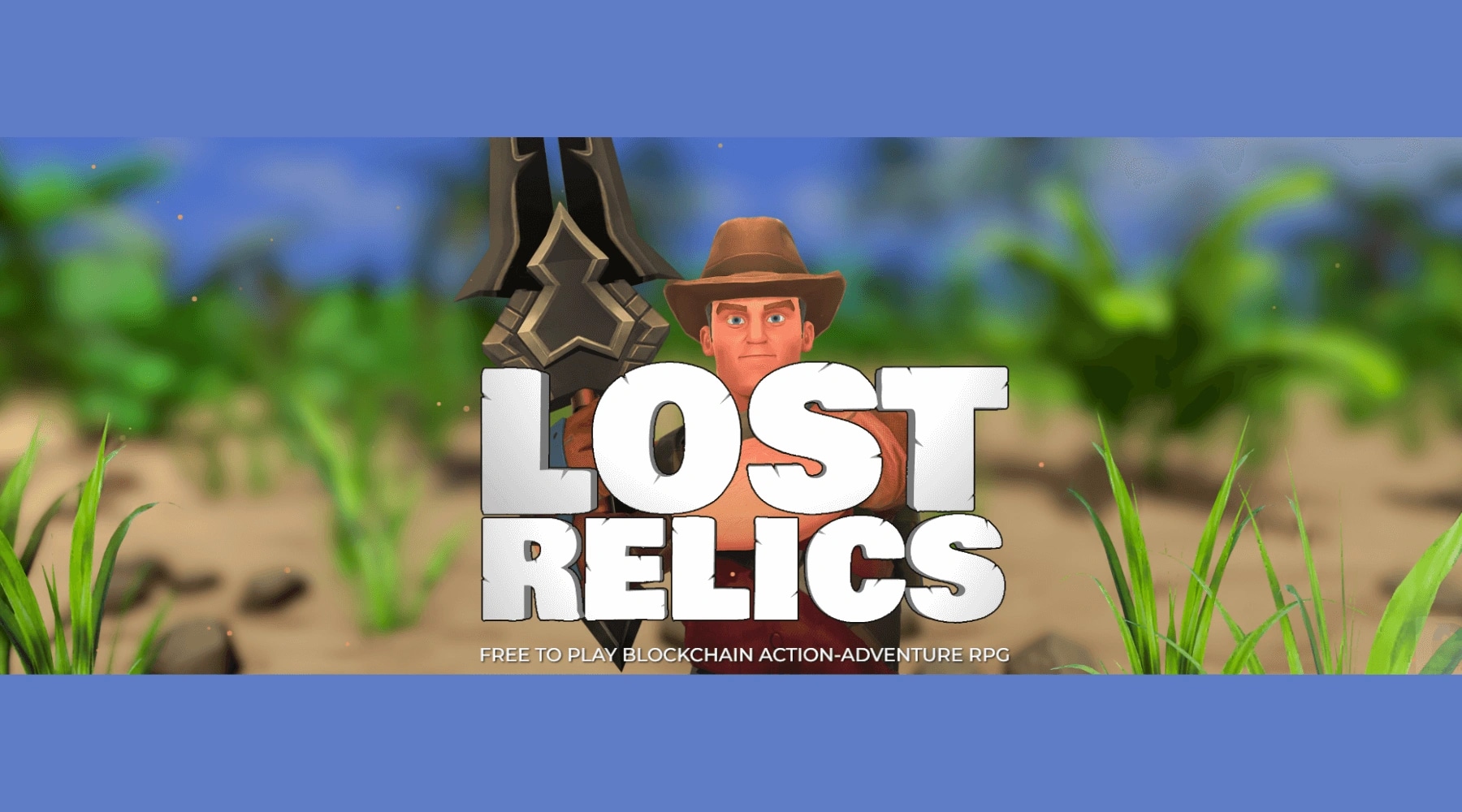 That's a lot of words, but Lost Relics is an action-adventure RPG with play-to-earn features that is free to play. The game is based on blockchain technology, which is why many of the in-game objects are NFTs on the Ethereum blockchain.
The first eon is a period in the past that is described in the Lost Relics legend as having huge monsters and arcane techniques. Two races engaged in combat, sparking The Deception War, which wreaked havoc on the landscape. The final traces of the conflict are magical objects now known as the Lost Relics, which are dispersed throughout the cosmos.Users search the world for these extinct artifacts, and you may then trade them with other players on online markets.
In Lost Relics, the earth is said to be "ever-evolving." In order to find the valuable artifacts from the conflict, players must explore and engage in monster combat. You discover unique quests, run-ins, and game-related events while searching. Another aspect of the game is cosmetics, where you may give your avatar special gear, accessories, and even helper dogs. At the Royal Emporium, a peer-to-peer marketplace, you may exchange stuff you've amassed with other players. Your collection of virtual goods that you uncover and acquire on the journey expands as you gain experience as an explorer.
Adventures
Talmuth
Players can explore Talmuth, learn about the quests that are available, and begin adventures there. These could take users on dangerous expeditions into dungeons, through plains, and into woods.
Adventures include a variety of treasures tucked away in interactive chests, crates, barrels, and other objects. Each randomly generated adventure is crawling with enemies and has a total of 4 billion different permutations for each theme.
Encounter
Occasionally, exceptional encounters may appear in the environment, allowing you to engage in demanding gameplay that is unique and rewards you with limited-edition artifacts and equipment.
Events
There are continuous happenings in the towns and in the adventures. While some just endure a few days, others go on for weeks. The Events page contains details about current events.
Features
Discover Rare Artifacts
Hack and slash your way through undiscovered lands on your quest for blockchain treasures. Each chest you stumble across is a chance at discovering some of the rarest artifacts in the universe.
Events & Encounters
Regular events and encounters and a lively game world grant you the ability to earn tradable goods and play exhilarating casual games.
Blockchain Rarity
The items in Lost Relics are a mixture of Fungible token (FT) and Non-Fungible tokens (NFT) (digital goods and collectibles). Each item has a limited supply making them provably rare and unique and give you the confidence that the ERC-1155 crypto-collectible you hold is truly a limited item without a possibility to create more.
Truly Valuable Items
All Ethereum blockchain assets are Enjin tokens and limited in their supply and collapsing, which means if items are destroyed, the remaining only become rarer and more valuable!
Discover Rare Artifacts
Hack and slash
Multiverse support
Support for Multiverse items (Own items from other Platforms and use them within Lost Relics)
Competitive
Competitive leaderboards and record books to track player achievements and progress.
Cosmetics
Cosmetic Outfits and Pets which give the Player the ability to express themselves within Lost Relics. Pets are also helpful while on Adventures.
Multiplayer
4 Player Co-op and PvP support coming soon
Relics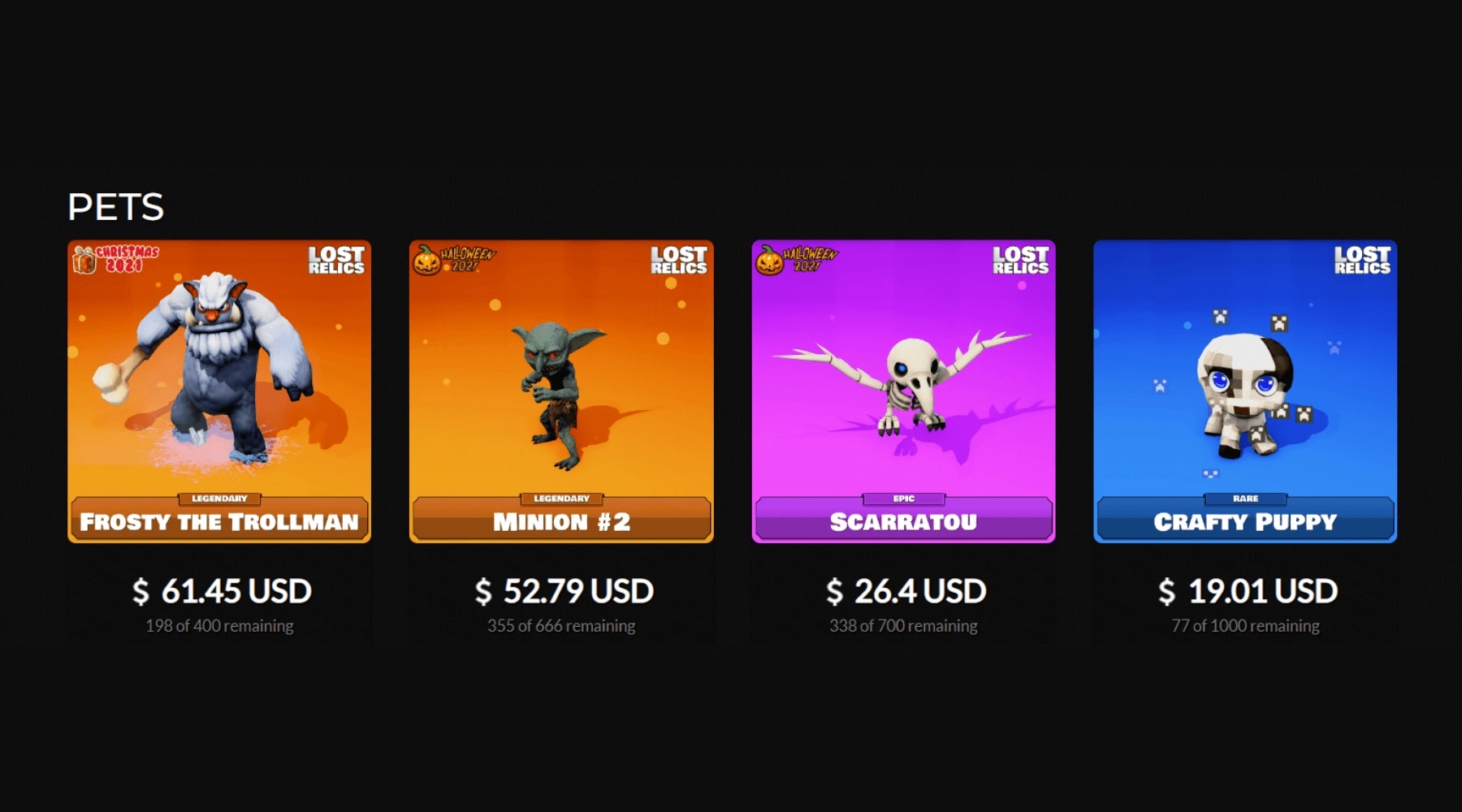 The most sought-after artifacts are buried across the cosmos, and as an ardent explorer, players have the opportunity to find some of these artifacts. The items page has details on the relics. There are certain artifacts that are so uncommon that there is just one to find!
Items can occasionally provide buffs that give the character advantages in conflict, improved looks, and other unspecified advantages. Relics are revered for their Transcendent qualities, while little is known about their abilities. Stories about relics' origins or current state are often associated with them.
The following rarities contain relics: Rare, Epic, Mythical, Transcendent, Uncommon
Quests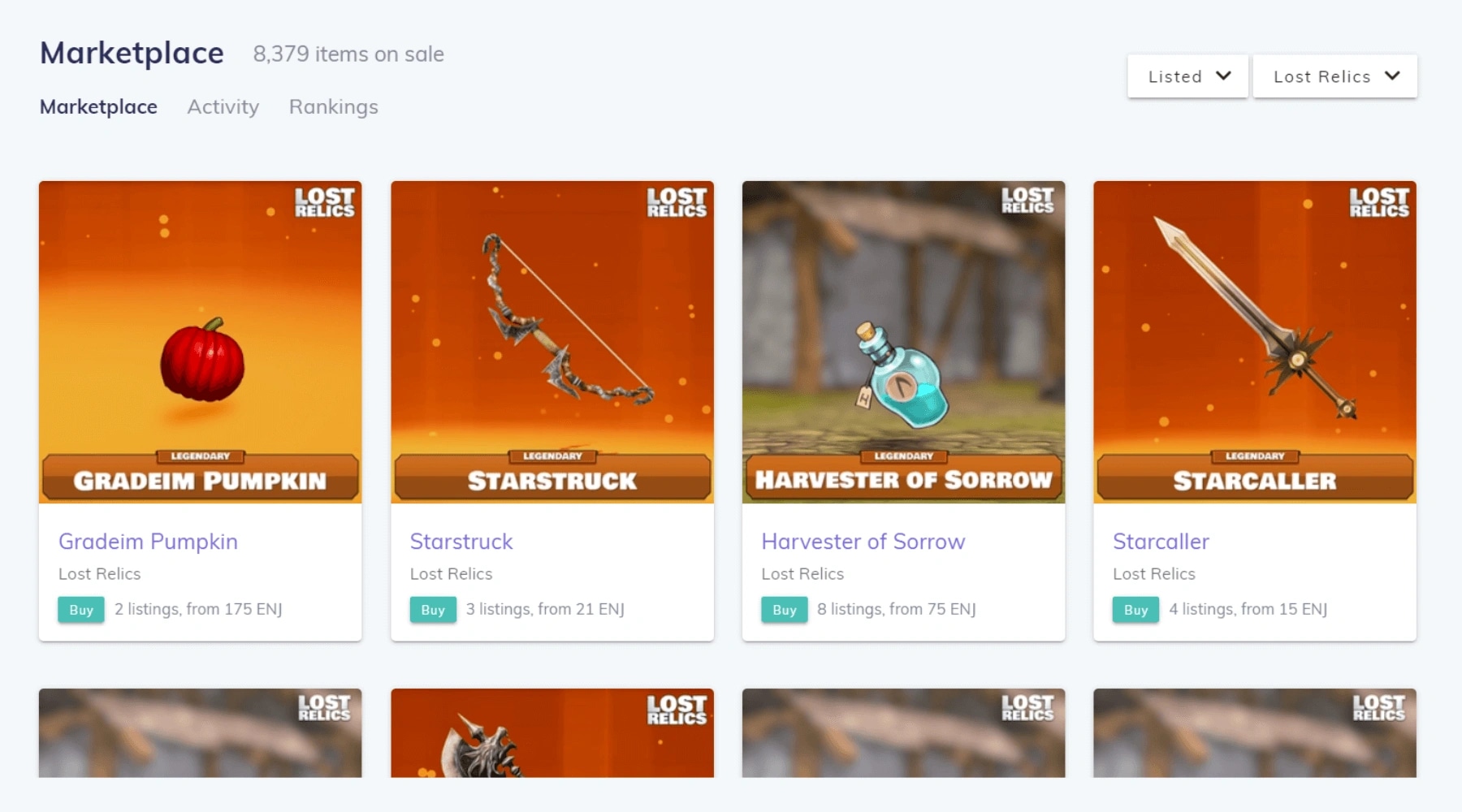 In order to gain unique relics and artifacts, the player must defeat creatures, plunder riches, and uncover mysteries while completing quests.
This way they will be able to get numerous relics in addition to Events that can only be obtained by doing Quests. As you go on travels around the cosmos, you will discover your destiny and unearth mysteries buried in the sands of time.
FOUNDER'S TOKEN NFT
The Founder's Token NFT valued $100 USD and came in a bundle with a variety of high-tier weaponry and accessories during the pre-sale in June 2019. Founder's token NFTs could still be accessible on the Enjin Marketplace or through player-to-player trade.
Ongoing Staking Benefits
The following are ongoing benefits for staking the Founder's Token within your wallet. You will lose access if you remove the token, but whomever gets it will gain access:
Isobella outfit, one
Hamlin outfit, one
Personalized name color in chat, profiles, leaderboards, etc. if you are also a member
If a member, access to the exclusive Discord Founder channel
Event perks and enhancements
Early multiplayer access
Lost Relics roadmap
One of the largest additions to the game, which is still under development, is the availability of online play at all times. New players may currently need to wait in a line before playing, or they may "pay to play" by buying a Power Pendant.
In addition to the formal launch and bug patches, the game has the following plans:
PvP Arena Pet Progression for four players
Housing
Bosses
PvE Adventures for four players
About Developer
Lost Relics developed by Codebit Labs. Codebit Labs was formed in May 2019 by Cliff Cawley. Cliff has over 20 years of industry programming experience, 12 of those were in the video games industry. Over the years he's created apps and games for Windows, Xbox, Playstation, Wii, Android and iOS. He's a full stack engineer but also loves to dabble in art and design.
Cliff is currently a one-man army creating Lost Relics after deciding to venture on his own and into the blockchain space.
See something wrong?
Report to us.
Lost Relics
Did you find this article interesting?