Michael Sonnenshein
Michael Sonnenshein is the CEO of Grayscale Investments, an American digital currency asset management company and a subsidiary of Digital Currency Group that provides market insight and cryptocurrency asset management services. [1][3]

Education
Michael Sonnenshein earned his Bachelor of Business Administration (BBA) from the Goizueta Business School at Emory University and his Master of Business Administration (MBA) from the Leonard N. Stern School of Business at New York University. [1]
Career
Prior to joining Grayscale Investments, Michael Sonnenshein served as an Analyst at Bank of America (2008-2009). He then served as an Analyst at Barclays Wealth (2009-2011), providing coverage to middle‐market hedge funds and institutions. He also worked as a financial advisor at JP Morgan Securities (2011-2014), covering HNW individuals and institutions. [1][2]
Grayscale Investments
Michael Sonnenshein joined Grayscale Investments, an American digital currency asset management company and a subsidiary of Digital Currency Group in January 2014 as an Account Executive. In 2015, he became the Director of the company until 2017. He became the Managing Director of Grayscale in 2018 and was responsible for maintaining relationships with the firm's various service providers as well as overseeing the sales of the Bitcoin Investment Trust (symbol: GBTC), Ethereum Classic Investment Trust, and Zcash Investment Trust. [3][1]
In January 2021, Michael became the CEO of Grayscale Investments. [1][3]
"As CEO, Sonnenshein will set the strategic direction of the firm, scale Grayscale's business by investing in its people and operational capabilities, and expand the ability of investors to access the digital currency asset class," - the company said in a public statement about the role shift. [8]
Under Michael's leadership, the firm has become a prominent player in crypto investing, offering a variety of investments like single-asset and diversified products. [3][1]
In June 2022, the Securities and Exchange Commission (SEC) denied Grayscale's request to convert Grayscale Bitcoin Trust (GBTC) into an exchange-traded fund (ETF), citing concerns about market manipulation, lack of oversight over cryptocurrencies, and the risk of price fixing. The denial prompted Grayscale to sue SEC on the 29th of June, 2022. [5][7]
"Grayscale supports and believes in the SEC's mandate to protect investors, maintain fair, orderly, and efficient markets and facilitate capital formation – and we are deeply disappointed by and vehemently disagree with the SEC's decision to continue to deny spot bitcoin ETFs from coming to the U.S. market." - Grayscale CEO Michael Sonnenshein said in a statement. [6]

During the court proceedings held on March 7, 2023, the panel of appeals court judges questioned the U.S. SEC's logic in drawing a distinction between bitcoin spot market prices and futures market prices. The judges' apparent skepticism of the SEC's position sent GBTC higher by 5%.[9][10] Following the court proceedings, Grayscale tweeted:
"We're glad to have had the opportunity to present our case. We look forward to the court's final decision, and strongly believe that American investors deserve to have equal access to the #Bitcoin ETF product that best suits their needs"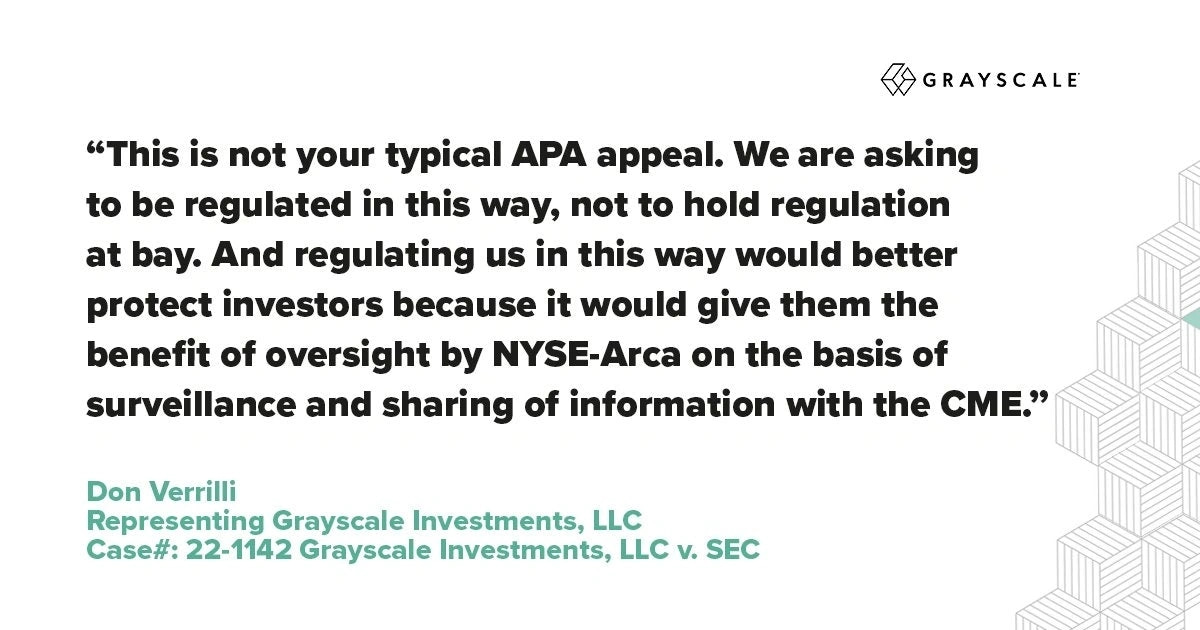 Awards & Honors
Michael Sonnenshein was honored in 2018 as one of Business Insider's Rising Stars of Wall Street and serves as a member of the Grayscale Board of Directors, CME Group Bitcoin Futures Council, and NYU Blockchain Association. [4]
See something wrong?
Report to us.
Michael Sonnenshein
Did you find this article interesting?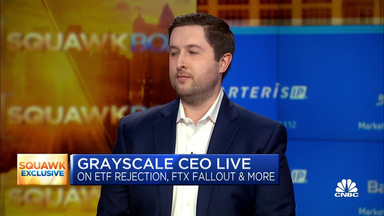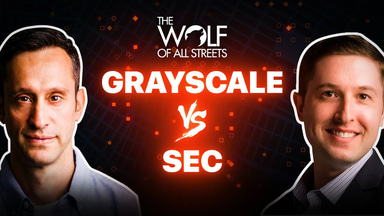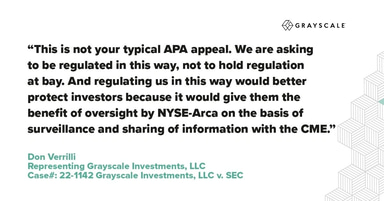 REFERENCES
[3]
grayscale website
Mar 27, 2023
[4]
investopedia profile
Mar 27, 2023
[5]
coindesk on controversy
Mar 27, 2023
[6]
globenewswire on statement
Mar 27, 2023
[7]
yahoo finance interview on controversy
Mar 27, 2023
[8]
cointelegraph on Michael Sonnenshein
Mar 27, 2023
[9]
coindesk on court proceedings report
Apr 11, 2023
[10]
youtube - live footage of court proceedings
Apr 11, 2023