Bitcoin (BTC)
Bitcoin (BTC) is the native asset of the Bitcoin blockchain and it is the world's first digital currency without a central bank or administrator. It serves as a form of payment outside of the control of any one person, group, or entity. It is rewarded to blockchain miners for verifying transactions and can be purchased on various exchanges. Bitcoin was introduced to the public in 2009 by an anonymous developer or group of developers using the name Satoshi Nakamoto. [1][2]
Bitcoin Mining
Bitcoins (BTCs) are created as a reward in a competition in which users offer their computing power to verify and record bitcoin transactions onto the blockchain through proof-of-work. This activity is referred to as "mining", and successful miners are rewarded with transaction fees and newly created bitcoins. [5]
Supply
BTC supply is programmed to be capped at 21,000,000 coins. On 3rd January 2009, The Genesis Block started the Bitcoin Network. Miners' reward is halved every 210,000 blocks or every 4 years. Halving is the process where the block rewards given to miners for successfully mining each block is cut in half. The halving process will continue every 210,000 blocks until all 21 million bitcoins have been mined completely. Once 21 million BTC have been minted, there will no longer be a new supply. Miners are expected to earn revenue through transaction fees. [6]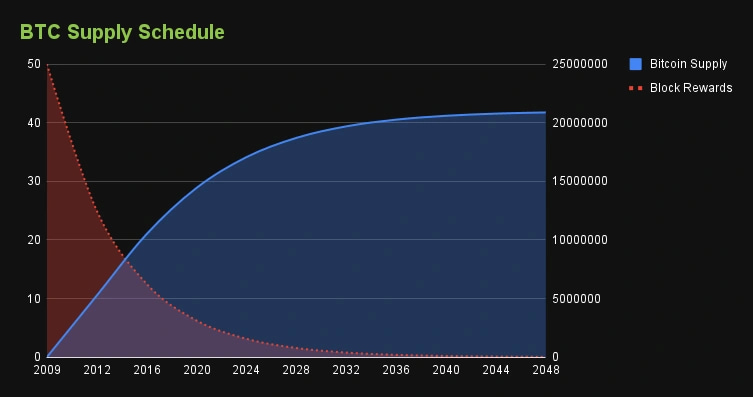 Utility
Bitcoin was initially designed and released as a peer-to-peer payment method. Its use cases have since expanded due to its increasing value and competition from other blockchains and cryptocurrencies.
Payment
Bitcoin (BTC) is accepted by merchants, retailers, and stores as payment for goods and services. Some brick-and-mortar stores display a sign, "Bitcoin Accepted Here", and transactions can be completed using hardware terminals, QR codes, and touchscreen apps. Online businesses can add Bitcoin as a payment option alongside credit cards and PayPal. [3]
Investing and Speculating
Investors and speculators became interested in BTC after its popularity grew between 2009 and 2017. During this time, cryptocurrency exchanges that enabled people to buy and sell bitcoin emerged. Prices rose and demand increased until the digital currency's value exceeded $1,000 in 2017, prompting many to buy and hold it in anticipation of further growth. Subsequently, traders took advantage of exchanges to make short-term trades, which further increased Bitcoin's market. However, in March 2022 Bitcoin prices reached a peak of $68,789.63 before dropping to $15,731 in November 2022. This decline was partly attributed to inflation, rising interest rates, Covid-related supply chain issues, and the war in Ukraine. [3][4][7]
See something wrong?
Report to us.
Bitcoin (BTC)
Did you find this article interesting?