MinePlex
Mineplex (PLEX) (Launched 2020), is a Liquid cryptocurrency token created on its own (MinePlex) blockchainand utilized as a payment tool within the Mineplex ecosystem. Mineplex, a new-generation mobile crypto bank, is a unique Cross-Financial project that utilizes the synergy of stability and liquidity of traditional financial instruments with the security and transparency of the Blockchain to offer its user a standard and reliable cryptocurrency banking platform.[1]
Company & Team
MinePlex (PLEX) is a registered company with the legal name Mineplex PTE LTD located in Singapore. Having a company size of 11- 50 members in different parts of the world.


Team MinePlex
MinePlex PTE LTD harnesses so much brainpower and exquisite levels of expertise from its core team to ensure the accomplishment of the company's vision of creating a reliable, functional, and convenient mobile Cryptobank for daily Cryptocurrency use by anyone anywhere in the world. MinePlex PTE LTD core team member includes:
| Name | Position | Description | Link |
| --- | --- | --- | --- |
| Sulaiman Al-Fahim | CEO | He is one of the world's leading intermediaries of international business; A goodwill ambassador, A Philanthropist, and a Multimillionaire who Entered the list of Arabian Business's "Most influential Arabs in the world. | |
| Vladislav Babitsky | CTO | He is a senior level developer in IT since 2010, having more than 50 projects successfully implemented, in the areas of e-commerce, Fintech, Blockchain, Medicine, computer vision, and satellite monitoring. | [3] |
| Alexander Mamasidikov | CMO | He is an expert in Cryptocurrency and Digital marketing. He has been developing and implementing PR strategies for more than 13 years and has since 2015 been working in global Fintech and blockchain projects. He ranked in the Top 20 on blockchain entrepreneurs in version Publish0x | [4] |
| Sergey Sevencan | Director of Mineplex University | He is a Mentor, Investor, and BizzMatcher of digital companies, Business Mediator. | [5] |
| Yuri Kozik | Team Lead | His major expertise is in Blockchain, Fintech, RPA- systems, Web 3.0, and has implemented and launched over 45 high-load projects. | [6] |
| Jorge Rodriguez | Head Information of Security | He is an ethical hacker since the age of 12, a computer security expert, a blockbuster developer, a PR-marketer, and a social manager. | [7] |
| Alexey Permtakov | Commercial Director | He is the developer of the Trezor Mini cold wallet, IoT trackers with Blockchain technology integration, and a multi-miner. He is also a specialist in banking and the blockchain industry, consultant to the world's largest banks. | [8] |
| Pavel Kramarenko | Head of Art Mineplex Banking | He is the Founder and CEO of Amprise Design. He has been developing and leading projects with the design team since 2012, and he is an Art Director and mentor. | [9] |
The MinePlex PTE LTD is equipped with able hands who are capable of realizing the company's mission in accordance with the organization's roadmap.[10]
Overview
MinePlex Banking is described as a new generation mobile Cryptocurrency bank (Cryptobank) having its own liquid token. The project is based on an unequivocal balance between traditional Financial systems, block technology, and Mobile applications. The project was thus developed and implemented by the MinePlex Team, who saw to the development of the project's unique blockchain with a Liquid Proof-of-Stake (LPoS) consensus algorithm, which unifies advantages such as, operating speed, and decentralization for the actualization of this project.
The MinePlex Crypto-Banking ecosystem aims to create a reliable and convenient mobile Cryptographic bank for every user's daily use of cryptocurrencies anywhere in the world for numerous functions, which include paying bills, buying goods, saving, and growing assets.
"We are focused on creating an integrated ecosystem that will simplify the use of banking services and digital assets and be personalized and focused on the convenience of each client" MinePlex.
MinePlex Banking's mission is to expand Blockchain's influence and to integrate it comprehensively into real-life spheres. The platform wants to remove limitations when it comes to accessing the world of cryptocurrencies, which separate miners and ordinary users.
The platform's system's own token, (i.e Mine and Plex) was issued to provide access to all the service's benefits. The MinePlex crypto bank aims to issue Banking cards that shall be compatible with payment systems such as Visa, MasterCard, and UnionPay throughout the world.
We want to introduce affordable, clear, and simple financial tools to use cryptocurrencies and Fiat- MinePlex.
The MinePlex ecosystem practically offers users a new generation mobile Cryptobank with its own liquid token.
Banking Threats & MinePlex Rest
The MinePlex Banking system is designed to solve key user problems . Detailed below are challenges that confront banking, and the provided solution by MinePlex:
| S/N | Challenge | MinePlex Banking solution |
| --- | --- | --- |
| 1. | Limited use of Digital assets, payment options only in industries that acceptcryptocurrencies. | Convenient use of cryptocurrencies every day anywhere in the world |
| 2. | Multiple security threats: hacking, malfunction, fraud. | The usage of modern technologies such as smart contracts to increase automation. |
| 3. | Outdated banking platforms and equipment. | Usage of modern technologies for constant updates to keep the platform running. |
| 4. | Delay in transfers (sometimes over a few days) | All payments are made within one minute of initiating a transaction. |
| 5. | Users having issues with P2P exchange through sites withadditional registration, wasted time, and fees to pay. | A reliable and safe cryptocurrency exchange in one place, without unnecessary procedures and with minimal fees. |
| 6. | The potential risk of users' having their cards blocked and inability to withdraw large amounts. | With MinePlex Banks, users can make legal purchase and sale ofcryptocurrencies. Users can also receive money tothe account in full. MinePle bank would not block a user's card with no substantial reason |
| 7. | Users account being Frozen with no prior warning. | Transparency of bank-client relations and visibility of all transactions.[11] |
Ecosystem
Mineplex (PLEX) ecosystem is a functional crypto-bank that is powered by a synergy of the platform's tokens (i.e Mine and Plex). The platform's base token, Mine, is the unit of computing power required to generate new tokens within the MinePlex network (ecosystem), and it also serves as a means of paying internal fees.[12]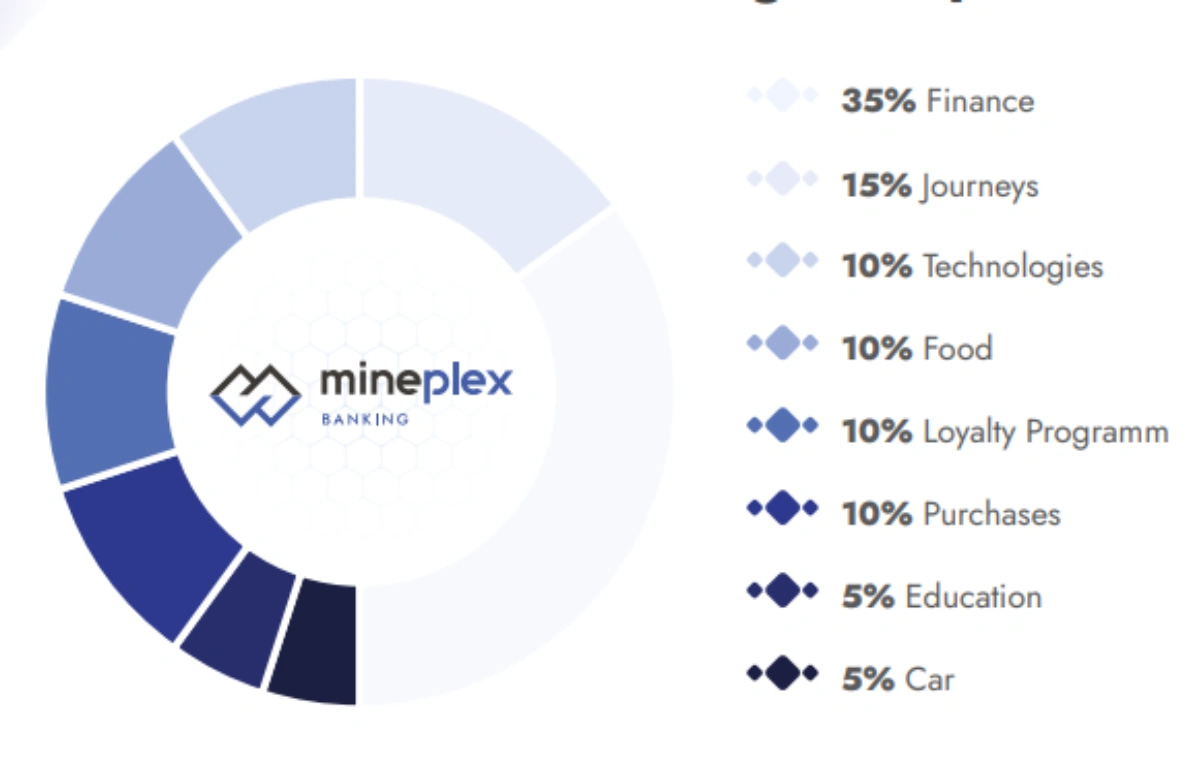 MinePlex is thus governed by its tokens, Mine and Plex, but still spreads the tentacles of its ecosystem and its operations. The additional part of the MinePlex ecosystem includes Finance, travel, food, Loyalty programs, etc.
Finance:
The MinePlex's finance system offers banking debit cards with cryptocurrency Fiat . The platform's finance ecosystem is obtainable online with the provision of Cryptobank, Crypto wallet, exchanger, transfers, and payments
Travel:
This is an envisioned part of the Mineplex ecosystem that aims to offer users the useability of the MinePlex card without borders; as such coupled with automatic conversion of cryptocurrency and Fiat into local currency. The ecosystem's travel also includes paying for tickets and hotels via the platform's app.
Technologies:
The primary technology as employed within MinePlex's Crypto-banking ecosystem is the building of its own blockchain , which is powered by the platform's two tokens. The MinePlex also built its mobile application.
Education:
Banking- Classic Banks or Crypto banks
This is another functional part of the MInePlex's ecosystem. The ecosystem aims to open its innovative MinePlex University, with an interest in expanding the base of interested, knowledgeable network users and integration of MinPlex project's influence into new areas.
Transport:
MinePlex aims to have a Petrol station where payment of taxes and state duties could be done through its Application, thus allowing such utilities to be made available for users within the MinePlex ecosystem.
Nutrition:
MinePLex aims to allow users to access food by using its MinePlex card anywhere in the world where the MasterCard, Visa, Union Pay system is supported .
Loyalty Programs and Purchases:
Users of MinePlex will be opened to loyalty programs and can make purchases using the MinePlex card.[12]
Features
The MinePlex cryptocurrency banking platform is embedded with the following significant features: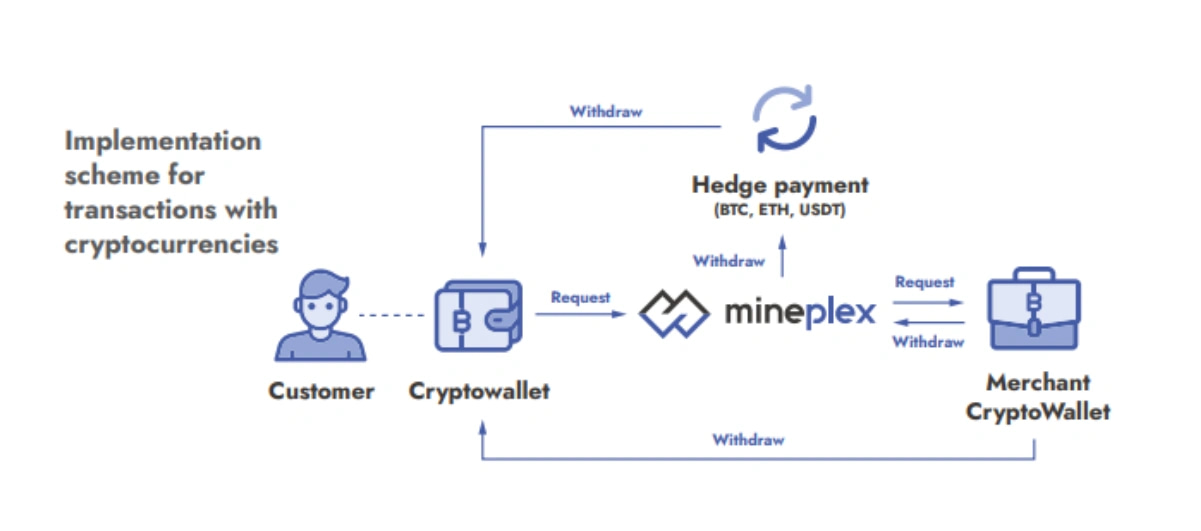 Implementation scheme for crypto transaction
Mobile Crypto-Bank:
MinePlex Banking is a trustable mobile cryptocurrency bank (CryptoBank) with a current account and classic payment transactions. Its location is basically on the user's mobile phone and works 24/7. So, with the help of Blockchain technology and the use of smart contracts, MinePlex bridges the gap and makes it possible for bank transfers to be made quickly and safely. With the MinePlex Mobile Crypto-Bank, users can:
Pay rent and bills for utilities and other services;
exchange different currencies;
create savings;
transfer funds between bank accounts;
make interbank payments;
have fiat accounts in euros and dollars;
make international payments and transfers;
keep money in both Fiat and cryptocurrencies;
take out loans;
refinance loans from traditional banks on favorable terms.
Multi-Currency Wallet:
The MinePlex Banking CryptoWallet is designed for the fast and easy use of cryptocurrencies. With this from mobile access, users can flexibly manage assets and analyze their portfolios at any time. This wallet is proposed to support its own MINE and PLEX tokens, and by spring 2021, the MinePlex team aims to introduce more than 20 major cryptocurrencies (USDT, BTC, ETH, etc.). With the MinePlex Multi-Currency Wallet, users can:
View a list of your addresses with balances;
perform profitable cryptocurrency exchanges directly
between users;
find the best exchange rates;
to purchase cryptocurrency using a card or bank transfer.
find out the latest cryptocurrency exchange rates (updated
every second);
track actual wallet transactions, such as pending
confirmation;
view the latest completed transactions;
buy/sell cryptocurrency.
P2P Exchange:
Another key feature within MinePlex's ecosystem is the P2P exchange. The MinePlex Banking Exchanger allows users to quickly and securely sell and buy Cryptocurrency software and display it in a single mobile application. The client account is tied to the crypto wallet, saving users time, and thus help to simplify the exchange process. Euros and dollars will be accepted as payment. With the P2P exchange, users can: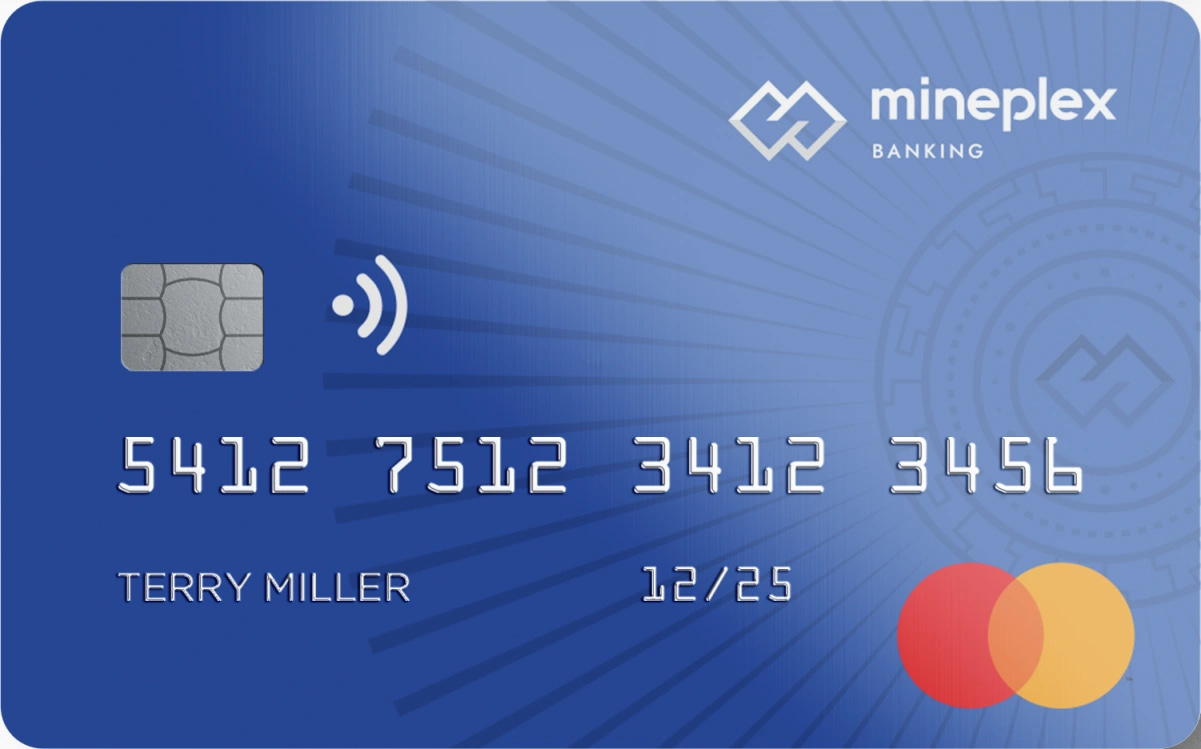 MinePlex MasterCard
Perform profitable cryptocurrency exchanges directly between users;
Locate the best exchange rates;
Purchase Cryptocurrencies using a card or bank transfer.
MasterCard Debit Card:
The MinePlex (PLEX) foundation aims to release the MinePlex debit card that will allow users to use the cryptographic currency every day without any restrictions or overpaying fees. The system's own token will provide access to all the service's benefits. MinePlex Banking cards will be compatible with such payment systems as Visa, MasterCard, and UnionPay throughout the world. By making use of the MinePlex debit cards, users can:
how a Mineplex debit card works
save on exchange transactions: the conversion takes place directly from one currency to another, reducing commission costs;
withdraw cash from any ATM in euros;
buy and sell Euros and dollars in the application at a favorable exchange price with almost no fees, no search for exchangers, and no queues;
use the map absolutely anywhere in the world from the comfort of your own home.
Fiat Transactions:
MinePlex Banking also makes traditional Mobile banking services available when users are working with Fiat currencies. One of the bank's special features is its safety and transparency of transactions due to blockchain technology, even when a users' service interest is with fiat. Users can perform fiat transactions with the following advantages:
The bank cannot unilaterally block your card;
the ability to perform transactions with large amounts of money;
perform automatic conversions when traveling abroad (future plans include using most national currencies).
MinePlex Blockchain
The MinePlex (Plex) Blockchain is the interior system that was built to run the functioning of the MinePlex ecosystem. The following takes part in the summation of MinePlex's blockchain:
Consensus Algorithm:
The applied consensus within MinePlex is what is described as Liquid Proof-of-Stake (LPoS) consensus Algorithm. This algorithm uses the benefits of simplicity, speed, and decentralization in forming a functional unit of MinPlex's Blockchain.
Smart Contracts:
The MinePlex Smart Contracts, being one of the important parts of its Blockchain, was developed in the Michelson Language, such that is used in the Aerospace industry.
Multi-Stage Architecture:
The MinePlex has its decentralized ecosystem, built on the Tezos' multi-stage architecture blockchain, which functions to allow users to make changes and update the MinePlex ecosystem without hardforking the MInePlex Blockchain network.
The Need: Banking with BLOCKCHAIN
The possibility of the MinePlex team coming about the creation of a reliable mobile Cryptobank was due to blockchain technology. MInePlex, having seen the frailty in banking systems' use of formal verification processes to ensure security with the parties' details (sender's address, recipient's address, signature, etc.) being compared based on the information provided, makes the bank take a decision whether the operation (transaction) is genuine or not.
However, in classical banking systems, the bank itself performs the verification. As a result, a third party arises between the sender and the recipient, which is the central supervisory authority, without a guarantee that the verification will be transparent and that the bank will not make a false decision deliberately. These amongst others prompted the need for a decentralized crypto bank.
MinePlex Crypto Bank, as obtainable by its blockchain technology, performs the entire banking verification in a decentralized. This takes place through the consensus of all network participants (nodes). Transactions take place directly from user to user, and only the owner of the funds shall have access to them.[13]
Tokenomics
MinePlex (PLEX) is a deflationary Liquid token, issued atop the MinePlex Blockchain and was created to function as a payment tool within the MinePlex's ecosystem. As initially explained, the MinePlex ecosystem has two tokens (i.e Mine and Plex). The liquid token of the MinePlex ecosystem is denoted as PLEX, and the Plex token functionality also depends on the Mine token. MINE is the native token of MinePlex, which is a unit of the computing power of the MinePlex unit that is required to create (generate) a PLEX token. It serves as a means for paying internal commissions.
The PLEX token has been listed on the Estonian stock exchange STeX and can be paired with popular Cryptocurrencies on its trading platforms, e.g PLEX/USDT, PLEX/ BTC, etc.[14][15]
Given below is the technical specifications of the Mine Plex tokens:
MinePLex Token Technical Specifications:
| Specifications | Mine Token Info | PLex Token Info |
| --- | --- | --- |
| Token Ticker | $MINE | $PLEX |
| Purpose | As the processing power unit of MinePlex | As a payment tool within the ecosystem |
| Initial Token Issued | 259,200,000,000 MINE | 0 PLEX |
| Maximum Token issued | 259,200,000,000 MINE | 414,720,000 PLEX |
| Number of digits after the decimal point | 4 characters | 4 characters |
| Starting price | $0.01 USD | $0.20 USD |
| Blockchain | MinePlex | MinePlex |
| Method of obtaining | Can be purchased in a personal account, exchanged for PLEX within the blockchain, Peer-to-peer lending | Plex is charged for the plexus of the Mine token, and can also be bought on a crypto exchange via P2P. |
The issuance of the PLEX tokens is divided into four stages. For each stage, 25% of the total token issue will be 103 680 000 PLEX. For any user to have the right to receive a share of the PLEX token, each block must produce a Plexus of the Mine token. Plexus is similar to staking. However, in the Liquid Proof-of-Stake (LPoS) algorithm, the stake itself means the ownership of MINE tokens. Unlike Delegated Proof-of-Stake (Pos) where the address itself is delegated and not tokens. So users always have access to their tokens and can use them or change the delegate (Plexus Pool) at any time.
PLEXus Pool (PP):
The Plexus Pool referred to as PP, is responsible for generating new blocks and confirming them in the MinePlex Banking Blockchain. To organize a PP, users need to expand the node of the MinePlex Banking network and have a minimum stake of 1 MegaMine (i.e MM) = 1,000,000 Mine.
Block creation within PP
To create a new block, 1 PP is randomly selected. The more MM a particular PLEXus Pool (PP) has, the more likely it is that the system will select it to create a new unit and it will receive a reward. Only full MegaMines (MMs) are included in the queue. For example, if the total stake in PP is 1,999 999 Mine, it will be 1 MM for the system. Under these conditions, the average monthly reward for this PP will be 10%, as opposed to 20%.
Block Confirmation:
To confirm a block, 30 PP (Plexus Pool) are randomly selected, which means that the queue for block confirmation falls 30 times more often than for its creation.
Rewards for blocks:
The maximum reward per unit is 600, 300, 150, and 75 PLEX tokens respectively, depending on the issue stage. The maximum reward is paid if the block was created with priority 0 and it was confirmed by 30 PP. The Blocks has 0 priority if it was created precisely by the PP that was assigned.
PLEXus Cycle:
The process of Plexus Pools is divided into cycles, which simply implies that the right for users to create and validate blocks is distributed within Plexus Pools in cycles, and not in individual blocks. Rights are distributed 5 cycles ahead. For example, using 10 cycles, the rights to create and sign blocks in this cycle will be distributed on the 15th, also using 11 cycles, implies that the rights to create and sign Blocks in the cycle will be distributed on the 16th cycle, etc. 1 cycle is 1,440 units (24 hours). The full plexus cycle is 12 cycles:
After delegating the address of 2 cycles, it will be in the queue.
After 2 cycles, MINE tokens located on the address will be used in the distribution of rights to create and sign blocks, and the status of the address will be confirmed.
After 5 cycles, the first reward will be calculated and the address status will become active.
After another five cycles, the rewards will be frozen.
A full plexus cycle can thus be inferred as the time from sending MINE tokens in the stake till the time of receiving the first reward from the PLEX token, which is 12 cycles. The full plexus cycle is valid when the Plexus Pool is changed or when the address is topped up with $MINE tokens.
Benefits of MinePlex
Cash withdrawals from any ATM.
Use your debit card anywhere in the world.
Making international payments and transfers with minimum fees.
Storage of all assets in one secure location.
Payments for purchases and services around the world without restrictions.
Earning money on the Staking and Affiliate program.
Creating a savings account.
Direct exchange of cryptocurrencies and Fiat currencies without intermediaries.[16]
Social Media
MinePlex (PLEX) is having accounts on the following social platforms- Twitter, Telegram, Linkedin, Facebook, and YouTube[2][17]
See something wrong?
Report to us.
MinePlex
Did you find this article interesting?