Mysterium
Mysterium is a decentralized P2P VPN using other tools that allow users to browse the internet freely, earn by sharing your connection, and build censorship-resistant applications.[1][2]
Mysterium dVPN
Mysterium Virtual private network (VPN) is the first network use case in action. The dVPN is the flagship product and showcases the potential of our residential IP network. Some of its unique features include:
Trustless technology - Payments between consumers and service providers are settled on blockchain; Users can enter or leave the network in a permissionless manner.
No centralised logs - Mysterium Network is a privacy solution at its core. It's technologically impossible for Mysterium to store logs centrally, as traffic is distributed across our global network of residential IPs.
Pay as you go - Using the micropayments system, Hermes Protocol, users only pay for the gigabytes actually used. No subscriptions, no monthly fees – just minute-by-minute payments.
Protect all your devices with smarter security - OpenVPN and WireGuard© protocols hide your IP. Pay for your VPN service with cryptocurrency and you will always be anonymous.
Mysterium Node?
Mysterium nodes are devices, such as a Raspberry Pi or computer, which help power and maintain the distributed network. Any user of the network can pay to connect to the node, providing them with a VPN service, access to the open internet and a secure line of communication.
Tokeneconomics
MYST token is the utility token native to Mysterium Network. USers can pay and receive payment for VPN services in Mysterium Network with MYST.
The MYST token serves two purposes :
Transfer of value

VPN users pay node runners for VPN services in MYST.

Skin in the game
Social Media
Mysterium has active accounts on Twitter[7], Telegram (software)[8], and YouTube.[9]
See something wrong?
Report to us.
Mysterium
Did you find this article interesting?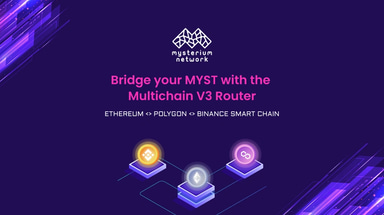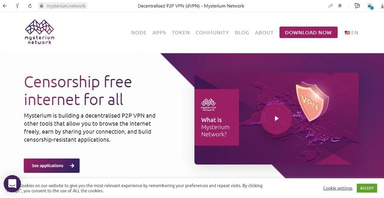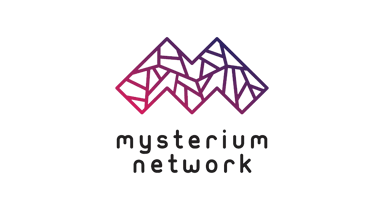 REFERENCES
[1]
Mysterium on Coinmarketcap
Aug 23, 2022
[2]
Mysterium Website
Aug 23, 2022
[3]
Mysterium on Twitter
Aug 23, 2022
[4]
Mysterium on Reddit
Aug 23, 2022
[5]
Token Information
Aug 23, 2022
[6]
Toekn information on Coingecko
Aug 23, 2022