PROOF Collective
PROOF Collective is an Ethereum-based private Non-Fungible Token (NFT) membership platform that rewards NFT collectors with investment opportunities and access to top projects whitelist in the NFT space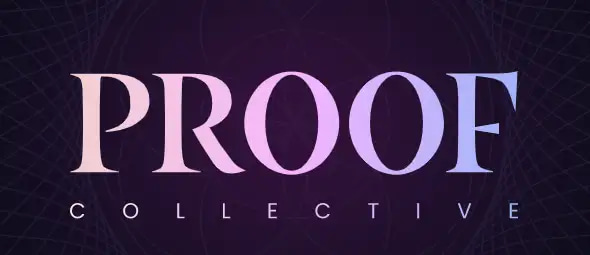 PROOF Collective
comprises a group of 1,000 NFT collectors and artists. Holders of the PROOF Collective NFTs gain membership access to PROOF's private Discord group, early access to the PROOF podcast, and exclusive events.
PROOF Collective members are said to collectively own 153,940 NFTs including blue chips such as Cryptopunks, Bored Apes, Meebits, and Art Blocks[1].
Overview
The PROOF Collective is a collection of 1,000 Non-Fungible Tokens (NFTs) which is accessible to only the Proof Discord private members. This private group comprises collectors and artists including well-known NFT figures, such as Mike Winkelmann (Beeple), and investor Gary Vaynerchuk. The PROOF Collective was co-founded by Kevin Rose and Justin Mezzell. They are also well-known and respected in the NFT community. Kevin Rose is a blockchain-focused venture investor at True Ventures and hosts popular podcasts focused on cryptocurrency.
Launched in December 2021, The PROOF Collective NFTs sold via a Dutch auction format starting at a mint price of 5 ETH and decreased by 0.25 ETH every 10 minutes. The majority of passes were sold at the floor price of 1 ETH. Since then, the floor price has risen to 110 ETH as of the time of this writing.
To become members of the collective, individuals must hold the PROOF Collective NFT. These NFTs grant access to Proof's private Discord, early access to the PROOF podcast, in-person events, and more. As a result, these NFTs are in high demand in the NFT community.
The project launch was successful and has already recorded a secondary trading volume of 13.2k ETH ($40.5 million) as of April 31, 2022.
See something wrong?
Report to us.
PROOF Collective
Did you find this article interesting?