Silvio Micali
Silvio Micali is a co-founder of the Algorand cryptocurrency protocol. He is a computer scientist and professor at the Massachusetts Institute of Technology and is best known for his work on cryptography and information security on the Algorand protocol. In 2012, he received the Turing Award, the most prestigious award in computer science. He is a member of the National Academy of Sciences, the National Academy of Engineering, the American Academy of Arts and Sciences and Accademia dei Lincei.[1]

Career
Micali has been part of the Electrical Engineering and Computer Science department at MIT since 1983. He is a leading expert in the fields of cryptography, blockchain technology and in particular, the areas of zero-knowledge proof, pseudorandom generation, secure protocols and mechanism design. He is recognized for co-inventing probabilistic encryption, Zero-Knowledge Proofs, Verifiable Random Functions, and several protocols that are now considered as fundamentals of modern cryptography.[1]
What really attracted me in blockchain was an intersection over three fields: one is cryptography, one is distributed computation (...) the third field is economic incentives (...) . I felt that the blockchain and the intersection of these three things was ideal for my expertise and i really want to throw all of myself into this venture and found that Algorand found a new way of doing things
In 2001, he co-founded CoreStreet Ltd, a company that was invested by In-Q-Tel, the venture arm of the CIA. Later, the corporation obtained a patent for its technology that allows for the verification of credentials across a decentralized infrastructure. This was the company's 15th patent, the majority of which were developed by Silvio himself. Micali also founded Peppercoin, a cryptographic system for micropayments. The system was firstly presented at the RSA Conference in 2002, and later bought out in 2007.[5]
Micali also founded Peppercoin, a cryptographic system for micropayments. The system was firstly presented at the RSA Conference in 2002, and later bought out in 2007.[6]
Algorand
In 2017, Silvio Micali founded Algorand, a blockchain protocol based on an algorithm called Pure Proof of Stake (PPoS). It aims to be a greener protocol than other blockchains such as Bitcoin, as it utilizes less energy to validate blocks.[7]
"Bitcoin absorbs as much electricity as a small country, and we are going to consume as much electricity as roughly 10 homes. [Algorand uses a so-called pure proof-of-stake method for validating blocks of transactions, versus bitcoin's far more energy-intensive proof-of-work system.]"
Micali aimed to design something that retained the ethos and the idea of Bitcoin but in a "technologically sound way". With Algorand, through PPoS, blockchain sustainability can be achieved and at the same time enables to solve the blockchain trilemma of scalability, security, and decentralization. It randomly selects nodes to create blocks and earn rewards, making it resistant to centralization and manipulation. The platform supports large numbers of transactions per second, making it scalable. It also has built-in support for smart contracts, allowing the creation of decentralized applications. [8]
Awards and Honors
Throughout his career, Micali has been recognized for his groundbreaking work in the field of theoretical computer science and cryptography. He has received numerous awards and honors, including the Gödel Prize in Theoretical Computer Science in 1993 and the Turing Award in 2012 for his work in computer science. He was also awarded the RSA Award for Excellence in Mathematics in 2004.[3] Other achievements include:
of the American Academy of Arts and Sciences (January 2003)
Rademacher Lecturer at the University of Pennsylvania (January 2005)
Distinguished Alumnus Award in Computer Science, by UC Berkeley (January 2006)
Member of the National Academy of Sciences (January 2007)
Member of the National Academy Engineering (January 2007)
Fellow of the International Association for Cryptologic Research (January 2007)
Chair Professor at Tsinghua University (January 2007)
Socio Corrispondente of Accademia dei Lincei (January 2017)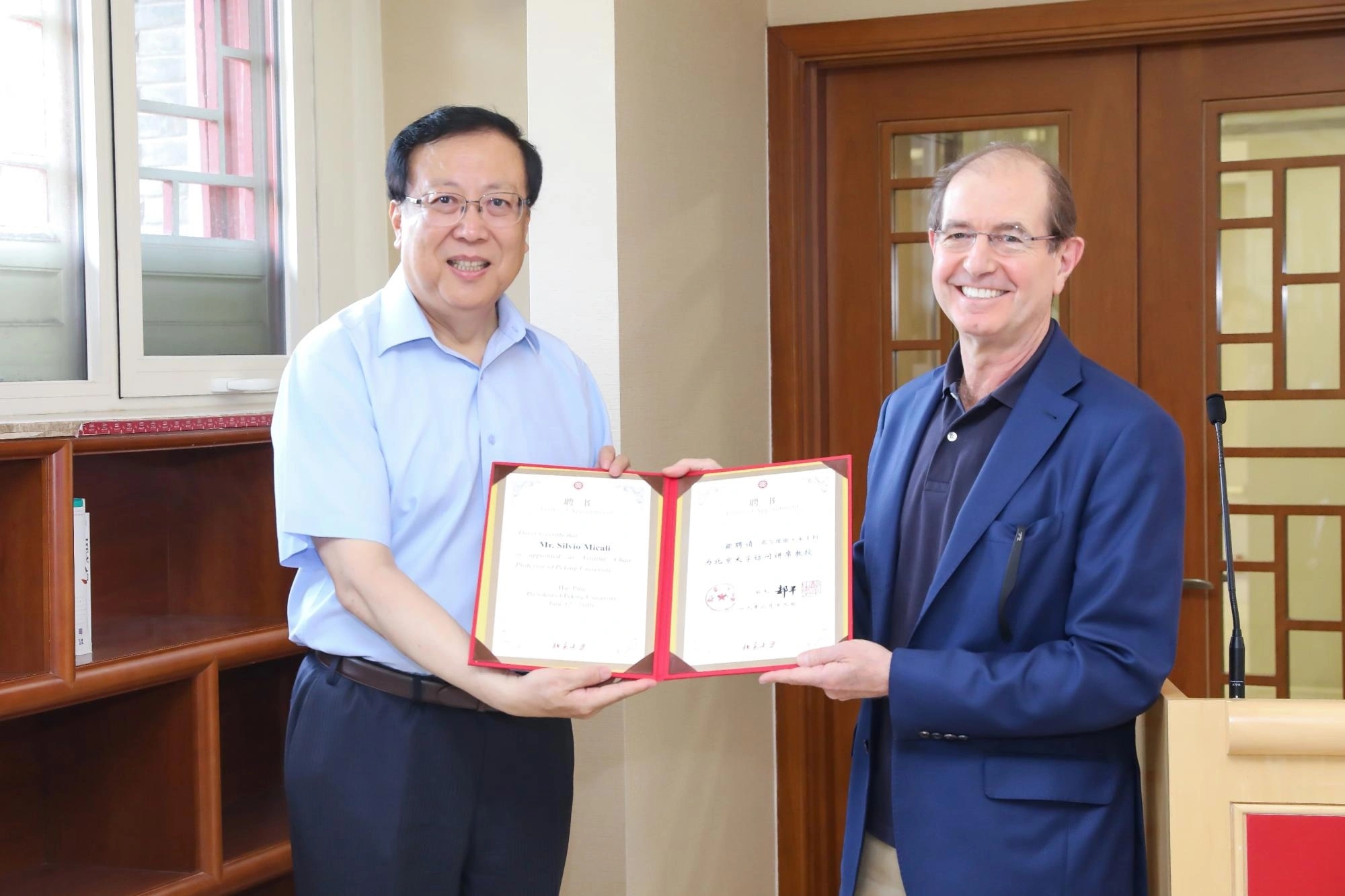 Education and Personal Life
Silvio Micali was born in Palermo, Sicily, in 1954. He graduated with a degree in Mathematics at La Sapieza University of Rome and obtained a PhD in Computer Science at University of California, Berkeley. Later, he continued his education as a postdoctoral researcher at the University of Toronto from 1982 to 1983. Micali's research centers around the theoretical foundations of cryptography and information security.[2]
See something wrong?
Report to us.
Silvio Micali
Did you find this article interesting?