The Lobstars
The Lobstars is a 7,777 Non-Fungible Token (NFT) collection of Lobstar art on the Ethereum Blockchain by British contemporary artist Philip Colbert, who is known as "Andy Warhol's godson." His Lobster figure is well-known across the world, and he has shown in galleries all over the world[1].
Overview
---
The set of 7777 distinct NFT lobster images features Colbert's vibrant graphic pop-art style and includes possession of a collectible crustacean as well as citizenship to Colbert's surreal metaverse Lobsteropolis City which is the largest art world on Decentraland, covering 57 parcels[2].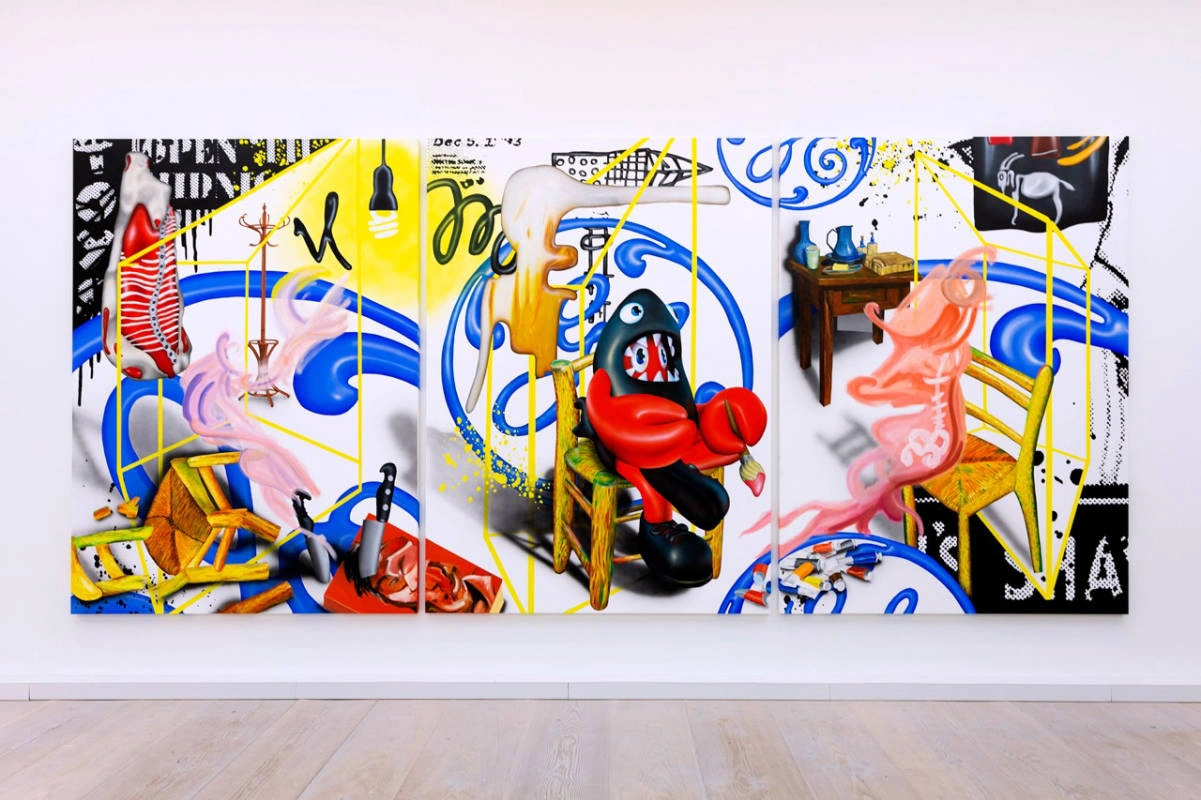 philip-colbert-lobsteropolis-saatchi-gallery-london-exhibition-
They have their own Lobster ID and come in a number of rarities (Every Day, Star, Superstar, Legendary, and Masterpiece), all of which are revealed to the owner after purchase[3].
Colbert's cartoon Lobster alter ego, dubbed the "godson of Andy Warhol," has amassed a worldwide following. His vibrant hyper pop sweeping paintings, sculptures, and collectibles have become a worldwide sensation, with works in museums and private collections all over the world. Colbert's digital and virtual projects are natural evolutions of his work, which analyzes the patterns of modern digital culture and their link to a larger art historical discussion[3]. The lobster is an art protagonist in Colbert's modern pop art cosmos. In the digital era, his work aims to advance collage methods. In a Magritte-like style, Colbert superimposes common things onto people and blends portraiture and popular culture in his works.
His materialistic alter-ego is the lobster. Lobsteropolis is a sci-fi future in which, owing to lockdowns, only robots are allowed to go outside and explore the physical world, while humans are forced to stay within. The lobster, according to Colbert, is on a journey for romance and human connection, taking on many disguises and personalities.
The launch of Lobsteropolis City in June 2021 was preceded by an exhibition and auction at the Lobster Land Museum, curated and hosted by internationally renowned art auctioneer and dealer Simon de Pury, a live DJ set at Lobster Land Records by legendary American New wave band DEVO, and a physical launch event at the Serpentine Gallery in London[4].
Lobsters, crabs, octopuses, and other similar species will be included in the Animal welfare (Sentience) Bill, according to the recent UK government announcement[6]. This opens the door to legal protection from practices like being cooked alive and having their pincer tendons severed[5].
"The European lobster is a fascinating but fragile species because of its high value, which leads to heavy fishing pressure. The National Lobster Hatchery's study and observations on the lobster's unique lifespan, anatomy, genetics, and behaviors continue to yield new and intriguing findings.The NLH hopes to maintain the long-term survival of our essential marine food resources and assist conserve our historic coastal history by releasing young lobsters into the environment." – The National Lobster Hatchery's Clare Stanley
Colbert has spent the last 12 months working closely with Dr. Kevin Scott at the St. Abbs Marine Reserve and the Robotics Development at University College London to investigate the intelligence of these iconic mystical clawed crustaceans that have occupied a prominent place in history for over 100,000 years[7].
Community
The project's goal is to create a community with a strong Lobstar philosophy of life. Being a Lobstar is an attitude and a state of mind. Lobstars dare to be bold, hilarious, and colorful in life because they respect the transformative potential of positive creative energy and how they can incorporate it into everyday life. Lobsters are fundamentally surrealists as well[8].
Minting
---
Lobster List holders who have won in various ways benefit from the minting (Twitter and collaborations giveaways, Discord activity, and so on ). The Lobstars NFT had a 0.077 ETH mint price and the minting process was divided into three stages:
2022/4/10 23:00 Beijing time, community pre-sale
Pre-sale for cooperation: 2022/4/12 00:00 Beijing time
Public and gallery sales begin at 00:00 Beijing time on April 13, 2022.
The NFTs will then be available for purchase on the secondary market, which is already available on OpenSea and LooksRare.
NFT Utility
Holders will become residents of Lobsteropolis, and get access to unique in-person events, lobster and robotics research, freebies, apparel, documentary, animated television program development, and much more[9].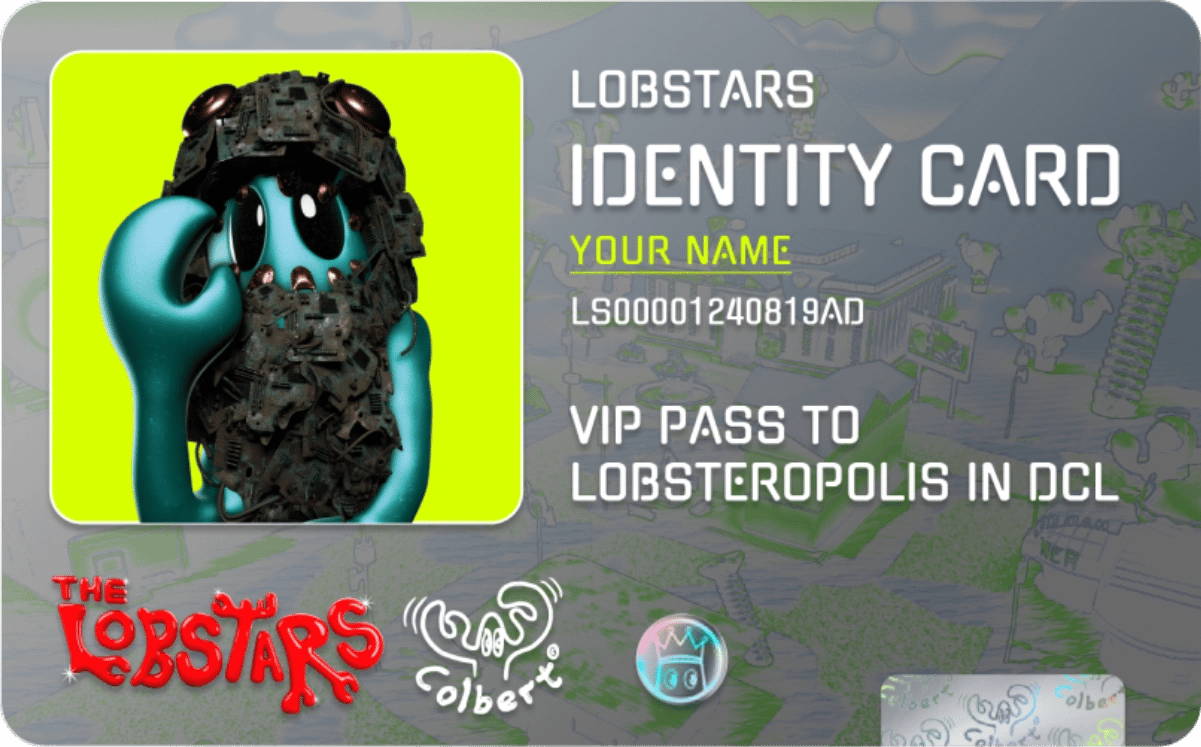 Lobsteropolis ID card
This collection of one-of-a-kind Lobster Portrait Non-Fungible Token (NFT) also serves as a Lobster ID card and is an integral element of what the artist hopes to be the most inventive community art project in the metaverse. From 'Every Day' to 'Star,' 'Superstar,' and 'Legendary,' the NFT rarity of the 7777 "Lobstars" remains secret until after purchase, ranging from 'Every Day' to the rarest of all "Lobstars," the 'Masterpiece.'
I have always believed that artists create worlds, and being an artist today I have more creative possibilities to push this idea further than has ever been possible . said Philip Colbert
Custom Lobsteropolis ID cards as a representation of access to Decentraland hangout spots and upcoming events (and IRL).
Access to the Lobsteropolis Foundation (pioneers in lobster research) and the Lobster Robotics Lab, as well as updates (robotics art project with UCL robotics).
Lobster Holders Club - rewards and gifts to provide value to our community; the longer people stay, the more perks they'll receive.
Merch + Collaborations: The platform is enthusiastic about merch and will be producing it to the high standards set by Philip via his work. For Philip Colbert, merch is a continuation of his art, and it will be performed to the highest standards imaginable, whether tangible or digital.
Lobsteropolis
---
Lobsteropolis is the biggest UK survey of Colbert's world so far, and it's been built to function both online and in situ, with robots allowing visitors to interact with the show.[10] Colbert's restricted horizons and own social media echo chamber drove him to imagine Lobsteropolis as a response to the epidemic while under lockdown. Taking a visit to a gallery and seeing art in situ is an important aspect of society and culture where individuals are free to do what they want.[11]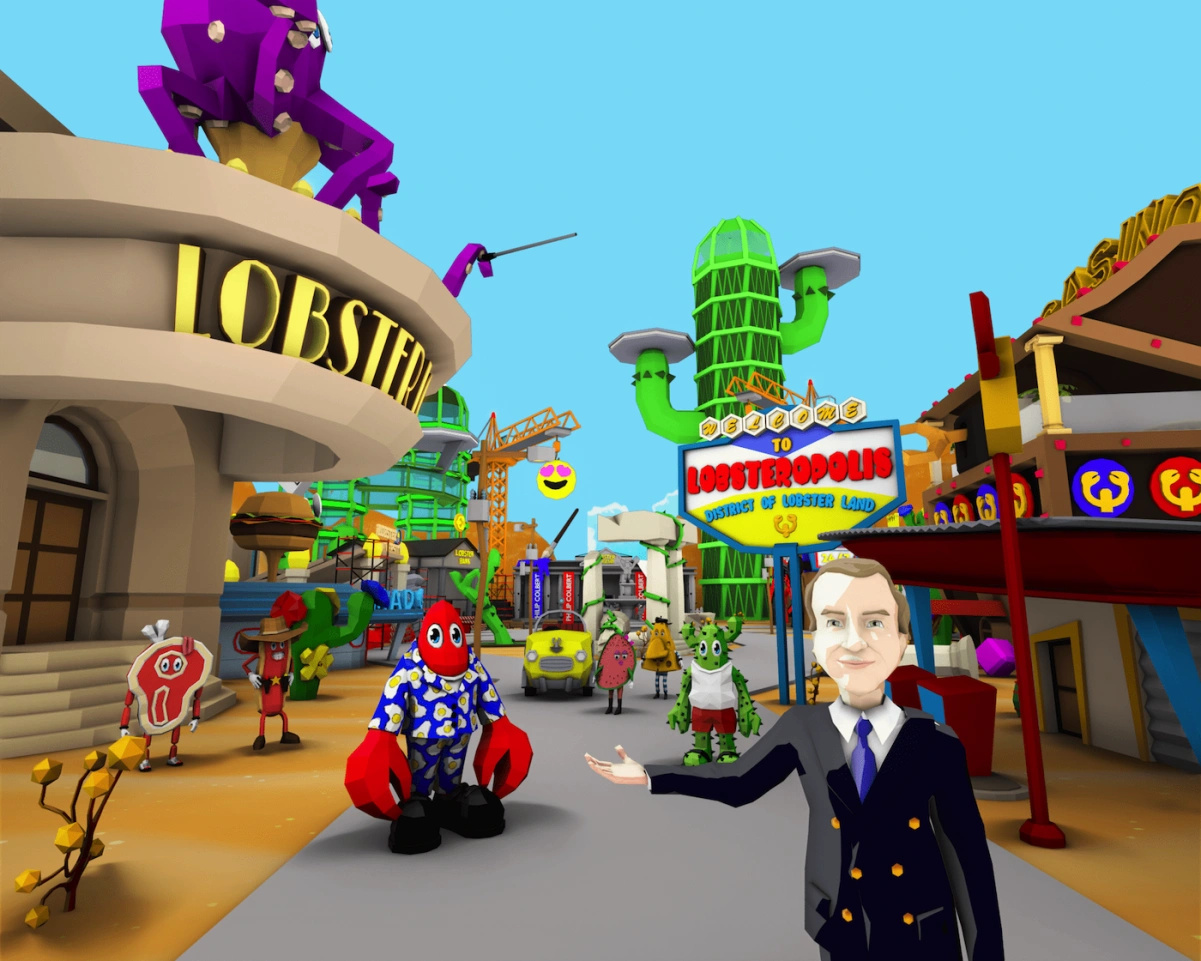 Lobsteropolis
In June 2021, Philip Colbert, who also is a metaverse pioneer, debuted his city Lobsteropolis with a tangible event at the serpentine gallery in London. Lobsteropolis is still Decentraland's largest art world. Following the development of Lobsteropolis, it became evident that in order to take the project to the next level, it was necessary to create a community; therefore, the lobstars, or inhabitants of Lobsteropolis, were formed.[12]
Colbert has been developing his virtual world lobster planet for the past three years, showcasing it at museum displays all around the world via his virtual reality platforms and video games, so the project is a natural progression for his art world.[13]
"Forget cubism," adds Colbert, "this is creative expression and sensation on a whole other level." "The digital art movement is now a tidal wave, and so many new concepts are feasible, thanks to the advent of the nft."[14]
Lobsteropolis Foundation
The Lobsteropolis Foundation was established to:
Support innovative lobster research.
Contribute to the protection of lobsters.
Because lobsters have played such a large role in Philip Colbert's work, and he is enthusiastic about giving back to the species and uncovering intriguing information about them, the platform is thrilled to finance these research initiatives.[15]
Research
Lobsters have featured on menus and in symbolic ways throughout history, beginning with the Moche people of Peru between 50 and 800 CE and continuing until the Viking period. They've long been studied for their seeming longevity, shedding their whole exoskeleton as they develop and change into new forms through a process known as 'molting.'[16]
Colbert Studio has paired Lobstars with The National Lobster Hatchery in Cornwall and the Whitby Lobster Hatchery in Whitby as a lobster-loving initiative that blends the digital and real worlds. Research will be supported for every "Lobstar" holder, and for every NFT sold, a real lobster will be released into the wild, providing real-time sustainable outputs with every digital contact. The Lobstars NFT-funded research will be disseminated to the community via Discord and the Lobstars social media, as well as manifested in future exhibitions and videos created as part of the project.
The platform is also collaborating with the Stubbs Marine Station on a number of research articles and behavioral investigations. Focusing on elucidating lobster communication and behavior patterns.
Conservation
Colbert has been collaborating with experts from University College London, The National Lobster Hatchery in Cornwall, and The Whitby Hatchery for the past two years. In conjunction with the United Kingdom's new Animal Welfare (Sentience) Bill, each Lobstar owner will fund the release of a live lobster into the wild.
In order to protect the lobster population, The Lobsters will release a juvenile lobster in the wild for every NFT coined.
"Humans have a fascination with aliens, and lobsters provide me with an opportunity to converse with these extraterrestrials." The concept of an interspecies interaction inspires me to be more creative."
Collaboration
---
The Lobstars x Robotos
The Lobstars X Robotos NFT collaboration, which is distinguished by the convergence of two remarkable artistic brains, Philip Colbert and Pablo Stanley, was formally exhibited. The aforementioned collaboration resulted in the construction of a modest collection of 100 one-of-a-kind RoboLobsters, for which graphic previews can be seen in the #announcements area. In February, a public mint took conducted at a price of 0.35 ETH.
The Lobstars x Bonhams Exclusive Lobstars Auction
Bonhams which is the world's third-largest art auction company, with sites all around the globe collaborated with British contemporary artist and metaverse pioneer Philip Colbert for Bonhams X Philip Colbert, the auction house's first-ever combined physical-NFT sale. The Lobstars (Genesis) is a one-of-a-kind work by Philip Colbert that includes a physical painting as well as a one-of-a-kind accompanying NFT to commemorate the launch of "Lobstars," a new collection of 7777 lobster portrait NFTs that will be available on www.thelobstars.com in conjunction with a special single-lot auction on bonhams.com from March 18-24. The Lobstars (Genesis) is expected to fetch between £20,000 and £30,000. Bonhams Auction House in London sold the Lobstar Genesis NFT with a matching photograph for $60,000.
Colbert plans to give 100% of the proceeds from the Bonhams auction of "The Lobstars (Genesis)" to the "Lobstars" community's groundbreaking study at St Abbs Marine Station, which includes the creation of a defining dictionary resource of lobster language. Colbert will be immersed in an underwater tank performing monitored discourse with a lobster as part of the world's first scientifically supervised interspecies communication between people and lobsters.[15]
About the Artist
Phil Colbert was born in Scotland but is currently based in London. Colbert is commonly referred to be Andy Warhol's "godson." Colbert's cartoon lobster image and superb hyper pop historical paintings have earned him a global audience.[17][18]  His work deftly examines the patterns of current digital culture and their connection to a broader art historical conversation.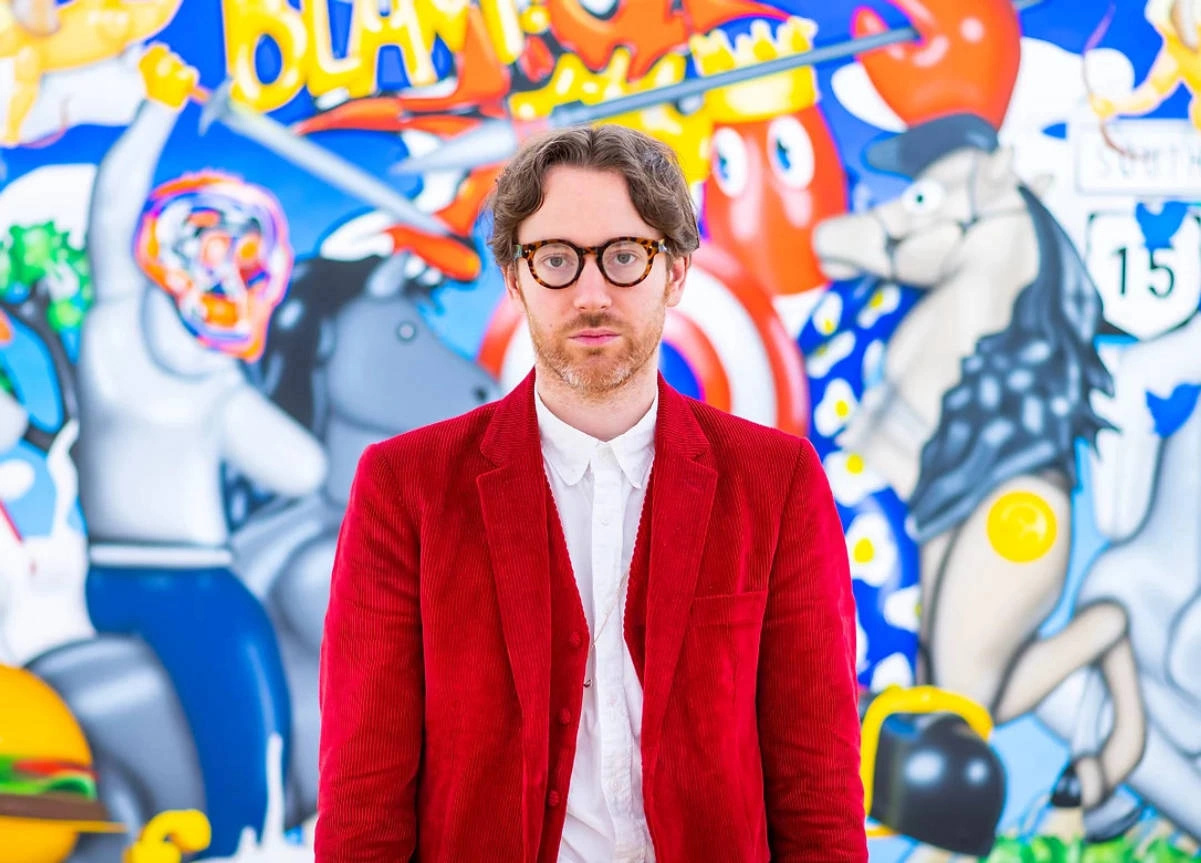 Phil Colbert (Artist and founder of The Lobstars)
Colbert's work has earned international praise in museums and galleries throughout the world for his vibrant new approach to painting and pop theory, having graduated with an MA in Philosophy from St.Andrews University. Following in the footsteps of artists such as Richard Hamilton, Roy Lichtenstein, and James Rosenquist, who pioneered Pop art.[19]
Colbert's paintings combine high art topics from ancient master paintings and modern art theory with daily emblems of mass contemporary society, all told via Colbert's cartoon Lobster alter ego's eyes. Art world heavyweights such as Charles Saatchi and Simon de Pury have hailed him as a modern pop master.[20]
Colbert's pivotal New paintings & Hunt paintings displays at Saatchi Gallery in 2017 & 2018 demonstrated his transformation into epic Large-scale works on canvas, resulting in a succession of museum exhibitions across the world.
Roadmap
---
Phase one
Lobstars
The process of minting lobstars | mid-March - date to be determined
The boundaries to Lobsteropolis have opened,
7,777 lobstars gain entrance to the kingdom of lobsters.
Citizen of lobsteropolis | lobstars id card
On decentraland, Lobsteropolis is constantly evolving, with plans to expand in the foreseeable future. Throughout phase two, each lobstar bearer will obtain a unique identity card that will grant them access to special lobstar places and events in Decentraland.
Lobsteropolis foundation
The Lobsteropolis Foundation aspires to be the global leader in lobster science and research. Each of the 7,777 lobstars produced will fund the release of a lobster back into the wild, advancing lobster study and ensuring the survival of lobster species throughout the world.
Merch
The Lobstars retail store can be located here, and weekly giveaway events will be held exclusively for the Discord community. There will also be gear and goodies that are just available to holders.
Lobstar of the month | lucky draw
Lobstar owners are automatically placed into the lobstar of the month drawing, with the winner receiving a miniature, one-of-a-kind painting of their lobstar by Phillip Colbert. Community participation, significant contribution to lobsters, or a community vote may be used to choose the winner.
Lobstar holders club
An private group for devoted supporters alone. Holders of a lobstar nft for at least 3 months will be eligible to join a raffle to win a free physical print of their own lobstar nft (shipping fees not included). A unique hard cover catalog raisonne of all 7,777 lobstars will be raffled off to the lobstar holders club.
Phase two | lobsteropolis
Lobstars auction house
20 lobstars nfts will be set aside for auction at the lobsteropolis museum at a later date. The auction winner will receive the nft as well as the one-of-a-kind artwork - an oil on canvas painting by Philip Colbert, signed on canvas and accompanied by an official certificate of authenticity.
In Decentraland, there are exclusive lobstar zones and wearables.
Lobstar identity cards grant entry to exclusive locations and activities inside the Lobsteropolis dcl universe.
Lobsters robotics
The collaboration with the University of California, Los Angeles (UCLA) Robotics Lab is continuing to produce robotic experiences for the public. To blur the barriers between the digital and physical worlds, uber-lobster robots and telepresence robots are being developed.
Collaborations
The community is always collaborating with other artists and/or projects that are relevant to the space, and it is always enjoyable, family friendly, and of high quality. Colbert has previously worked with high-end companies including Bentley Motors, Rolex, Montblanc, Christian Louboutin, Comme Des Garcons, and Adidas.
Irl events tba soon
There are plans to have irl events to bring the community together in the real world. Exhibitions, parties, and speeches, to name a few.
Phase three | lobster planet
Lobster planet development
The introduction of the lobster coin, the official money of lobsteropolis, is a goal of the lobster planet's growth. In Lobsteropolis, the lobster coin may be utilized. To develop a dao ecosystem, elections will be conducted in lobsteropolis within the community. Lobsters will be allowed to claim territory on the planet Lobster.
Exclusive metaverse content
Lobstar holders will receive not just premier decentraland advantages, but also limited edition 3d assets that can only be used by lobstar holders elsewhere in the metaverse. 3D sculptures, for example, are accessible for usage inside their own metaverse realm.
Lobstars animation series / documentary
The production of two animation projects, a documentary, and a television program will benefit the lobstar community.
See something wrong?
Report to us.
The Lobstars
Did you find this article interesting?