Tom Sachs: Rocket Factory
Tom Sachs: Rocket Factory (founded August 2021) is a Non-Fungible Token (NFT) trans-dimensional rocket manufacturing plant. The Rocket Factory uses NFTs to build new NFTs.[1]
Overview
Tom Sachs: Rocket Factory is an NFT trans-dimensional rocket manufacturing plant. Users can create their own NFT, using different pieces of the Component NFTs that will be claimed randomly, the users get to decide how to combine them to mint a Completed Rocket.[2]
The Rocket Factory had enough inventory to produce 1,000 Completed Rockets. That is 1,000 Nose cones, 1,000 Bodies, and 1,000 Tail Assemblies. All 3,000 Components are branded with 1 of 30 unique Brands with a different rarity.[3]
The community could build the Rocket they desire, the Rocket that defines them. The team gave the community power to decide - out of 113,500+ potential combinations - which 1,000 Rockets the world needed.[3]
Rocket Components
Lisa Simpson branded Nose Cone
A Frakenrocket
A Perfect Rocket
A Rocket is composed of three different Component NFTs: a Nose Cone, a Body, and a Tail Assembly. These three Component NFTs may be combined to form a Completed Rocket NFT, Every Completed Rocket NFT is given a unique name by Tom Sachs.[4]
The Component NFTs are burned, and a Completed Rocket NFT is minted. Component NFTs can be claimed, bought + sold, and assembled through the Rocket Factory website using their custom-built Marketplace.[5]
One of the reason they built their own Marketplace is to save users the additional 2.5% OpenSea charges.
Selected Rocket Component NFTs were minted with a Sticker graphic. Component NFTs with Stickers are more rare and unique. 100 of the 3,000 Components had Stickers. There are 10 Sticker types with different rarity.[6]
Components featured popular brands like the U.S.P.S., Budweiser, Apple Inc., Coca-Cola, McDonald's, NASA, Skippy (peanut butter), 7-Eleven, Trojan (condom), Sweet 'N' Low, Yoda, Brian from Family Guy and more.[7]
There were 90 of each Budweiser rocket component, meaning 90 fully assembled Budweiser rockets could be assembled if someone bought up the components. Other featured brands like Coca-Cola and Apple Inc. were scarcer, with only one of each component released, making only one hypothetical fully assembled rocket for each company possible.[2]
While brands like McDonald's and NASA had 25 and 31 of each component respectively, making more chances for fully assembled rockets.
Perfect Rocket
A Perfect Rocket is singular in its branding, composed of three matching Component NFTs - total perfection.
Frankenrocket
A Frankenrocket is a disparate clusterfuck of branding, composed of unmatching Component NFTs.
Launching Rockets
Frankenrockets and Perfect Rockets both have a Launch Option. When the Launch Option is selected, a Physical Rocket sculpture is hand-made in the "meat-world". The Physical Rocket is an exact replica of the Completed Rocket NFT. The Physical Rocket is primed for launch.[1]
Physical Rocket launches took place across the US and Europe in the first months following the Rocket Factory opening. They have plans to add more continents later on. The launch windows and locations are announced in advance, and Physical Rocket owners will be invited to the launch events.[5]
After launching the Physical Rocket, every attempt at recovery is made. If recovered, the Physical Rocket is shipped to its owner in a custom display box. The Completed Rocket NFT is updated with metadata gathered from the launch. A video documenting the launch is linked to the Completed Rocket NFT.[1]
The Completed Rocket NFT, its Physical Rocket twin (if recovered), and the video documenting the launch form a Holy Trinity. An NFT, A Physical Rocket, a video documenting the launch. An NFT, a Physical Rocket, and a video documenting the launch are not 3 separate things there are a Singular Transdimensional NFT, and it is the owners' to keep.[7]
Ten physical versions of constructed rockets was launched over New York City on Saturday, August 28, 2021. More rockets will fly on additionally selected dates.[2]
The Rocket League
The Rocket League is Classified Facility. To unlock membership to the "Rocket League", users need to own a Completed Rocket NFT. Membership benefits will include: special access to Factory Uniforms, invitations to launches and events (both physical and digital), among others.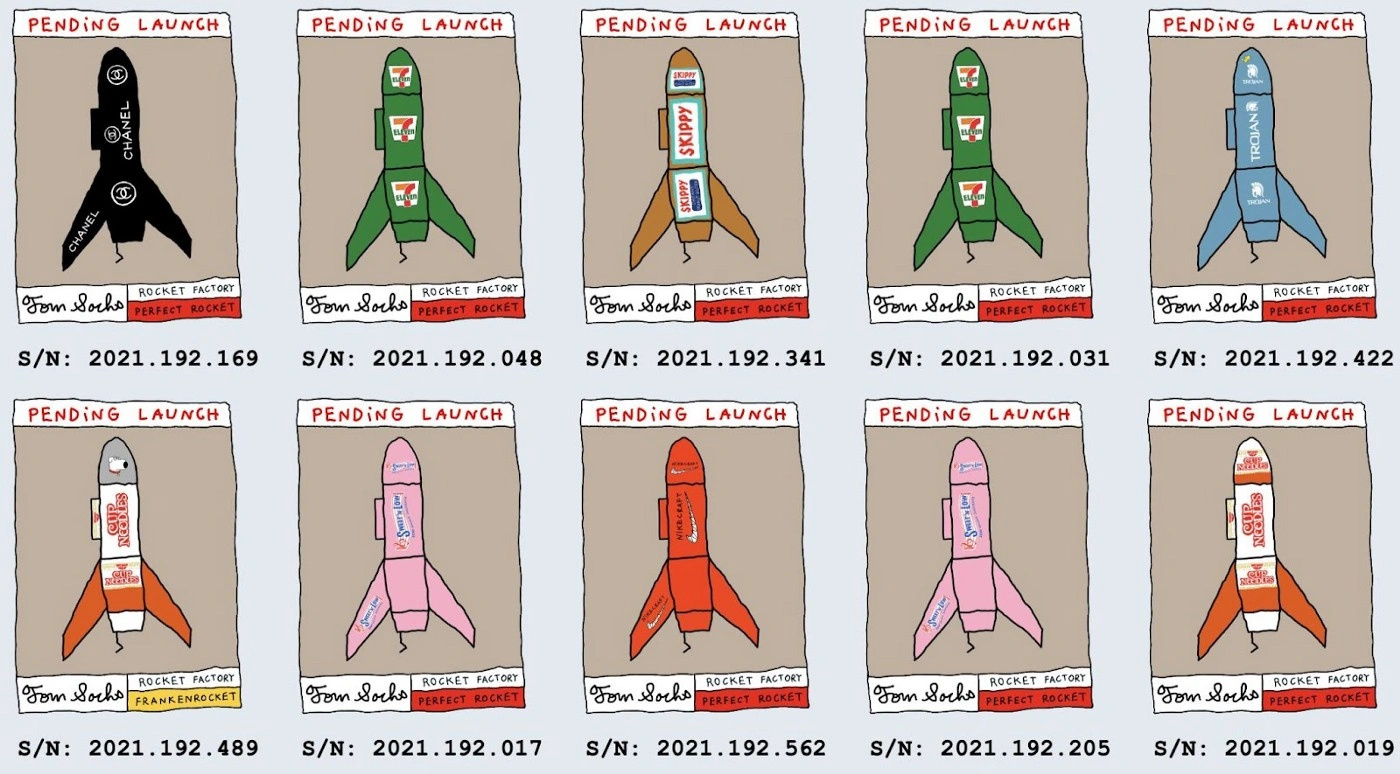 The team is also exploring the metaverse for a spot to build The Rocket Factory Headquarters, with special access clearance for League Members. They will be continually adding lots more to the membership benefits as the project rolls out.
The Team
Tom Sachs: Founder and CEO
Tom Sachs was born in 1966, he is an American contemporary artist, and self-proclaimed "handyman" working in New York City. He has done major collaborations with brands like Nike, which have realized a number of innovative products and U.S. utility patents.[1]
Major art exhibitions include the Space Program, a demonstration of all that is necessary for survival, scientific exploration, resource harvesting, and colonization in extraterrestrial environments.[5]
His works are held in museum collections around the world, including the Solomon R. Guggenheim Museum, the Whitney Museum of American Art, the Museum of Modern Art, New York, the Centre Georges Pompidou — Paris, Metropolitan Museum of Art, New York, San Francisco Museum of Modern Art, the Astrup Fearnley Museet for Moderne Kunst — Oslo, Los Angeles County Museum of Art.[5]
Development Team
NFT Studios is a holding of companies, they are in collaboration with the Tom Sachs Rocket Factory, they share one clear mission:
"Build the Metaverse one block at a time, developing products, tools, and technologies to enable the NFT space to grow and thrive."
NFT Studios has worked with several companies including CryptoMotors, PixelChain, Voxel Architects, and 0xSuite. Altogether, these companies aim to provide the digital space with innovative, high-quality tools, services, dapps, web platforms, video games, and assets.[7]
By leveraging the Ethereum blockchain technology, NFT Studios empowers startups, communities, and users to kickstart their own business, build a strong presence in the Metaverse, create their own products, explore their creativity, and engage in new and fascinating digital experiences.[7]
Advisory Team
Broken Thread is the Advisory team collaborating with the Tom Sachs Rocket Factory, their aim is to bridge the digital and physical worlds through NFTs. Their mission is to contribute to the explosive growth in NFTs in an authentic and meaningful way by bringing talented artists from the traditional art world into this new medium through thoughtful projects, educating and converting their dedicated following along the way.[1]
Project Launch
The team released 70% of the inventory to the community. The Rocket Factory is focused on making "the best, for the most, for the least".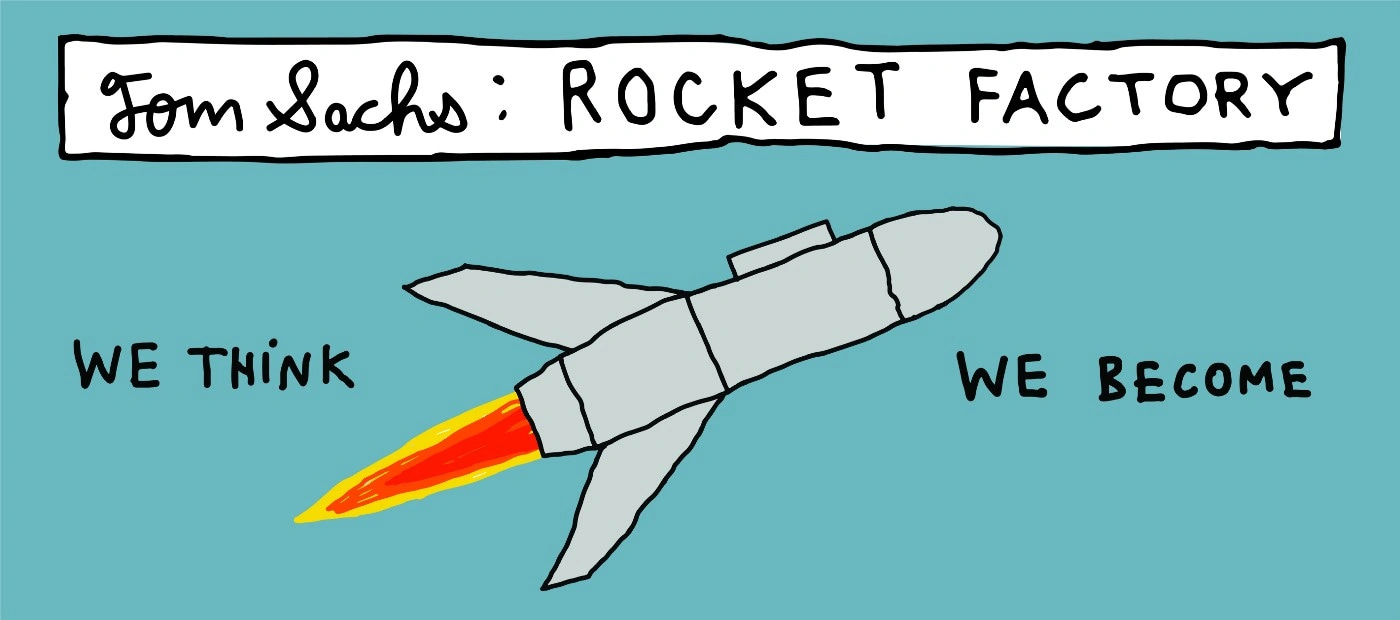 The Rocket Factory had no bonding curve. Claiming a Component NFT cost the same for everybody. The Component NFT a user received was randomly assigned, and there were never more than 3,000 Components. Rocket Component NFTs cost 0.15 ETH to claim including the price of rocket fuel or gas.
[2]
The remaining 30% went to:
Development Team
NFT Mentors and Community Educators
Studio Team
Pre-Sales including Community Giveaways
Roadmap
Component NFT Token IDs
Token IDs are not sequential with respect to the order in which they are claimed at drop. Token IDs are pre-assigned based on a rarity curve, and each Component NFT is essentially pre-minted.
When a claim takes place on the Rocket Factory Marketplace, the Component NFT is randomly assigned to the claimer's wallet. It is a blind draw. There is no conceivable way of knowing what Component NFT will be issued for a given claim.
This decision was made to keep gas prices consistently low, and to avoid gas wars on the day of launch. This makes the transaction as inexpensive, and fair, as possible. It gives everyone in line an equal shot.
Completed Rocket NFT Token IDs
Token IDs for Completed Rockets are issued sequentially in the order they are assembled and minted. Each Component NFT's metadata is preserved within the Completed Rocket NFT. There is immense variety in the potential composition of each Rocket. The number of brand combinations alone exceeds the total inventory by a factor greater than 100:1.
Payload Bonus
The team on working on making certain Physical Rockets eligible for a payload bonus. This can be a fuel resupply mission (gasoline cargo), or returning a payload of ETH from an interplanetary mining mission, or something classified that can't be revealed yet.
See something wrong?
Report to us.
Tom Sachs: Rocket Factory
Did you find this article interesting?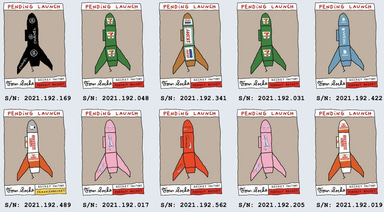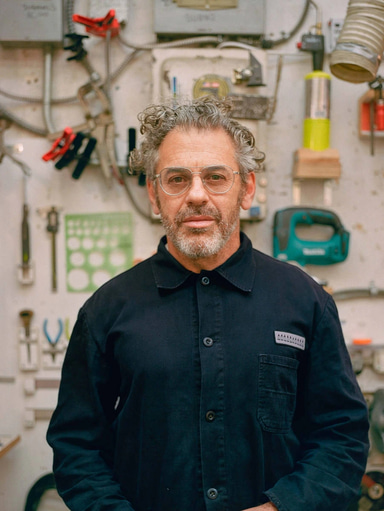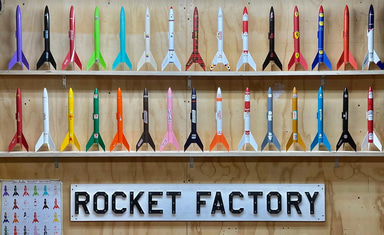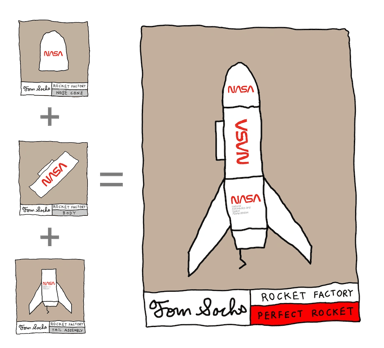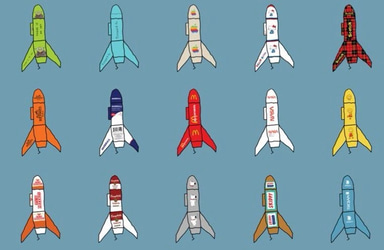 REFERENCES
[1]
Rocket Factory Website
Aug 20, 2022
[2]
Budweiser Buys $25,000 NFT Rocket:
Aug 20, 2022
[3]
Tom Sachs: ROCKET FACTORY
Aug 20, 2022
[4]
Rocket Factory on Twitter
Aug 20, 2022
[5]
CyberKongz, Tom Sachs Rocket Factory and Damien Hirst
Aug 20, 2022
[6]
Rocket Factory on OpenSea
Aug 20, 2022
[7]
Tom Sachs: ROCKET FACTORY
Aug 20, 2022