TrueFi
TrueFi is a protocol for creating interest-bearing pools with a high APR for liquidity providers. TrueFi includes utility and rewards mechanisms using TrustTokens (TRU) and rewards participants for maintaining stable, high APRs.[1][2][3]
Overview
TRU is the native token of the TrueFi protocol and is used for TrustToken. TrustToken holders ultimately have a say over who is a credible borrower in the prediction market. TRU gives the holder the ability to rate credit for third parties. Through TRU credit rating, a permissionless system of credit can be built which operates purely through incentives. TRU owners have part ownership in building a new credit system.[8]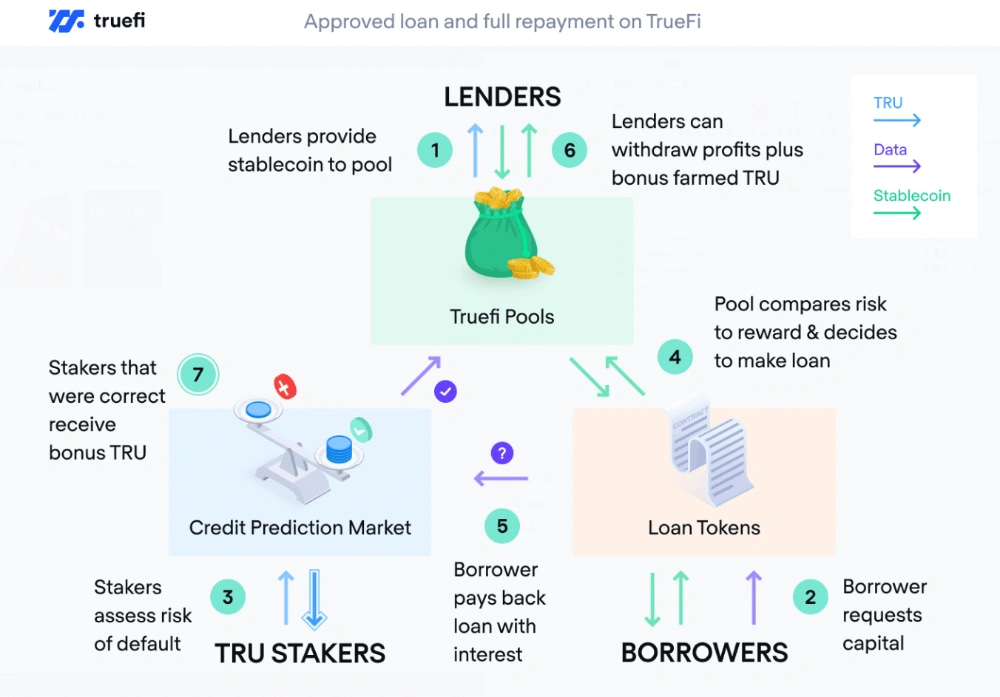 The goal of TrueFi is to bring uncollateralized lending to DeFi. This helps cryptocurrency lenders enjoy attractive, sustainable rates of return, while giving cryptocurrency borrowers predictable loan terms without requiring collateral.
Importantly, all lending and borrowing activity on TrueFi is fully transparent, allowing lenders to fully understand participating borrowers and flows of funds engaging with TrueFi.[6][7]
TrueFi was built on the concept of progressive decentralization. Initially, TrueFi development will focus on bootstrapping the protocol and distributing TRU to the community of users and developers who participate in the protocol.
TrueFi aims to become a market-driven, automated credit rating and lending system. This will demand building beyond the rigid, conservative constraints such as minimum/maximum APY and high TRU participation factor. It will also require increased levels of responsibility from users, especially for onboarding new borrowers beyond the pre-approved whitelist and approving new loan types.
How TrueFi Functions
Lenders add TrueUSD into a TrueFi pool to be used for lending, earning interest and farming TRU.
Borrowers (like OTC desks, exchanges, and other protocols) submit proposals to borrow capital from the pool. They submit the amount of capital they want, the % APY they're offering, the term, and the Ethereum address that will receive the loan capital if the proposal is approved.
The Pool smart contract approves or rejects the loan based on the Pool's risk parameters and Yes/No votes by TRU Stakers.
The Borrower must return the principal and interest on or before the term expires. Delinquent borrowers will face legal action pursuant to the loan agreement signed.[4][5]
Team
Rafael Cosman - Co-Founder & CEO
Alex de Lorraine - COO & Sr. Director, Finance
Tom Shields - Chairman of the Board
See something wrong?
Report to us.
TrueFi
Did you find this article interesting?