Voxies
Voxies are a brand new NFT on the Ethereum Blockchain that offers a combined experience of fun, cute collectibles and also a fully functioning tactical gaming experience that users can play using their Voxies.[1]
Voxies are procedurally generated (and random) Voxel Buddies that contain a large number of different attributes and traits that make each Voxie unique and fun to collect. For example cosmetic attributes like the Voxie costumes and hats, to more fundamental attributes such as the race (Human, Robot, Fox, etc) or what job class the Voxie has.[2][3][4]
Overview
Voxies are cute, lovable and collectible 3d voxel buddies, that live and play on the Ethereum Blockchain. There are only 10,000 Voxies in existence and no two Voxies are identical. Lots of random properties and fun traits make each Voxie cute, unique and sometimes rare!
Voxies are a type of NFT on the Ethereum Blockchain and each Voxie can only be owned by a single person. Adopting a Voxie is super simple using your Ethereum wallet; once you own a Voxie there are many things you do with your unique voxel buddy (including the usual reselling and trading on OpenSea).
Around 86% of all Voxies have been adopted. There are 1418 Voxies available at a current price of 0.32 ETH per Voxie.
The Voxies NFT is the first launch phase of the Voxiverse and represents the initial token distribution that allow players to own and stake a claim in the Voxie expanded Metaverse. Over time the team is planning to introduce more phases to its release and more Blockchain infrastructure, giving its players more ways to own and play with their Voxies.[3][5]
Technical specification
There are exactly 10,000 Voxies in existence, this number cannot change and is built into the Smart contract that is locked on the Ethereum Blockchain. Each Voxie is randomly generated and locked to a certain token # in the Blockchain. Their personality and attributes are made up of a number of different criteria (listed below) and this mix of different attributes make every single Voxie totally unique from each other - Voxies can share attributes with other Voxies but no two single voxies will have the equact same combination.[4]
Voxie Tactical Gameplay
What makes the Voxies NFT unique and different from all the other NFT projects you have probably seen (collectible GIFs and static art images) is that it is connected to our tactical role playing game called Voxie Tactics.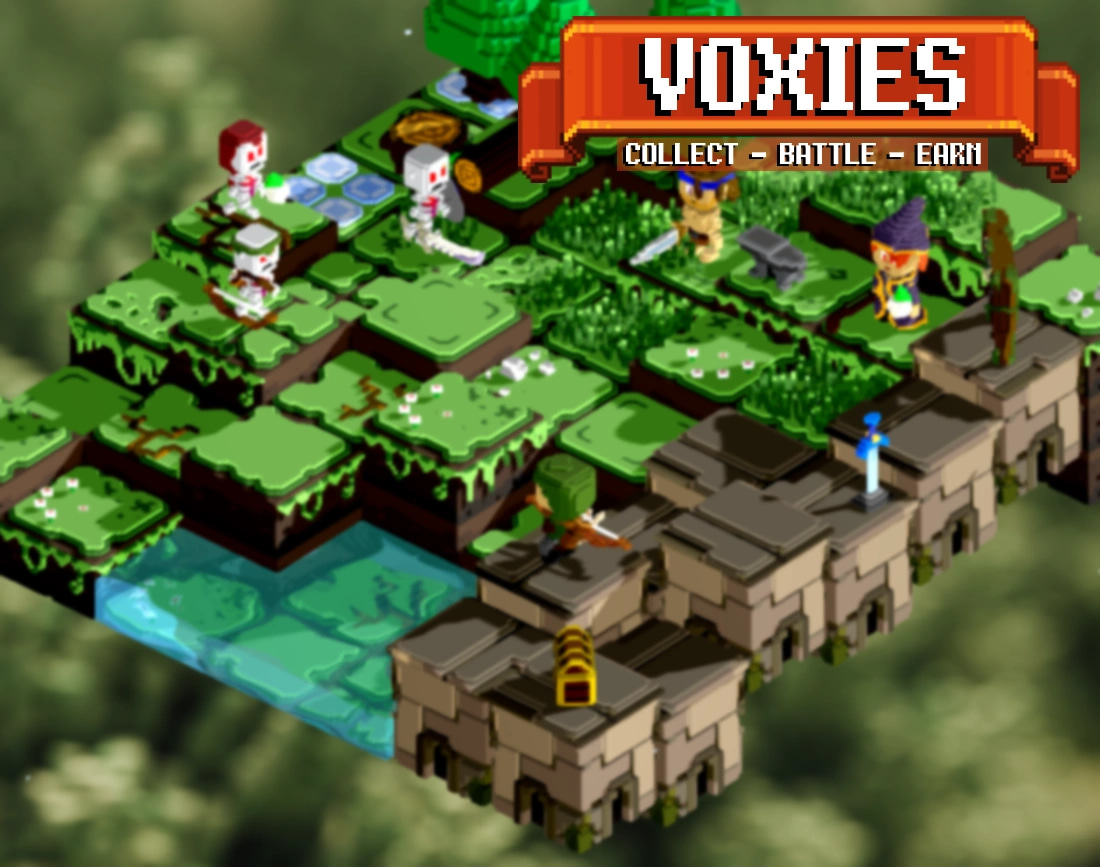 Voxie Tactics is much like a traditional RPG and tactical game concerning the main gameplay, but it is powered by Blockchain technology and ownership is central to the core concepts of the game. Since Voxie Tactics is a team based tactical game, you control multiple characters in the game and each of these characters can be represented by a Voxies that you directly own as an NFT.
Gameplay of Voxie Tactics is very reminiscent of retro RPG and tactical games such as Final Fantasy Tactics and Tactics Ogre.
As you can see above, battles in Voxie Tactics take the form of turn based sequences where one team is trying to achieve an objective for each battle arena (kill all enemies, survive a certain amount of turns, rescue in-danger NPCs, etc). Once the goal is achieved the battle ends and rewards are distributed.
The game also features exploration and non-battle elements; there are central hubs to the game that allow players to freely roam around and participate in non-combat activities such as purchasing new equipment for your Voxies, completing quests for villagers, changing the abilities and class of your Voxies, and more.
Play to Earn
Players will be able to earn our native VOXELS currency and token simply by playing the game. This can be earned in a number of ways, such as during battles, or when a battle is completed. The end of battle screen shows you what rewards you acquired during the battle:
The VOXEL coin token will be initially distributed to owners of the Voxie NFT and we will detail more information about how owners can claim and stake their VOXEL tokens at a later stage.
The VOXEL token can be used directly in the game as the game's currency (to buy items, weapons, armor, cosmetics, etc) or it can be used outside of the game much like any other Blockchain currency to power the games secondary market, so players can buy/sell/trade their items and equipment from the Voxie Tactics game. The game will feature multiple ways for you to increase your Voxies NFT value, tied to the gameplay such as acquiring more powerful in-game items and equipment (weapons, armor) or even just having some rare and unique cosmetic items that are highly sought after by other members of the Voxies community to sell on the secondary markets.[6][7]
VOXEL Tokens
The Voxel ($VOX) token will be used as the currency inside the Voxie Tactics game and will be utilized for all in-game functionality, such as purchasing new weapons, armor or items to use in the game. Also the Voxel token will be available on the secondary market and can be freely traded by players outside of the game. This means that you can earn Voxel tokens in the game and then sell them on the secondary market, just like the Voxies NFT and the NFT items that are used in the game.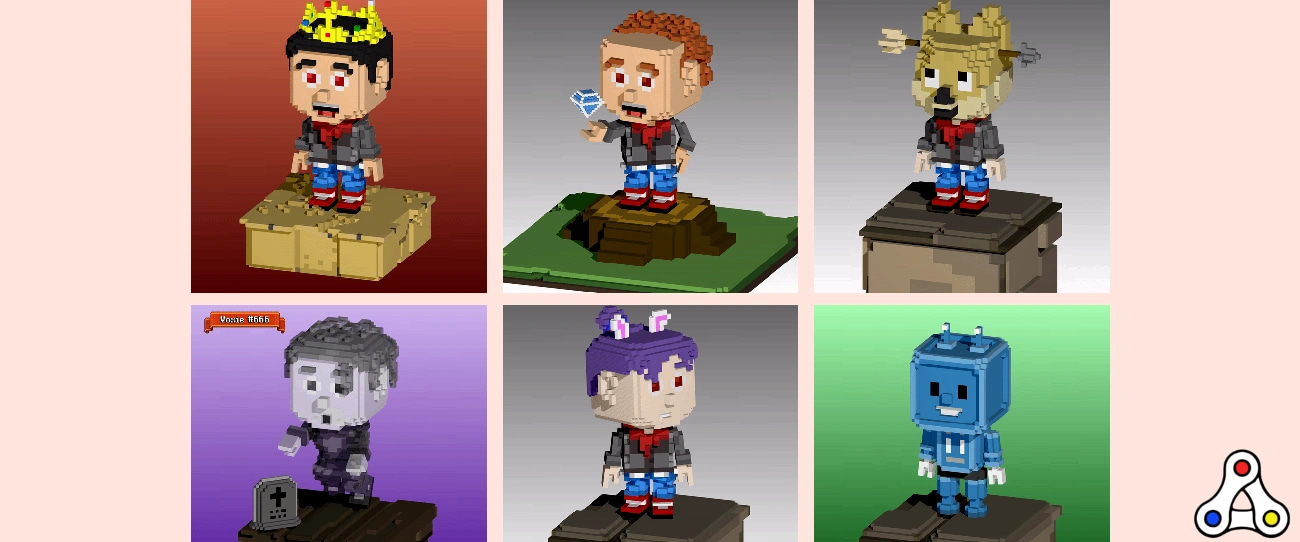 Inside the game the Voxel tokens can also be earned by playing the game and doing certain tasks — for example after each battle you will be rewarded with Voxel tokens (and potentially rarer NFT item rewards!) depending on the success of the battle. Exploration mode will also present ways to 'find' and collect Voxel token, helping out NPCs in the world and completing quests for them is another way to potentially earn rewards and Voxel tokens.
[8]
VOXEL Token Allocations
VOXEL tokens will be allocated to owners of Voxies up until the release of the game. This gives owners a reason to hold onto Voxies prior to the release of the game and an additional reward for early adopters, as well as the added benefit of enjoying their favourite Voxie characters.
We will be holding weekly allocations for Voxie owners VOXEL tokens before the game is released and this will be based on wallet ownership. For example each week we plan to give out 250,000 VOXEL (actual final amount TBD) tokens distributed to all owners of Voxies. This allocation will be based on ownership and split amongst the current owners at the time of the allocation (Weekly allocation on Fridays). This means that if a player owns more Voxies, they will receive more VOXEL tokens prior to release of the game.[8]
What can be done with a Voxies?
Once a user own a Voxie, they are theirs to do as they see fit. Just like any other collectible and Ethereum ERC-721 token. This means they can trade with other users, sell on the secondary market on OpenSea or keep forever as their own. Of course there additional benefits to owning a Voxie, as they are designed to be more dynamic and interactive than other NFT and collectible tokens. For example a user can use this website to directly interact with their own Voxies and play with them. There is also a downloadable app and game planned for Phase 2 of the Voxies project.[3]
Voxies Item Naming Competition
There will only be 250 NFT of this Bow
There will only be 100 NFT items of this Sword
There wilkl only be 50 NFT items of this Mace
Name a Voxies in game weapon, A winner will be chosen for each of the 3 item categories and will receive the first copy of the NFT item they just named, plus a Voxie:
Of the 3 item naming competitions, the fist one is open to everyone, the other 2 are available only to Voxie owners.
A Legendary Bow
A Legendary Sword
A Legendary Mace
Attributes
Here is a sample list of the attributes that each Voxie can have have:
Race: Human, Robot, Zombie, Skeleton, Alien, Doge
Facial Features: Nose type, Ear type, Hair styles, Facial Hair
Hair colour: Brown, Black, Blond, Purple, Ginger, Blue, Gray, Green
Eye colour: Blue, Gray, Green, Red, Hazel, Yellow
Outfit / Costume: Each Voxie will have multiple parts to their outfit - for example the top section, the bottom section, the shoes. Expect lots of fun costumes for your voxies - Panda outfit, space suit, scientist lab coat, medieval armor, etc.
Personality (displayed using animations): Idle, Waving, Happy, Angry, Jumping for Joy, Zombified, Dancing, High Five, Exercise, Zen, etc..,
Accessories: Sunglasses, held objects, musical instruments, crown, diamonds, etc.
Hats: Too many different hats and styles to list here
Pet Companion: Kitty, Doggy, Piglet, Penguin, Ghost
Scenery: Scenery is a combination of multiple aspects - the floor tile, the background scenery, the background colour, weather effects.
How to purchase Voxies
Users can use the main home page to purchase and adopt Voxies. They do this by utilizing their MetaMask Ethereum (ETH) wallet to initiate a transaction for a number of Voxies, and once this transaction is complete the Voxies are transfered to their wallet as ERC-721 Ethereum tokens.
The price of Voxies follows a bonding curve that is designed to reward early adopters and people that support the project during the initial early phases as a reward with the lowest Voxie price.[3]
The Voxies Team
The Voxies team is comprised of just a couple. They have been in the Crypto space for many years, but Voxies is their first adventure into the exciting world of NFTs. They are long time developers and have many years experience in games development and web technology, so diving into the exciting world of NFT, Ethereum Smart contract and Blockchain development was fun and new to them.[9]
See something wrong?
Report to us.
Voxies
Did you find this article interesting?