Xangle
Xangle, managed by CrossAngle, serves as a crypto data intelligence platform that actively addresses the challenge of information asymmetry in the cryptocurrency market. By processing on and off-chain data, Xangle offers a range of valuable insights, including research, analytics, circulating volume tracking, event monitoring, price data, project profiles, and ratings. Its mission is to empower users with verified data for secure crypto investments. [1][2]

Overview
Founded in October 2018, and based in Seoul, South Korea, CrossAngle, the driving force behind Xangle, underscores the importance of investors having a profound and accurate comprehension of the crypto market. CrossAngle aims to fill this information gap by providing services like Research, Analytics, Live Watch, and Xangle Academy. Beyond being a neutral information provider, CrossAngle actively works on accelerating user adoption through transparent governance, bridging traditional industry leaders with the emerging Web3 landscape. The organization is committed to creating a sustainable, dependable, and user-friendly Web3 ecosystem, aiming to be the cornerstone for users seeking any Web3-related data. [2][3]

Services
Live Watch
Live Watch is a monitoring service, offering real-time insights into each crypto asset's on-chain data. It enhances reliability by cross-referencing blockchain data with project resources and announcements. By continuously monitoring the circulating supply, Live Watch promptly identifies any significant risks. It provides a dependable source of data for both token issuers and investors, making on-chain data more accessible through visualized metrics, facilitating easier analysis and comprehension. [4]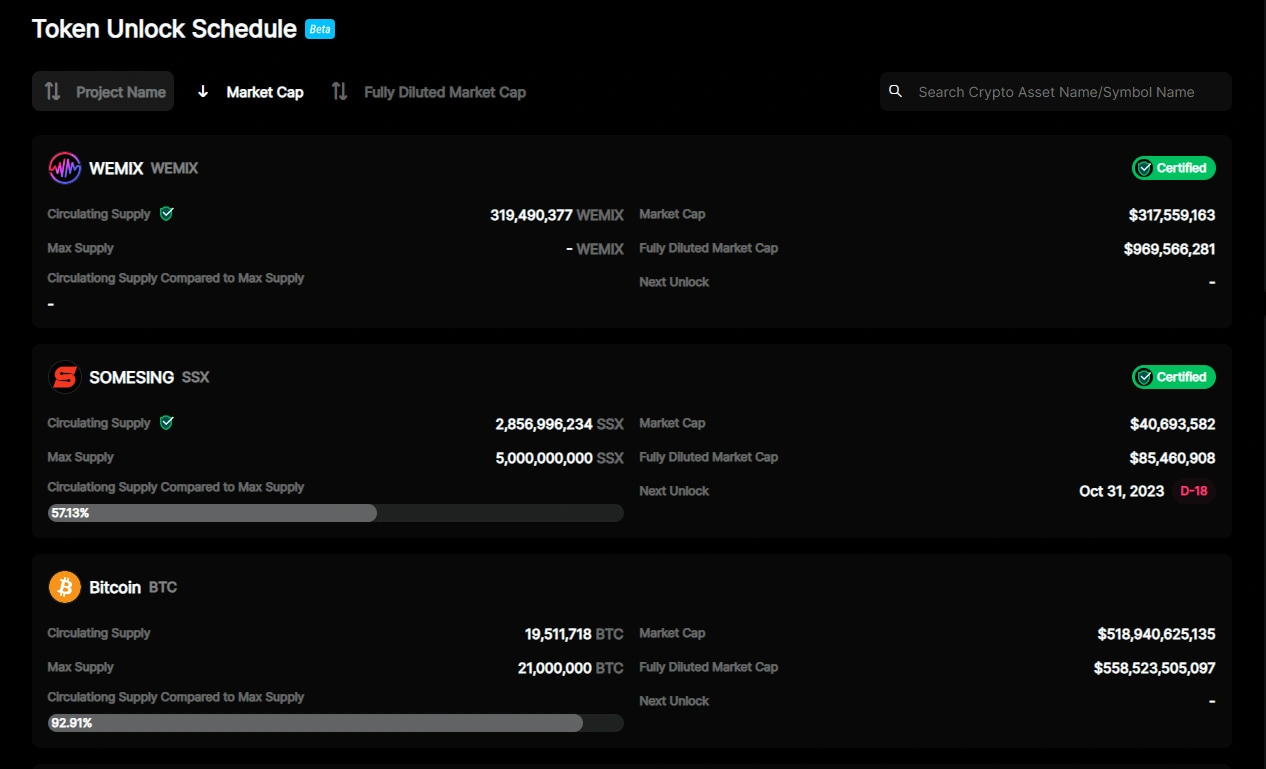 Research
Xangle Research provides educational articles for users seeking in-depth insights into various crypto projects. These comprehensive articles are curated by Xangle's crypto research analysts, covering a broad spectrum of topics, including gaming, DeFi, and NFTs, across different research content categories like Original, Academy, and On-chain. To contribute to Xangle Research, there are no specific qualification requirements as Xangle actively encourages authors to freely share their research content, fostering a collaborative and informative crypto community. [5]
Analytics
Analytics is a dashboard offering users a convenient way to gain real-time insights into mainnets and dApp ecosystems. It derives its data from on-chain transactions and is updated daily, ensuring users always have access to the latest information. By tracking key metrics, Analytics helps users gauge the vitality of related assets, offering data to assess the ecosystem's overall movements. [6]
Key Data Categories
Token Information: This category aggregates data on token prices, weekly and monthly averages, total transaction counts, Fully Diluted Market Capitalization (FDMC) vs. Market Capitalization (MC), the total value of executed trades, and the annual rate of circulating supply change.
Network Metrics: With network metrics users can access data on the total number of transactions on the network, the total value of assets locked in the network, native tokens burned, addresses contributing the most to token burning, block rewards, token incentives, smart contracts deployed, contract deployers, and block utilization.
Account/Wallet Data: This category offers insights into the number of unique addresses involved as senders in transactions on the network and the number of new addresses initiating their first transaction since the network's inception.
Transaction/Gas Metrics: Users can track transaction fees, total gas consumption, and average gas prices. These metrics reflect network congestion, demand, and cost trends.
Revenue Insights: This section provides financial information, including revenue, fee revenue, expenses, validator fees, token incentives, net profit, and net profit margin. Fee revenue reflects cumulative user transaction fees, while validator fees highlight compensation for block validation. Net profit is calculated by subtracting supply-side revenue and token incentives from total fee revenue.
Valuation Metrics: Users can explore valuation ratios like Price-to-Sales Ratios (PSR) based on both Circulating Market Cap and Fully Diluted Market Cap, Price-to-Earnings Ratios (PER) using the same market cap criteria, Revenue on Total Value Locked (TVL), Market Cap to TVL, Fully Diluted Market Cap to TVL, Market Cap to Transactions, and Network Value to Metcalfe (NVM).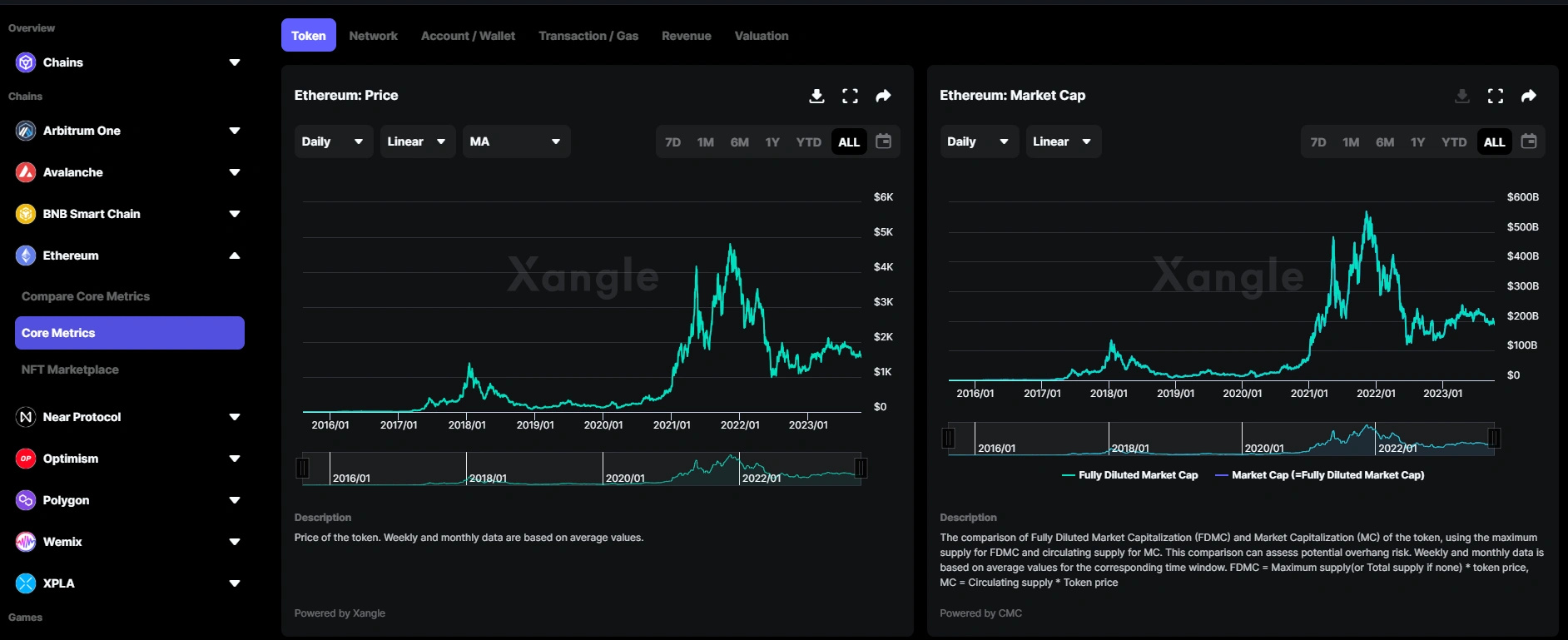 Events
Xangle's Events section offers a list of events pertaining to various aspects of Web3 projects, including initiatives, technologies, tokens, governance, and operations. It offers a convenient overview of forthcoming industry milestones. These events are organized and presented with a brief title and description, accompanied by official announcements from the project or organization associated with said event. This categorization allows for easy navigation, assisting users to find events that align with their interests. Furthermore, a calendar view provides a visual representation of the events occurring daily, offering a quick overview of the web3 landscape. [7]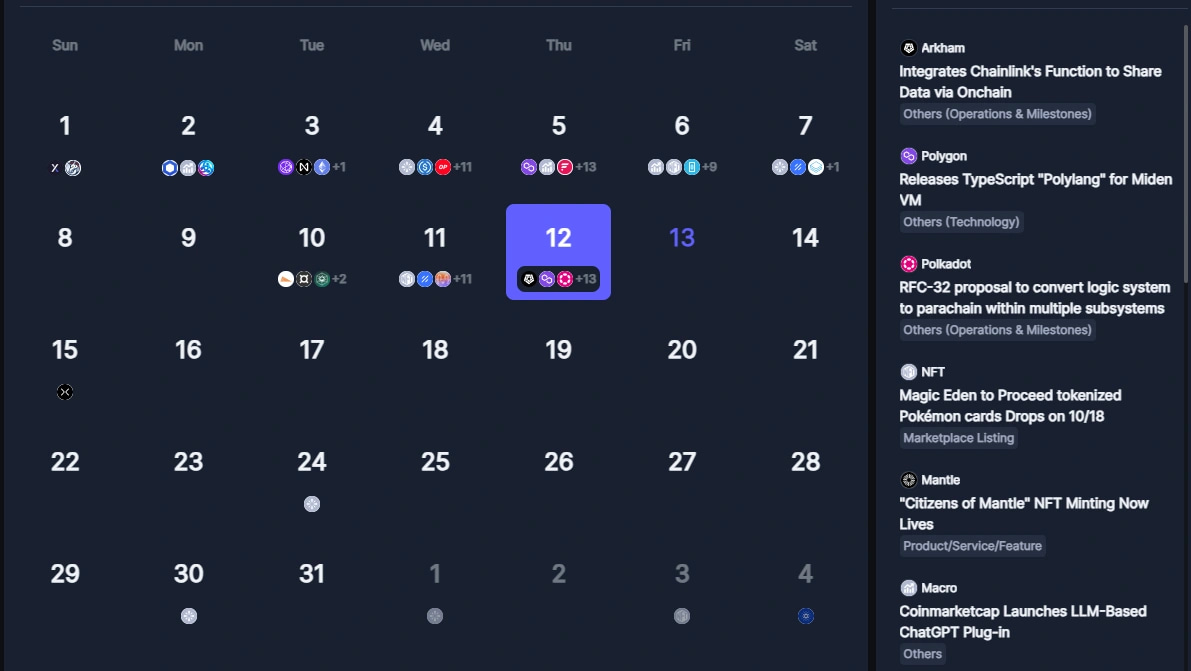 Crypto Price
Xangle's Crypto Price platform functions as a cryptocurrency price aggregator, supplying real-time data on a diverse array of digital assets. This platform offers essential market information, presenting a visual snapshot of each cryptocurrency's performance, enabling users to stay informed about each digital asset. [8]
Index
The Index platform provides benchmark indices to various segments of the cryptocurrency market, helping users stay informed about trends and developments in each specific domain. [9]
Xangle Crypto Top 30 Index: A benchmark index tracking the market performance of the 30 largest crypto assets worldwide.
Xangle Korean Crypto-Asset Index: Serves as a benchmark index for the South Korean crypto market, tracking the market capitalization of the top 10 assets from blockchain projects based in South Korea.
Xangle Mainnet Index: Monitors the market capitalization changes of the top 10 assets from unique blockchain networks (mainnets) that record asset movements using their specific consensus mechanisms and nodes.
Xangle NFT/Game Index: Monitors the market capitalization fluctuations of the top 10 assets in the Non-Fungible Token (NFT) sector, which supports services like NFT creation and trading. Also observes the market capitalization variations of the top 10 assets related to Web3 games and Metaverse content.
Xangle DeFi Index: Monitors the market capitalization fluctuations of the top 10 assets in the Decentralized Finance (DeFi) sector, which implements traditional financial services in a decentralized manner.
Xangle DEX Index: Tracks the market capitalization changes of the top 10 assets related to Decentralized Exchanges (DEX), which facilitate peer-to-peer cryptocurrency trading via smart contracts.
Xangle Lending/Borrowing Index: Observes the market capitalization variations of the top 10 assets in the Peer-to-Peer Lending/Borrowing sector, a decentralized lending and borrowing protocol.
Xangle Derivatives Index: Monitors the market capitalization fluctuations of the top 10 assets linked to cryptocurrency derivatives, including futures and options.
Xangle Asset Management Index: Tracks the market capitalization changes of the top 10 assets associated with protocols and services providing yield farming and staking.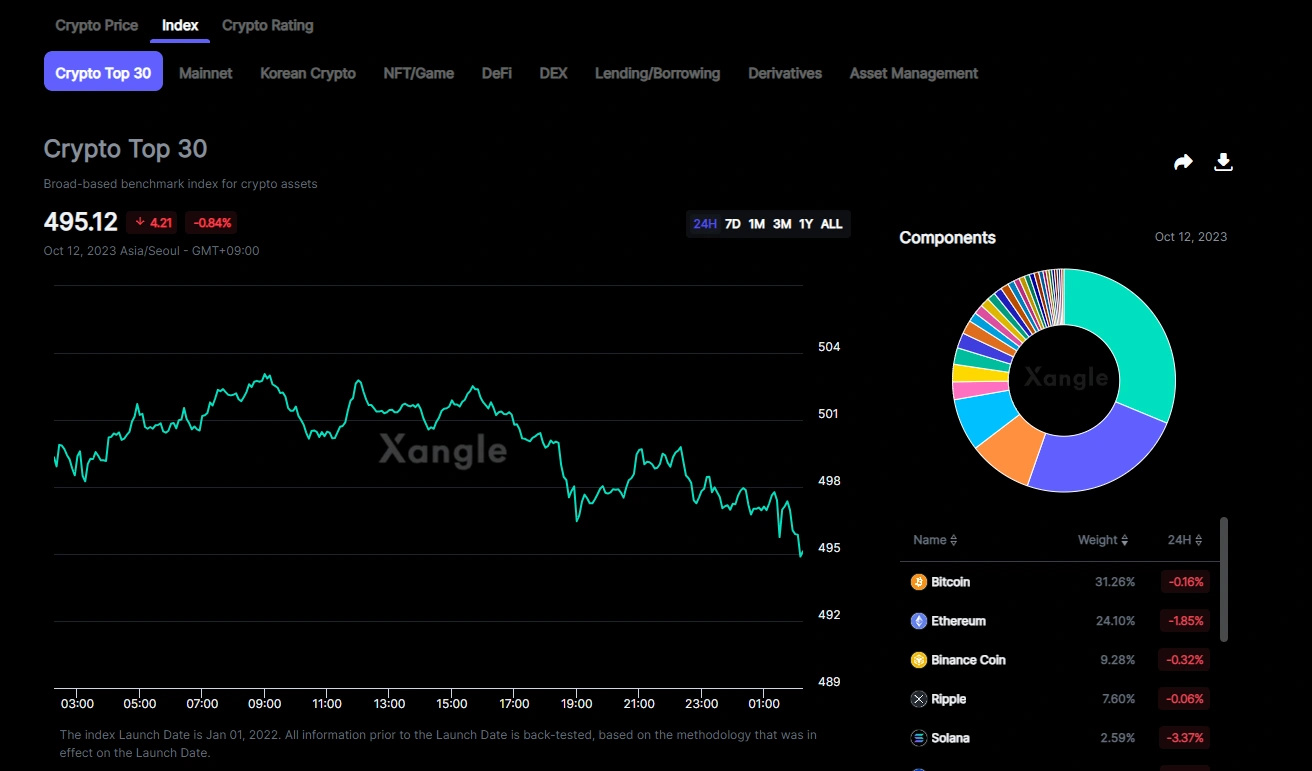 App
The Xangle App allows users to access all data on their mobile devices, providing push notifications on the latest events, as well as price alerts to keep users up-to-date. [10]
Funding
Series A
On July 16, 2020, Xangle successfully concluded a Series A funding round, securing $3.3 million (4 billion won). The funding round was led by Hanwha Investment & Securities, a licensed securities brokerage subsidiary of South Korea's Hanwha Group. With this financial support, Xangle aimed to establish the necessary infrastructure for providing institutional data services for crypto assets. [11]
Series B
On May 9, 2022, CrossAngle successfully concluded a Series B investment round, securing a total of USD 17 million. The funding round was spearheaded by KB Investment, Shinhan Capital, Premier Partners, and IMM. Notably, Shinhan Capital established a strategic partnership with Xangle, with both companies planning to introduce crypto-related services on their respective platforms. In light of this recent funding achievement, Junwoo Kim, Co-CEO of Xangle, emphasized the growing acceptance of crypto assets as investments rather than speculative assets. He acknowledged the increasing importance of emerging sectors like the Metaverse, NFTs, and DeFi. Kim also expressed the company's commitment to promoting the positive aspects of crypto assets by furnishing the market with reliable information and data. [12]
Partnerships
Chainlink Labs
On February 6, 2023, Xangle and Chainlink Labs established a channel partnership aimed at accelerating the adoption of Enterprise Web3. The partnership's primary goal is to foster Web3 adoption and growth by facilitating the integration of key Chainlink services, including Chainlink Price Feeds and Chainlink VRF, into Web2 enterprises. By joining forces with Chainlink Labs and other industry leaders, Xangle aims to continue to enhance its Web3 data and intelligence platform, reinforcing its presence within the Web3 data ecosystem. [13]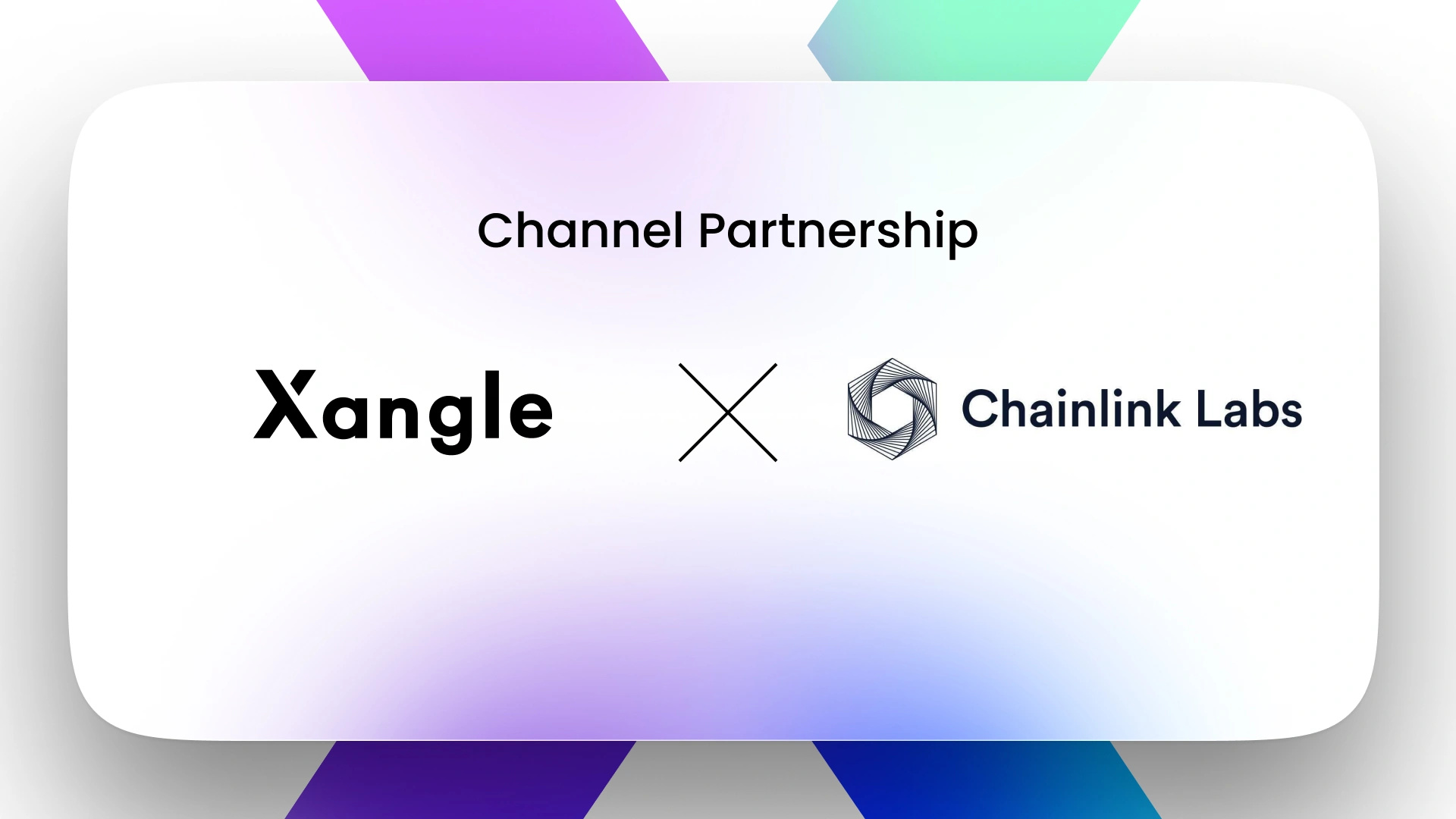 Partnership with Financial Data Providers
On August 29, 2023, Xangle's data-driven blockchain research reports became accessible on multiple financial information platforms including Bloomberg Terminal, FnGuide, and Yonhap Infomax. The announcement of the successful integration of their reports into these established companies demonstrated Xangle's commitment to broadening their reach to leading domestic and global crypto and financial information providers, as well as delivering valuable insights to a wider audience. [14]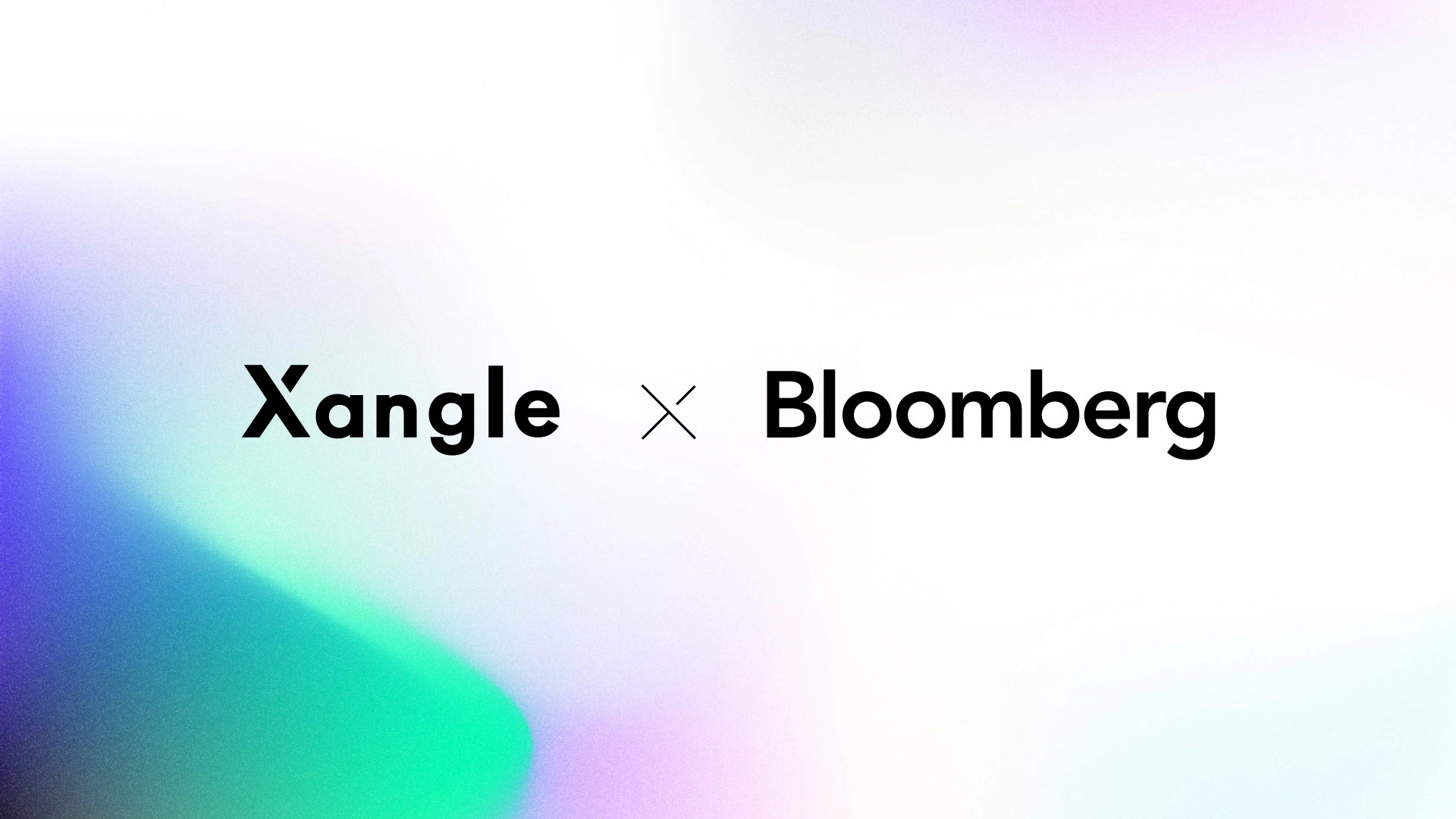 CertiK
On September 20, 2023, CrossAngle unveiled a strategic partnership with CertiK, a prominent blockchain security solutions provider. This collaboration was geared towards advancing the widespread adoption of Web3 technologies. Under this partnership, Xangle and CertiK engaged in a data-sharing initiative, enabling Xangle to access CertiK's API data, including Skynet security information, while CertiK gained real-time crypto market data and prices, as well as data-driven on-chain analytics from Xangle. Notably, CertiK's industry analysis reports became a regular feature on Xangle's research platform, aiming to further enhance the reliability of Xangle's sources of blockchain data. The synergy between Xangle's on-chain data analytics and CertiK's expertise in blockchain security aims to enhance transparency in the blockchain ecosystem and contribute to its overall security. Jake Lim, Chief Business Development Officer of Xangle, and Jason Jiang, Chief Business Officer of CertiK, expressed their shared enthusiasm for this collaboration, foreseeing its positive impact on the adoption of Web3 technologies. [15]
"We are thrilled to partner with world-class Web3 security company CertiK. We are excited about the synergies with Xangle's prowess in on-chain data analytics and believe that our collaboration will help accelerate the ongoing mass adoption of Web3." - Jake Lim, Chief Business Development Officer of Xangle
"We are excited to partner with Xangle, renowned for its precise and high-quality Web3 data analytics. Together, we aspire not only to bolster security and transparency in the blockchain ecosystem but also to set new standards for the industry." - Jason Jiang, Chief Business Officer of CertiK
Beosin
On September 27, 2023, CrossAngle announced a strategic partnership with Beosin, a global blockchain security company. The collaboration aimed to enhance security in the Web3 ecosystem and provide valuable information to participants. As part of the partnership, Xangle and Beosin would exchange and publish selected industry analysis reports on their respective platforms, with the goal of advancing security in the blockchain industry. Xangle, known for its efforts to address information disparities in the blockchain ecosystem, has published research reports on influential crypto and financial information platforms worldwide. The collaboration aimed to promote transparency and accuracy in the Web3 ecosystem and contribute to its growth. Jake Lim, Chief Business Development Officer at Xangle, highlighted the alignment of this partnership with Xangle's commitment to Web3 ecosystem development, while Tommy Deng, Managing Director at Beosin, emphasized the importance of security and transparency in blockchain success, expressing the aspiration for their partnership to play a significant role in advancing the blockchain community. [16]
"The objectives of this partnership align with Xangle's commitment to fostering the Web3 ecosystem through transparency and accuracy. We are determined to continue driving the ongoing mass adoption of Web3 to new heights." - Jake Lim, Chief Business Development Officer at Xangle
"We believe in the power of blockchain, but only security and transparency will ensure its success. We aspire to see the partnership between Beosin and Xangle, both driven by shared values and objectives, play a vital role in advancing the blockchain community's success." - Tommy Deng, Managing Director at Beosin
Coreum
On October 5, 2023, CrossAngle established a strategic alliance with Coreum, a third-generation layer-1 blockchain designed for enterprise applications. Xangle became a validator within the Coreum network, contributing to the security and sustainability of the blockchain ecosystem. Favio Velarde, Head of Growth & Partnerships for Coreum, emphasized the partnership's significance for global expansion and data infrastructure. Xangle is preparing to introduce a blockchain data-driven enterprise solution, including "Explorer" and "Xangle Beacon," designed to meet the needs of businesses leveraging cryptocurrency assets. [17]
"Building on Xangle's unique expertise, this partnership, will help expand the areas where Xangle can contribute to enhanced security and reliability of crypto assets within the ecosystem. By partnering with Coreum, we aim to take a leading role in driving the mainstream adoption of Web3 as a key player in the global blockchain ecosystem." -Jake Lim, Chief Business Development Officer at Xangle
"This partnership highlights our strategic global expansion, prioritizing data infrastructure and resources as a foundational step. It allows businesses to fully grasp Coreum's capabilities, igniting innovative ideas for user-end applications to be developed or transitioned seamlessly to the blockchain." - Favio Velarde, Head of Growth & Partnerships at Coreum
See something wrong?
Report to us.
Xangle
Did you find this article interesting?