Airdrop
A cryptocurrency airdrop is a marketing strategy that involves sending coins or tokens to wallet addresses. Little amounts of new crypto are sent to the wallets of active blockchain community members for free or in return for a small service, such as retweeting a post sent by the company issuing the currency. [1]
Overview
Blockchain projects give out free tokens with the aim of gaining wider adoption and spreading awareness about a cryptocurrency project and getting people trading in it when it lists on an exchange as an initial coin offering (ICO). A higher number of holders is often seen as a positive metric, which also makes the project more decentralized in terms of token ownership. Crypto airdrops also motivate recipients to use and promote the project. This can help build an initial user base before the project lists on crypto exchanges. [2]
Types of Airdrop
Bounty airdrop
A bounty airdrop requires users to complete certain tasks, such as retweeting the post about the project on Twitter, joining the project's official Discord, or creating a post and tagging friends on Instagram. In exchange for performing the tasks, users often receive points that correspond to how large of bounty airdrop they receive. Users may also be required to earn a certain amount of points before they qualify for their airdrop. [1][2]
Standard Airdrop
In this airdrop, participants interested in receiving an airdrop simply express their interest in order to receive the airdrop. The user will provide a valid wallet address, and some airdrops require no additional information beyond this. Standard airdrops often have a set amount of tokens to distribute with a limit on how many tokens each user may receive. Therefore, some standard airdrops are time-sensitive. [1]
Exclusive airdrop
An exclusive airdrop only sends crypto to designated wallets. Typically, the recipients have an established history with the project, such as being active members of the community or early supporters of the project. [2]
Holder airdrop
This type of airdrop occurs automatically based on who is holding existing tokens and how many tokens they hold. Because wallets and blockchain information are part of a publicly distributed ledger, all users of blockchain have full transparency into the wallets and distribution of tokens, and if the wallet balance meets the minimum requirement, recipients can claim free tokens according to their holdings at the time of the snapshot. [1][2]
Raffle Airdrop
A raffle airdrop may be combined with some of the types of airdrops above. Sometimes, a project will state the number of airdrops they intend to give and encourage users to earn a raffle ticket. This ticket may be earned by earning points, holding tokens, or simply expressing interest. Basically, the number of users interested in the airdrop often exceeds the number of airdrops the company wishes to deliver. Therefore, a raffle occurs and a limited number of wallets are randomly selected to receive the airdrop. [1]
See something wrong?
Report to us.
Airdrop
Did you find this article interesting?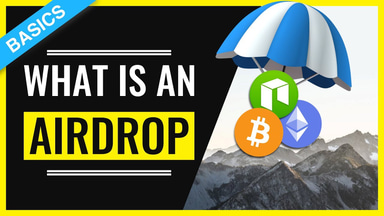 REFERENCES
[2]
binance academy
Jan 19, 2023