Alexander Pack
Alexander Pack (also known as Alex Pack) is a Managing Partner at Hack VC and Co-founder & CEO at Imperii Partners. He is also a Founding Partner on the deal team at AngelList. [1][2][3]
Education
Alexander Pack graduated from Wesleyan University with a Bachelor of Arts (High Honors), College of Social Studies (Philosophy, Politics, Economics, History). His thesis was: "Writing a Revolution: From Oral to Literate Cultural Transmission Technologies in Ancient Athens". Prior to that, Alexander Pack attended Hopkins School where he won the Jeremiah Peck Greek Prize (excellence in Ancient Greek). [1]
Career
In 2013, Alexander Pack served as a Product Manager at Microsoft until 2014. He then served as a University Teaching Fellow at Princeton in Asia for less than a year. [1]
In 2015, Alexander Pack became a Partner at AngelList (now known as WellFound), a technology platform for early-stage investing. [4][12]
In 2016, Alexander Pack served as the Director of Network Investing at Bain Capital Ventures for 2 years. Bain Capital Ventures is the venture capital and growth equity arm of Bain Capital, early-stage technology investors across sectors founded the Network Investing program to invest in crypto and experimental finance models. [5]
In 2018, Alexander Pack co-founded Dragonfly Capital alongside Bo Feng[6] and served as the managing partner until 2020. Dragonfly Capital is a multi-billion dollar crypto asset fund spanning Asia and the U.S. [7][8]

Alex Pack co-founded Imperii Partners in 2019 where he serves as a Board Member. Imperii Partners is a global, crypto-native investment bank and advisory firm providing strategic and financial advice to companies in cryptocurrency. [9]
Hack VC
In 2021, Alexander Pack co-founded Hack VC and serves as the Managing Partner of the company. Hack VC is a venture capital firm focused on crypto-native investments. Hack VC supports founders at their earliest stages, becoming early network participants and foundational community members in the crypto protocols and companies. [11]
On the 25th of February, 2022, Hack VC launched its $200M Crypto Seed Fund to invest in crypto, web3, and blockchain startups. The fund was backed by Sequoia Capital, Fidelity, a16z's Marc Andreessen and Chris Dixon, Accolade Partners, Digital Currency Group, and others. [10]
"While we came from venture backgrounds, our goal is not to just build another venture fund. For the first time ever, crypto breaks down the divide between investors and users. That's why we aim to be both the earliest investor, first user, and foundational community member in all the crypto projects we back." - said Alex Pack. [10]
See something wrong?
Report to us.
Alexander Pack
Did you find this article interesting?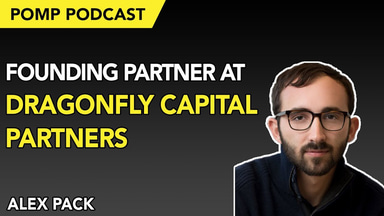 REFERENCES
[3]
imperii partners
Mar 20, 2023
[6]
crunchbase - bo feng
Mar 20, 2023
[7]
forbes on dragonfly
Mar 20, 2023
[8]
dragonfly website
Mar 20, 2023
[9]
imperri partners
Mar 20, 2023
[10]
business wire on fund
Mar 20, 2023
[12]
experience at angellist
Mar 20, 2023