Alin - Florin Bratu
Alin - Florin Bratu is a seasoned Romanian business expert with a diverse background spanning over nineteen years in multiple sectors, such as manufacturing, construction, and real estate. Presently, he holds the positions of Chief Operating Officer (COO) at Ofero Network and, Product Manager at Carboplak.[1][2]
Early Life & Education
Born and raised in Sibiu, Romania, Alin Bratu hails from a middle-class family and is their only child. Demonstrating an early interest in business and entrepreneurship, he pursued his education at a local high school before enrolling at the Lucian Blaga University of Sibiu.
Bratu earned his Bachelor's degree in Business Administration from the Lucian Blaga University of Sibiu in 2009. During his collegiate years, he was actively involved in extracurricular activities, including the university's business club, where he honed vital leadership and management skills.[2]
Career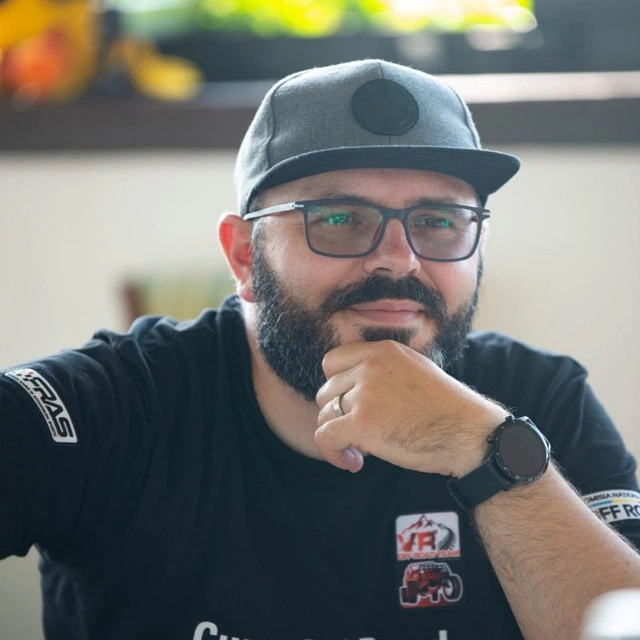 Bratu's professional journey commenced in 2004 when he joined Prestland Company SRL as a Real Estate Consultant. His responsibilities included participating in real estate price negotiations, ownership transfer conditions, and legal transaction conditions. Additionally, he fostered partnerships with real estate developers to create new business opportunities and offered financial consulting services to clients.
In 2009, Bratu transitioned to the role of Facility Manager at Alma Mater University in Sibiu, Romania. His duties entailed identifying and contacting suppliers, negotiating contract terms, and developing procurement contracts for maintenance, rentals, and other services required by the university.
In 2016, Bratu re-entered the real estate sector as an associate at Prestland Company SRL. Subsequently, he assumed the Technical Field Sales Representative position for Romstal Imex SRL. His job involved evaluating and researching technical solutions for installations, proposing optimal solutions to customers, providing technical advice to Romstal partner clients (B2B) and end customers, and effectively organizing sales activities, including generating sales reports, maintaining daily contact, and adhering to working standards.
In 2018, Bratu was appointed as Area Sales Manager for Mateco SRL, a subsidiary of the TVH Group. He proactively identified new leads and negotiated and signed contracts with top-tier clients. Furthermore, he conducted on-site visits to extensive construction sites to comprehend customer needs and propose customized solutions. Bratu also formulated and executed strategic plans for the ongoing growth and development of commercial relationships while pinpointing new opportunities.
In 2021, Bratu joined Carboplak SRL as a Product Manager. His responsibilities encompassed developing and managing product budgets and forecasts, attending trade shows and conferences, and networking with industry professionals to establish new business connections. He was also accountable for identifying new customers and markets for polycarbonate products, conducting market research, and organizing training for large distributor sales teams.[3][4]
Simultaneously, Bratu was promoted to Chief Operating Officer for Ofero Network in Romania. He spearheads and manages the company's technology infrastructure development, ensuring it remains scalable, secure, and reliable. Additionally, he supervises all daily operations of the company, including technology, marketing, business development, finance, and community service. Bratu cultivates and maintains robust relationships with key stakeholders, such as investors, partners, and members of the Ofero Network. He collaborates with the CEO and other executive team members to devise and implement the company's long-term strategic plan, encompassing financial and adoption projections and growth objectives.
As the COO at Ofero Network, Alin Bratu works closely with Adrian Vasiu (CEO) and Stefan Olaru (CTO).[4]
Personal Life
Alin Bratu is a family-centric individual who cherishes spending quality time with his loved ones. In his leisure time, he enjoys reading books on management and leadership, embarking on fishing trips with friends, and participating in 4x4 road trips. Bratu has even competed in several 4x4 Rally Raid events, securing first-place awards.
Deeply passionate about blockchain infrastructure and web3 development, his enthusiasm for these cutting-edge innovations aligns with his vision for the future of the digital landscape and the impact it can have on business and society as a whole. As an ardent mountain traveler, he appreciates the fresh air and breathtaking views during his excursions. He is also passionate about cooking, with a repertoire that includes barbeque, pizza, pasta, and various specialty dishes. Bratu's commitment to volunteering is evident through his involvement in numerous community service initiatives in his hometown.
Bratu is married with two beautiful children and currently resides in Sibiu, Romania
Ofero Network
Ofero Network (launched in 2021) is a cutting-edge financial ecosystem built on the MultiversX blockchain and BNB Chain, utilizing the PoTT protocol for trust and transparency. It seeks to seamlessly integrate traditional and digital assets, offering a comprehensive platform for individuals to access the benefits of decentralized finance. This includes support from fully operational businesses and dApps, as well as other blockchain-based products and applications that generate income. The network aims to empower individuals to take advantage of the decentralized financial ecosystem, supported by state-of-the-art technological products and services.[5]
The Ofero token ($OFE) is the native cryptocurrency of the Ofero network, built on the MultiversX POS (Proof of Stake) Blockchain and listed on the Maiar Exchange. The goal of the token offering is for the OFE token to be utilized on the Ofero Network. The OFE token has been meticulously designed to generate passive income for both individual and institutional investors, while also aiding businesses, their communities, and crypto venture capital organizations in seamlessly and securely integrating into the on-chain financial ecosystem.[6]
See something wrong?
Report to us.
Alin - Florin Bratu
Did you find this article interesting?