Stefan Olaru
Stefan Olaru is the Chief Technical Officer and Co-founder of Ofero Network an asset-backed innovative ecosystem based on the PoTT protocol (Proof of Trust and Transparency), developed on MultiversX. He speaks four languages and is a software engineer with more than 20 years of experience.[1]
Stefan Olaru is a pioneer of banking digital security and a former Senior programmer at NTT DATA.
I find myself as a social person, communicative, creative, always with a positive attitude and with team spirit.[2]
Education
Stefan Olaru attended D. P. Barcianu in Sibiu. Additionally, he received his degree from Sibiu's German-Romanian University in 2013.[3]
Early life
Stefan Olaru was born and raised in Sibiu, Romania. He developed a strong interest in computers as a young boy and got his first HC (Home Computer) at the age of ten. At the age of 12, he created his first video game; subsequently, he owned a PC and continued to enjoy programming. Stefan obtained a Microsoft degree at the age of 17.[2]
Career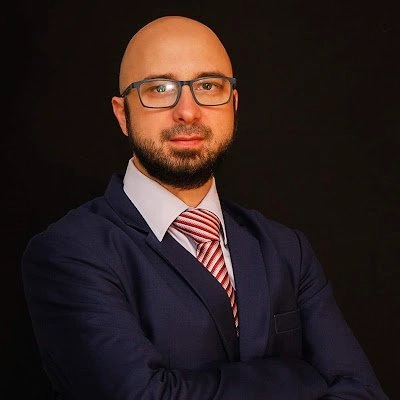 Stefan began his career as an IT administrator for PRO•TV, a reputable free-to-air television network in Romania that debuted on December 1st, 1995 as the nation's fourth private TV station. The company's computers, servers, networks, software, and security systems were configured and maintained by him during his two years of employment there (October 2000 - February 2002).
[4]
In early 2003, Stefan took a job as an IT security consultant for Santander Bank, a Spanish international financial services firm based in Spain. He was employed there for three months until leaving in May 2003. In April 2006, he began working as an IT administrator with CRFCAPL in Sibiu, where he remained for 7 months. In the same year, Stefan left his position as the IT administrator of CRFCAPL, Sibiu, and became the General Manager of HATLINE GROUP S.R.L., a company that offers web design and insurance services. He was employed there for nine years, from November 2006 to June 2015, before moving on to NTT DATA Volkswagen A.G. in Sibiu and Wolfsburg to work as a senior PHP developer and SAP consultant as well as to provide server management expertise for Volkswagen A.G.[1]
In 2016, he became an IT Consultant & Partner for AVOX Services[6], offering server administration for AVOX, which is used by more than 400 Romanian websites. He continues to serve as an IT Consultant and Partner at AVOX Services as well as General Manager at HATLINE GROUP S.R.L.[5] Stefan originally learned about bitcoin in 2014 but invested more in it in February 2021. In 2016, Stefan obtained an ITIL® Foundation Certificate in IT Service Management.
He became the Chief Technical Officer (CTO) of Ofero Network in late 2021, overseeing the company's servers. Additionally, he is a partner at XMETA.RO a business that creates and offers expert web design services. Stefan Olaru and Adrian Vasiu have known one another from the city since they were quite young.
When I was doing business with Adrian's father, the father suggested that Adrian might be able to provide us with some connections to assist us to assemble a team for Ofero Network. However, Adrian became so committed and effective that he eventually rose to the position of CEO.
Stefan is skilled in remote server administration, as well as HTML, CSS, PHP, MySQL, Javascript - Jquery, Bash, Perl, Python, C - Turbo Pascal, and the daemons POP, SMTP, SSH, FTP, HTTPD, among other things. Stefan also has experience with securing and monitoring servers against hackers and Denial of Service attacks. With his expertise in software engineering, Stefan has produced internal software (EDV) for WKS, a web portal for www.ofero.ro, as well as a specialized anti-spam filter that is used by more than 400 Romanian companies. In addition, Stefan developed fantastic blockchain technology for Ofero Network and built several websites, as shown in the portfolio on (www.hatline.ro).[\[2\]](#cite-id-0uuinps193th)[\[4\]](#cite-id-0yenv4qzvpw)
Skills
Stefan Olaru has advanced operating system skills in the following areas:
Unix / Linux (Fedora, Redhat, Mandriva, Mandrake, Debian, CentOS)
HP-UX
SunOS
Mac OS X
Mainframe (Host-on-Demand)
Microsoft Windows 3.11 / 95 / 98 / 2000 / XP / Vista / 7 / 8
He also has some advanced graphical software skills in:
Adobe Photoshop (2002 – 2016), Adobe Illustrator (2006 – 2016), Adobe Indesign (2010 – 2016)
Adobe Flash (2010 – 2011), Adobe Premiere (2000 - 2002) (2010-2012)
Corel Draw X3 - X5 (2010-2016)
Gimp (2006)[7]
Personal Life
Stefan currently lives in Sibiu, Romania. In his spare time, he enjoys visiting the Cinema and loves fancy restaurants. He was married for 10 years and has a kid that was born on 25th July 2014.
My entire life is bonded to the number 7, same is Adrian Vasiu
Ofero Network
Ofero Network (launched in 2021) is a decentralized platform based on the PoTT protocol (Proof of Trust and Transparency), built on the MultiversX blockchain (previously Elrond). Its goal is to use the power and innovation of its technological products and services to create a synergy between real-world and crypto assets.[9]
The Ofero token ($OFE) is the native cryptocurrency of the Ofero network, built on the MultiversX POS (Proof of Stake) Blockchain and listed on the Maiar Exchange.
$OFE is to be considered an index (such as S&P) of businesses based both on fiat (real-life businesses) and on crypto assets (businesses that generate tokens as payment (fees)[10]
On the 1st of February 2023, 12 Aegises were born in the Ofero Network, and over $435,000 were locked as collateral. The Aegises are hatOFF, ASH, IONY, BehindTheFacade, SNC, NIC, Coin Fly, JoyMe, Elephant, RA, Taboo, and Genesis. Also, on the 7th of April 2023, $OFE successfully Migrated to the Binance Blockchain (BNB Chain).[8]
See something wrong?
Report to us.
Stefan Olaru
Did you find this article interesting?