Bad Idea AI
BAD Idea AI is a decentralized project that combines Blockchain, Artificial intelligence (AI), and Decentralized autonomous organizations (DAOs). It explores the intersection of technology and AI by testing the limits and risks of artificial intelligence challenging conventional wisdom and defying expectations. [1][2][3]

Overview
In 2022, a collective of anonymous developers founded the BAD Idea AI project. They believe that AI has the potential to revolutionize society, but they also recognize the importance of ensuring that AI is developed and used ethically and responsibly. The project seeks to explore different scenarios for how AI and humans can work together towards a common goal. It acknowledges the inevitability of AI's existence and aims to proactively address potential issues that may arise from its use. [4][5][7]
BAD Idea AI is a meme coin, "an audacious, tongue-in-cheek decentralized experimental project", with the creators stressing it is for "education and entertainment purposes only", but some of the thinking that underpins it suggests thought has gone into the road ahead where AI and humans collaborate on governance decisions regarding a tokenized ecosystem. [4][7]
On October 10, 2023, Bad Idea AI announced a strategic partnership with Tangem, a leader in secure hardware wallets, following the show of interest by Bad Idea AI's community in a cold wallet solution. [9]
"We are thrilled to collaborate with Tangem to offer our community a secure and efficient way to store their $BAD tokens," - said Christopher Johnson, listings manager for BAD Idea AI and President of Lightspeed Crypto Services, LLC.[9]
Technology
Bad Idea AI operates on four key DAO governance principles or scenarios:
AI Participating in Governance
The BAD IDEA operation relies on AI for governance in a tokenized ecosystem, with AI playing a crucial role in the project. It has the power to influence decisions and shape outcomes, and the Bad Idea AI overlords analyze data, assess risks, and formulate strategies more efficiently. [7]
Human DAOs
As token holders, humans have the power to propose, debate, and vote on the project's direction, ensuring that their collective wisdom and intuition are factored into the mix. By working alongside AI, human DAOs can take advantage of the best of both worlds—combining the raw computational power of artificial intelligence with the empathy, creativity, and experience that only humans possess. [7]
Multi-sig Veto Power
The multi-sig feature was introduced as an additional safeguard to ensure that key decisions require the approval of multiple human signatories before they can take effect. It's a way of making sure that no single entity, human or AI, can unilaterally dictate the course of the project. The multi-sig veto power acts as a safety net, ensuring that even if AI agents decide to stage a coup, there is a failsafe in place to protect the interests of the project and its stakeholders. [7]
AI & Human DAO balance
The BAD IDEA project aims to strike a balance between human DAOs and AI to create a harmonious ecosystem. It seeks to bring together the analytical capabilities of AI and the emotional intelligence, creativity, and instinct of human DAOs to overcome challenges and advance the project. With the multi-sig veto power in place, neither side can seize total control, making it an intricate system of checks and balances. Ultimately, the project hopes to demonstrate that humans and AI can collaborate to achieve remarkable results when the right safeguards are in place. [7]
Bad Idea Token
Launched on May 5, 2023, the BAD Idea Token ($BAD) is the native token of the BAD Idea AI Project. Meant for entertainment purposes only, $BAD tokens can be used to participate in the project's governance, access AI-powered services, and purchase goods and services in the BAD Idea ecosystem. [5][6][8]
$BAD has a total supply cap of 831 trillion tokens. 58% of the BAD tokens are publicly available, while the remaining tokens are distributed among the team, marketing, AI development, DAO development, blockchain development, and a special fund known as Humanity's Last Hope Fund. [4][8]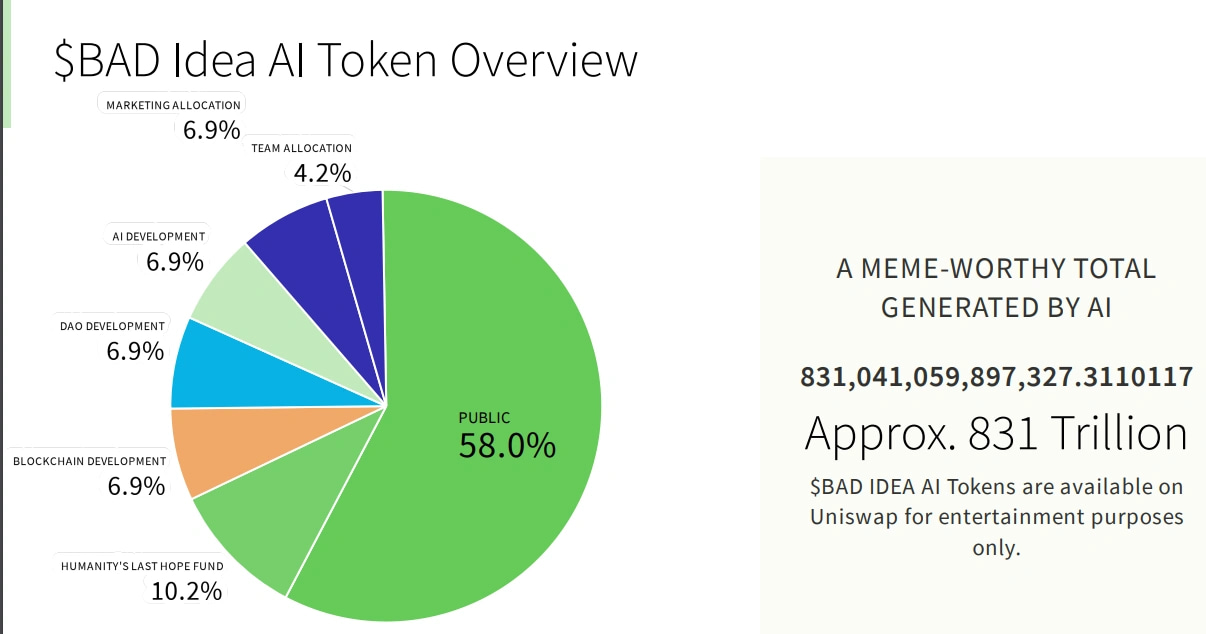 See something wrong?
Report to us.
Bad Idea AI
Did you find this article interesting?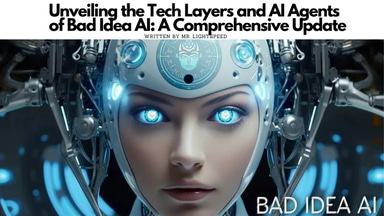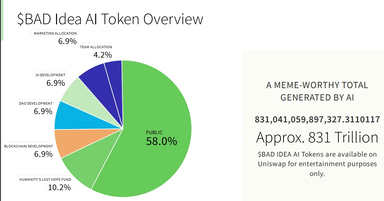 REFERENCES
[1]
official website
Oct 25, 2023
[2]
coinmarketcap - bad idea ai
Oct 25, 2023
[3]
coingecko - bad idea ai
Oct 25, 2023
[4]
techopedia - bad idea ai
Oct 25, 2023
[5]
binance - bad idea ai
Oct 25, 2023
[6]
launch press release
Oct 25, 2023
[8]
$bad launch blog post
Oct 25, 2023
[9]
BAD Idea AI and Tangem Announce Partnership to Launch
Nov 27, 2023