Ben Goertzel
Ben Goertzel (born December 8, 1966), is the founder and CEO of SingularityNET, a blockchain-based AI project, which brings AI and blockchain together to create a decentralized open market for AIs.[9][10]
Ben is also the Chairman of OpenCog Foundation, the Chairman of the Artificial General Intelligence Society, the Chief Scientist of Mozi Health, and Vice Chairman of Humanity+, and his work, writing, and ideas are influencing the way we perceive AI, technology, and blockchain.[11]
Early Life and Education
Goertzel was born in 1966 in Rio de Janeiro to American Parents, he is the son of Ted Goertzel, a former professor of sociology at Rutgers University.  He dual US/Brazil citizen and Hong Kong Permanent.
He left high school after the tenth grade to attend Bard College at Simon's Rock, where he graduated with a bachelor's degree in Quantitative Studies.  Goertzel went on to obtain a Ph.D. in mathematics from Temple University in 1989 and served as a university faculty in several departments of mathematics, computer science, and cognitive science, in the US, Australia, and New Zealand.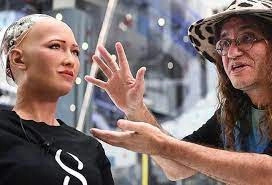 He was the Chief Scientist of Hanson Robotics, the company that created the robot Sophia, until early 2019.
Trivia
Goertzel loves experimental fiction and music, philosophy, foundational physics, parapsychology, functional programming, wandering randomly in the forest, and hanging out with my wife and 5 kids, and granddaughter.[12]
Career

Dr. Ben is a cross-disciplinary scientist, entrepreneur, and author, He is the founder and CEO of SingularityNET, and the Chairman of OpenCog Foundation. Goertzel is also the chief scientist of financial prediction firm Aidyia Holdings; chairman of AI software company Novamente LLC, a privately held software company; chairman of the Artificial General Intelligence Society and the OpenCog Foundation; vice chairman of futurist nonprofit Humanity+; scientific advisor of biopharma firm Genescient Corp.; advisor to Singularity University; research professor in the Fujian Key Lab for Brain-Like Intelligent Systems at the Xiamen University of Technology, China; chair of the Artificial General Intelligence (AGI) conference series, and an American author and researcher in the field of artificial intelligence. He was the Director of Research at the Machine Intelligence Research Institute (formerly the Singularity Institute). [1]
Dr. Goertzel's research work encompasses multiple areas including artificial general intelligence, natural language processing, cognitive science, machine learning, computational finance, bioinformatics, virtual worlds, gaming, parapsychology, theoretical physics, and more.  He has published 25+ scientific books, ~150 technical papers, and numerous journalistic articles, and given talks at a vast number of events of all sorts around the globe.[14]
Views on AI

In May 2007, Goertzel spoke at a Google Tech talk about his approach to creating Artificial General Intelligence.[2]  He defines intelligence as the ability to detect patterns in the world and in the agent itself, measurable in terms of emergent behavior of "achieving complex goals in complex environments".[3]  A "baby-like" artificial intelligence is initialized, then trained as an agent in a simulated or virtual world such as Second Life[4]  to produce a more powerful intelligence.[5]  Knowledge is represented in a network whose nodes and links carry probabilistic truth values as well as "attention values", with the attention values resembling the weights in a neural network. Several algorithms operate on this network, the central one being a combination of a probabilistic inference engine and a custom version of evolutionary programming.  Goertzel claimed that this combination can avoid the combinatorial explosions that both these algorithms suffer from when exposed to large problems.[13]
Media appearances
2009: Goertzel and Hugo de Garis starred in a 45-minute documentary called Singularity or Bust
2012: The documentary The Singularity by independent filmmaker Doug Wolens showcased Goertzel's vision and understanding of making general AI general thinking  [6]
2014: Goertzel appeared on the American science documentary television series, Through the Wormhole (episode 1, season 5)
2016: Goertzel starred in the British-Israeli documentary film, Machine of Human Dreams
2018: Goertzel appeared on The Joe Rogan Experience podcast No. 1211
2019: Goertzel appeared on the Epicenter podcast No. 275[7]
2019: Goertzel appeared at Teamz Blockchain Summit in Tokyo, on April 6.[8]
2019: Goertzel holds a lecture at Budapest Brain Bar
2019: Goertzel participated in a Blockchain panel at ConnectTechAsia in Singapore.
See something wrong?
Report to us.
Ben Goertzel
Did you find this article interesting?