CLONE X
CLONE X - X Takashi Murakami is a collection of 20,000 avatars with a unique random mix of features devised by Murakami.
Buyers will be able to utilize the assets they get in future Non-Fungible Token (NFT) -based games, Augmented reality filters, Zoom meetings, and Metaverse platforms[1].
Overview
RTFKT Studios which is a virtual fashion collective made no secret of its desire to infuse the realm of NFTs with a 'hype' sensibility. When HYPEBEAST initially reported on their foray into virtual fashion in January, they billed themselves as a "new era Supreme, for a digital audience," and outlined their ambitious ambitions for a succession of high-profile partners throughout the year.
Murakami is no stranger to cross-cultural collaboration: in addition to his well-publicized collaborations with Kanye West and Louis Vuitton, he has recently given his designs to anything from t-shirts to tennis rackets.
He debuted his first NFT piece in March, a series of 108 digital flowers inspired by Nintendo, which sparked his interest in cryptocurrency-art. However, he came upon RTFKT's work while surfing through Instagram.
"I have been very interested in NFTs and their potential," he says. "We started chatting, and came to love each other's work. I'm very excited to create with such an innovative team."
For their part, RTFKT describe Murakami as a long-standing "idol" of theirs.
"Bringing Murakami, our favorite artist, to work with us on these avatars and share our vision is the biggest thing we could have dreamed of," they said, in a collective statement.
So far, sales of virtual sneakers with designer Jeff Staples and crypto-artist Fewocious have raised $3.1 million USD in just seven minutes. But the brand has now unveiled its most prestigious partner as date: Takashi Murakami, a Japanese artist who has teamed up with RTFKT on a large-scale crypto-art project. The two are collaborated on a set of 20,000 'Avatars,' which are digitally created 3-D avatars with a randomized set of pre-designed attributes. Murakami supplied drawings for the characters' eyes, lips, helmets, outfits, and 'traits,' including aspects of his well-known cartoonish aesthetic.  The Murakami Drip asset will be specified on the blockchain for these avatars.
The project is an obvious tribute to Larva Labs' Cryptopunks series, which was one of the first NFT initiatives in 2017. The randomized creation of the characters, like that of the original work, will result in some 'rare' combinations of features, which RTFKT hopes will become future collector's items (as a point of reference, the rarest CryptoPunks characters have sold for over $7.5 million USD each, and one was even at the center of an alleged half-billion dollar publicity stunt earlier this week)[2][3].
RTFKT's Avatars will be completely 3D rigged models, allowing their owners to utilize them as AR filters on camera, in Zoom meetings, or in games.
Space Pod
Space pods are oncyber NFT galleries that are available to all Clone owners and may be used by anybody.There have been 20,000 Space Pods NFTSs manufactured in all. Space Pod is the beginning of a Metaverse residence.
Lore
Three extraterrestrials from the planet Orbitar, which is located in the Draco constellation. These extraterrestrial visitors have arrived to hasten human progress into an immaterial life. To establish the ultimate Metaverse, they seek to transfer all human mind into enhanced clone forms[4].
Humans no longer exist in organic form in this evolved civilisation, instead being represented by their computerized CloneX avatars. The capacity of Homo sapiens to self-express through customisable avatar identities has been transformed thanks to this groundbreaking technology. Clones may now travel between galaxies and extend civilisation into other galaxies and simulations because to this advancement.
Mint Activation
There will be a total of 20000 avatars available, divided between the pre-sale and the general sale. Avatars that were not claimed during the pre-sale will be used in the public sale. After the public sale, all avatar qualities and attributes will be produced at random and disclosed.
The Dutch Auction for the Clone X collection was launched and delayed on a regular basis so that newcomers might buy the NFTs. Prices begin at 3 ETH and gradually decrease until the collection is sold out. In a 48-hour pre-sale, the first 10,000 Avatars were made available to current RTFKT collectors, with the rest becoming accessible to the general public after that[5].
Utility
The CLONE X - X Takashi Murakami NFTs have quite a number of uses/advantages it bestows upon its holders. Below a few are outlined :
Metaverse Ready
The platform have built a Clone.meta vault to give holders access to 3D files to use across platforms.
Forging Events
Holders can Forge unique physical collectibles created from their Clone, get that crazy jacket IRL.
Clone-X Wearables
There is an available Dedicated Clone Inventory, new collection drops, where users can customise clones as they wish with unique wearables from RTFKT and creator
Special Access
Holders also have special access to the RTFKT ecosystem and Clone X only experiences[6][7].
Noteable Sales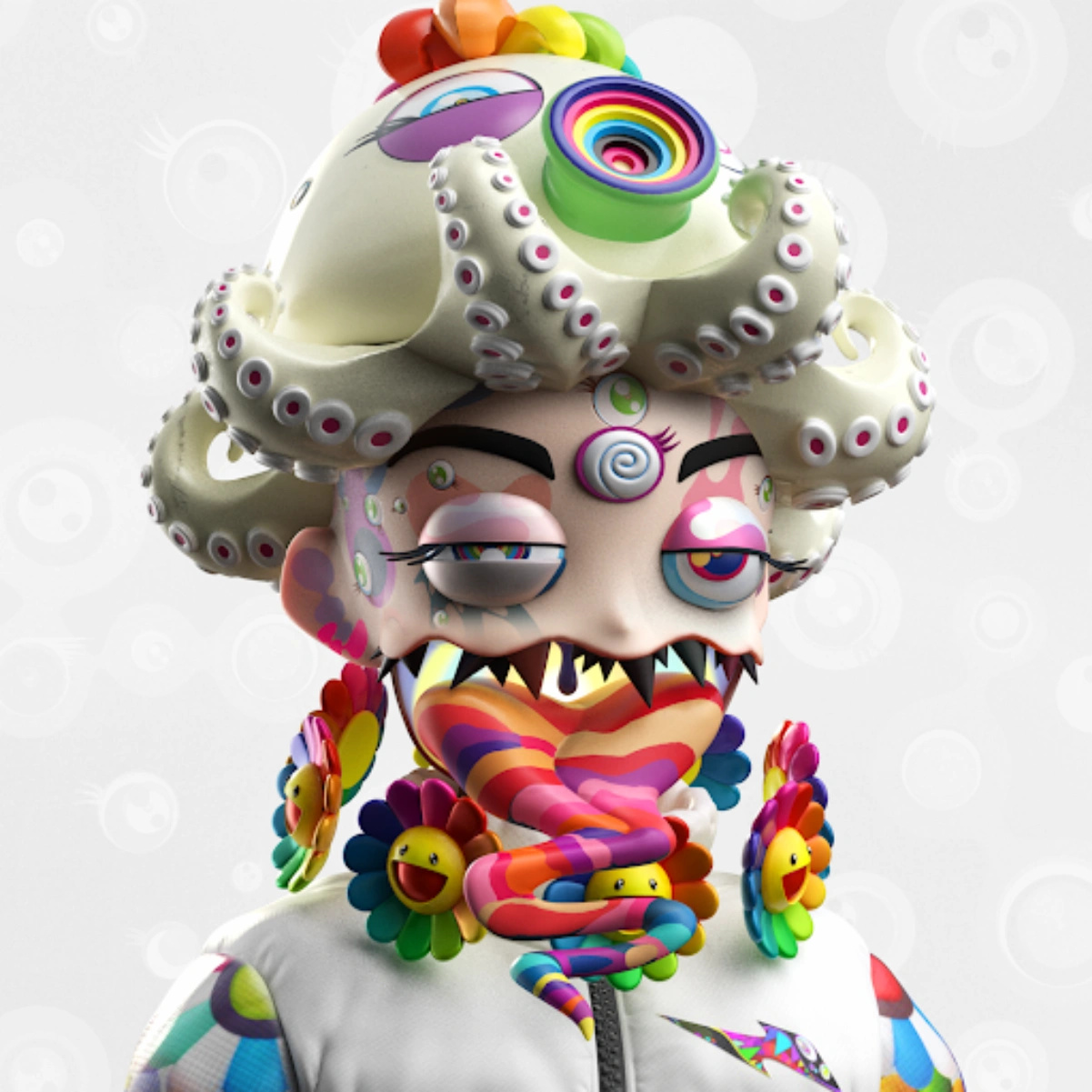 CloneX #4594
The Clone X is available on various NFT market places including OpenSea. Currently the collection has a total of 18.9K items, 8.3k owners, 125.3K
volume traded and a floor price of 14.5 Ethereum. The Clone X has recorded quite a number of noteable sales with the CloneX #4594 having the highest purchase price so far currently standing at 1.3 million dollars.
CloneX #4594 Traits and Properties
Mouth : Organism M78.8
1% have this trait
Type:Murakami Drip
15% have this trait
Hair :WHT Octopus
0% have this trait
DNA : Murakami
Clothing :
RTFKT X TM RNBW FLOWER
1% have this trait
Jewelry :
DRIP CHRM
2% have this trait
Eye Color
HALF-OPEN
1% have this trait
About Takashi Murakami
Murakami was born on January 1, 1962, in Tokyo, Japan. He received an oil painting degree from Nihon University's College of Arts after studying at Musashino Art University and Tokyo National University of Fine Arts and Music.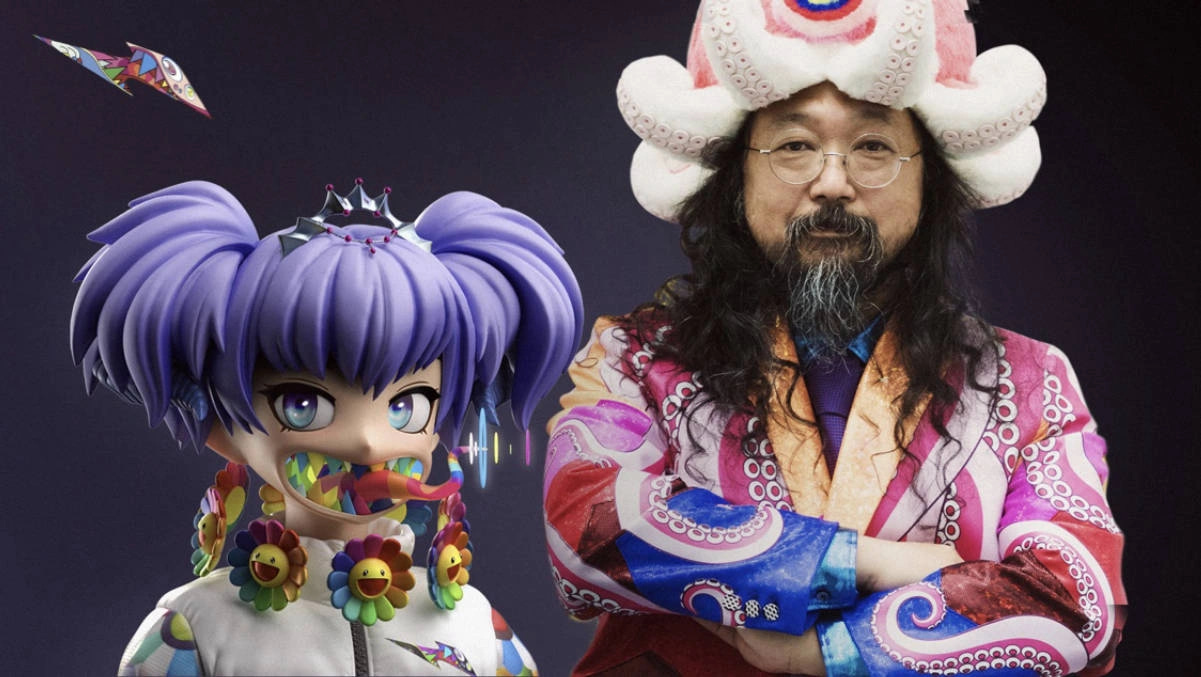 Takashi Murakami
Murakami's work can be found in museums around the world, including the Museum of Contemporary Art in Los Angeles, the Ludwig Museum in Cologne, the Tate Modern in London, the Guggenheim Museum in Bilbao, the San Francisco Museum of Modern Art, the Walker Art Center in Minneapolis, the Hirshhorn Museum in Washington, DC, and the Palazzo Grassi in Venice.
Murakami's art isn't only about what can be seen on the canvas; it's also about what you see from a distance. When looking at his murals up close, you'll notice that they're really made up of several smaller paintings that can be viewed from afar.
Murakami's vast murals and endeavors beyond the canvas are a type of art that has existed for millennia, but their application has changed with time.
Murakami Takashi, a Japanese artist, is a major anime enthusiast. Kanye West is also a great fan of his. Murakami has even developed his own characters for an anime series called "Murakami Land."
"I have been very interested in NFTs and their potential, and I happened to come across the RTFKT team's work on Instagram. We started chatting and came to love each other's work. I am very excited to work and create with such an innovative team," Takashi Murakami said in a statement[8].
About RTFKT
Formed by three friends at the beginning of the COVID era in Jan 2020, RTFKT was born on the metaverse, and this has defined its feel to this day. RTFKT is a very eclectic, creator led organisation. RTFKT uses the latest in game engines, NFT, blockchain authentication and augmented reality, combined with manufacturing expertise to create one of a kind sneakers and digital artifacts. RTFKT is known to be creating viral sneaker designs, memes and collectible exclusives. RTFKT has maintained a reputation of being more than a little ahead of the cutting edge of technology, a rep that has many mystified, as they would appear to lack the resources and manpower to rival giants in terms of research and development in the birth of digital fashion. Rumours around a rogue AI (stolen from the Space X) used by RTFKT to create next generation designs are completely false and denied by RTFKT. There has been absolutely no evidence or legal action to justify these rumours. For many years, RTFKT was an undefined collective, working strictly in the shadows, providing designs and concepts to game companies and a few select fashion brands, in 2020 they formed an entity to expand their services into the public metamarket. The response has been excellent, and RTFKT's social growth has been almost frightening. The RTFKT project was scheduled to take off in 2040, but the human development in consciousness has accelerated faster than anticipated. We are here to accelerate our digital future now.
We are a creator led organisation. RTFKT uses the latest in game engines, NFT, blockchain authentication and augmented reality, combined with manufacturing expertise to create one of a kind sneakers and digital artifacts.
Roadmap
This platform has a lot of both intriguing and exciting prospects in its roadmap :
Metaverse Ready
Clone X Wearables
Forging Events
Special Access
See something wrong?
Report to us.
CLONE X
Did you find this article interesting?