ColeThereum
ColeThereum or Cole Villemain also known as COLΞ and ColeThereum on Twitter is a co-founder and former executive member of Pudgy Penguins. After several controversies, Cole was ousted from the Pudgy Penguins team after community members voted to remove him from the team.
Career
Cole Villemain alongside the other three co-founders Clayton Patterson (mrtubby), Mickyj and Jonah released the Pudgy Penguins NFT project on July 23rd 2021. 8,888 Pudgy Penguins were released and quickly became popular, selling out in less than half an hour. These cartoon penguins started at the price of 0.03 ETH per penguin with each of them being unique, featuring a combination of different characteristics such as hats, glasses, hairstyles, and clothing.


During the rise of Pudgy Penguins, certain rare NFTs in the collection were sold around $463,500 at the time. Additionally, famous individuals like NBA player Steph Curry and musician Tory Lanez are among the individuals who own items from the collection which brought a lot of eyes to the project.
Controversies
Villemain has also been the subject of controversy in the past. On August 12th 2021, an on-chain analyst using the handle @zachxbt posted a widely-shared tweet thread accusing him of unethical behavior, including the creation of a drop shipping business called Eboy Outlet, which generated numerous negative reviews and complaints from customers who had not received their orders or refunds. The Facebook and Instagram pages of the business were taken down soon after @zachxbt highlighted them in his post. [1]
Villemain also came under fire for his promise to give away an NFT from the Fame Lady Squad collection to one of his followers, before listing it for sale on OpenSea, he insisted that it was his plan to give the piece away after a community member questioned the listing. He also admitted to promoting projects without disclosing that he was paid to endorse them. [2]
"I share NFT projects. It's what I do. Was I paid a couple times? Yes. Do I regret those? Yes. Am I going to stop sharing NFT projects I like? No. Am I going to be more careful? Yes." - ColeThereum [3]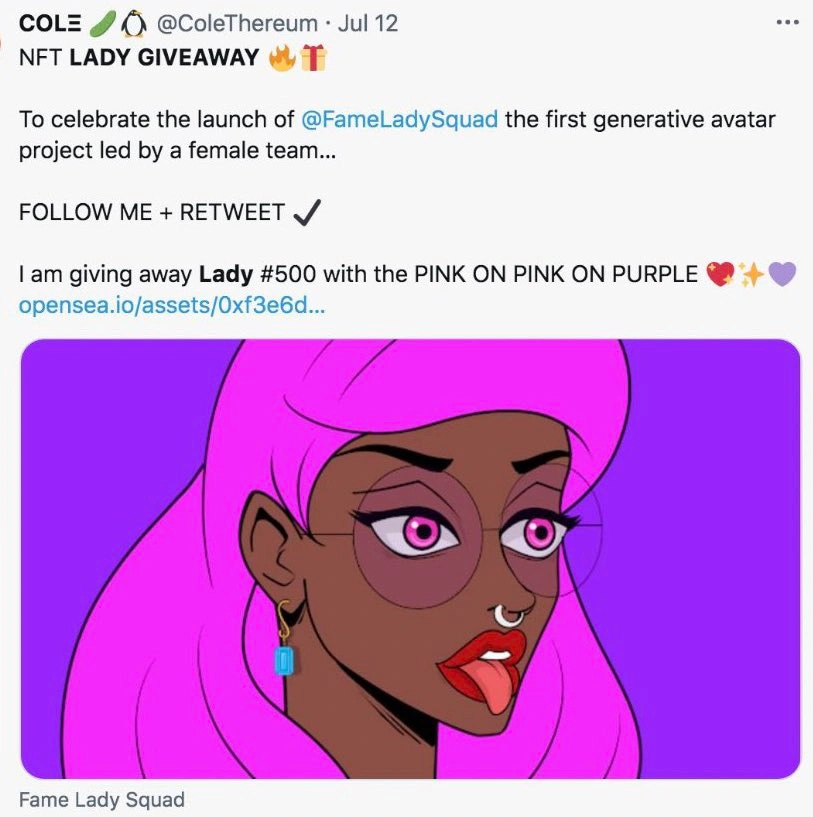 On December 11, 2021, a former community moderator named ColdPizza, who was previously known as 0xDarth, made a public departure from the project after failing to reach an agreement on job terms, including compensation, when he was promoted to community manager. ColdPizza publicly criticized Villemain's leadership during a Twitter Space event which had 3,000 listeners, accusing him of bribing him with 1 ETH, which was worth $3,500 at the time, to prevent him from disclosing any more information about the Pudgy Penguins project. Villemain denied the allegations, stating that he has "never and would never bribe anyone" and had only offered ColdPizza a 1
Ethereum
as a bonus for his work and input to the project.
[2]
[4]
[5]
"We let go of one of our staff members and I offered a 1 Ethereum bonus for being helpful to the project. It was taken out of context and false rumors spread."

Following Cole's announcement of taking a break from Twitter for a while, a well known Pudgy Penguins advocate, 9x9x9 posted a series of tweets on January 6th, accusing Villemain and his co-founders of embezzling the project's treasury, and offering to sell a 20% stake in the project for 4,000 ETH, around $12.9 million at the time. They also claimed that Villemain had reduced the sale offer to 888 ETH after it was rejected. 9x9x9 also alleged that the community had proposed removing Villemain from the team and said, "Removing Cole is like eating a painkiller when you have cancer." [6][7][8]
Due to all these rumors and controversies, On January 6th 2022, In the community vote on Villemain's leadership took place in a private Discord channel, where a large majority of Pudgy Penguins holders voted in favor of removing Cole from the leadership position. [9]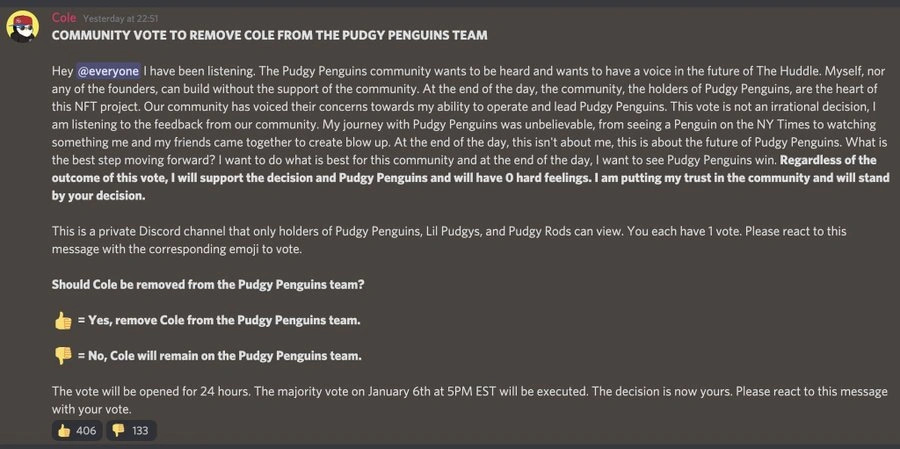 SUPERTHEREUM
On 17th January 2023, a twitter account under the name SUPERTHEREUM was created, tweeting vague hints on a new NFT project. The day after the first tweets, Cole retweeted one of SUPERTHEREUM's tweets saying, "I'm happy that I got to announce @SuperThereum around this time and not when everything is pumping and there is a lot of FOMO and expectations" with his Twitter bio changed to "founder of @superthereum" alluding the start of a innovative and creative NFT project under his name. [10][11]
See something wrong?
Report to us.
ColeThereum
Did you find this article interesting?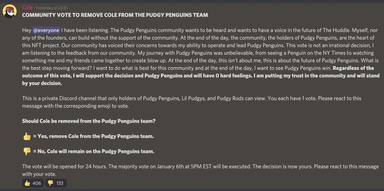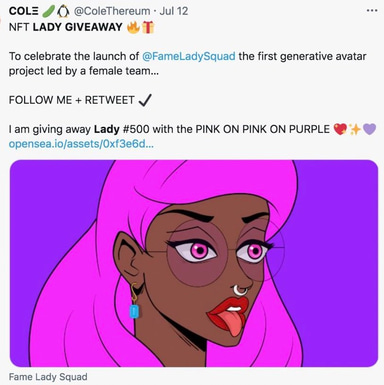 REFERENCES
[1]
ZachXBT's twitter thread on Cole's background
Jan 18, 2023
[2]
Cryptonews on Pudgy Penguin's history
Jan 18, 2023
[3]
Cole's tweet admitting to paid endorsements
Jan 18, 2023
[4]
Tweet exposing the 1 ETH bribe
Jan 18, 2023
[5]
Decrypt on PP being sold to Netz
Jan 18, 2023
[6]
Crypto Briefing on PP being a potential scam
Jan 18, 2023
[7]
Cole's tweet announcing break from twitter
Jan 18, 2023
[8]
9x9x9's tweet exposing Cole
Jan 18, 2023
[9]
Tweet on the community vote
Jan 18, 2023
[10]
Cole announcing SuperThereum
Jan 18, 2023
[11]
SuperThereum tweeting a video on their project
Jan 18, 2023