Cruize Finance
Cruize Finance is a decentralized protocol that enables tokenized asset hedging (minimizing volatility risks)[6] to unlock liquidity for price-protected assets[2]. The platform provides users with vaults where they can stake their capital and generate safer yields using structured products.[1][7]

Overview
The launch of the Cruize Finance Private Beta was in November 2022, where more than 17,000 people signed up for the waiting list. Users could utilize the Cruize Access Pass NFT to participate in the Cruize Private Beta. Some functionalities included staking Goerli WETH and withdrawing it at any time. As this was a testnet launch, no real tokens were involved. [12]
Mainnet went live in March 2023. The Genesis Vault was the first vault launched. This vault operated a weekly strategy that utilized a structured product known as Twin Peaks. The strategy defined a range for participating in market movements and generated a linear interest rate as the price increased or decreased, up to the upper and lower barriers, respectively. [13]
Twin Peaks
This vault employs a weekly strategy known as Twin Peaks, which utilizes a structured product. This strategy establishes a predefined range for engaging in market movements and generates a linear interest rate as the price moves within the specified upper and lower boundaries. The Twin Peaks note yields a favorable return on investment in both bullish and bearish market conditions, provided that the underlying asset price remains within a predetermined barrier and does not breach it. [14]
Ramses LP Amplifier 
The Ramses LP Amplifier vault extends the functionality of the Cruize Finance Genesis vault to accommodate Liquidity Provider tokens. This expansion allows the vault to enhance the returns generated from the deposited liquidity on Ramses Exchange, all without requiring capital lockups or introducing any additional capital-related risks. [15]
Tokenomics
$CRUIZE
$CRUIZE (ERC-20 type) is the native token of Cruize Finance. It can be staked for the escrowed token called $esCRUIZE that can be used to accrue value from the protocol earnings and also take part in governance.[4]
Distribution
The maximum supply of $CRUIZE is 100,000,000 tokens.[4]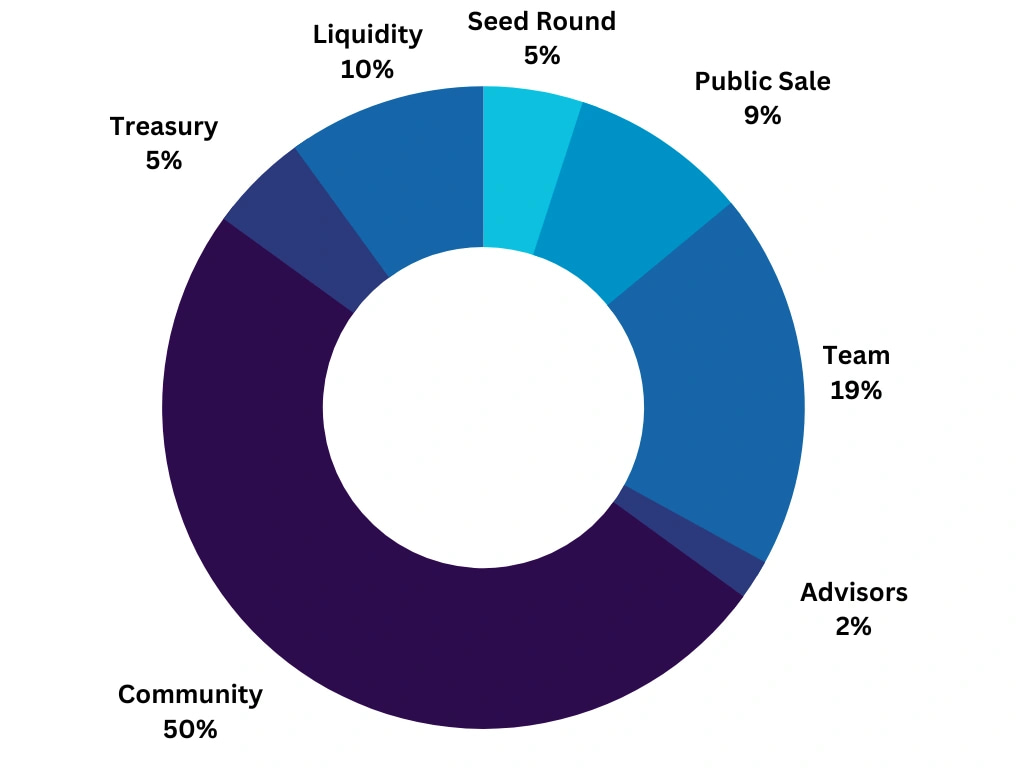 $esCRUIZE
$esCRUIZE is a non-transferable escrowed token, that corresponds to staked $CRUIZE tokens. To earn $esCRUIZE tokens user needs to stake $CRUIZE tokens to mint an equivalent amount of $esCRUIZE tokens, or receive rewards for adding liquidity to Cruize vaults.[8]
Use Cases
Revenue Share - 40% of all the protocol earnings are directed to $esCRUIZE token holders and are distributed on a pro-rata basis.
Boosted Yields - the $esCRUIZE balance of the users increases automatically along with the yield generated from the invested vaults. The amount that can be boosted depends on what proportion of the value deposited in the vaults is held as $esCRUIZE.
Access to the Vaults - $esCRUIZE holders get access to Cruize's exclusive vaults once a certain minimum threshold of $esCRUIZE tokens is held in the wallet address accessing the vault.
Governance - $esCRUIZE holders get entitled to governance privileges.[8]
Redemption of $esCRUIZE to $CRUIZE
Converting $esCRUIZE back to $CRUIZE through redemption requires a vesting period. The vesting process follows a standard epoch of 90 days. During this period, $esCRUIZE linearly vests and converts to $CRUIZE.
If the vesting process is incomplete, half of the unclaimed $CRUIZE tokens are burned and the rest are redistributed as rewards in the form of $esCRUIZE tokens to the remaining $esCRUIZE holders.[9]

Funding
On May 19, 2022, Cruize Finance closed the pre-seed round with $700,000, which was held by Delta Blockchain Fund.[10] Other investors include Big Brain Holdings and GravityX Capital.[5][11]
Team
Samarth Zalte - Co-Founder & Product Lead
Prithviraj Murthy - Co-Founder & Tech Lead
Karan Parsnani - Full-Stack Developer
Muhammad Salman - Protocol Developer
Akhilesh Goswami - Protocol Developer
Anirudh Pareek - Product Designer
Augustin Munoz Gonzalez - Quantitative Researcher
Mike Georgiou - Community Lead[5]
See something wrong?
Report to us.
Cruize Finance
Did you find this article interesting?