Dawn
Dawn Protocol (DAWN) (founded in 2020) is a cryptocurrency created on the Ethereum blockchain. It is a utility token to reward gamers who compete each other in competitive and skills-based games like Dota 2 on the peer-to-peer ESports platform, FirstBlood[1][2]. 
Company
---
Dawn Protocol is developed by FirstBlood, a Blockchain-based peer-to-peer eSports gaming platform. It was founded in 2016 and is located in Boston, Massachusetts, United States. It currently has 11-50 employees. FirstBlood has raised a total of $6.1M in a crowdfunding round on Sep 26, 2016. It had a post-money valuation in the range of $10M to $50M according to PrivCo[2][3].
Overview
---
Dawn is the new cryptocurrency of the currently existing FirstBlood platform. First blood already has native token, 1ST. Both 1ST and DAWN will co-exist and remain integrated into the FirstBlood Platform.Users can also swap 1stBlood token with 1:1 ratio to get Dawn Token. The Major reason behind introducing dawn token is to make it adaptable for the DeFi (Decentralized Finance) ecosystem. 1st Blood token is an ERC777 while DAWN is created using ERC20 Token Standard. Dawn is an open-source protocol for gaming and competitions. It creates opportunities for world gamers with decentralized rewarding and matchmaking technologies. Its mission is to enable a fair, open and rewarding gaming ecosystem no matter what country or background users are from[4][5].
Benefits
---
As staked in the overview, Dawn protocols rewards games who compete and challenge each other playing competitive and skill-based games like Dota 2, PlayerUnknown's Battlegrounds, Call of Duty etc. The platform benefits everyone who wants to contribute to the ecosystem[1]. 
Gamers
Gamers from any country can play and earn professionally regardless of their place and background. Dawn token works in every country, with PC and mobile games. Gamers can also organize tournaments and collect fees. There are also VIP prize pools with Dawn token membership.
Developers
Developers can Integrate Dawn tournament SDK to their games. It is an easy way to enable pay-to-compete and create additional revenue streams.
Blockchain Enthusiasts
Those who want to explore newer ways in Blockchain Technology will get exposure in growing Esports industry. Dawn, works as the original token for competitive video gaming. They can also trade it in DeFi ecosystem to benefit from different decentralized protocols.
Hodlers
Dawn Token can also be staked. Token holders can now lock up their Dawn and receive complimentary access to FirstBlood Plus for the duration of tokens being locked up. By creating additional utility for the token, staking reduces token velocity and incentives new token holders to hold Dawn long-term. 
Tokenomics
---
DAWN token is an ERC-20 Token created on Ethereum by deploying smart contracts. It has a total supply of 93,468,684 DAWN. It registered an all-time high of $0.238779 USD on Jun 02, 2020, and an all-time low of $0.045520 USD on (May 31, 2020). It is listed on popular exchanges, including Bittrex, BigONE, Probit, ZB.com, and also Decentralized Exchange (DEX) Uniswap[6][7][8][9].
See something wrong?
Report to us.
Dawn
Did you find this article interesting?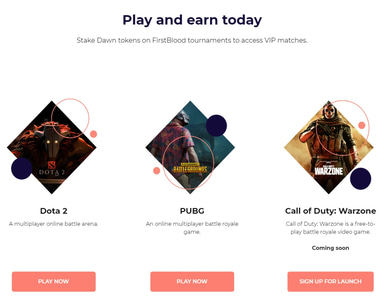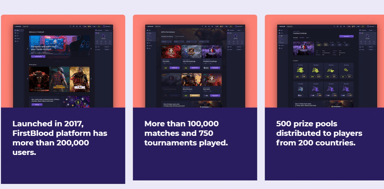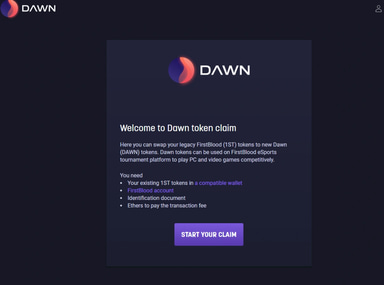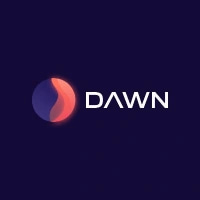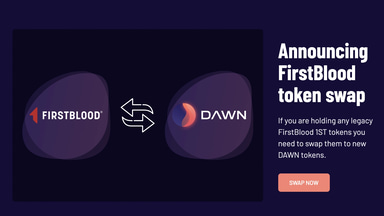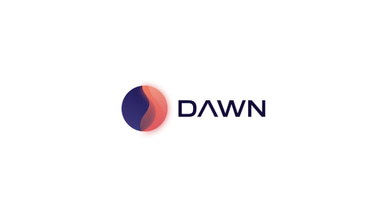 REFERENCES
[1]
Dawn Official Website
Aug 18, 2022
[2]
Dawn on LinkedIn
Aug 18, 2022
[3]
Dawn on Crunchbase
Aug 18, 2022
[4]
Dawn Token Swap FAQ
Aug 18, 2022
[5]
Dawn Token Burn
Aug 18, 2022
[6]
Dawn on Coinmarketcap
Aug 18, 2022
[7]
Dawn Token Information
Aug 18, 2022
[9]
Dawn Protocol on Twitter
Aug 18, 2022