Flamingo Finance
Flamingo Finance (Symbol: FLM) is an audited interoperable, full-stack DeFi (Decentralized Finance) protocol built on the NEO N3 blockchain. The $FLM token is the governance token of Flamingo. The platform helps convert assets, wrap assets, provide liquidity, and earn yield through staking, these yields are earned by collecting fees and getting minted FLM as a reward.
FLM holders can vote for changes in platform parameters, issuance of new FLM tokens, etc.[1][2][3][4][5]
Flamingo Finance aims to become the stepping stone to accelerate Neo's DeFi ecosystem development.[6]  One week after its launch, the protocol reached a high of over US $1.5 billion in total value locked (TVL).  [7][8]
According to NEO founder Da Hong Fei, Flamingo Finance aims to be a swiss army knife for the entire NEO ecosystem, as it combines the functionalities of yEarn, Uniswap, MakerDAO, Synthetix, and Ren all in one protocol. [9]
On October 5, 2020, Flamingo Finance launched Flamingo Swap and FLM rewards. [10]
Protocol
Introduction
Flamingo Finance is comprised of five main components, including Wrapper - a cross-chain asset gateway, Swap - an on-chain liquidity provider, Vault - a one-stop asset manager, Perp - an AMM-based perpetual contract trading platform, and also DAO. FLM is the governance token of Flamingo and will be 100% distributed to the community based on participation. [11]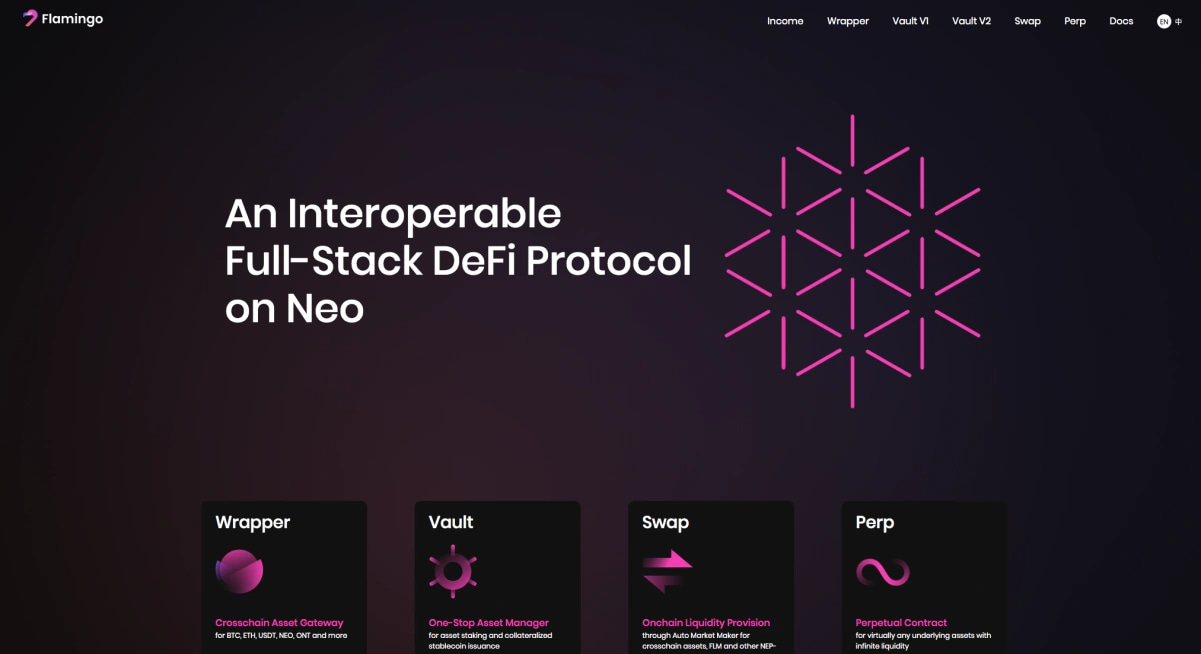 The Flamingo project is incubated by Neo Global Development (NGD), underscoring
Neo's
vision to build the Smart Economy, of which decentralized finance is a crucial component. NGD will facilitate the early-stage development of the Flamingo project, and the governance mechanism will gradually transit from Proof-of-authority (POA) to DAO. The Flamingo project will eventually be run by the community.
Flamingo Finance makes it easy to buy and sell crypto, invest and earn revenue directly on the blockchain.[18]
How it Works
The Flamingo Finance protocol integrates multiple modules to provide a comprehensive DeFi infrastructure. Users can participate in Flamingo in different roles respectively or simultaneously as traders, stakers, and liquidity providers.[20]
Features
Interoperability
Flamingo is based on the Neo blockchain, which launched the Poly Network, an interoperability protocol together with Ontology, and Switcheo Network. Through Poly Network, the Flamingo protocol is connected with various heterogeneous blockchain networks, such as Ethereum to Neo, Ontology, and Cosmos-SDK-based blockchains. Users on Flamingo can leverage its interoperability to gain access to more assets within the broader blockchain ecosystem. [12]
Fair Launch
Flamingo will distribute FLM 100% based on contribution to the platform with 0% pre-mining or team reserve. FLM distribution in the early stage will be determined by the Flamingo Team, and the long-term distribution of FLM will be determined by DAO through FLM voting.
FLM Tokenomics
FLM is the governance token of Flamingo and will be 100% distributed to the community based on participation, with no pre-sale, pre-mint, or team distribution.
Distribution
$FLM will be 100% distributed to participants based on participation. During the early stage of the project, the FLM supply will be distributed to the following use cases, which will be subjected to proposals and changes by the community after DAO launches.
Staking of cross-chain assets (only for the first one-week "Mint Rush")
Staking of LP tokens obtained by providing liquidity (After"Mint Rush")
Minting of FUSD in Vault
Depositing of synthetic stablecoin FUSD as margins to trade perpetual contracts
Participating in DAO governance
Token Release Schedule
Early stage
Flamingo has pre-scheduled the release of FLM for the 13 weeks following the platform's launch.
Week 1
During "Mint Rush" (the first week after the launch of Vault), 50,000,000 FLM will be distributed among staking pools during this phase.
Week 2 - 5
After the launch of Swap, 40,000,000 FLM will be distributed to liquidity providers during this phase.
Week 6 - 9
In this phase, 30,000,000 FLM will be distributed among liquidity providers and FUSD minters.
Week 10 - 13
After the launch of Perp, 30,000,000 FLM will be distributed among liquidity providers, FUSD minters, and Perp traders.
Long term
The initial Flamingo team will no longer be in charge of the FLM release schedule after the launch of DAO. The team will instead propose a safe, stable, and sustainable operation plan for the community to consider. Community members who vote for Flamingo governance proposals will receive 10% of the newly generated FLM.
Governance
Introduction
Flamingo aims to incentivize the broader community to participate in the Neo DeFi ecosystem. FLM is the project governance token and FLM holders can participate in governance through voting in DAO. As the project originator, the Flamingo team contributes initial resources and presently governs the initial platform design to actuate the project at its early stage, and to facilitate the long-term growth of the project.
Scope of Governance
FLM holders are responsible for governing the Flamingo project, which includes but is not limited to tokenomics, parameter configuration, and functionality improvements/changes. Anyone can become an FLM holder and join the community to shape the future of Neo's DeFi ecosystem.
Anyone can submit proposals in DAO and FLM holders are entitled to voting rights for relevant proposals. There are two types of proposals:
Flamingo Improvement Proposal (FIP)
Proposers can submit proposals to improve the overall system design of Flamingo, such as liquidity improvement plans, liquidation mechanisms, risk control strategies, etc.
Flamingo Configuration Change Proposal (FCCP)
FLM holders can decide the most important metrics of Flamingo as well as the release schedule of FLM. Examples of the metrics include but are not limited to Wrapper, Swap, Vault, and Perp.
Transitioning from POA to DAO
After the launch of DAO, the governance of Flamingo will be eventually transferred from the Flamingo team to the community. FLM holders are the key stakeholder of the Flamingo project. To develop a sustainable voting community, a tentative amount of 10,000,000 FLM will be distributed to voters.
Flamingo Swap & FLM Rewards
On October 5, 2020, Flamingo Finance announced via their official Twitter account, details about Flamingo Swap and staking rewards for users of the protocol.[13]  A 0.3% fee will be charged for every token swap, which is awarded to liquidity providers proportional to their contribution to the liquidity pools. Users can customize acceptable thresholds for slippage and trade timeouts. [14]
Timeline
Distribution of Mint Rush 2 staking rewards will be completed at UTC 11:00:00, October 5, 2020
Liquidity provision and token swaps will be available in Swap from UTC 12:00:00, October 5, 2020
Staking rewards for Liquidity Provider (LP) Tokens starts from UTC 13:00:00, October 5, 2020
Trading Pairs at Launch
FLM/nNEO
pnWBTC/nNEO
pnWETH/nNEO
pONT/nNEO
nNEO/pnUSDT
pnWBTC/pnUSDT
Staking Rewards (FLM Distribution)
After the completion of Mint Rush 2 (UTC 11:00:00, October 5, 2020), FLM will no longer be distributed to single-asset stakers. Users may stake LP Tokens from below trading pairs in the Vault to continue receiving FLM rewards. The release rate of FLM will follow the schedule detailed in the Litepaper. Details are as follows: [15]
From UTC 13:00:00, October 5, 2020 to UTC 13:00:00, October 7, 2020
2,857,143 FLM will be released per day as below: [16]
FLP-FLM-nNEO 20%
FLP-pnWBTC-nNEO 20%
FLP-pnWETH-nNEO 10%
FLP-pONT-nNEO 5%
FLP-nNEO-pnUSDT 20%
FLP-pnWBTC-pnUSDT 25%
From UTC 13:00:00, October 7, 2020 to UTC 13:00:00, October 14, 2020
1,071,429 FLM will be released per day following the same distribution as above. [17]
Roadmap
Q1 2022
Streaming sessions
Stake FLM get FLM
Adjust FLM distribution
Reverse Pools
Mobile Wallet
Roadmap for 2022
Q2 2022
Advanced Trading
On-ramp
Claim History
Trade History
Streaming sessions
On Chain Order Book
Adjust FLM distribution
Q3 2022
FUSD: A stablecoin backed by yield-bearing FLUND tokens
New Cross Chain Bridge
Streaming sessions
Adjust FLM distribution
Updated Tokenomics
Token Auction Offering (TAO)
Q4 2022
Flamingo Lending
Flamingo Pay
Flamingo Javascript library
Adjust FLM distribution.[19]
See something wrong?
Report to us.
Flamingo Finance
Did you find this article interesting?