ForTube
ForTube is a cryptocurrency and DeFi (Decentralized Finance) protocol developed by The Force Protocol, comprised of a set of DeFi technical components and tokenized protocols.[1][2]
Overview
The Force Protocol integrated bond financing protocol, cryptocurrency lending protocol, and decentralized stablecoin protocol to form ForTube, a crypto-open financial service platform that provides crypto-assets investment, financing, and transaction services for individuals and institutions to meet the crypto-financial needs of different users.
ForTube is comprised of three DeFi applications:
ForTube Bond: A bond financing protocol that acts as a crypto-asset lending service with fixed terms and interest rates.
ForTube Bank: A crypto digital currency deposit and loan protocol that supports deposit, withdrawal, as well as borrowing, and paying. [4]Through smart contracts deployed on the blockchain system, investors can obtain returns, and borrowers can obtain financial support after providing appropriate collateral.
ForTube Qian: A decentralized stablecoin protocol. Cryptoassets holders can lock their assets to QIAN's smart contract to obtain the amount of QIAN stablecoin that is equivalent to fiat currency without having to pay any interest.[3]
After the official launch of the ForTube 2.0 on September 7, 2020, the Total Value Locked (TVL) on ForTube hit $150 million.
In May 2020, The Force Protocol partnered with Chainlink and began using the Chainlink oracle network to calculate the value of collateral assets to create bonds, calculate the collateralization ratios, trigger conditions for supplementary collateral, and trigger conditions for collateral liquidations, among other uses.[5]
Roadmap
June 2018 - project launch, Whitepaper design, official website release
February 2019 - EOS-based experimental lending decentralized application (DApp) launch
April 2019 - the project token FOR open for trading
June 2019 - Pawn, a P2P lending DApp based on Ethereum release
November 2019 - Bank Loan function launched in Pawn
December 2019 - QIAN, a decentralized stablecoin release supporting Ethereum and RSK Network
March 2020 - ForTube Bond launch
June 2020 - integrated Loan, stablecoin, and Bond into ForTube
July 2020 - stablecoin QIAN 2.0 launch
September 2020 - DeFi application security protocol component launch
December 2020 - a collaboration with Binance Smart Chain, Polkadot, etc. in ForTube Business
March 2021 - promote QIAN among users in Southeast Asia without access to banking services
June 2021 - launch a pilot business of crypto bonds for real enterprises
March 2022 - establish QIAN stablecoin Open Technology Alliance. [6]
FOR Token
FOR is The Force Protocol ecosystem token, having multiple functions, such as participation in ForTube Bond Rating Voting, participation in the stability adjustment of QIAN, participation in QIAN's Global Debt Auction, and participation in the governance of ForTube. [7]
As it is stated in The Force Protocol's whitepaper V6.0, the total supply of FOR tokens is 1 billion and there will never be additional issuance. Under the guidance of The Force Protocol team, 85% of the tokens will be used for community construction and donation programs. The community ecosystem construction, The Force Protocol Foundation, and strategic investors and community donation take up 30%, 25%, and 30% respectively. The remaining 15% will be saved to reward The Force Protocol founding team and ForTube development team for their contribution, and incentivizing new team members. The tokens for the team will be locked for 3 years, then the contract will release 30% of the tokens 12 months after the initial public trading, a further 30% after 24 months, and 40% after 36 months.[8][9]
Team
David Lei - Founder, Master of Tsinghua University
Ben Yorke - Co-founder, former research analyst and content writer, Business Administration degree from San Diego State University
Seamon Liu - Co-founder, CTO of Yunbi Exchange in 2017; CTO of Chaince Exchange from 2018 to 2019
Fabian K - Blockchain Developer
Louis Xu - Chinese Marketing Director, former cloud computing architect of ZTE
Arpit Kamath - Full Stack Developer, Software Engineer on the Software Defined Security team at Salesforce; BS from University of California, Berkeley
Aaron Liu - Product Director
Janet Weng - Community Manager, former operations and business analyst at CERNET Corporation; former head of overseas marketing and user growth at DOS Network; MSIS from University of Maryland Robert H. Smith School of Business. [10]
Partners
imToken
SlowMist
Bitpie
CertiK
rsk
TokenInsight
Winkrypto
PeckShield
MyToken
MyKey
HBTC
DeBank
Nest
Dappbirds
HUSD [11]
Technical Components
ForTube is made up of three DeFi (Decentralized Finance) technical components: fundamental components, extension components, and financial components:
Fundamental components (APEC): As the core on-chain structure, APEC (Assets Protected Elastic Contracts) is based on Solidity smart contract and ensures decentralization and asset ownership while making adjustments and improvements in deficiencies of contract development. It has three characteristics: asset security,upgradable logic, scalable data.[13]
Extension components (BEAMS): BEAMS (Blockchain Enquiring, Auditing & Messaging System) is an off-chain system that works closely with contracts. They constantly monitor the operation of the contract, audit the data and assets, and accelerate the response speed of a product, making the response speed more stable, and the feedback smoother and more fluent.
Financial components (GEL&CALM&MAK): Global Emergency Lockdown (GEL), Cooperative Automatic Lockdown Mechanism (CALM), and Multisig Admin Keys (MAK) protect the platform from attack and invasion, protect the assets once the platform is invaded, and minimize the loss when the assets are no longer secure. [12]
See something wrong?
Report to us.
ForTube
Did you find this article interesting?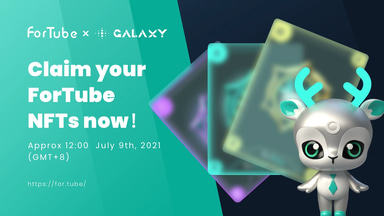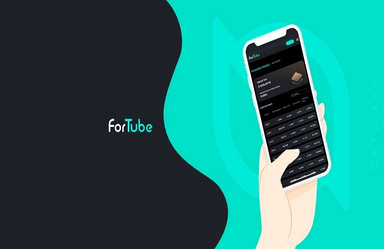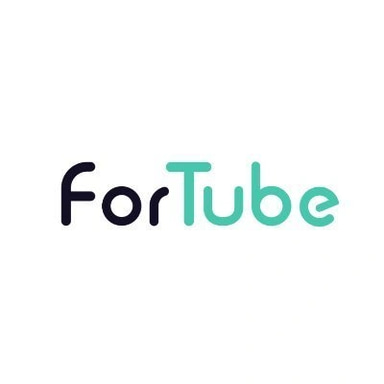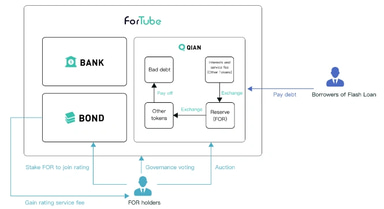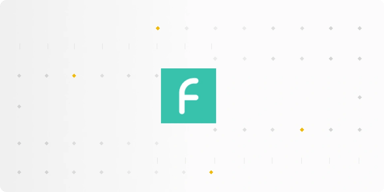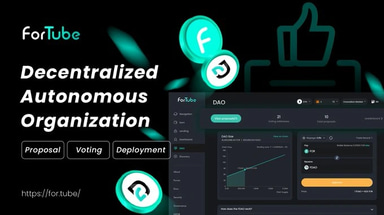 REFERENCES
[9]
CoinmarketCap
Aug 18, 2022
[11]
CoinmarketCap
Aug 18, 2022