Guild of Guardians
Guild of Guardians is a mobile role-playing game in which users lead groups of heroes through difficult dungeons in order to gather resources. It uses blockchain technology to give players ownership over heroes, game items, and guilds.[1]  Guild of Guardians was published by Immutable X and developed by Stepico.[5]
Overview
Guild of Guardians was influenced by Diablo and Dungeons & Dragons. The game takes place in a classic fantasy environment. There are dungeons to explore and monsters to fight. In this game, users can play as orcs, elves, humans, or other supernatural creatures.
All characters and battles are in 3D, and the game's graphic design is artistic and low-poly.[7]  [8]
Cross-game interoperability is possible with blockchain-based gaming, allowing players to utilize the same in-game objects and characters across various metaverses. Players collaborate to build the Guardians, contribute to their Guild, and strategize to finish the game's most difficult content.   [3][9][10]
According to Derek Lau, game lead for Guild of Guardians,
"Rather than 'play-to-earn,' we want to instill the idea of 'play-and-earn' — ensuring that players are not just playing to make money alone, but playing for fun and great gameplay as well."
In June 2021, Guild of Guardians, a mobile blockchain role-playing game (RPG) developed by Stepico Games in Ukraine, has announced that the first wave of its "Founder's" Non-Fungible Token (NFT) sale raised $3 million. The company claimed that out of the total amount it raised, it received $2.8 million within the span of 24 hours, with $2 million raised in the first hour alone.[2]
Gameplay
Heroes
Players enter dungeons with a group of heroes to combat.
A few traits distinguish heroes:
<strong>Factions</strong>: Horde, Empire, Glade.
<strong>Classes</strong>: Warrior, Ranger, Mage.
<strong>Rarities</strong>: Common (not on the blockchain or tradable), Rare, Epic, Legendary.
<strong>Elements</strong>: Water, Earth, Fire, Dark, Light.
Each Hero has two attributes in addition to the ones listed above. One is Active and the other is Passive. Active abilities function similarly to ultimate actions in that they can clear a room, heal an entire team, taunt a boss, or deliver huge single target damage.
Guilds
The Guild of Guardian game was created with the goal of creating a true multiplayer experience. Guilds will allow players to form groups and try the game's most difficult and rewarding tasks, as well as produce goods for sale on the marketplace.
Guilds come in four tiers:
Adventurers Guild
20 Guild Members
Guild Leader gets a guaranteed first-cut of 1% of any sale
Warriors Guild
30 Guild Members
Guild Leader gets a guaranteed first-cut of 2.5% of any sale
Legends Guild
40 Guild Members
Guild Leader gets a guaranteed first-cut of 5% of any sale
Mythic Guild
50 Guild Members
Guild Leader gets a guaranteed first-cut of 10% of any sale
Pets & Energy Boosters
Pets could be acquired exclusively during the presale, however, later on, players are able to find them for sale. Players are given an equipable Pet as a reward for making a purchase. Each bought token contains a random pet, with the most powerful creatures being extremely rare.
Energy Boosters
This eliminates the increased Fatigue rate that a Hero would experience when entering a Dungeon. It allows players to utilize their favorite Heroes for extended periods of time without incurring Hero Stat drawbacks.
Equipment
Hundreds of weapons and armor components are available for players to find, build, and trade. Each one can have its own set of buffs that offer stat benefits to heroes equipped with them. Weapons, helmets, jewelry, boots, and other items are among the different sorts.
Earning Assets
When playing Guild of Guardians, players may make money in a variety of methods. There are also systems in place to keep bad actors out of the market, ensuring that legitimate players and their assets retain their value over time.
Summoning & Merging
Players can acquire common heroes (which are not tradeable) by playing for free. Players may then combine several heroes to create heroes of a greater (tradeable) rarity, allowing them to play for free and eventually possess legendary heroes.
Ascension
A player can 'ascend' a hero once it reaches the maximum level, increasing its level cap. This unleashes the hero's full potential.
Crafting
Dungeons will release crafting materials as a drop. Players can donate crafting materials to their guild in order to create blockchain products, which will then be put to the market to be sold and the earnings divided according to the amount of money each player contributed. [15]
Technology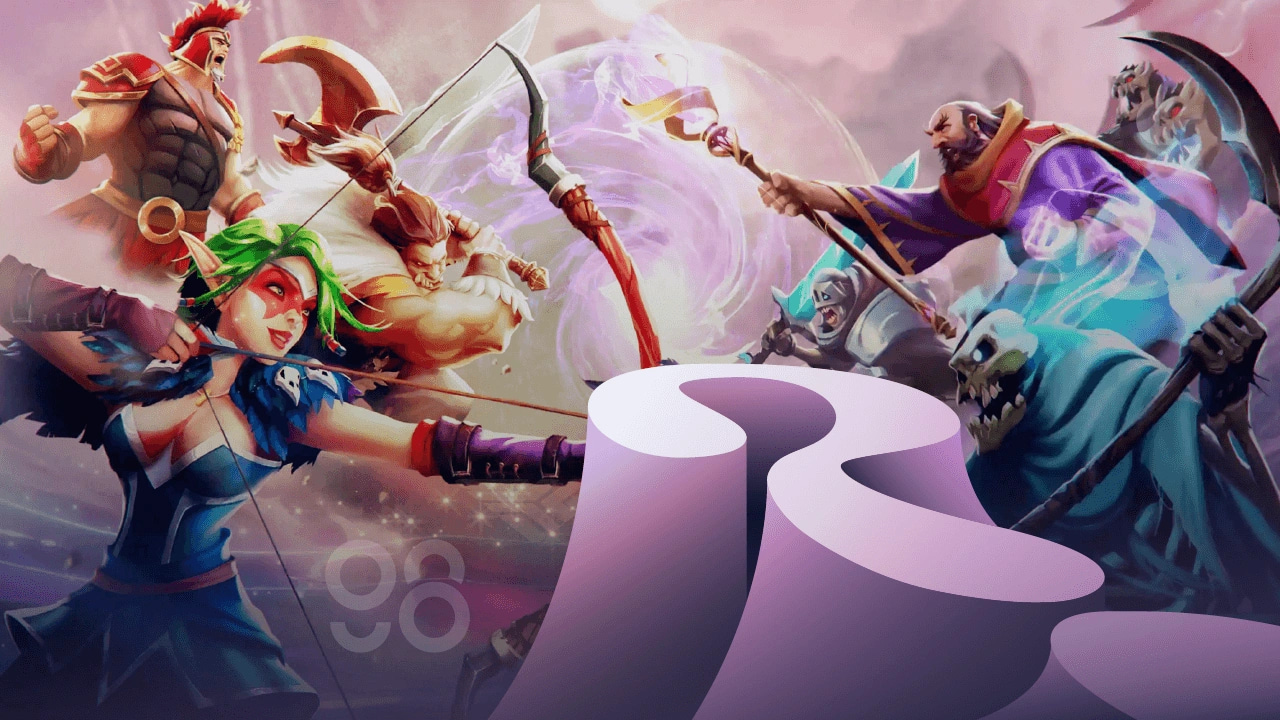 All of the game's blockchain assets (things, heroes, and pets) are ERC-721 tokens. These will be issued on Immutable X, an exchange architecture that has the following features:
Zero gas costs for peer-to-peer trading.
No custodial risk; users keep their private keys.
Handles up to 9,000 transactions per second.
Not a centralized sidechain.
Supports ERC-20 and ERC-721
Instant settlement, no reverts.
The Guild of Guardians game is available on the Apple and Google Playstore. [16]
Gems
Guild of Guardians has teamed up with Guardians Corporation to create and distribute in-game money for use in the Guild of Guardians mobile game. Guardians Corporation creates, issues, and distributes the in-game money "Gems," which is an ERC-20 token.
Utility
Minting gaming NFTs
Gems are required to create a blockchain asset in Guild of Guardians. Merging (combining many heroes of one rarity tier to produce one hero of a higher rarity tier), Crafting, and Ascension are examples of in-game actions that entail minting new blockchain assets.
When Gems are used to produce a new asset, they are all placed in a Rewards Pool, where they will be dispersed to Gems holders. With each NFT coined, the Gem cost of minting that NFT will rise. This is to promote the early usage of Gems and to act as a tool to control asset supply and prevent the market from becoming "flooded" with goods.
Buying Assets
Whenever a player purchases an asset in a primary sale, 20% of the sale value must be paid for in Gems and sent to a "rewards pool". To simplify the user experience, purchase occurs in a single transaction, and automatically purchase Gems from a Decentralized Exchange (DEX) and transfer those Gems to the rewards pool on the player's behalf.  Gems are distributed back to players via an "Active Staking" Rewards Pool.[20]
Governance and Voting
Gems' goal is to decentralize governance choices more and more as the game progresses, which implies that as the game progresses, more and more decisions will be allocated to Gem Holders. Setting liquidity mining incentives and distribution rates per pool, altering marketplace fees for trading, adjusting the Gem cost of acquiring assets, adjusting the player reward rates for certain in-game behaviors, and so on are just a few examples.
Tokenomics
There's a hard cap of 20 million Gems (GOG tokens) issued over 4 years. They will be allocated in the following areas:
Developers: 20%
Early Backers: 11%
Player Rewards: 35%
Community Rewards: Up to 28%
Issuing entity (Guardians Corporation): 6%[5]
Partnerships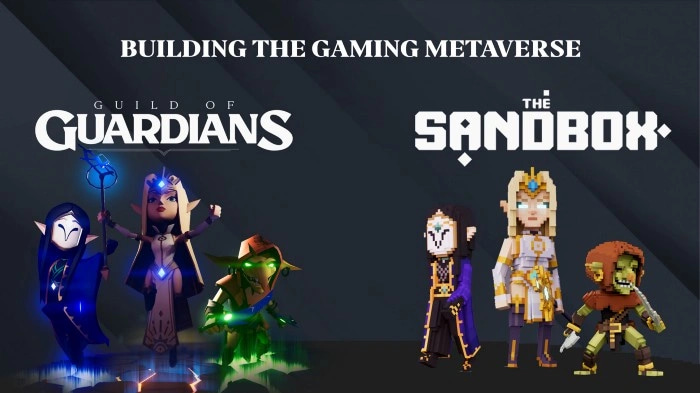 Guild of Guardians has collaborated with The Sandbox, a virtual environment where users may create, control, and sell their gaming experiences using NFTs, in order to increase the game's reach. Guild of Guardians and The Sandbox players may now interact across both game worlds thanks to the collaboration.  
[11]
[8]
Guild of Guardians was recently selected for the sixth season of the Ubisoft Entrepreneur Lab program, which encourages companies that build products and services with the potential to change the entertainment industry.  
[6]
[12]
In August 2021, NRG eSports and Guild of Guardians announced a partnership that will add playable NFT collectibles to the Guild of Guardians mobile game. The NRG hero will be available in four distinct color schemes, with subtle NRG glyphic allusions in both the sword and the armor. In early October, the NRG hero will be available as an NFT drop on the Guild of Guardians website (date to be confirmed). Anyone who buys the NRG hero will get a unique NRG art collectible as well as a chance to win a free VIP experience at NRG's headquarters in Los Angeles. 
[24]
Partnership with the Biggest Names in Esports
The platform announced a multi-year agreement with eight of the most well-known esports teams in the world in order to create the web3 gaming and digital entertainment of the future and introduce Guild of Guardians to the biggest esports community on the planet. The gaming industry is growing faster than the combined rates of the music and film industries. Esports organizations, which contribute to 30 billion hours of viewership annually globally, are at the heart of this success.Guild of Guardians and web3 will be introduced to millions of esports fans thanks to this ground-breaking partnership with Cloud9, Fnatic, NAVI, Ninjas in Pyjamas, NRG, SK Gaming, T1, and Team Liquid. Additionally, fans will be able to support and represent their favorite teams in-game in novel and significant ways thanks to digital assets. Fans will be able to develop, own, and exchange their digital assets while competing with others to win prizes if there is genuine digital ownership. These will serve as marketing ambassadors for their companies as complete, playable in-game items that can be traded on Immutable X.
With the long-term goal of aligning incentives in a win-win, symbiotic circle of success between esport teams, their supporters, and, in turn, Guild of Guardians, generating long-term cooperation rather than extraction, this relationship represents a watershed moment for the whole gaming industry.
Team
Stepico Games created Guild of Guardians, which is published by Immutable X. Stepico Games is a major Ukrainian game production firm with over 80 designers, illustrators, and programmers on staff. They work on cutting-edge gaming projects and are actively involved in the development of cutting-edge entertainment solutions.  [13][14]
Immutable is a $17 million venture capital-backed Blockchain startup sponsored by Naspers, Galaxy Digital, and Coinbase. They are responsible for the creation of Gods Unchained, the most popular blockchain Trading Card Game, which is led by Chris Clay, a former director of the Magic: The Gathering.
Derek Lau — Game Lead
Derek is the Guild of Guardians' game lead. He worked as a management consultant at Oliver Wyman, where he was in charge of creating and delivering strategy initiatives for Australia's top executives. He was also the co-founder of Parkways, a peer-to-peer parking start-up where he honed his entrepreneurial skills. [19]
Josiah Wallace — Lead Game Designer
Josiah has been a game designer for almost a decade and is in charge of Guild of Guardians' design. He was a key designer on Temple Run and Temple Run 2, which have collectively surpassed 1 billion downloads. In Guild of Guardians, his game design experience is being merged with cutting-edge blockchain and open economy design ideas to produce world-class gameplay.
Aaron B. Murray — Creative Director
Aaron has spent the last 15 years developing games and experiences for a variety of platforms, including PC/Console, VR, and mobile. He has worked with a variety of firms, including EA, Ubisoft, and the Void. He was also the Co-Founder and Creative Director of Strange Reptile, where he acquired studio creative leadership and operational expertise while working with AAA IPs. Aaron offers a wealth of experience from the gaming industry to Guild of Guardians.
Marc Griffiths — Lead Full Stack Developer
Marc is a skilled Ethereum engineer who has been working with Solidity since 2015. He has 15 years of software development expertise. He was the CTO of Power Ledger and a key figure in the company's preparations for a $34 million ICO. In addition, he is the founder and chief architect of Intrinsic Global, an Ethereum expert. Mark is an Ethereum veteran who is enthusiastic about developing new models for human connection and wealth generation.
Nick Kelland — Marketing and Community Manager
Nick has almost a half-decade of experience in commercial and broadcast media and marketing in Australia, where he has established marketing and media expertise. He was also a co-founder of VOSSEE, a mobile fashion aggregation app. Nick has a unique combination of media and business expertise, as well as being an ardent gamer and basketball lover.
Nikola Pisetskyy — Managing director
Nikola is a natural entrepreneur, having founded a marketing business at the age of 21. He began his career in game creation by working on mobile web games, which led to the establishment of Stepico Games, a Ukrainian game development firm. Nikola has expertise directing projects on big, multiplayer RPGs and has worked with significant companies like Amazon Studios, Universal, Outplay, and Gamevil.
Olha Koshchuk — Project Manager
Olha is a seasoned project manager with a computer science and management background. She's worked with teams of 15+ individuals to ship a wide range of goods and games. Her expertise in managing geographically dispersed teams and working with major multinational gaming companies are both critical to Guild of Guardians' success. [18]
Andrii Titov — Clientside lead
At the age of 18, Andrii began his work as a freelance developer, creating C and C++ code for data structure-intensive applications. His enthusiasm for gaming led him to train as a Unity developer, which he has done for more than eight years. Andrii is in charge of Unity Development at Stepico, which includes the team's development flows, decisions, procedures, and dev-ops. He is a board and video game specialist, as well as a major advocate of open source and free software initiatives. [17]
Categories
See something wrong?
Report to us.
Guild of Guardians
Did you find this article interesting?