John Paller
John Paller is the Founder and Executive Steward of Opolis, a public utility infrastructure for digital employment serving independent workers. Paller is also the Founder of the Ethereum-based hackathon, ETHDenver. [1]

Career
John Paller started his career in 1999 as a Division Director at Robert Half Finance & Accounting. In 2002, he was the CEO and Managing Director at PeoplePartners / Financial Recruiting Partners, Inc. In 2009, John Paller founded Lakeshore and served as the CEO until August 2017. [1]
EthDenver
In August 2017, John Paller founded EthDenver, LLC, an entity responsible for organizing the annual #BUIDLathon event that takes place over the week prior to Presidents' Day Weekend in Denver, Colorado, USA. He serves as the event Executive Steward.
What Paller looks forward to most about the event every year is being surprised.
"I never know what I'm going to see and that's the way we've designed it," he said. "There could be some 17-year-old high school kid who hacks together some genius project. It's our humanness, the dynamic expression of creativity, which is really beautiful to see. EthDenver is kind of like Denver's Super Bowl." - John Paller said in an interview with Decential [2]
Apprentio
Apprentio educates & enfranchises underserved, at-risk youth in blockchain technology to offer a sustainable path to meaningful economic opportunity. It was co-founded by John Paller in 2018 at the ETHDenver Hackathon in partnership with Blockgeeks, ETHGlobal, Blockchain For Social Impact, Thiel Foundation, Colorado Technology Association, Colorado Office For Economic Development, and Denver Kids. [1]
Opolis
John Paller founded Opolis, a public utility infrastructure for digital employment serving independent workers in August 2017. [1]
"What opolis is is aiming to do is really creating a new platform of self sovereign employment and we're doing so through an employment cooperative framework so it's a legal framework combined with web3 technology that allows for this new dynamic of work - John Paller said in an interview
Education
John Paller attended Southern Utah University where he studied for a BS, in Business Administration, Accounting from 1994 - 1997. [1]
See something wrong?
Report to us.
John Paller
Did you find this article interesting?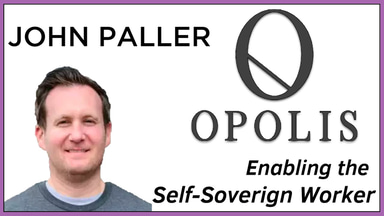 REFERENCES
[1]
John paller linkedin
Mar 9, 2023
[2]
decential on ethdenver with John
Mar 9, 2023