ETHDenver
ETHDenver is an annual Web3 event that focuses on building and networking on the Ethereum blockchain and hosting hackathons. ETHDenver is managed by SporkDAO and was founded by John Paller in 2017. [1]
Overview
ETHDenver is marketed as the "largest Web3 #BUIDLathon in the world" with their #BUIDL meme as their mantra. The #BUIDL meme came about in ETHDenver 2018 as the community's reaction to the HODL meme that was widely used by the Bitcoin community. [2]
John Paller chose Denver as the ideal city to host the event as he aimed to transform Colorado's limited meetup culture. According to Paller, Denver is a city greatly populated by skilled developers and was undervalued as the country's hub for innovation. [3]
"I recall thinking how incredible it would be if we made Colorado the go-to destination for Web3 innovation and development. We have an abundance of people here - we host the most prominent meetups in the country, and we've never received recognition for it"
ETHDenver aims to amplify the Web3 community by making the event free of charge and also places their hackathon at the forefront of the event's activities as a chance for people to display their creativity and talents. [3]
"We don't charge for tickets, because it's about giving people a blank canvas and a big tent to come and express their own creativity in a way that's meaningful for them. It's an egalitarian opportunity to have creative expression."
Their mascot is a Bufficorn, a legendary creature that is a combination of a buffalo and a unicorn. The Bufficorn is said to offer reliable protection to the Spork Marmot and that the Bufficorn Solstice is celebrated annually in the capital city of Colorado. The events were held at Gart Sports Castle, which was used to fit into their mythical, fantastic narrative. [4]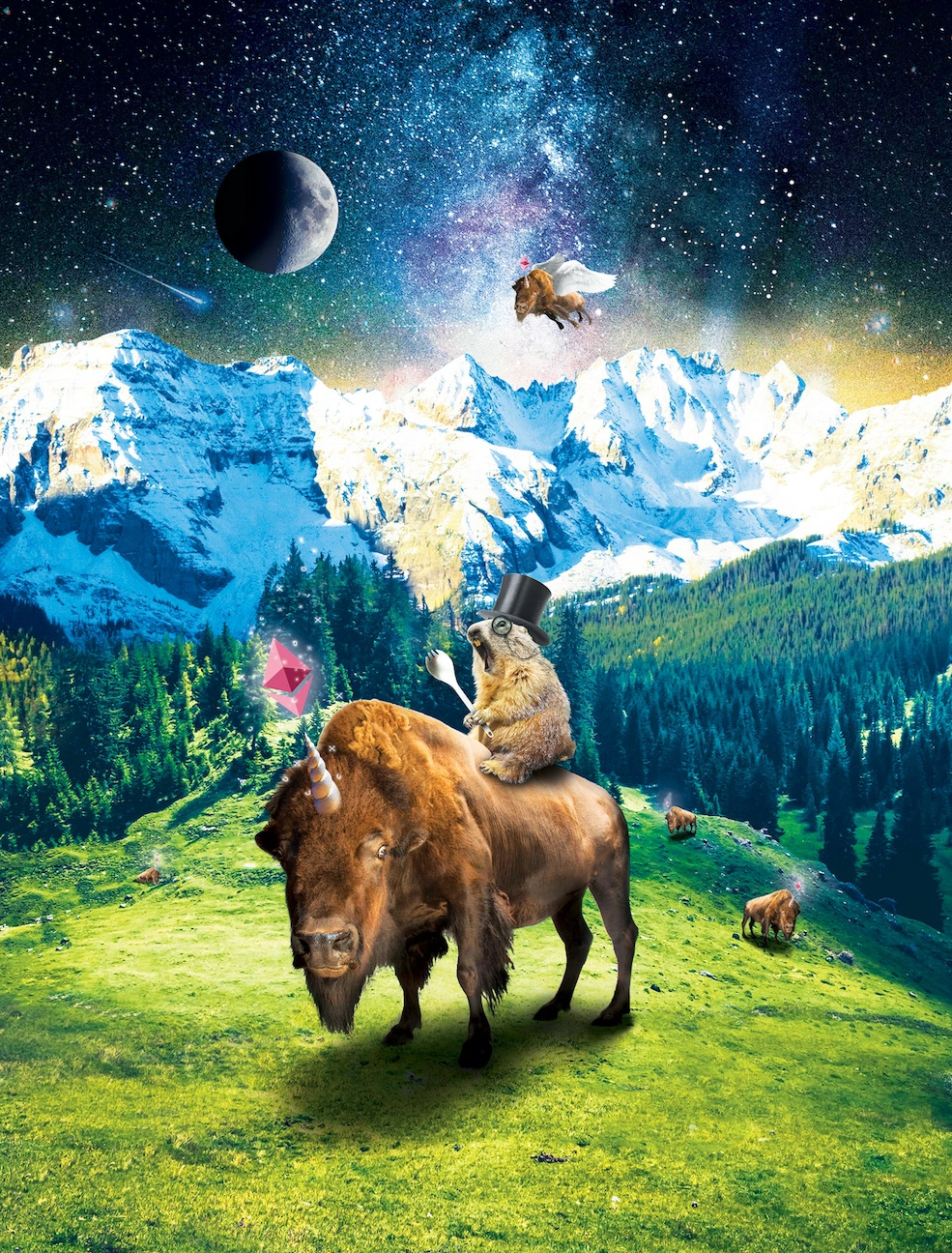 BUIDLathon
EthDenver offers four different tracks for participants or BUIDLers to compete in: Bounty Track, Open Track, Impact Track and ColoradoJam.
Bounty Track
In the Bounty Track, participants are encouraged to "hack" on open repositories listed no more than 3 days before the competition. Sponsor companies offer bounties as prizes for successful completion of these projects. The prizes range from $500 to $10,000 USD, and are funded by the companies listing the repositories. [5]
Open Track
The Open Track is more flexible and allows participants to work on any project of their choosing. There are no restrictions on the type of project or the technology used. Participants are free to engineer any project they wish, with no limitations on subject matter or technology. [5]
Impact Track
The Impact Track is focused on promoting sustainability, and participants are encouraged to submit projects that qualify under the United Nations' Sustainability categories. Existing projects are not allowed to ensure a level playing field. The top 5 projects will share a prize pool of at least $15,000 in cash or ETH equivalent. This track aims to encourage participants to create projects that can make a positive impact on society and the environment. [6]
ColoradoJam
EthDenver introduced a new track in 2021 called ColoradoJam, which aims to provide participants, or "Jammers," with an opportunity to showcase their creativity in finding solutions for public infrastructure challenges faced by the state of Colorado. The challenges are issued by various state agencies, and participants can use either Web2 or Web3 technologies to develop their projects. The cash prize is awarded based on the specifications of each state agency offering the challenge. [7]
History
ETHDenver 2018
ETHDenver 2018 was a notable event for the ETHDenver community, as it solidified the organization's values of learning, building, and community engagement. The event had a roster of 35 speakers and received support from 65 sponsors, with food trucks and stalls on-site to enhance the overall experience. However, the event was plagued with multiple technical difficulties from the outset, most notably with the WiFi connection. Furthermore, the event had a loose structure, which was brought to attention during the opening ceremony by the keynote speaker. These shortcomings were used to emphasize the concept of "co-creating the event". [8]

Some of the unique features of the event included a diverse range of technical and non-technical workshops, a maker space, a chill-out room with a DJ, and live music. [9]
ETHDenver 2019
ETHDenver2019 used innovative blockchain technology to facilitate their event. One such example is the use of uPort and Taiga Market for user identity verification during the application process. Applications were prioritized based on a deposit of ETH. ETHDenver created its own ERC-20 token, buffiDai, which attendees could use to buy food and play games. To facilitate fast spending of funds, burner wallets were used to spend buffiDai. Additionally, ETHDenver hosted a scavenger hunt game where participants would receive a NFT from Gitcoin called Kudo. In terms of their hackathon, they introduced 3 of the 4 tracks: bounty, open and impact tracks in 2019 giving their BUIDLathon more of a structure and providing more opportunities for participants of the event. [5][10]

Burner wallets
At ETHDenver, a Burner Wallet was used to facilitate transactions for food trucks, vendors, and participants. Attendees received a SolidCoin with an Ethereum private key in the form of a QR code, allowing them to easily seed a wallet and receive instant onboarding into cryptocurrency. Food trucks signed up for a Wyre account, scanned a vendor private key, and displayed a QR code for participants to pay for their meals. [11]

ETHDenver 2020
ETHDenever 2020 was the first ETHDenver event that featured the creator and chief scientist of the Ethereum Foundation, Vitalik Buterin. ETHDenver 2020 marked a significant moment for the ETHDenver community as the organization transitioned to a Decentralized Autonomous Organization (DAO). Attendees who passed Fortmatic's identity verification process received a badge, granting them membership to ETHDenver 2020 and the ability to participate as a DAO stakeholder.  [12][14]

The event featured an inclusive approach, providing scholarships in partnership with Bounties Network, Devcon Scholars, and Apprentio to promote geographic diversity. The Burner wallet was also implemented into ETHDenver 2020, and free childcare services were also available. In addition, attendees had the opportunity to engage in a variety of activities, including an arcade with both blockchain-based and traditional games, guided meditations, and art installations, earning reputation and voting power in the DAO by participating. [12][13]
ETHDenver also hosted a #BUIDL week from February 10 to 13, 2020, DAOFest hosted by DAOStack on February 13, 2020, and a Mountain Retreat in Breckenridge, Colorado, from February 17 to 20, 2020, to further promote community building and learning. [13]
Pega Bufficorn
ETHDenver 2020 introduced a new mascot, said to be a friendly cousin of the Bufficorn, Pega bufficorn. Pega bufficorn is a limited-edition creature that has been added to the popular online game, Adopt Me. This hybrid creature is a cross between a buffalo and a unicorn with wings, and it features unique characteristics that set it apart from other creatures in the game. The Pega bufficorn has a distinctive mane and a set of large horns that give it an impressive appearance. In addition to its striking physical features, the Pega bufficorn has a special ability to create a magical aura around itself that can boost the mood and happiness of other players in its vicinity. [14][15]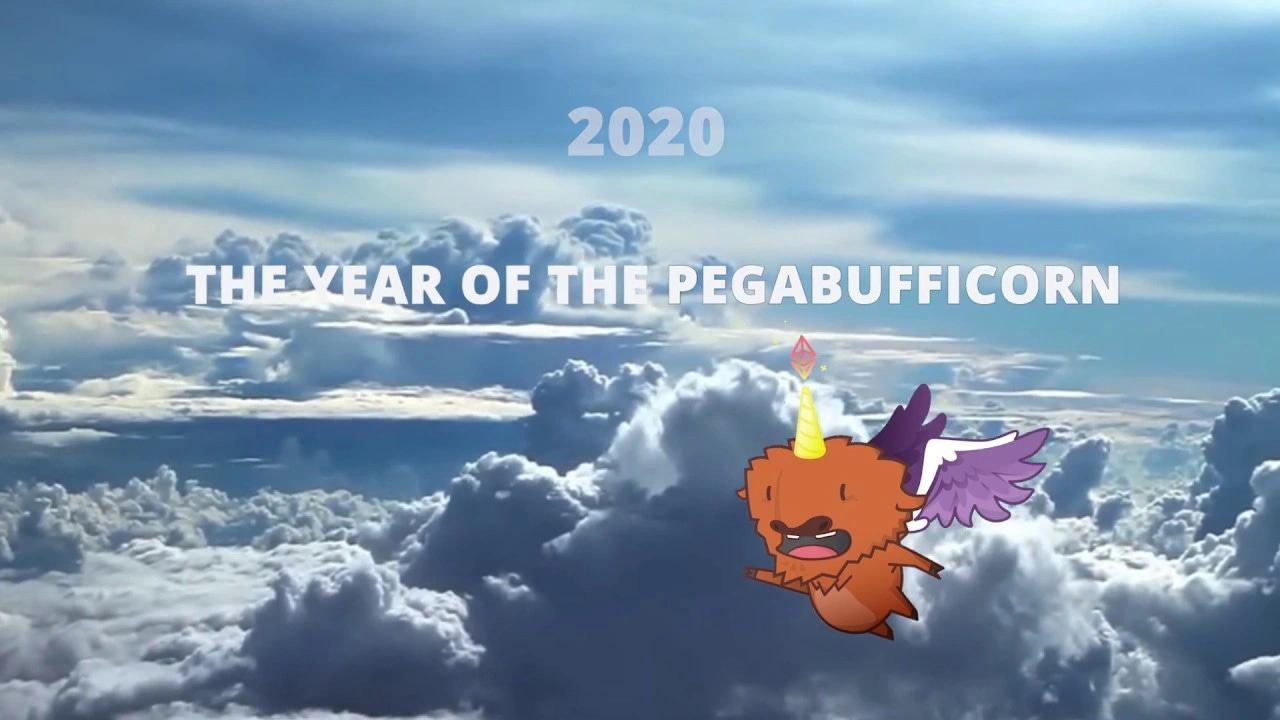 ETHDenver 2021
Due to the COVID-19 pandemic, ETHDenver 2021 was held entirely online. The event took place for 7-days, open 24 hours a day and offered a wide variety of activities, including talks and workshops by top blockchain influencers and experts. Through multiple sponsors, they had $250,000 up for grabs for winners of the hackathons and as incentive for people to participate in live games and BUIDLing. ETHDenver 2021 consisted of live AMAs, live gaming, meet and greets and also looked for ways to make a virtual replica of the Sports Castle on mediums such as Minecraft and VR. One of the main topics of the occasion was NFTs, where there were seven presentations on the main stage of speakers and listeners discussing the use cases of NFTs and how they will evolve in the future. [16][17][18]
ETHDenver 2022
ETHDenver 2022 was the largest and longest-running Ethereum event in history, with more than 20,000 people registered to attend, and over 13,000 people attending the official gathering. The event featured non-fungible tokens (NFTs), decentralized autonomous organizations (DAOs), and Ethereum's major upgrade from a proof-of-work mining model to proof-of-stake. The conference featured a wide range of activities and services, including massages with crystals, meditation rooms, workshops for circuitry tinkering, a life-size chess set, bean bags for napping, and a puppy playroom. [19][20]

Speakers included former U.S. presidential candidate Andrew Yang, Vitalik Buterin, the founder of Ethereum, and Colorado Governor Jared Polis, who announced that cryptocurrencies would be accepted to pay off taxes and fees in the state of Colorado. ETHDenever 2022 was also known for its diverse attendees as the conference was also filled with venture capitalists, speculators, politicians, and EDM enthusiasts. [21]
ETHDenver 2023
ETHDenver 2023 is scheduled to run from February 24th 2023 to March 5th 2023. The BUIDL week is set to start on February 24th and end on the 1st of March and the core event will run on the remaining days. The event features workshops and events for developers and creators to connect with sponsors, and the Innovation Festival with panels, talks, technical workshops, art installations, and live music. The community participating in the #BUIDLathon will compete for over $2 million in bounties and prizes and potentially be invited to the Bufficorn Ventures Incubator. The event is free to attend as usual and offers free childcare and complimentary food trucks. [22][23]

See something wrong?
Report to us.
ETHDenver
Did you find this article interesting?