Vitalik Buterin
Vitalik Buterin (born January 31, 1994) is a Russian-Canadian programmer and writer primarily known as a co-founder of Ethereum and as a co-founder of Bitcoin[10] Magazine. Buterin first appeared on the Forbes 30 Under 30 list at age 23.[1]


Early life & Education
Buterin was born in Kolomna, Moscow Oblast, Russia, to Dmitry Buterin, a computer scientist, and Natalia Ameline (née Chistyakova). He lived there until the age of six when his parents emigrated to Canada in search of better employment opportunities. While in grade three of an elementary school in Canada, Buterin was placed into a class for gifted children and started to understand that he was drawn to math, programming, and economics. He also had the ability to add three-digit numbers in his head at twice the speed of his peers.[10]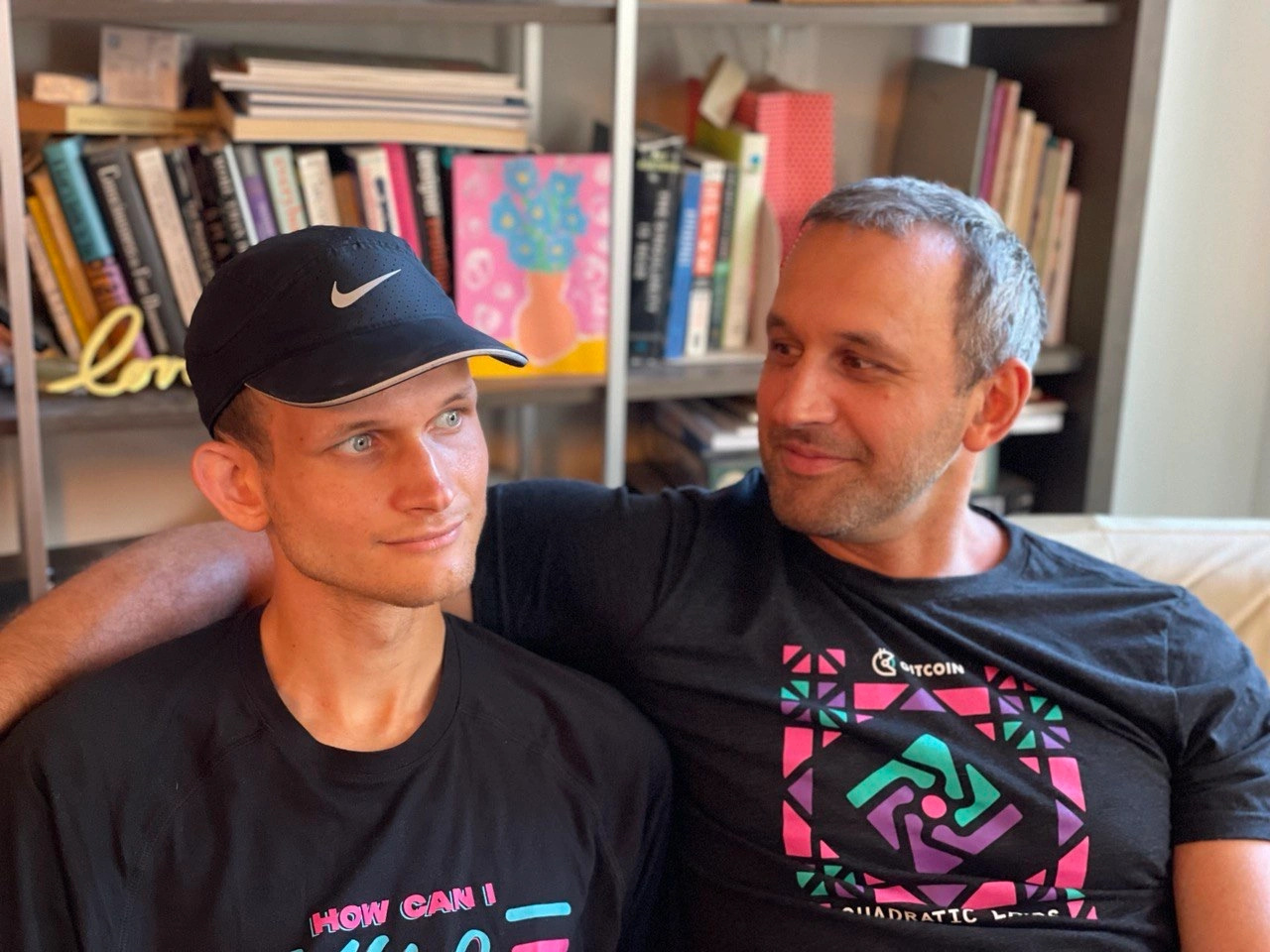 Vitalik and his father Dima Buterin
Buterin attended the Abelard School, a private high school in Toronto, for four years, which he said:[11]
"proved to be among the most interesting and productive years of my life; the closer connection between students and teachers [&] the level of depth at which the material was taught, made me want to learn and to focus on learning as my primary goal".
Buterin has written that although he was "never particularly inspired by the traditional education system" when subjects were presented with "dedication and focus on intellectual inquiry", he said:
"I noticed my attitude and my results almost immediately and drastically change. Education is ultimately much more than simply memorizing individual facts, or even learning individual concepts. [What] matters most: learning how to think, learning how to reason, and learning how to learn."
Buterin learned about Bitcoin, from his father, at age 17. In 2012, he obtained a bronze medal in the International Olympiad in Informatics. In 2013, he visited developers in other countries who shared his enthusiasm for code. He returned to Toronto later that year and published a white paper proposing Ethereum. He attended the University of Waterloo but dropped out in 2014 when he received the Thiel Fellowship in the amount of $100,000 and went to work on Ethereum full-time.[12]
On 30 November 2018, Vitalik Buterin received Honorary Doctorate from the Faculty of Business and Economics of the University of Basel on the occasion of the Dies Academicus.[12]
Career
Beginnings at Bitcoin Magazine
Buterin met a person on a Bitcoin chat forum trying to start a bitcoin blog. The owner offered five bitcoin (about $3.50) to anyone who would write an article for him. Buterin wrote for the site until its website shut down soon thereafter due to Bitcoin's lack of mainstream attention.
In September 2011, another person reached out to Buterin about a new publication called Bitcoin Magazine, a position which Buterin would accept as the first co-founder, and contribute as a leading writer.[13]
In addition, Buterin wrote about bitcoin-related topics for other publications, including Bitcoin Weekly. In 2012, Bitcoin Magazine began publishing a print edition and has been referred to as the first serious publication dedicated to cryptocurrencies. Bitcoin Magazine was then purchased by BTC Media, where Buterin continued to write until mid-2014.[14]
In addition, he held a position on the editorial board of Ledger, a peer-reviewed scholarly journal that publishes full-length original research articles on the subjects of cryptocurrency and blockchain technology.[15]

Ethereum
Buterin is a co-founder and inventor of Ethereum, described as a "decentralized mining network and software development platform rolled into one" that facilitates the creation of new cryptocurrencies and programs that share a single blockchain (a cryptographic transaction ledger).[16]
Buterin traveled around the world for six months in 2013 to speak with Bitcoin developers. He understood that he could construct a new, possibly superior version by iterating on the Bitcoin blockchain. To explain this idea, he linked Bitcoin to a calculator and a future blockchain to a smartphone and applied the same principle of improving the system's strength by making it more general-purpose to blockchain networks.[3]

The project was publicly announced in January 2014, with the core team consisting of Vitalik Buterin, Mihai Alisie, Anthony Di Iorio, Charles Hoskinson, Joe Lubin, and Gavin Wood. Buterin also presented Ethereum on stage at a Bitcoin conference in Miami. A few months later, the team decided to hold an initial coin offering (ICO) of Ether, the native token of the Ethereum network, to fund the development. Around the same time, Vitalik himself received the Thiel Fellowship grant of $100,000. The team raised more than 31,000 BTC from the sale of ETH, around $18 million at the time. The Ethereum team established the Ethereum Foundation, a non-profit organization based in Switzerland, which was tasked with overseeing Ethereum's open-source software development.[3]
After a series of testing and bug bounty phases, in the summer of 2015 Ethereum went live.
The first version was known as Frontier, and although it was very basic, it paved the way for digital app development.[2]
As per one of his interviews, Buterin created Ethereum after World of Warcraft developers weakened his prized character. According to his about.me page, he played World of Warcraft from 2007 to 2010 but decided to quit after game maker Blizzard decreased the power of his "beloved warlock's Siphon Life spell."[4]
In addition, Buterin mentioned Ethereum Name Service as a key part of the metaverse when it comes to digital identity:
"The Ethereum domain name service ENS is by far the most successful non-financial Ethereum application, and it can basically be compared to a decentralized phone book."[6]
Ethereum's Shanghai and Capella forks, known as Shapella, went live on April 12, 2023 at epoch 194,048, allowing Ethereum stakers to withdraw their Ether for the first time. The event was the network's first major upgrade since The Merge transitioned Ethereum to Proof of Stake consensus on September 2022.
After Shapella went live, Buterin said during an Ethereum Foundation livestream:[25]
"The Shapella upgrade closes the loop on some things that are part of the PoS transition but did not make it in time for the merge, withdrawals obviously being really important," Buterin said during an Ethereum Foundation livestream." The immediate next focus after this… is going to be scaling."
In a blog post published on Jun 9, 2023, Buterin laid out his ideas for what it will take to help Ethereum mature if it is to expand in use. Calling them "The Three Transitions", Buterin released the roadmap addressing Scaling, Provacy, and Wallet Security. Buterin said they would need to evolve around transitions in layer-2, or "L2," scaling solutions, a move to smart contract wallets, and greater privacy for fund transfers.
Buterin said,
"If Ethereum is to expand how it's used, it will need to undergo three major transitions or risk undermining its own future."
Of these three transitions, Buterin singled out a need to expand use of L2 solutions called "rollups" as an important part of this transition. An ordinary L2 function processes transactions off of the main Ethereum blockchain, or the L1. Buterin said,
"the move to smart contract wallets has some "technical issues" to work through but is "not a large burden" to address."
Of the three transitions, Buterin expressed concern that meeting privacy concerns would be among the bigger challenges. He said,
"Without [privacy], Ethereum fails because having all transactions available publicly for literally anyone to see is far too high a privacy sacrifice for many users."
To address this, Buterin suggested using "stealth address" to help protect user identities, but these methods are still maturing because of issues around cost and functionality. [23][24]
The Merge
After eight years of having proof-of-work consensus, the Ethereum blockchain completed its shift to proof-of-stake (PoS) consensus following the merge of the Mainnet and the Beacon Chain. Another key change of the Merge was a reduction in power consumption, reducing Ethereum's energy usage by 99%. The Merge took place on September 15, 2022.[19]
During the Merge, Buterin joined the Ethereum Mainnet Merge Viewing Party livestream hosted by the Ethereum Foundation. When asked if he was excited about the Merge, Buterin responded that he was,
"absolutely excited about being exited from the proof-of-work era."
He also mentioned that the transition of the network from PoW to PoS was in his plans for years:
"[It] has obviously been a dream for the Ethereum ecosystem since pretty much the beginning. We started the proof-of-stake research with that blog post on Slosher back in January 2014."[20]
After the Merge was complete, Buterin posted the following tweet:
"And we finalized! Happy merge all. This is a big moment for the Ethereum ecosystem. Everyone who helped make the merge happen should feel very proud today."[18]
Stealth Addresses

Buterin is looking into how to increase privacy on Ethereum. He outlined in a new blog post a tool that could enable users of the network to better protect their privacy: stealth addresses. These would essentially consist of wallet addresses that are cryptographically tied to one's public address, but can only be discovered by the parties involved in the transaction.
Buterin stated that the scheme would allow for a greater number of digital assets to be transferred from one user to another in a privacy-focused manner. Ethereum-based privacy protocol Tornado Cash, he noted, only allows for the transaction of major cryptocurrencies. Stealth addresses would offer the opportunity to privately send any ERC-20 token, no matter how small the project, as well as POAPs, NFTs, ENS names, and other digital assets.
On January 20, 2023, Buterin posted an article named "An incomplete guide to stealth addresses". He described the mechanics and use cases of a different category of tool that could improve the state of privacy on Ethereum in a number of other contexts: stealth addresses. This article explained the definition of the stealth address system and many other sophisticated technical topics such as "stealth address with elliptic curve cryptography" and "Stealth addresses and quantum-resistant security".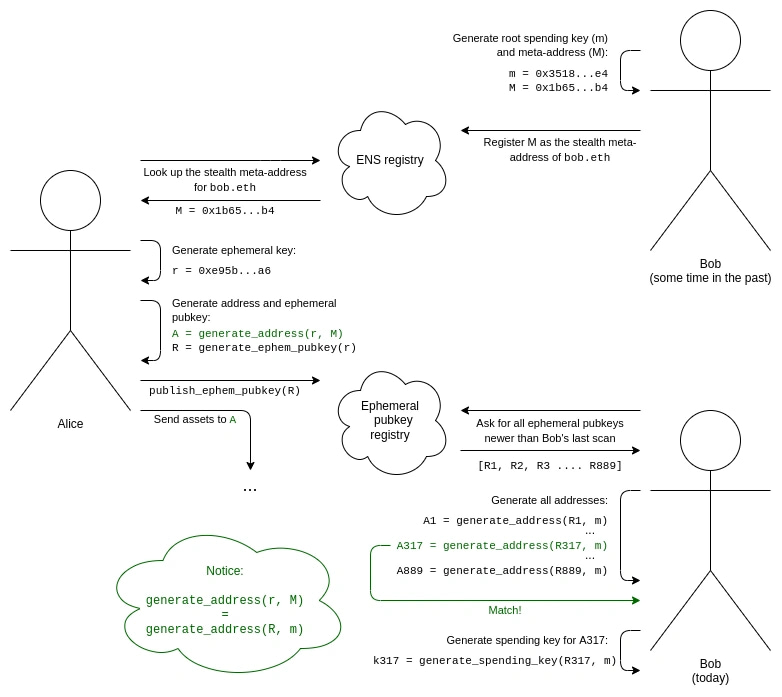 This post also described transaction fees, easier scanning, social recovery, and multi-L2 wallets.
[22]
[21]
Open Source Software
Buterin has contributed as a developer to other open-source software projects. Some early examples are Kryptokit, pybitcointools, multisig.info, and btckeysplit. He also contributed to DarkWallet by Cody Wilson, Bitcoin Python libraries, and the cryptocurrency marketplace site Egora.[14]
Ethereum Russia
As Buterin was recognizing the economic and political relevance of the Ethereum enterprise for his native Russia, he talked shortly with Vladimir Putin on June 2nd, 2017, at the St. Petersburg International Economic Forum (SPIEF) event. The president of Russia stated that he "supported the idea of establishing ties with possible Russian partners".[3]
Awards and Recognition
Thiel Fellowship Award, 2014
World Technology Award in the IT Software category, 2014
Fortune 40 under 40 list, 2016.
Forbes 30 under 30 list, 2018.
Fortune the ledger 40 under 40 list, 2018.
University of Basel Honorary doctorate, 2018.
Philanthropy
Vitalik made a donation of $763,970 worth of Ether to the Machine Intelligence Research Institute in 2017. He also donated $2.4 million worth of Ether to the SENS Research Foundation in 2018, for research on rejuvenation biotechnologies and human life extension. A donation of $1 million worth of Ether was done by Buterin in conjunction with the Ethereum-based OmiseGO open payment platform to the GiveDirectly organization aimed at helping the poorest of poor refugees in Africa, in 2018.[17]
Buterin made a donation of $93,469 worth of Ether, matched by the Pineapple Fund, to the Internet Archive in 2018.[17]
Buterin donated $50,000 to the SENS Research Foundation in 2020. Together with Sam Bankman-Fried and Haseeb Qureshi, a total of $150,000 was donated to the SENS Research Foundation to combat aging and aging-related diseases at the choice of users of Twitter through open voting.[7]
In 2021, Buterin donated over $1 billion in crypto to the India Covid Relief Fund set up by Indian tech entrepreneur Sandeep Nailwal. In May, Buterin donated 50 trillion SHIB tokens in a single transaction. This donation was 5% of the coin in circulation at the time. Earlier in April, Buterin donated about $600,000 in Ether and Maker tokens to the fund.[5]

Buterin donated $336 million worth of 430 trillion Dogelon Mars ($ELON) to the Methuselah Foundation, which focuses on extending the human lifespan, on May 12, 2021.[8]

In 2022, Vitalik donated 750 ETH to Ukraine's Unchain Foundation', which converted to about $2.5 million. The Unchain Foundation provides humanitarian assistance to Ukraine during the war. He donated another 750 ETH to Aid for Ukraine, which is a government-run incentive set up by the Ukrainian Ministry of Digital Transformation.[9]

See something wrong?
Report to us.
Vitalik Buterin
Did you find this article interesting?