Charles Hoskinson
Charles Hoskinson is a Colorado-based technology entrepreneur, mathematician, and blockchain enthusiast. He is the founder and CEO of IOHK (Input Output) one of the world's pre-eminent blockchain infrastructure research and engineering companies, which Launched Cardano in 2017.[1][2][3]
He was the founding chairman of the Bitcoin Foundation's education committee and established the not-for-profit Cryptocurrency Research Group in September 2013. His current projects focus on educating people about cryptocurrency, being an evangelist for decentralization, and making cryptographic tools easier to use for the mainstream.[15]
Education
Hoskinson attended the Metropolitan State University of Denver and the University of Colorado at Boulder to study Analytic number theory before moving into cryptography via industry exposure.[14]
Personal Life
Charles enjoys fishing and chess alongside a passion for functional programming, paradoxes, and building mazes. He lives in Boulder Colorado but often travels to more exotic locales.
Career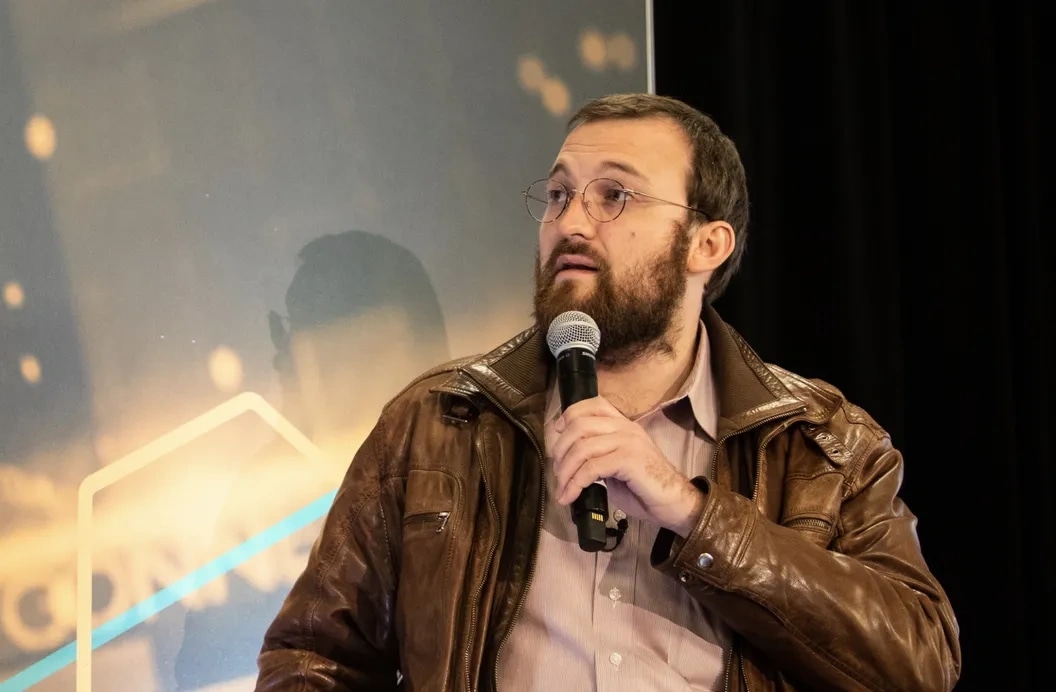 Hoskinson entered the crypto space in 2013 through Invictus Innovations Inc, a company he founded with developer 
Dan Larimer
 to launch the 
BitShares
 network.
Bitshares
is a crypto platform organized as a decentralized autonomous corporation - a term that Hoskinson coined.
[4]
Later in 2013, Hoskinson started the Bitcoin Education Project, an online school where he met Vitalik Buterin. Hoskinson joined the Ethereum founding team (one of eight founders) with Vitalik Buterin in late 2013 and left in June 2014.[5] Following his departure from Ethereum, he took a six-month sabbatical and contemplated returning to mathematics.[6]
Later, Hoskinson was approached by former Ethereum colleague Jeremy Wood to form a new project called IOHK, an engineering company that builds cryptocurrencies and blockchains for corporations, government entities, and academic institutions.[7] IOHK's key project is Cardano, a public blockchain and smart-contract platform that hosts the ADA cryptocurrency.[8][9]
In 2017, Hoskinson and IOHK sponsored research labs focusing on blockchain technology at the University of Edinburgh and the Tokyo Institute of Technology.[10][11]
In 2020, Hoskinson opened a blockchain research project at the University of Wyoming. The collaboration involved a gift of $500,000 for the University of Wyoming to support the development of blockchain technology through the creation of a UWYO-IOHK Advanced Blockchain and Development Laboratory.[12][13]
Controversies
Charles Hoskinson is known for starting or being part of many controversial arguments on social media, especially on Twitter.
Charles Hoskinson vs. Ethereum's Community
On September 25th 2022, Charles Hoskinson, and co-founder of Ethereum, Vitalik Buterin had a feud over the implementation of the proof-of-stake (PoS) consensus in Ethereum. The controversy began when Ethereum developer, Evan Van Ness suggested that the Ethereum Merge, which would introduce PoS, should have happened earlier. Ethereum co-founder Vitalik Buterin responded with reasons why it hadn't been moved sooner, and Hoskinson joined the conversation, stating that Ethereum developers should have implemented the Snow White protocol for a faster migration to PoS. [17][18]
"You should have just implemented snow white with Elaine's help. It would have saved you a heck of a lot of pain and effort." - Charles Hoskinson
This led to further quarrels between Hoskinson and; Evan Van Ness, and active Ethereum community member, Hudson Jameson with several tweets going back and forth between Hoskinson and the two Ethereum supporters. Jameson started bringing up negative comments that Hoskinson had made about Ethereum in the past and Van Ness added to the argument with a more personal comment on Hoskinson's past. [19][20]
"I guess Charles forgot about his Reddit history and how much he shit on Ethereum as he was building Cardano." - Hudson Jameson
"Charles got fired from Ethereum in less than 6 months because no one liked him and he did nothing useful technically." - Evan Van Ness
Charles against NFTs
On January 3rd 2023, Charles Hoskinson updated his profile picture on Twitter and Facebook to an NFT of a sketch of himself although he did not purchase the NFT. He stated that because of his large following, it only increases exposure for the artists and expressed his opinion on the matter in a livestream on his Youtube channel. However the NFT community disapproved of his actions and co-founder of jpg.store, Blakelock Brown tweeted that Hoskinson should have purchased the NFT if he wanted to use the image. [21][22][23]
" he should have bought the NFT. Plain & simple. That's how we support our artists in this space." - Blakelock Brown
Donations
On July 16th 2021, Polymarket, an information market platform for wagers on trending topics, tweeted that they will bet $50,000 that Cardano will fail to have the smart contracts for the Alonzo hardfork live by October 1st 2021. [27][28]
"We'll bet you $50,000 on Polymarket that you won't have live smart contracts for Cardano $ADA by Oct 1st. Time to put your money where your mouth is, Charles. Winnings go to charity of choice"- Polymarket
This bet was followed up by yet another wager on July 16th 2021, just two days after the Polymarket's bet, by Polygon co-founder, Sandeep Nailwal. Nailwal stated that he will put up $20,000 on the same bet that Cardano will not be able to make the update before October. [27][29]
"I am also willing to top it up by $20k in support of @PolymarketHQ  that @cardano is NGMI, YET AGAIN"
With the Alonzo hard fork going live on September 12th 2021, Hoskinson won the bet and Polymarket donated the $50,000 to a non-profit organization that helps children battling cancer called The Magic Yarn Project, handpicked by Charles himself. Sandeep Nailwal has postponed the payout but promised to donate the $20,000. [30]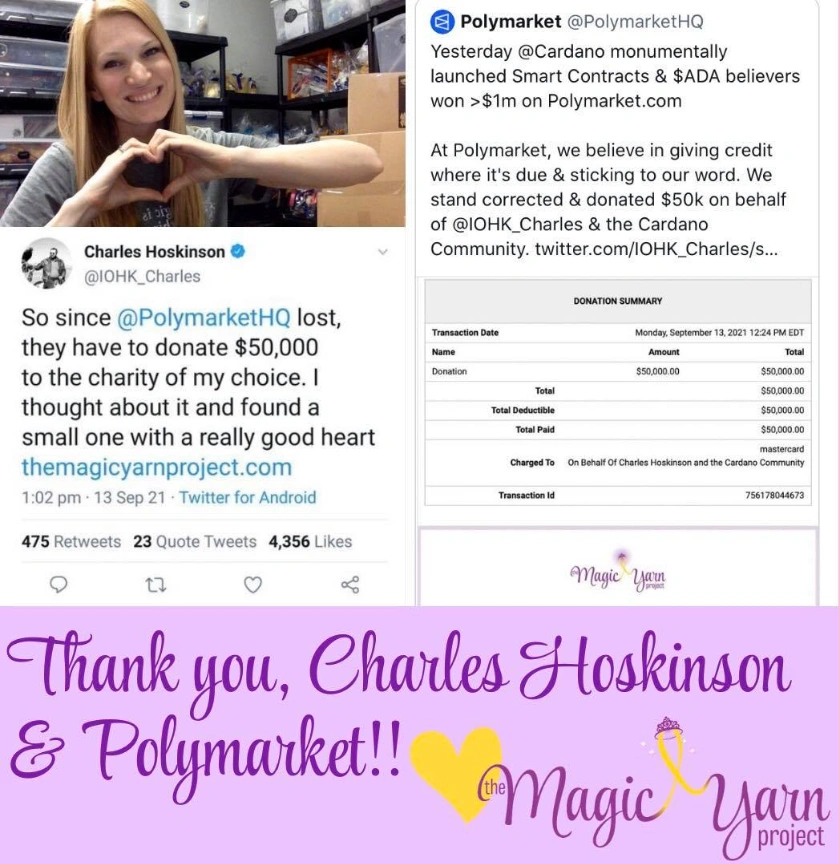 On September 21st 2021, Charles Hoskinson announced his $20 million contribution to Carnegie Mellon University (CMU) for the establishment of the Hoskinson Center for Formal Mathematics. The center will be located in CMU's Dietrich College of Humanities and Social Sciences and will be led by Jeremy Avigad, a professor of philosophy and mathematical sciences at the university. The center's primary focus will be on the exploration of proofs, validation of steps and certification of accuracy of mathematical theorems through the use of computers. The center intends to introduce a new approach to mathematics by developing "collaborative digital libraries" of mathematical tools, making the technology widely available and promoting discoveries across various fields such as computer science, physics, and economics.
[24]
[25]
[26]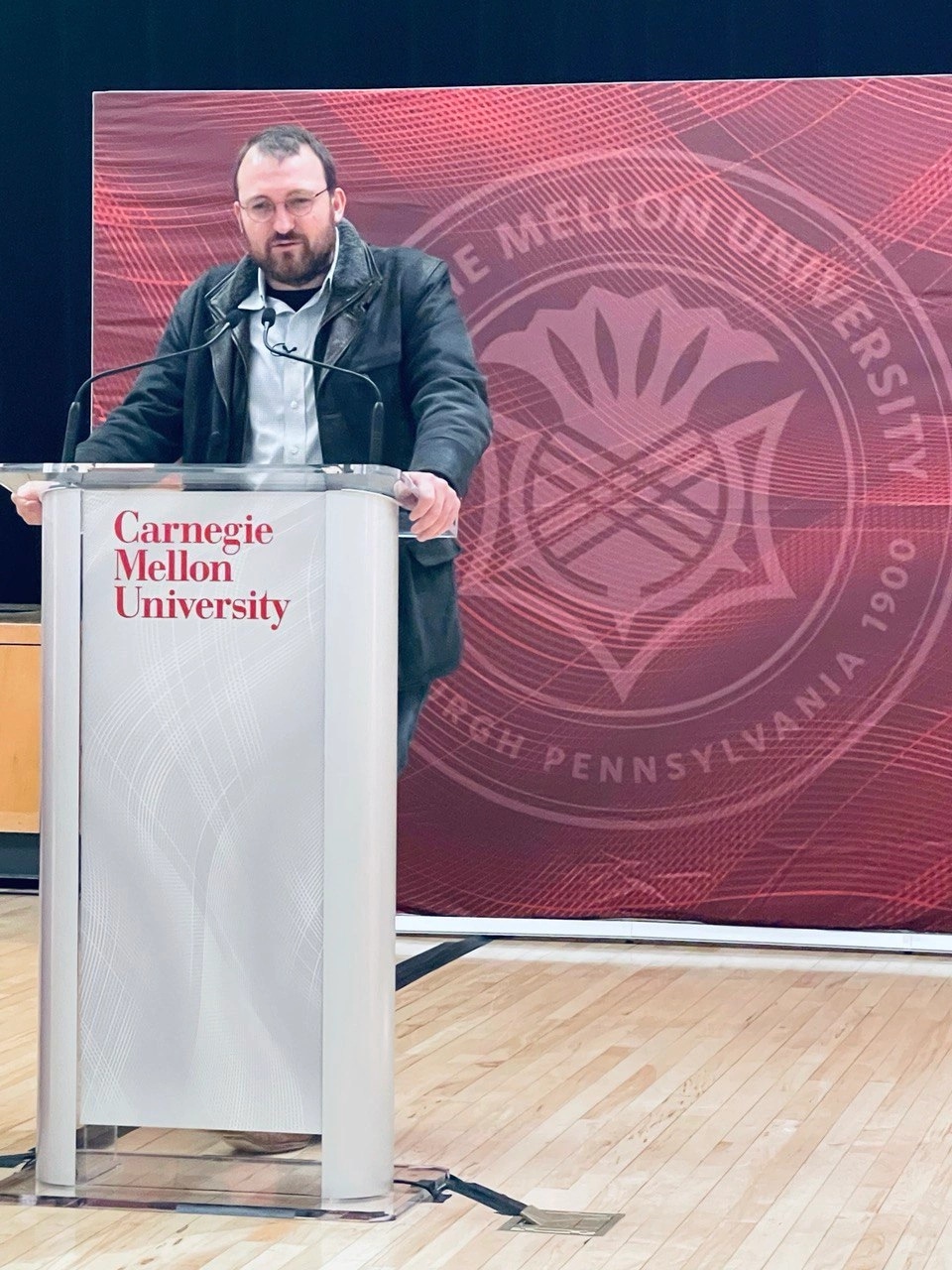 Hoskinson Health and Wellness Clinic
On January 6th 2023, Charles Hoskinson announced that his hospital, Hoskinson Health and Wellness Clinic, will be up and running in February 2023. The clinic is set in Gillette, Wyoming and emphasizes prolonging the lives of elderly patients, natural food supplements, dieting, physical activity, and general medical treatment. In addition, the hospital will be accepting Cardano's ADA as payment. [31][32][33]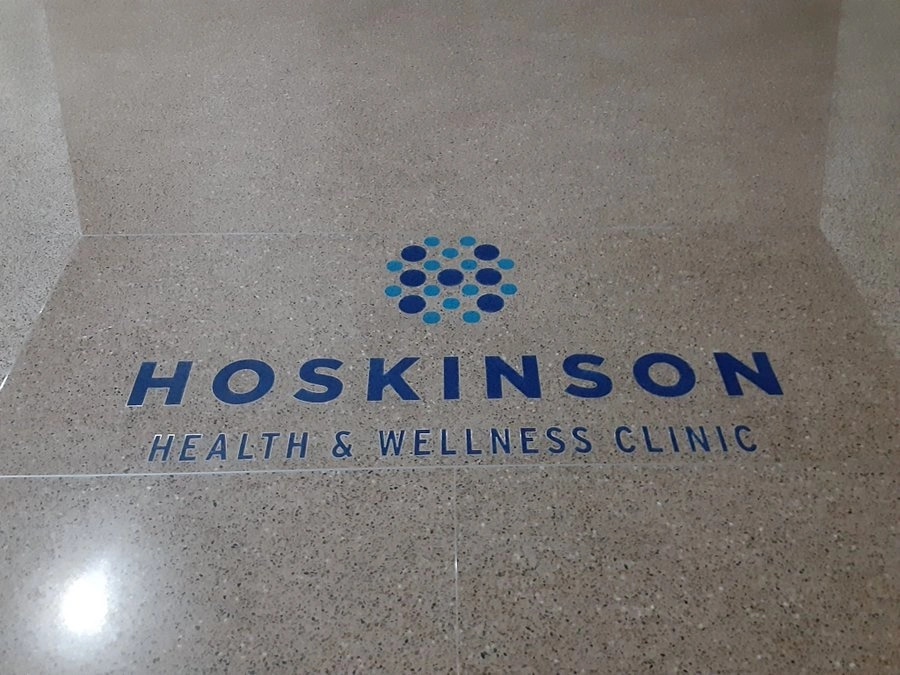 See something wrong?
Report to us.
Charles Hoskinson