Initial Coin Offering
Initial Coin Offering (ICO) is a means of crowdfunding via the use of cryptocurrency,[1] which can be a source of capital for startup companies[2] and open-source software projects. In an ICO, a percentage of the newly issued cryptocurrency is sold to investors in exchange for legal tender or other cryptocurrencies such as Bitcoin or Ethereum.
The first ICO was held by Mastercoin in July 2013, followed by Ethereum and Karmacoin in 2014, but "mainstream" ICOs began with messaging app developer Kik in September 2017. By November 2017 there were around 50 offerings a month, despite permanent bans in countries such as China and temporary bans in countries such as South Korea.[34][35]
ICO compared with IPO
An Initial Coin Offering (ICO) is the cryptocurrency space's rough equivalent to an IPO in the mainstream investment world. ICOs act as fundraisers of sorts; a company looking to create a new coin, app, or service launches an ICO. Next, interested investors buy into the offering, either with fiat currency or with preexisting digital tokens like ether. In exchange for their support, investors receive a new cryptocurrency token specific to the ICO. Investors hope that the token will perform exceptionally well into the future, providing them with a stellar return on investment. The company holding the ICO uses the investor funds as a means of furthering its goals, launching its product, or starting its digital currency. ICOs are used by startups to bypass the rigorous and regulated capital-raising process required by venture capitalists or banks.
History
The first token sale (more commonly known as an ICO) was held by Mastercoin in July 2013. Ethereum raised money with a token sale in 2014, raising 3,700 BTC in its first 12 hours, equal to approximately 2.3 million dollars at the time.[3]  An ICO was held by Karmacoin in April 2014 for its Karmashares project. [4]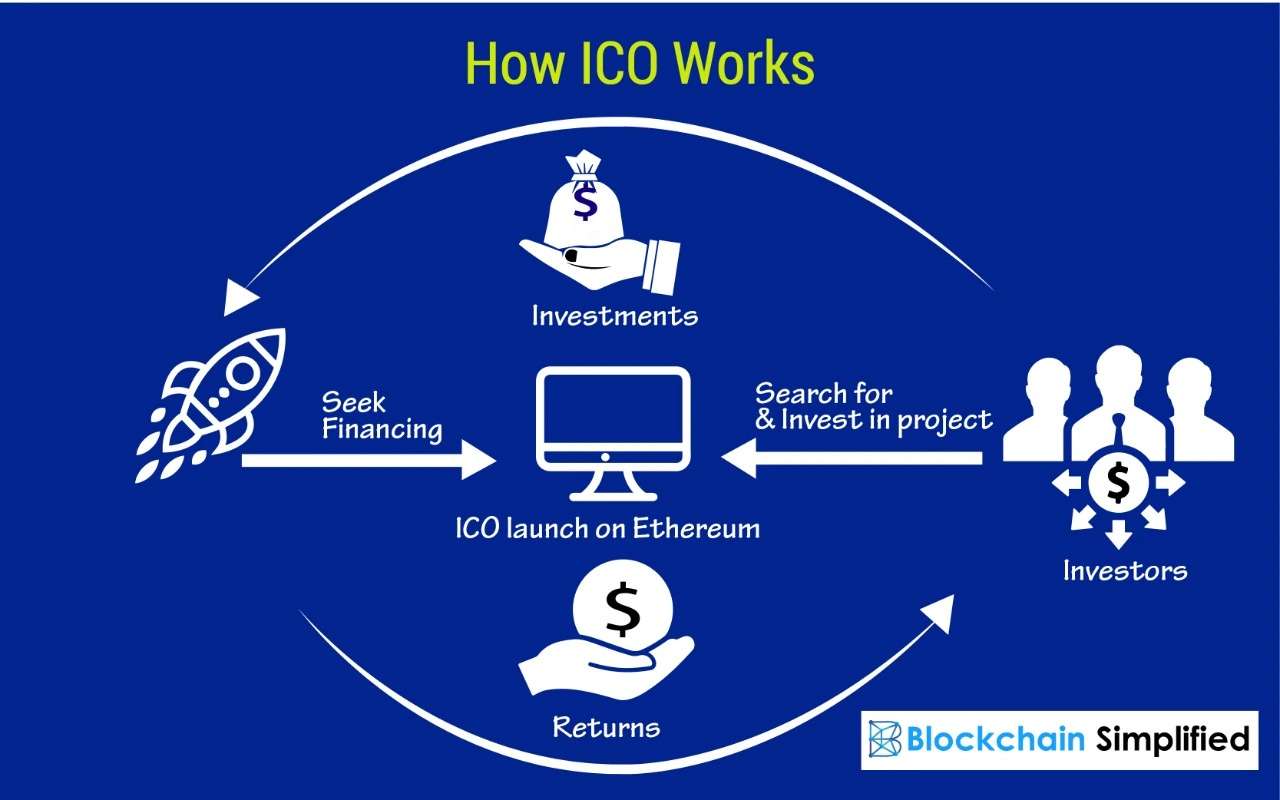 One of the first "mainstream" ICOs was executed by the messaging app developer Kik in September 2017. Kik had previously issued $50 million in tokens called "Kin" to institutional investors and sought to raise an additional $125 million from the public. In connection with this ICO, an unidentified third party executed a phishing scam by circulating a fake URL for the offering through social media.
[5]
ICOs and token sales are now extremely popular. According to ICO Alert, there were 1848 ICOs in 2017.[6]  A new web browser Brave's ICO generated about $35 million in under 30 seconds.[7] There are at least 18 websites that track ICOs.  At the start of October 2017, ICO coin sales worth $2.3 billion had been conducted during the year, more than ten times as much as in all of 2016.
Overview
The term may be analogous to 'token sale' or crowd sale, which refers to a method of selling participation in an economy, giving investors access to the features of a particular project starting at a later date. ICOs may sell a right of ownership or royalties to a project, in contrast to an initial public offering that sells a share in the ownership of the company itself. According to Amy Wan, a partner at Trowbridge Sidoti LLP practicing crowdfunding and syndication law, "The coin in an ICO is a symbol of ownership interest in an enterprise, a digital stock certificate, if you will."[8]
In contrast to initial public offerings (IPOs), where investors gain shares in the ownership of the company, in ICOs, the investors buy coins of the company, which can appreciate if the business is successful.[9] These coins are sometimes "pre-mined", eliminating the need for proof of work. Often contributions are capped at a certain value and depending on how long the ICO lasts, on a per-day basis. Conversely, those same coins can depreciate if the company does not perform.
At least 400 ICOs have been conducted as of August 2017.  Ethereum is (as of August 2017) the leading blockchain platform for ICOs with more than 50% market share.  These tokens are called ERC-20. The Ethereum network ICOs have resulted in considerable phishing, Ponzi schemes, and other scams, accounting for about 10% of ICOs.[10] Older coins focused on being a currency, while newer coins based on the Ethereum blockchain have developed some controversy through the selling of what is tantamount to "securities" in the form of ICO tokens.
These developments have created an evolution in the ICO release marketplace towards the new "utility" token replacing the typical token. Some commentators believe that "utility tokens", which can be exchanged for a unit of service such as storage, could avoid such questions.[11]
As a mechanism for scams
ICOs can be used for a wide range of activities, ranging from corporate finance to charitable fundraising, to outright fraud.[12] The US Securities and Exchange Commission (SEC) has warned investors to beware of scammers using ICOs to execute "pump and dump" schemes, in which the scammer talks up the value of an ICO to generate interest and drive up the value of the coins, and then quickly "dumps" the coins for a profit. The developers themselves can be guilty of such tactics.
However, the SEC has also acknowledged that ICOs "may provide fair and lawful investment opportunities."[13] The UK Financial Conduct Authority has also warned that ICOs are very high-risk and speculative investments, are scams in some cases, and often offer no protections for investors. Even in cases of legitimate ICOs, funded projects are typically in an early and therefore high-risk stage of development.[14] Increased regulation of ICOs will reportedly encourage institutional investors to invest in them. [15]
Regulation
| Jurisdiction | Comments |
| --- | --- |
| Australia | ASIC issued guidance in September 2017 stating that the legality of an ICO depends upon its detailed circumstances. [16][17] |
| Canada | Working on regulating ICOs. [18] |
| China | On September 4, 2017, seven Chinese financial regulators officially banned all ICOs within the People's Republic of China, demanding that the proceeds from all past ICOs be refunded to investors or face being "severely punished according to the law".[19][27] This action by Chinese regulators resulted in large sell-offs for most cryptocurrencies.[28] Before the Chinese ban, ICOs had raised nearly $400 million from about 100,000 Chinese investors.[20]  A week later, however, a Chinese financial official stated on Chinese national television that the ban on ICOs is only temporary until ICO regulatory policies are in place. [21] |
| France | As of October 2017, the Autorité des marchés financiers (AMF) was working on regulations governing the use of blockchain technology in capital raising transactions. [26] |
| Hong Kong | The Securities and Futures Commission released a statement in September 2017 explaining that tokens may constitute securities for purposes of the Securities and Futures Ordinance, in which case dealing in such tokens would be a regulated activity under Hong Kong law. [25] |
| Isle of Man | Working on regulating ICOs. [24] |
| New Zealand | In October 2017, the Financial Markets Authority (FMA) released guidelines on the current regulatory environment regarding ICOs. [23] |
| Gibraltar | In October 2017, the Government of Gibraltar published a regulation establishing a framework for regulated DLT (Distributed Ledger Technology) companies to become effective on January 1, 2018. This regulation encompasses ICOs and subjects them to financial controls and standards. [22] |
| South Korea | The Korean Financial Services Commission prohibited ICOs in September 2017 and promised "stern penalties" for violations. [29] |
| Switzerland | Although Switzerland was previously viewed as a friendly jurisdiction to coin offerings, the Swiss Financial Market Supervisory Authority announced an investigation of an unspecified number of coin offerings in September 2017, and would examine whether these offerings were in compliance with Swiss regulations. [30] |
| United Arab Emirates | The Abu Dhabi Global Market issued official guidance on ICOs in October 201 7. |
| United States | In July 2017 the U.S. Securities and Exchange Commission (SEC) indicated that it could have the authority to apply federal securities law to ICOs.The SEC did not state that all blockchain tokens (ICOs) would necessarily be considered securities, but that determination would be made on a case-by-case basis. The SEC action may encourage more mainstream investors to invest in ICOs,[32] although ICOs typically prevent U.S. investor participation to remain out of the jurisdiction of the United States government. The SEC charged Maksim Zaslavskiy for fraud in September 2017 in connection with the ICOs for RECoin and DRC World. The SEC has ruled that celebrity ICO endorsements must disclose the amount of any compensation paid for the endorsement. On February 6, 2018, Chairman Giancarlo of the CFTC stated in a joint hearing on cryptocurrencies with the Senate, SEC, and CFTC. His statement read, "We owe it to this new generation to respect their interest in this new technology with a thoughtful regulatory approach." |
Notable ICOs
Binance, the largest cryptocurrency exchange launched BNB with an initial coin offering (ICO) in July 2017. As part of the ICO, BNB tokens were distributed among various participants, including angel investors and the Binance founding team. BNB sold at 15 cents per token and raised $15 million.
Tezos he Zug, Switzerland-based Tezos Foundation took in $232m from its July 2017 ICO for a smart contract platform designed to power online digital economies.
NEO had its first ICO take place in 2015 when the project was called Antshares. The ICO saw 17.5 million NEO sold for 3.2 cents. Since launch, those who have held onto their NEO could trade it in for a thousand times their initial investment.
See something wrong?
Report to us.
Initial Coin Offering
Did you find this article interesting?