NEAR Protocol
NEAR protocol is a layer one public blockchain based on Proof-of-Stake where decentralized applications can be built. Its native token is NEAR, which is used to pay for transaction fees and storage. NEAR mainnet was launched in April 2020, and became community operated in September 2020. [1][2]
The NEAR Protocol is being developed by the NEAR Collective, a community-driven organization that maintains and updates the codebase. The goal of the NEAR Collective is to create a platform that is secure enough to handle valuable assets like money or identity, and efficient enough to be used by everyday people. [4]
Overview
NEAR protocol targets the scalability problem of traditional blockchains through the implementation of sharding. Sharding is a method used to reduce the computational load on the network by dividing it into smaller parts, called shards. Each node in the network only runs the code that is relevant to its specific shard, allowing the different shards to process information in parallel. This enables the network to handle more transactions and increase scalability as the number of nodes in the network grows. [1]
Nightshade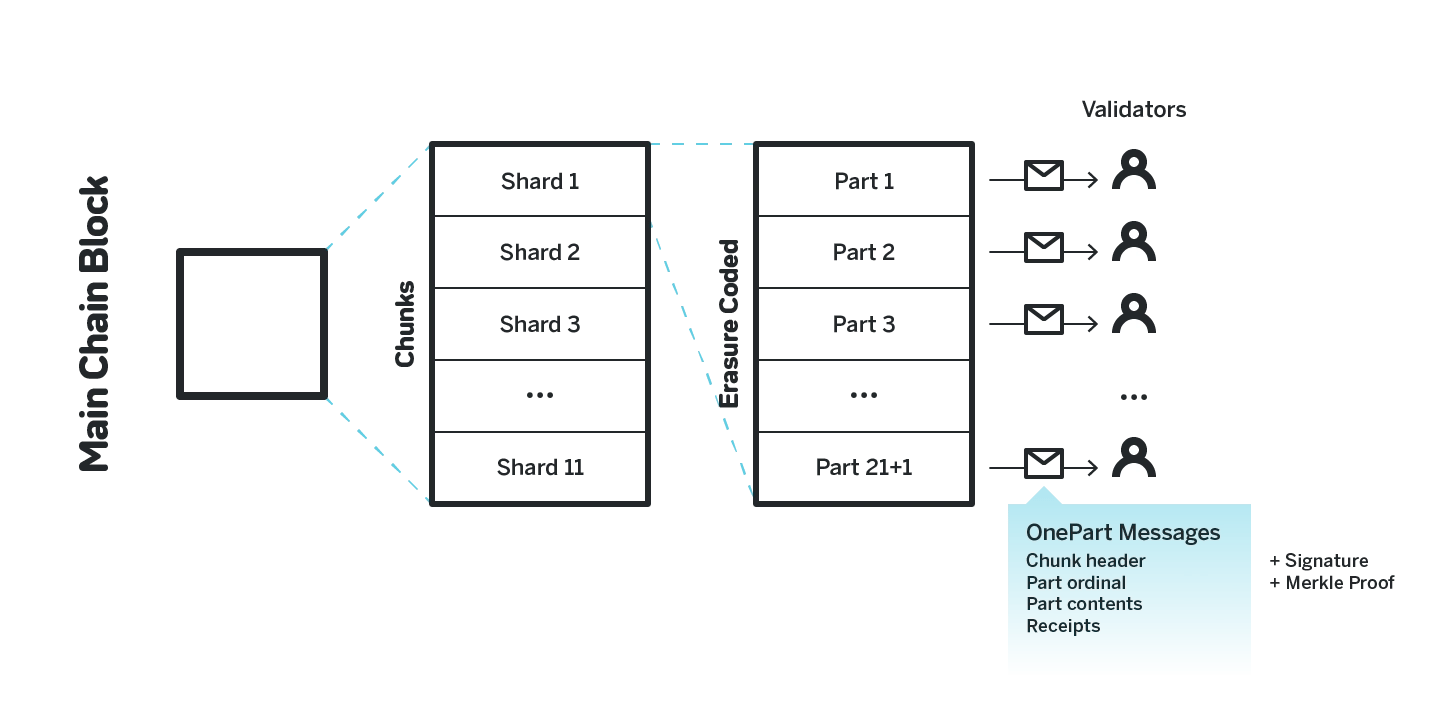 The NEAR Protocol uses a technology called Nightshade to enhance transaction throughput. Nightshade is a type of sharding in which groups of validators process transactions simultaneously across multiple sharded chains, increasing the overall capacity of the blockchain. Unlike traditional sharding, Nightshade creates small portions of the next block called "chunks". This allows NEAR to handle up to 100,000 transactions per second and achieve near-instant finality on transactions, with a one-second block time while maintaining low transaction fees.
[4]
Rainbow Bridge
It is possible to transfer assets from Ethereum to NEAR and vice versa using the Rainbow Bridge, which is a tool built by Aurora that enables the movement of ERC-20 assets between Ethereum, Aurora, and NEAR. [14]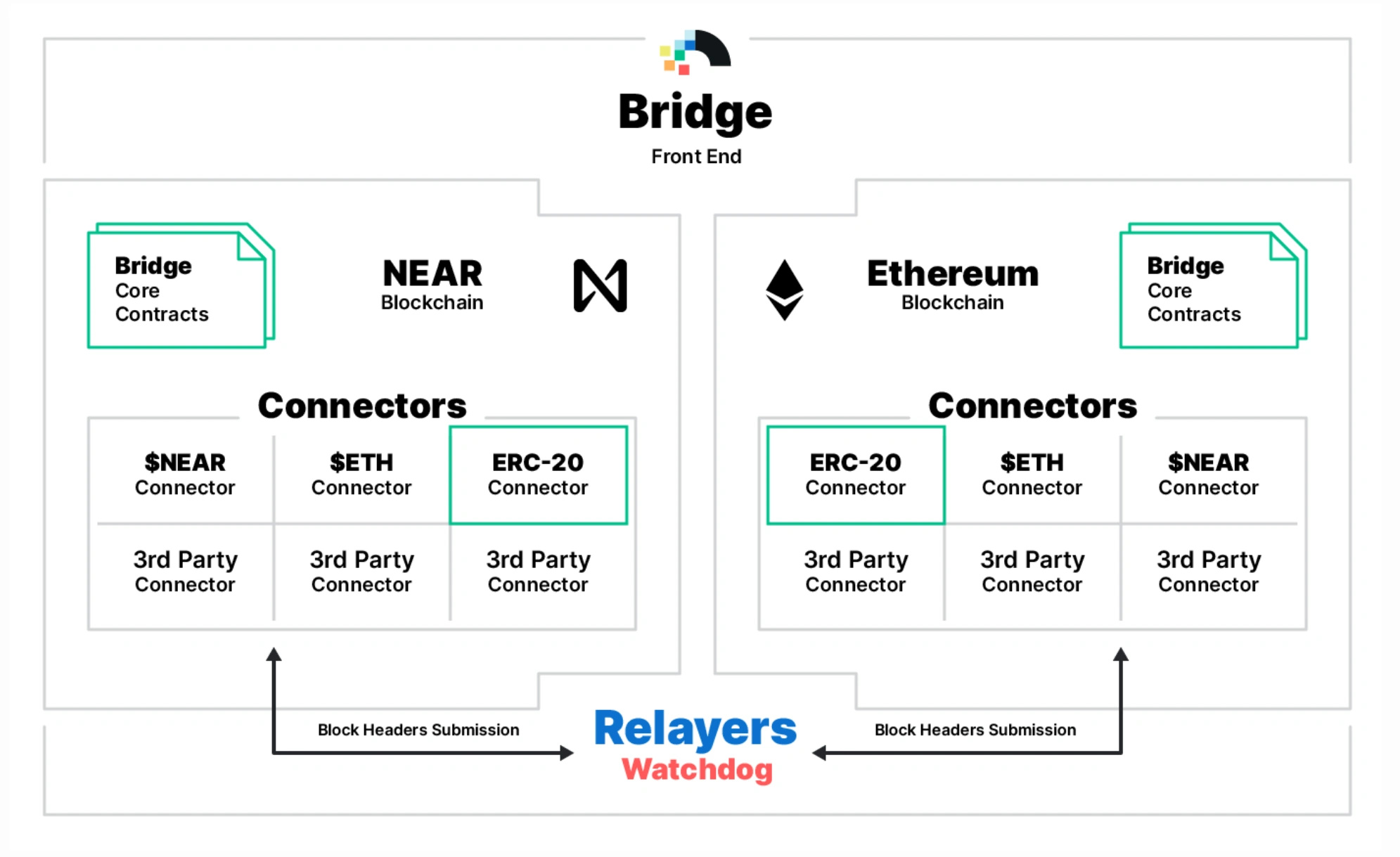 Popular
ERC-20
tokens like stablecoins (
USDT
,
DAI
, TUSD), wrapped assets (
WBTC
, WETH), DEX tokens (
UNI
,
1INCH
), lending tokens (
AAVE
,
COMP
), and service company tokens (HT,
CRO
) are compatible with NEAR. These tokens can be transferred directly between
MetaMask
or other Web3 wallets and NEAR wallets and apps, allowing for seamless interoperability between the two platforms.
[15]
Doomslug
Near Protocol has its own version of the Byzantine Fault Tolerance consensus mechanism, known as Doomslug, and employs a finality gadget for additional security. It is a variation of the Delegated Proof of Stake (DPoS) mechanism, allowing the network to attain practical finality with just a single round of confirmation. [16]
NEAR's Doomslug distinguishes between two forms of finality: Doomslug finality, which is achieved once a block has received its pre-votes and cannot be undone unless the malicious validator is penalized, and BFT finality, which is accomplished after 2/3 of the block producers have pre-voted and pre-committed, similar to Tendermint or HotStuff. [17]
NEAR Token
The NEAR token is the native cryptocurrency of the Near Protocol, it is used for various functions such as paying for transaction fees, and for storage. Additionally, it can also be staked by holders to participate in validating transactions and reaching network consensus. [1]
The primary use of the NEAR token is to cover transaction fees and as collateral for data storage on the blockchain. Additionally, NEAR tokens are also distributed as rewards to different stakeholders on the blockchain, such as transaction validators, who receive a reward of 4.5% of the total annual NEAR supply for their services.[1]
Tokenomics
One billion NEAR tokens are created at genesis, and its allocation is divided among several groups: 17.20% is allocated to Community Grants and Programs, 14.00% is allocated to Core Contributors, 12.00% is allocated to Community Sale, 11.76% is allocated to Early Ecosystem, 11.40% is allocated to Operations Grants, 10.00% is allocated to Foundation Endowment, 15.23% is allocated to Seed Round, and 8.41% is allocated to Venture Round. This allocation is designed to support and incentivize different stakeholders of the Near protocol ecosystem. [3]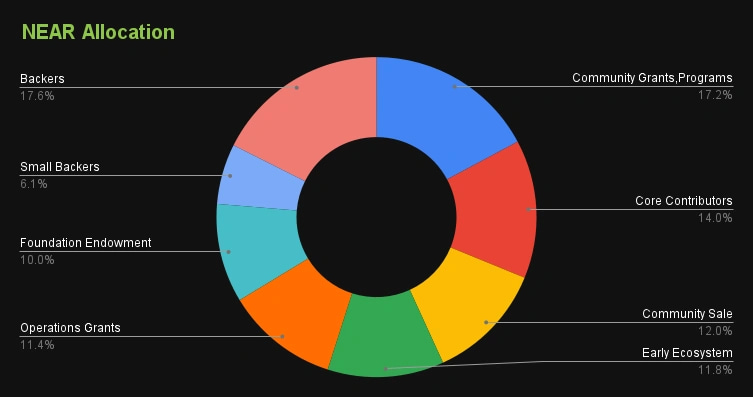 Allocation of Genesis Tokens
NEAR Foundation
Created on April 22, 2020, the NEAR Foundation is a Swiss-based non-profit organization that utilizes its financial and operational resources to support the mission of the NEAR Collective, which is a group of active participants who drive the NEAR ecosystem. [5] Its mission is:
…to accelerate the world's transition to open technologies by growing and enabling a community of developers and creators.
On the other side, the vision of the foundation is the following:
…a self-sufficient ecosystem of creators, developers, entrepreneurs, community members and tokenholders whose collaborative efforts make the NEAR ecosystem the best place to build massively impactful projects in the Open Web.
The NEAR foundation is governed by an independent board of directors who are in charge to guide the direction of the foundation. Members include Mona El Isa, Richard Muirhead, and Illia Polosukhin. [6]
Partnerships & Collaborations
NEAR Protocol x Google Cloud
NEAR Protocol announced on October 4th, 2022, a strategic partnership with Google to accelerate web3 startups, where NEAR grant recipients will receive technical assistance from Google Cloud. [8]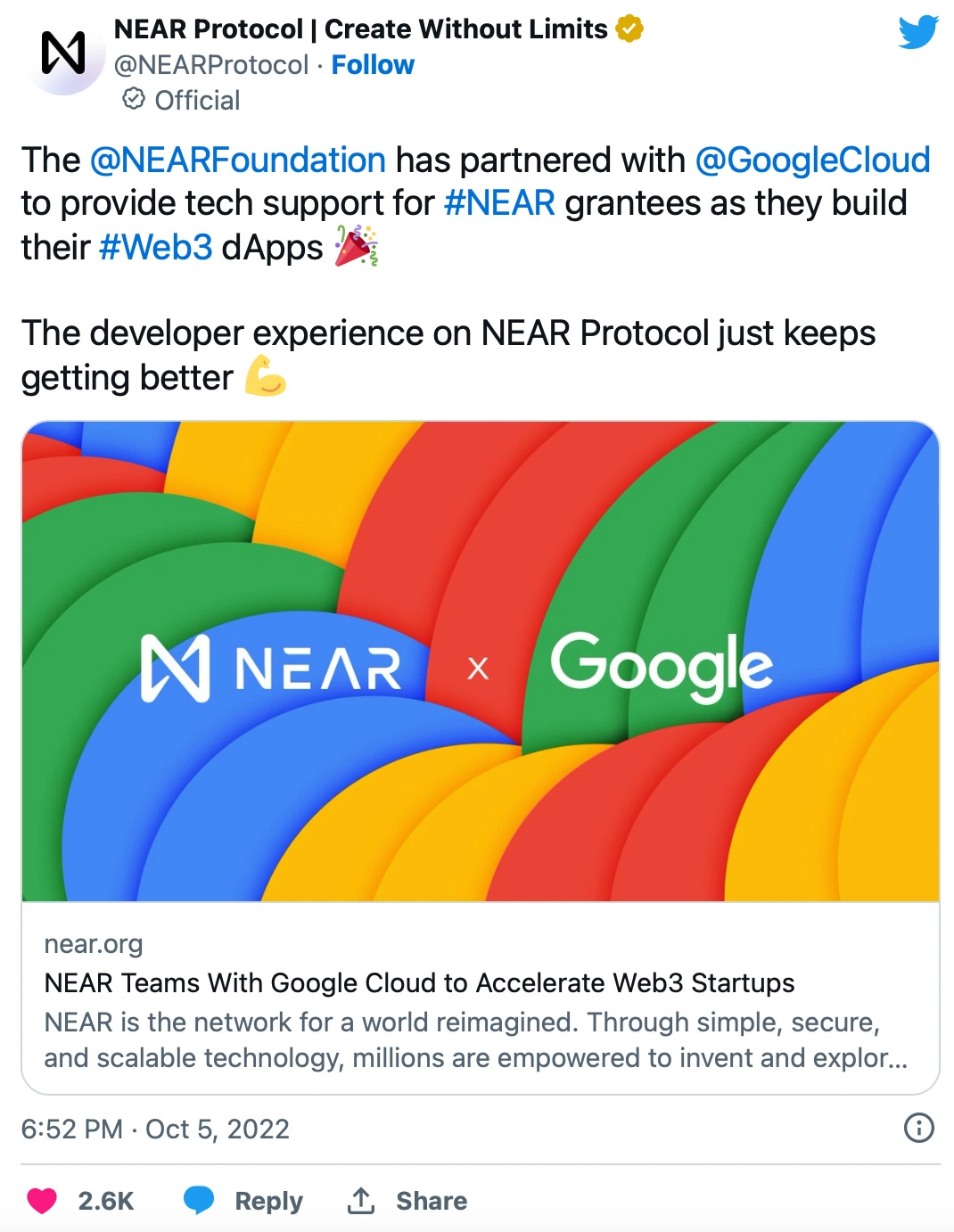 Google Cloud will be providing support for developers building and scaling their Web3 projects and dApps on the NEAR Protocol. With Google Cloud, developers can take advantage of core internet infrastructure to deploy their code quickly, securely, and seamlessly. This partnership gives the opportunity for NEAR projects to achieve scalability.
[9]
"We will be supporting NEAR and giving Web3 developers the most secure, reliable, and sustainable cloud infrastructure on which they can build and scale. We continue to support tomorrow's leaders in creating new products and services on blockchain-based platforms." - Carlos Arena, Director of Digital Assets at Google Cloud
NEAR Protocol x SeatlabNFT
SeatlabNFT is an NFT-based event ticketing marketplace that is built on the NEAR blockchain. Nightshade, NEAR's sharding architecture, helps solve the scalability problems, which allows the processing of large numbers of transactions without any negative impact on performance.
SeatlabNFT allows artists to create and sell event tickets directly to fans, bypassing scalpers and ensuring the authenticity of the tickets through NFT technology. This ensures that the buyers will not have to pay the markup prices and will have the original ticket with them. [10]
NEAR Wallet x SWEAT
London-based tech company Sweatcoin, which aims to promote healthier living by encouraging physical activity, has teamed up with the NEAR Foundation to launch SWEAT, an innovative new token. [11]
"Sweatcoin was founded with a vision to create a new economy of wealth through health. For every 1,000 steps you take, you earn a Sweatcoin that can be redeemed for goods and services in the app from brands including Sonos and Reebok, or to donate to important charities such as Save the Children via Sweatcoin for Good."  - Anton Derlyatka, Co-founder at Sweatcoin
NEAR Foundation x Binance Custody
On November 7, 2022, NEAR Foundation announced an integration with Binance Custody, a secure digital asset custody solution for institutional investors. The NEP-141 standard is now supported, which allows any institutional investors with NEAR to use their secure storage infrastructure. Additionally, the integration makes it simpler for Binance Custody to provide support for any tokens that are compatible with NEP-141 from projects that are built on NEAR. [12]
NEAR Foundation x Grupo Nutresa
NEAR has partnered with Grupo Nutresa, a major food processor in South America, to bring blockchain technology to the grocery industry. Grupo Nutresa will create one of the first open-source loyalty point programs on the NEAR blockchain, with the goal of eventually reaching one million users in Colombia and Latin America. The partnership was made possible through the assistance of tech company Peersyst. [13]
Funding
On January 13, 2022, the Near Foundation reported the completion of a $150 million funding round. The private token sale was led by Su Zhu's Three Arrows Capital, with contributions from prominent cryptocurrency-focused investment funds, including Mechanism Capital, Dragonfly Capital, Andreessen Horowitz (a16z), Jump, Alameda, Zee Prime, Amber Group, and others. [7][18]
Three months later, the protocol raised $350 million in a funding round led by hedge fund Tiger Global, with the aim of expediting the decentralization of the NEAR ecosystem. [19]
"NEAR is poised to be a leading smart contract blockchain platform, combining first-rate technology with a fast-growing developer ecosystem," - partner at Tiger Global, John Curtius
See something wrong?
Report to us.
NEAR Protocol
Did you find this article interesting?