Wrapped Bitcoin (WBTC)
Wrapped Bitcoin (WBTC) is an Ethereum-based token (ERC-20) that is backed 1:1 with Bitcoin, enabling BTC holders participate in Ethereum's decentralized finance (DeFi) ecosystem. It is a digital asset that bridges the gap between decentralized cryptocurrency and traditional finance. WBTC has the same economic properties as Bitcoin, providing users with a store of value, investment opportunity, and liquidity. The launch of WBTC allows users to benefit from both the Bitcoin and Ethereum networks. [1][2][3]

History
The Wrapped Tokens project, of which WBTC is a part, was founded by three organizations: BitGo, Kyber Network, and Ren (previously Republic Protocol). [4][5][6]
Launched on October 26, 2018, the aim of the project is to build an ERC-20 token that enables new application use cases for Bitcoin on Ethereum. WBTC is an attempt to standardize bitcoins according to ERC-20 which allows Ethereum smart contract developers, decentralized exchange orders, and other parts of the Ethereum ecosystem direct exposure to Bitcoin's liquidity by serving as a 1:1 pegged coin. [8][10]
BitGo, co-founded in 2013 by Mike Belshe, is an institutional digital asset custody, trading, and financial services firm. It is one of the developers of WBTC and is the original custodian of the tokens and keys needed to mint them. [7][4]
Kyber Network is an on-blockchain liquidity protocol designed to facilitate the integration of cryptocurrency tokens and DeFi applications. Established in 2017 by Loi Luu, Victor Tran, and Yaron Velner, Kyber Network is based in Singapore and is a partner of Ren. Kyber Network also serves as a merchant on the WBTC network and is responsible for minting and burning WBTC tokens to maintain a 1:1 ratio of tokens to BTC reserves. [6][4]
Ren is a company founded in 2017 by Taiyang Zhang and Loong Wang that focuses on cross-blockchain integration of cryptocurrency assets and DeFi applications through solutions such as RenBridge and RenVM. [4][9]
In January 2019, the initial WBTC whitepaper was released and the token was launched with eight merchants: AirSwap, Dharma, ETHfinex, GOPAX, Kyber Network, Prycto, Ren, and Set Protocol facilitating Bitcoin-to-WBTC conversions. Shortly after the release, many other prominent organizations within the cryptocurrency space began to participate in the community effort by becoming launch partners and supporting the adoption of WBTC through holding tokens, participating in the governance committee, or spreading awareness of the token. Those who committed to the Partnership included Gnosis, MakerDAO, Dharma, AirSwap, IDEX, Compound, DDEX, Hydro Protocol, Set Protocol, Radar Relay, Blockfolio, and Prycto. [5]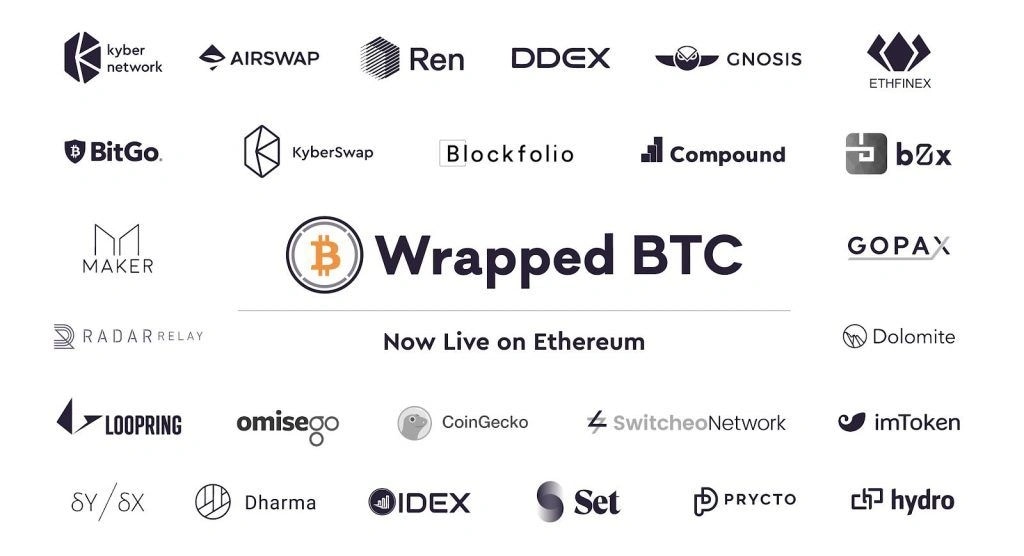 Early Market Cap Growth
Around early August 2020, Wrapped Bitcoin (WBTC) saw a surge in value, as its market capitalization grew to over $230 million. Part of the immense growth was related to the growing interest in the DeFi space, as it continued to garner substantial returns on investments. [12][13]
Record Breaking Mint
On October 14, 2020, CoinList set a new record for the largest mint of wrapped bitcoin in a single day, with 4,997 WBTC, worth $57.1 million at the time. This surpassed the previous record of 4,093 WBTC, worth $44.7 million, set by Alameda Research. [14][15]
Technology
Minting
Minting consists of the generation of new wrapped tokens. The process is initiated by merchants via a transaction that authorizes custodians to generate new tokens for the merchants on Ethereum. The merchant then sends the custodian native Bitcoin, and the custodian waits for 6 block confirmations, the most secure, on Bitcoin.  Once the transaction is complete, the custodian generates a new transaction on the Ethereum network, which enables the minting of a 1:1 equivalent of a new WBTC. [16][5]
Burning
Burning consists of acquiring BTC for WBTC tokens. This is done through verified merchants who create "burn" transactions using the WBTC smart contract. After 25 block confirmations on the Ethereum chain, the specified amount of WBTC is taken from the merchant's balance and the custodian sends BTC back to the merchant's address. KYC and AML procedures must be completed by users and merchants prior to performing an 'atomic swap' or working through a trusted exchange, where the user receives BTC and the merchant receives their WBTC tokens. [5][16]
WBTC Ecosystem
Custodian
Custodians are institutions that store crypto assets. In the case of WBTC, BitGo is responsible for custodying Bitcoin.
Merchant
The institution or party to which wrapped tokens will be minted to and burnt from. Merchants play a key role in the distribution of the wrapped token. In the case of WBTC, this will be played initially by Kyber and Ren. Each merchant holds a key to initiate the minting of new wrapped tokens and the burning of wrapped tokens.
Users
Users are holders of WBTC. Users can use WBTC to transfer and transact like any other ERC20 token in the Ethereum ecosystem.
WBTC DAO Member
WBTC DAO is the governing body that is responsible for contract changes and the addition/removal of custodians and merchants. This governance body helps decentralize the network via multisig contracts which require all members to reach a consensus before initiating a change. [5][17]
Governance
A wrapped token contract is governed by a multi-signature contract requiring signatures from DAO members to add or remove them. All custodians and merchants are DAO members, but other institutions are eligible for membership without a custodian or merchant role. An "M of N" signature is used in the contract, with M being the required number of signatures and N being the total number of members. The values of M and N are mutually decided between members with a focus on both security and ease of adding and removing members. [5]
Utility
WBTC can be used to increase liquidity in the Ethereum ecosystem, including DEXs and financial applications. It facilitates Bitcoin liquidity in DEXs, enabling Bitcoin to be used for token trades. WBTC also standardizes Bitcoin to the ERC-20 format, enabling the use of smart contracts for Bitcoin. This facilitates the development of smart contracts that include Bitcoin transfers. [1]
With Wrapped Bitcoin based on ERC-20 blockchain technology, exchanges, wallets, and crypto-based payment apps only need to handle an Ethereum node, which makes it easier to manage transactions occurring in the decentralized finance ecosystem. [18]
WBTC DAO Migration
On November 20th, 2022, Victor Tran, CEO of Kyber Network made a pull request on WBTC's GitHub [20] on the migration of the WBTC DAO to a new multi-signature contract. [19] According to Victor, as part of the modifications, the migration coordinated by BitGo and Kyber will see that the new Multisig has 13 signers as opposed to its previous 18 signers.
11 of its previous signers including companies like FTX, MarkerDAO, Airswap, and others were removed and replaced with six new members including automated market maker Balancer[22], decentralized Oracle protocol Chainlink[23], multi-chain platform Krystal[24], RiskDAO[25], Badger[26], and Multichain[27]. The new multisig list contains seven members from the original set, including DeFi lender Compound, Layer 2 exchange Loopring, Kyber, and BitGo. [21]
The migration became necessary since many of its initial signers have either become inactive or lost access to their keys. This resulted in the reduction in the availability of Multisig whose sole responsibility is to responsibly govern contracts. After completion of the migration, WBTC DAO will now require the vote of 8 out of its 13 signers to form a consensus and process a transaction. Before this change, the previous multisig which was created about 4 years ago needed 11 out of its 18 signers to reach a consensus on any issue. [21][29]
On 13th December 2022, WBTC completed 11 signatures necessary to start transitioning to the new DAO. It announced:
"The WBTC DAO completed a milestone – we've collected 11 signatures from current members to start transitioning to the new DAO. Thanks to all involved." [28]
See something wrong?
Report to us.
Wrapped Bitcoin (WBTC)
Did you find this article interesting?