Gnosis
Gnosis is a blockchain project that is a provider of infrastructure tools for expanding the utility of the Ethereum ecosystem. Gnosis operates as a decentralized autonomous organization (DAO) and utilizes its products to guide decision-making on ecosystem development, support, and governance. [2][3]
Overview
Gnosis began in 2015 as a decentralized prediction market on the Ethereum blockchain, initially aiming to create a platform similar to Augur. Over time, Gnosis expanded its focus to develop infrastructure tools for Ethereum's ecosystem. These tools include Safe (formerly Gnosis Safe), a decentralized custody protocol and asset management platform, and the CoW Protocol (formerly xotocol), a permissionless trading protocol that facilitates trades across exchanges and aggregators. [1][5]

Additionally, Gnosis introduced Conditional Tokens, which enabled the creation of highly liquid prediction markets where asset values are directly tied to event outcomes. Gnosis Auction helps projects determine fair token prices, while Zodiac offers a suite of tools for composable Decentralized Autonomous Organizations (DAOs). [1][5]
In November 2020, Gnosis established GnosisDAO, a prediction market-driven collective that leverages prediction markets for governing the Gnosis ecosystem. In 2021, the communities of xDai and GnosisDAO voted to merge their ecosystems, resulting in the creation of the Gnosis Chain. This EVM-based Ethereum sidechain utilizes the xDai token and focuses on enabling stable transactions. [1][5]
Furthermore, Safe launched SafeDAO and introduced the Safe Token in September 2022, contributing to the expanding Gnosis ecosystem. [5]
Gnosis Ecosystem
The Gnosis ecosystem operates on the native token called GNO, which is utilized for staking on the Gnosis Beacon Chain and serves as the governance token for GnosisDAO. [6]
Gnosis Chain
The Gnosis Chain is an Ethereum Virtual Machine (EVM) execution-layer chain that operates using the xDAI stablecoin for transactions and fee coverage. The network's security is upheld by the Gnosis Beacon Chain (GBC) consensus layer. In the GBC, a Proof-of-Stake (PoS) mechanism is implemented, requiring users to lock up a specific amount of GNO tokens to participate in validating transactions. Participants who contribute to securing the network can earn additional GNO tokens as rewards. [7][8]
Gnosis Chain is a community-driven network composed of nodes operated by numerous individuals worldwide. This distributed network ensures resilience against technical failures, thanks to a diverse range of nodes spanning various countries. Running a node on the Gnosis Chain holds significant importance as it directly contributes to the blockchain network's functioning. Node operators essentially become the network itself, working alongside other nodes worldwide to form a global network that is highly resilient. [1][7]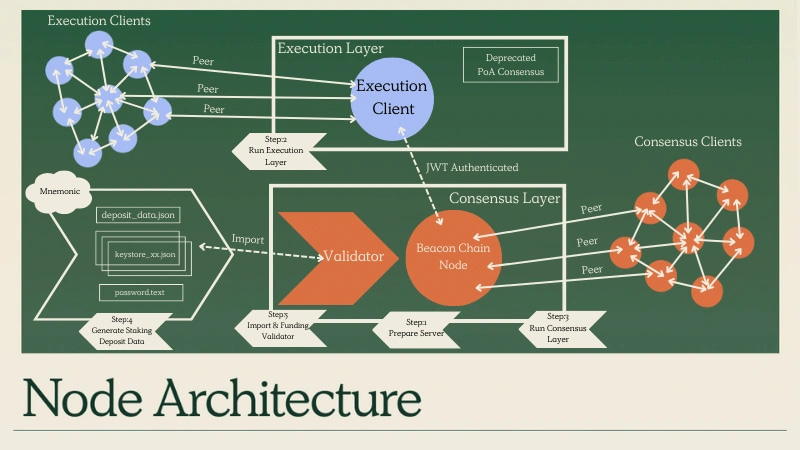 CoW Protocol
The CoW (Confidence of Wants) Protocol is a permissionless decentralized exchange (DEX) that enables users to trade any ERC-20 token on the Ethereum network. It differentiates itself by matching trades through multi-token batch auctions and executing them at the most favorable price, protecting traders from miner extractable value (MEV). [1][6][9]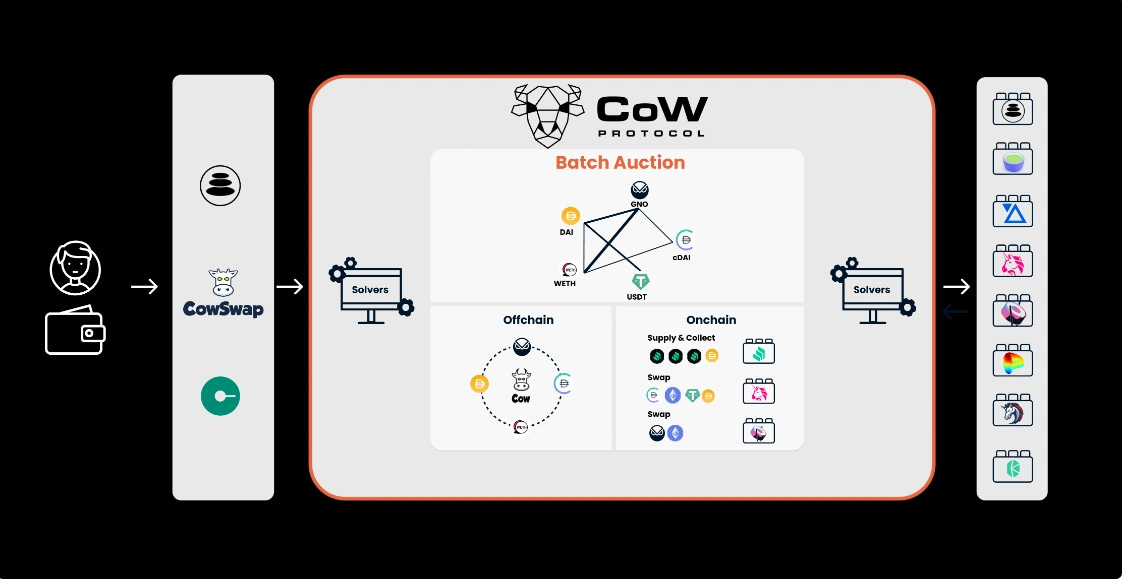 Safe
Safe is a customizable multisig wallet infrastructure that functions as a smart contract wallet on Ethereum. It requires a predefined number of approvals before executing a transaction and supports various tokens, including ETH, ERC-20, and ERC-721. Safe is governed by SafeDAO, a decentralized collective known as Safe Guardians. [6][10]

GnosisDAO
Established in 2020, GnosisDAO serves as the collective steward of the Gnosis ecosystem. As a DAO, it leverages its products to guide development, support, and governance decisions. The governance process takes place on the Gnosis Forum, where proposals must pass three phases and require community members to hold a minimum of 1 GNO to participate in the decision-making process. [11][1]

Gnosis Pay
Gnosis Pay is the project's payment platform that offers ways for GNO token holders and other cryptocurrency users to use their digital assets for real world payments. Their first product was introduced on July 17, 2023, called Gnosis Card—a Visa-certified debit card that enables users to spend funds from their self-custodial wallets wherever Visa is accepted. Initially launching in the U.K. and the EU, Gnosis plans to expand to other regions, including the U.S., Brazil, Mexico, Singapore, and Hong Kong. By offering a convenient way to spend self-custodial assets in the real world, Gnosis aims to break down the barriers between crypto and traditional finance. For this release, they are leveraging partnerships with Monerium, MakerDAO, and other key players in the industry to ensure compliance, security, and convenience. [12][13]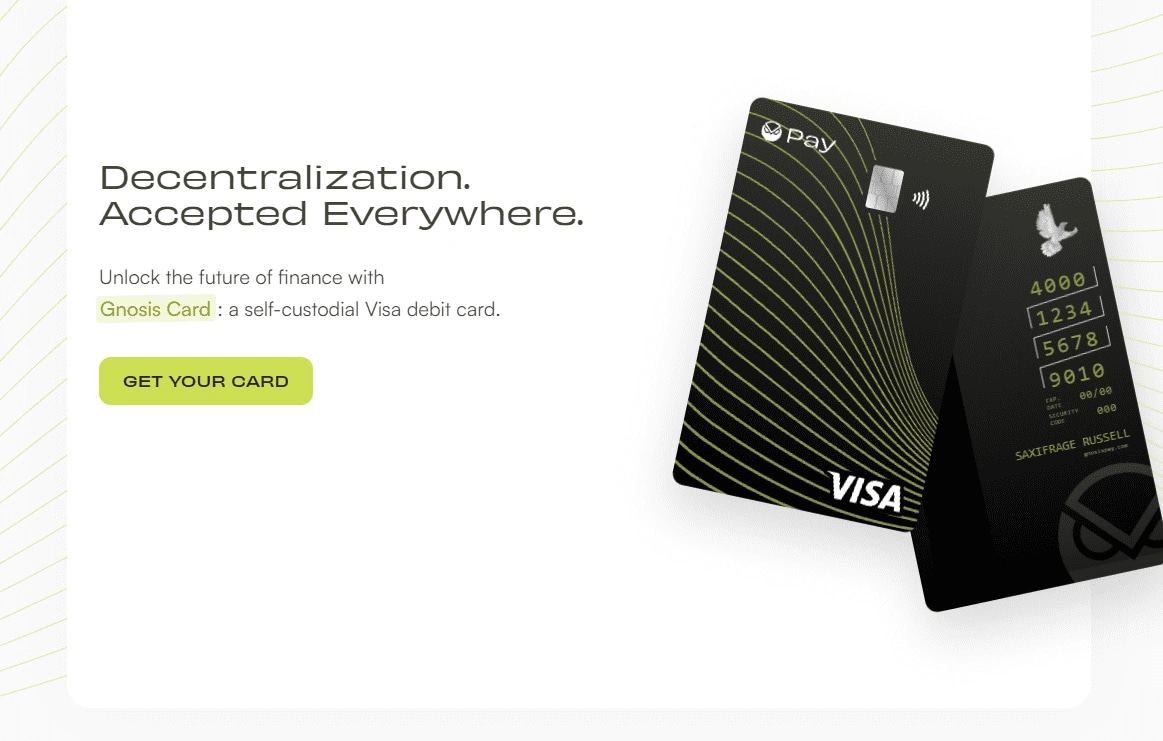 GNO Token
The Gnosis cryptocurrency, GNO, is an Ethereum-based token sold during the Gnosis Initial Coin Offering (ICO). The main use cases of GNO are: participating in the Proof-of-Stake network via staking, and acting as a governance token for GnosisDAO. [2]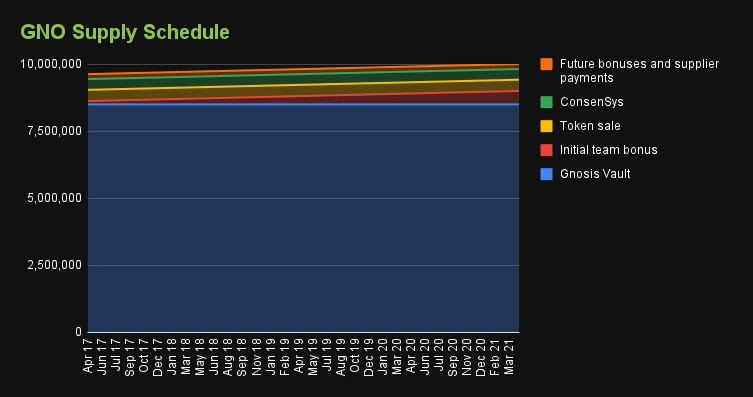 Team
Gnosis is led by Martin Köeppelmann (CEO), Stefan George (CTO), and Dr. Friederike Ernst (COO). [2]
See something wrong?
Report to us.
Gnosis
Did you find this article interesting?