Ren Protocol
Ren, previously called Republic Protocol, is a protocol that facilitates the transfer of various crypto assets to the Ethereum blockchain, enabling users to access decentralized finance (DeFi) products without the need to sell their assets. With the ability to move crypto assets across different blockchains, users can lock their assets in a smart contract and receive ERC-20 tokens in exchange. Ren's native cryptocurrency, REN, is utilized to cover operations on the Ren network. The primary offering of Ren is RenVM, which enables the interoperable and private transfer of value between different blockchains through the use of secure multi-party computation. [1][2]
Overview
Ren's main function is to act as a custodian for digital assets while they are moved between different blockchains. This involves securing the assets and generating corresponding tokens on the destination blockchain. For instance, if a user transfers BTC to RenVM, RenVM will hold the BTC and create an ERC-20 token called renBTC on the Ethereum blockchain in a 1:1 ratio. This ensures that the value of renBTC is always equal to that of BTC. The process can be extended to nearly all digital assets and smart contract systems, including native tokens such as Dogecoin and the Polkadot blockchain. [3]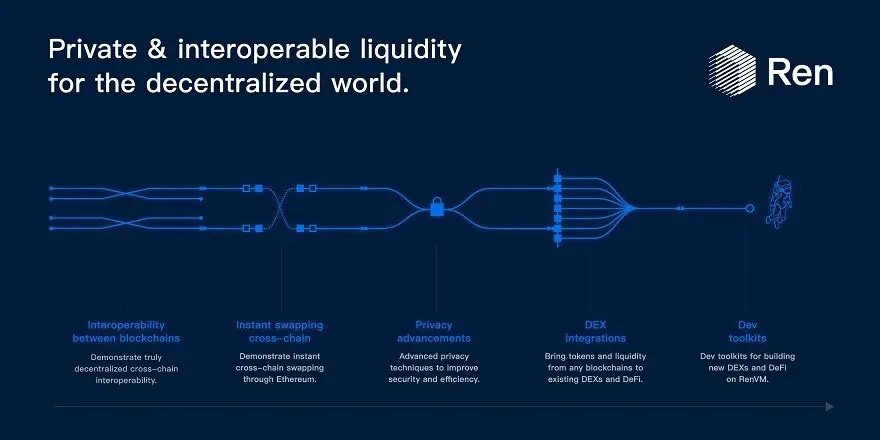 Ren enables interoperability and eliminates barriers by functioning as a "universal translator" or adapter. It accomplishes this by converting the native format of a blockchain to the format required by the destination chain.
[3]
RenVM
RenVM utilizes secure multi-party computation (sMPC), a cryptography subfield that enables nodes to jointly compute a function over their inputs while maintaining input privacy. By implementing sMPC, RenVM ensures that inputs remain hidden from all parties, including the nodes that power them. To achieve this, RenVM splits private key pieces within each node, ensuring that the nodes themselves are not aware of which pieces they possess. [5]
Through its ability to manage private keys on multiple blockchains, RenVM enables the transfer of cryptocurrencies across these blockchains. As a network of nodes, RenVM functions as an autonomous agent that securely manages ECDSA private keys on different blockchains, thereby allowing for the decentralized and permissionless movement of digital assets between them. Technically, RenVM is a byzantine fault-tolerant protocol that leverages sMPC to execute ECDSA threshold key generation and signing. [5]
Ren 2.0
Ren 2.0 centers around decentralization and security enhancements, including support for generic application logic on top of Ren, an enhanced MPC algorithm that can handle a wider range of signing schemes and is more scalable, and optimized tokenomics that incentivize ecosystem participants. [4]
Ren has expanded to include a wide range of assets across smart contract chains such as Arbitrum, Polygon, and Solana. This multichain support facilitates interoperability between different ecosystems in the crypto space. Additionally, two major upgrades were included to the protocol. Firstly, the direct bridging of renASSETS between smart contract chains was enabled, resulting in a quicker and more cost-effective transfer process. Secondly, the protocol now allows for generic tokens, such as stablecoins and native assets like ETH, to be moved between these smart contract chains. [4]
Wrapped Bitcoin
In January 2019, Ren participated in the release of the whitepaper introducing Wrapped Bitcoin. The paper introduced the notion of "wrapped" tokens, utilizing Ethereum's ERC-20 token standard, with the assurance that WBTC would be the initial wrapped token to be launched. [9]
WBTC is an ERC-20 token on the Ethereum network that serves as a substitute of Bitcoin (BTC). WBTC functions similarly to any other ERC-20 token within the Ethereum blockchain ecosystem. This enables its usage in DeFi protocols and trading on centralized exchanges. [9]
Tokenomics
REN is a cryptocurrency with a fixed supply cap of 1 billion tokens, 60.2% of which was sold to investors during a presale and public token sale in 2018. Ren also has a reserve fund of 19.9% of the total supply, while 9.9% was allocated to advisors, the team and founders, with a two-year lock-up period for team tokens and six-month lock-up for advisor allocations. Additionally, 10% of the REN supply is allocated for activities such as partnerships and development. REN is an ERC-20 standard token. [3]
Initial Coin Offering
In 2018, the Republic Protocol launched two rounds of initial coin offerings (ICOs) for the Republic token (REN). The first was a private ICO which took place in late January of 2018 and raised a handsome 28 million USD. The second ICO, this time public, was held a few days later in early February and raised a modest 4.8 million USD. [8]
Founders
Ren was established in 2017 by its CEO, Taiyang Zhang and Loong Wang. Originally known as Republic Protocol, Ren was launched in January 2018, with Zhang citing its primary use case as a "decentralized dark pool." Zhang also co-founded the crypto hedge fund Virgil Capital. [3]
Prior to that, Zhang co-founded Neucode, a software and web development startup, in 2014. Jaz Gulati, who co-founded Neucode with Zhang, works as a software developer for Ren. [3]
Alameda Research
In February 2022, Ren joined Alameda Research in an effort to increase resources and advance its mission of promoting interoperability in the decentralized finance industry. Ren's CEO, Taiyang Zhang, stated that the acquisition by Alameda would accelerate the decentralization of its technologies, and that the company would benefit from Alameda's resources. [6]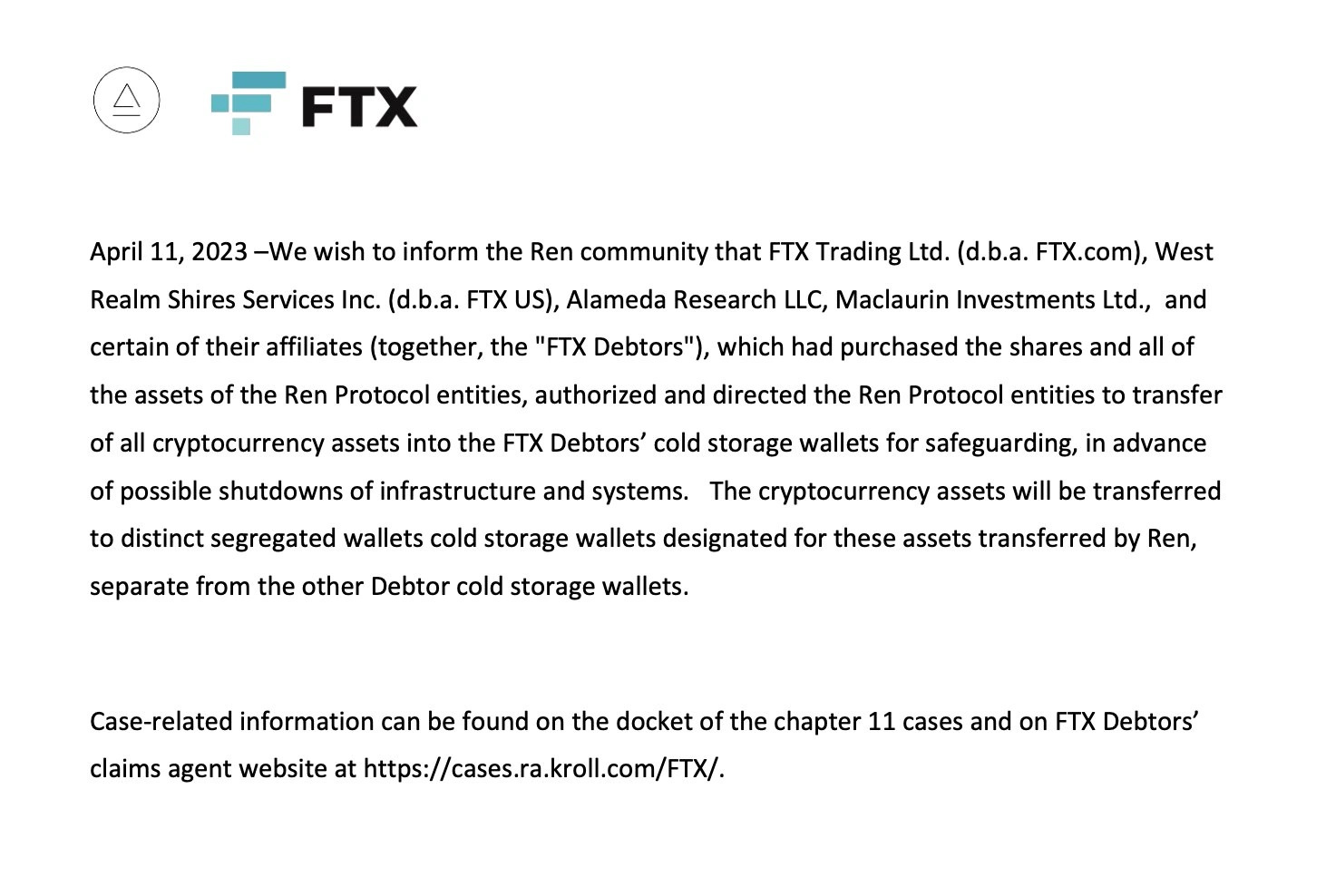 After the collapse of Alameda Research, Ren protocol recommended users to bridge their assets to native chains in case of a potential shutdown of their systems and infrastructure. The bridge service also highlighted that they would transfer the assets to a segregated wallet specific to Ren's assets to separate the funds from other debtor wallets.
[7]
[3]
See something wrong?
Report to us.
Ren Protocol
Did you find this article interesting?