Dogecoin
Dogecoin is a peer-to-peer, open-source cryptocurrency featuring a likeness of the Shiba Inu dog from the "Doge" Internet meme as its logo.[1][3] Dogecoin, a Litecoin fork was introduced as a "joke currency" on December 8, 2013, and quickly developed its own online community first reaching a market capitalization of $60 million in January 2014 then $1 Billion in January 2018 before reaching a high of $82 billion in May of 2021. [10][11]
Unlike other cryptocurrencies, which marketed themselves on differentiating technical features, Dogecoin's allure likely stems from its cultural roots as a meme. Cryptocurrency is typically regarded as a difficult topic to grasp. However, the introduction of Doge's most popular meme into the crypto-space in 2013 increased crypto's accessibility to new participants.[51] Dogecoin had a rapid initial coin production schedule in contrast to other cryptocurrencies. 100 billion coins were in circulation by mid-2015, with an additional 5.256 billion coins every year thereafter. As of 30 June 2015, the 100 billionth Dogecoin had been mined. Dogecoin is mined every minute and has no maximum supply.[12]
By May 2021, Dogecoin rose to a high of $0.68, compared to a value of just under one penny at the beginning of that year. Tesla CEO Elon Musk was partly responsible for the massive growth after calling Dogecoin his favorite cryptocurrency. By mid-2021, Dogecoin was consistently polling among the top five cryptos by total market cap. [13]
Overview
Dogecoin was founded by Billy Markus, a programmer from Portland, Oregon, and Jackson Palmer. Markus got the idea for Dogecoin while thinking about creating a fun cryptocurrency that could reach a broader demographic than Bitcoin. He also intended to distance it from the controversial history of other coins, mainly bitcoin. At the same time, Jackson Palmer, a member of Adobe Systems' marketing department in Sydney, was encouraged on Twitter by a student at Front Range Community College to make the idea become a reality.[2] Palmer had two tabs open side-by-side on his computer-one was CoinMarketCap and the other was a new article about the best meme of 2013, Doge. Switching between these two tabs, Palmer had the idea to put the two elements together and quickly tweeted about a hot new cryptocurrency called Dogecoin. Soon after that, IBM developer Billy Markus reached out to Palmer via Twitter asking him if he would be willing to create an actual Dogecoin cryptocurrency and it was officially launched on December 6, 2013.[52]

Dogecoin was officially launched on December 8, 2013. The Dogecoin network was originally intended to produce 100 billion Dogecoins, but later, it was announced that the Dogecoin network would produce infinite Dogecoins. Unlike deflationary cryptocurrencies such as Bitcoin, there is no limit to how many Dogecoins can be produced. This puts Dogecoin in the same league as other inflationary coins. According to the current production schedule, approximately 98 billion coins had been released by February 2015, with a block of 600,000 mined on February 25, 2021. Thereafter, approximately 5.256 billion more coins have been produced per year, in perpetuity.[2]
During December 2013 and January 2014, Dogecoin's developers discussed in public forums whether the inflation rate should be changed, and, on February 2, 2014, Dogecoin founder Jackson Palmer announced that the supply of coins would remain uncapped, resulting in a constant reduction of its inflation rate over a long time.[4]
Dogecoin exists in two economies: the financial economy and the cultural meme economy. The latter has unprecedented tangible impacts on the former. Dogecoin's unique cultural significance provides an example of how blockchain can succeed in promoting alternative money systems.[51]
Architecture
Dogecoin is based on Litecoin and uses the same Proof-of-Work(PoW) technology. Users can buy and sell Dogecoin through cryptocurrency exchanges and can store their Dogecoin on an exchange or in a Dogecoin wallet. Billy Markus based Dogecoin's code on Luckycoin, which was derived from Litecoin, and initially used a randomized reward for block mining, although that was changed to a static reward in 2014.
History
The Doge meme, or simply 'Doge", was first conceived in February 2010 when Japanese blogger Atsuko Sato posted a picture of her dog, a Shiba Inu named Kabosu, in one of her blog posts. A few months later in October, an unrelated photo of another Shiba Inu went viral on Reddit with the word 'dog' misspelled as 'doge' in its title. This evolved into the intentional misspelling of words placed atop picture of Shiba Inu dogs, which first appeared in a Tumblr thread called 'Shiba confession' in September 2012. It was not until Sato's photo of Kabosu was used in the thread in July 2013 that Doge finally went viral.[53]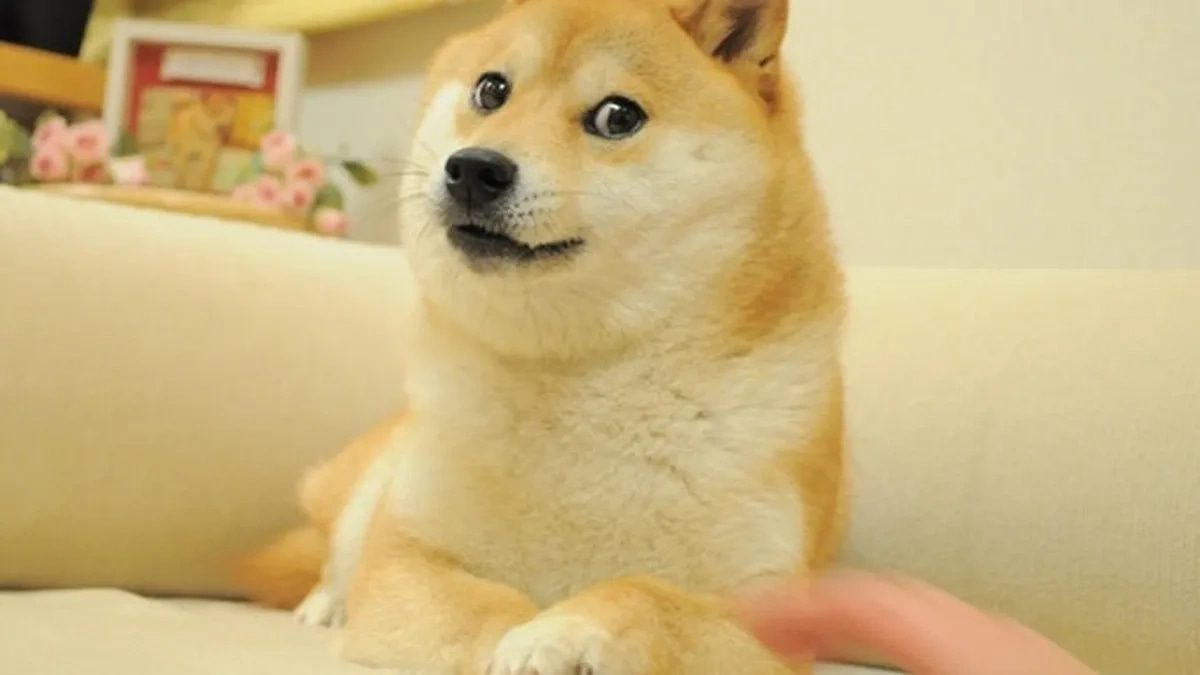 On December 19, 2013, Dogecoin jumped nearly 300 percent in value in 72 hours, rising from $0.00026 to $0.00095, with a volume of billions of Dogecoins per day. This growth occurred during a time when bitcoin and many other cryptocurrencies were reeling from China's decision to forbid Chinese banks from investing Chinese Yuan into the bitcoin economy. Three days later, Dogecoin experienced its first major crash dropping by 80% due to large mining pools seizing the opportunity in exploiting the very little computing power required at the time to mine the coin.[14]
On December 25, 2013, the first major theft attempt of Dogecoin occurred when millions of coins were stolen during a hacking attempt on the online cryptocurrency wallet platform Dogewallet. The hacker gained access to the platform's filesystem and modified its send/receive page to send any and all coins to a static address. This incident spiked tweets about Dogecoin making it the most mentioned altcoin on Twitter. To help those who lost funds on Dogewallet after its breach, the Dogecoin community started an initiative named "SaveDogemas" to help donate coins to those who lost them. Approximately one month later, enough money was donated to cover all of the coins that were lost.[5][7]
On January 8, 2014, AltQuick.co was the first exchange to launch the DOGE/USD exchange. On January 30, 2014, a Canada-based exchange called Vault of Satoshi also announced DOGE/USD and DOGE/CAD trading. In February 2014, Hong Kong-based exchange Asia Nexgen announced its support for the trading of Dogecoins in all major currencies. China-based exchange BTC38 also added its support to the Dogecoin exchange, boosting the market capitalization over 24 hours.[41]
By January 2014, the trading volume of Dogecoin briefly surpassed that of bitcoin and all other cryptocurrencies combined. As of January 25, 2015, Dogecoin had a market capitalization of $13.5 million.[15]
In February 2014, the first Dogecoin ATM was exhibited at Coinfest in Vancouver. On March 17, 2014, two bitcoin ATMs that also accept Dogecoin and other cryptocurrencies went live in Tijuana, Mexico.[46]
In 2014, the Dogecoin community donated 27 million Dogecoins worth about $30,000 to fund the Jamaican bobsled team's trip to the Sochi Winter Olympic games, $11,000 worth of Dogecoin to build a well in Kenya, and $55,000 of Dogecoin to sponsor NASCAR driver Josh Wise.[13][37]
In April 2015, Jackson Palmer announced he was taking an "extended leave of absence" from the cryptocurrency community. Palmer left the project in 2015, but Markus continued to remain as its lead developer.[16]
In July 2019, cryptocurrency exchange Binance listed Dogecoin. Many people also believed Tesla, Inc. (TSLA) CEO Elon Musk had approved the coin in a cryptic tweet.[38]
In 2021, Elon Musk openly supported Dogecoin, tweeting that he was working with the coin's developers to improve transaction efficiency. The SpaceX founder ran a poll on social media asking if Tesla should accept Dogecoin as a form of payment.[39] Charles Hoskinson, the co-founder of Ethereum and Cardano, said that Dogecoin was a reasonable target for someone to fix it up and make it an interesting cryptocurrency. Hoskinson called himself the "Ultimate" holder who won't be selling off his tokens.[56]
In May 2021, the market cap of Dogecoin hit a high of $82.5 billion. [11] [54]
In October 2021, The movie theater chain AMC Entertainment Holdings, Inc. (AMC) announced that it will accept Dogecoin for the purchase of digital gift cards. [40]

As of August 2022, Dogecoin's market cap ranking was number 11, with a market capitalization of $8.4 billion.[13]
Elon Musk and Dogecoin
The success of Dogecoin is closely intertwined with Elon Musk's passion for it. Early in 2021, Musk tweeted about Dogecoin and shared a DOGE meme featuring the Lion King. That sparked a strong DOGE surge though with brief dips that ended in Musk's participation on Saturday Night Live. After the SNL appearance, DOGE crashed despite Musk's promises to moon its price. In the following months, Musk seemed to lose interest, and DOGE's price has since fallen by nearly 70% from its peak. [49]
In July 2022, Elon Musk reiterated his support for Dogecoin and stated that he owns the coin. He noted that Tesla now accepts Dogecoin as payment for merchandise and affirmed that SpaceX will do the same in the near future. Elon Musk said he has been supporting Dogecoin in response to people who are 'not that wealthy' asking him to do so.[48]
Dogecoin Mining
Dogecoin differs from Bitcoin's proof-of-work protocol in several ways, one of which is by using Scrypt technology. Dogecoin also has a one-minute block period and is considered an "inflationary coin" as the overall supply is unlimited, meaning that any number of Dogecoin can be mined. Its Scrypt technology and unlimited supply were an argument for a faster, more adaptable, and more consumer-friendly version of Bitcoin. Dogecoin can be mined either individually, by joining a mining pool, or by cloud mining. A Doge miner can mine the digital currency on Windows, Mac, or Linux, and with a GPU. As of 2014, users can also mine Litecoin in the same process as mining Dogecoin, as the processes have been merged.[13][47]
Exchanges
Dogecoin is listed on several cryptocurrency exchanges including:
The Dogecoin Foundation
The Dogecoin Foundation was established by members of the Dogecoin team in 2014 to provide governance and support for the Dogecoin project. In 2021, after many years of inactivity, the Foundation was relaunched with a "renewed focus on supporting the Dogecoin Ecosystem, community and promoting the future of the Dogecoin Blockchain." In addition to some of the original core team, the project added some seasoned industry players as part of its board of advisors.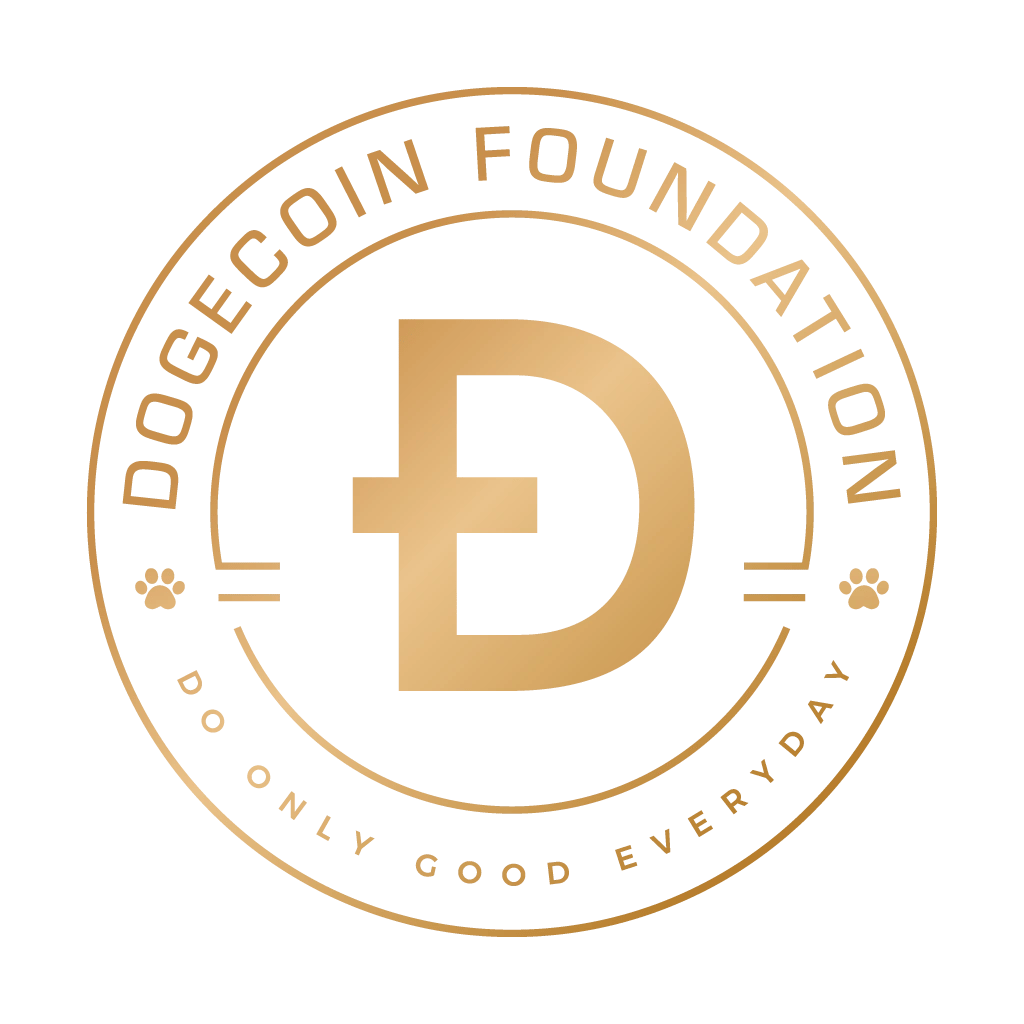 The advisors' group is made up of Dogecoin founder
Billy Markus
, the project's core developer Max Keller,
Ethereum
founder
Vitalik Buterin
and
Elon Musk
as represented by the head of the Musk family office, Jared Birchall. The Board of Advisors members will serve in a variety of roles. According to the foundation's website, Markus will be in charge of the community and memes, with Keller acting as the project's technical advisor. Buterin will serve as the foundation's blockchain and cryptocurrency advisor, and Birchall will serve as Elon Musk's legal and financial advisor.
[50]
Board
Jens Wiechers - OG Dogecoin Foundation Veteran, Foundation Legal & Governance [50]
Michi Lumin - Dogecoin Core Blockchain Developer, Foundation Principal Engineer
Timothy Stebbing - Director / Product Lead
Advisors
Jared Birchall
Shibetoshi Nakamoto (Billy)
Max Keller
Ross Nicoll
Dogecoin's Libdogecoin
Dogecoin Core creator Michi Lumin announced the creation of Libdogecoin, a C-library of the network's building components, a few weeks after Dogecoin Core version 1.14.6 hit the market. Developers can create Dogecoin-compliant products with Libdogecoin "without worrying about the underlying mechanics of the crypto functions."
This implies that users with less technological expertise can readily create goods that adhere to Dogecoin requirements. The update will not provide a "runnable" node facility because it is a pure library. Libdogecoin, on the other hand, will support a variety of languages, such as Python, Node.js, and Ruby.[13]
Companies That Accept Dogecoin
Due to its low transaction fees and constant patronage from Elon Musk, a number of traditional companies have moved to make Dogecoin a payment option. As of October 2022, the following companies accept Dogecoin payments:
Criticism
Co-creator of Dogecoin doesn't want to return to crypto
Jackson Palmer, the co-creator of the meme-inspired Dogecoin made a rare return to Twitter on 14 July, 2021 with some harsh words about crypto in general.
"I am often asked if I will 'return to cryptocurrency' or begin regularly sharing my thoughts on the topic again. My answer is a wholehearted 'no,'" Palmer tweeted.
Earlier in 2021, it hit an all-time high of nearly 74 cents. Despite its recent surge in popularity, Markus and Palmer haven't profited, as they sold out before Dogecoin's meteoric rise. In his Twitter thread, Palmer criticized those in power in the cryptocurrency space, saying that it is "controlled by a powerful cartel of wealthy figures" who "have evolved to incorporate many of the same institutions ties to the existing centralized financial system they supposedly set out to replace." Palmer admits this type of "financial exploitation" existed before cryptocurrency, but says he still believes that the crypto industry hurts the "average' people who join it. In response to Palmer's thread, Markus tweeted that Palmer's "points are generally valid". [55]
Legal issues
Dogecoin pyramid scheme
Elon Musk was sued for $258 billion on 16 June 2022 by a Dogecoin investor who accused him of running a pyramid scheme to support the cryptocurrency. In a complaint filed in federal court in Manhattan, the plaintiff accused Musk of touting Dogecoin and driving up its price, only to then let the price tumble. The complaint also aggregated comments from Warren Buffet, Bill Gates, and others questioning the value of cryptocurrency. Plaintiff is seeking $86 billion in damages, representing the decline of Dogecoin's market value since May 2021.[58]
Elon Musk can face legal issues over his pro-Dogecoin Tweets
John Deaton, the founder of CryptoLaw, has issued a warning to the richest in the world, Elon Musk, that his crypto project can come under the radar of some legal issues since he frequently tweets about Dogecoin as Ripple battles in court. The chairman of SEC was accused of having no fair policy for digital assets. Ripple, which has more than 300 connections with financial institutions outside of the U.S., is facing legal wrath while Elon Musk freely influences the price of the meme-coin Doge through his tweets.
See something wrong?
Report to us.
Dogecoin
Did you find this article interesting?