Kraken
Kraken is a US-based centralized cryptocurrency exchange, founded in 2011. It was one of the first Bitcoin exchanges, launching only two years after the reaction of Bitcoin. The exchange provides cryptocurrency to fiat trading, and provides price information to Bloomberg Terminal.[1][2]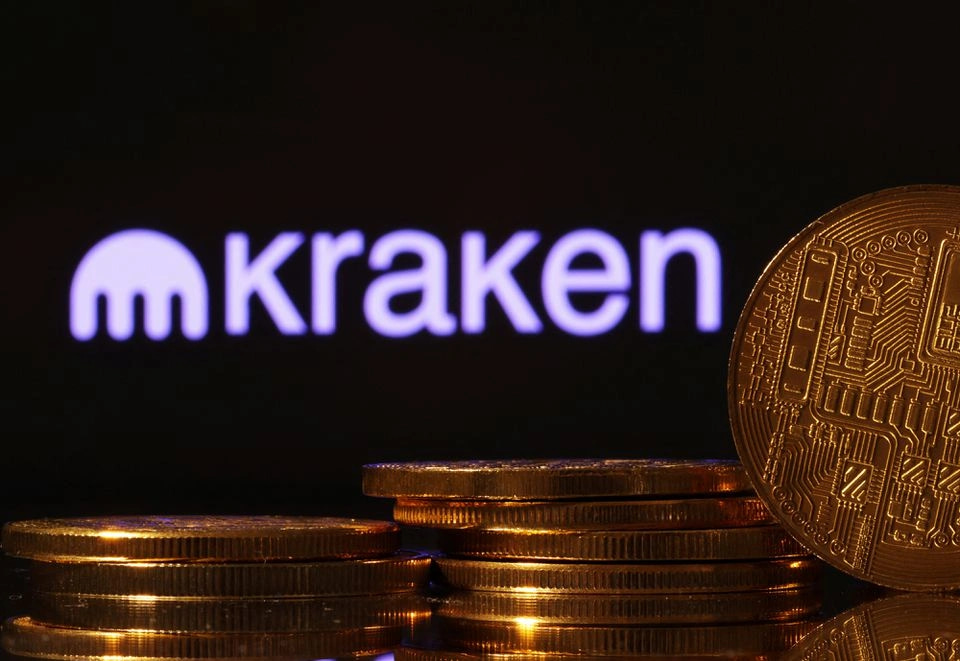 History
Kraken was co-founded on July 28, 2011 by Jesse Powell, Thanh Luu and Michael Gronager. It was founded and based in San Francisco, CA. Kraken bitcoin was owned by Payward, Inc.
It was started with a mission to accelerate the adoption of cryptocurrency, so that everyone can achieve financial freedom and inclusion.[14]

In September 2013, Kraken was launched, offering Bitcoin, Litecoin, and euro trades initially. It later added additional currencies and margin trading.[1]
In March 2014, Kraken received a $5 million Series A investment from Hummingbird Ventures and Bitcoin Opportunity Fund. In 2014, Kraken assisted with the investigation of lost bitcoins of Mt. Gox.
In June 2015, Kraken opened the first dark pool for bitcoins. Dark pools clients are eligible for potentially better prices, as they are allowed to discreetly place large orders that get executed against similar-sized orders offering them price advantage.
In January 2016, Kraken announced the completion of its Series B round of investment led by SBI Investment, a prominent Japanese venture capitalist firm under SBI Holdings and acquired Dutch exchange CleverCoin in June, and Glidera, a cryptocurrency wallet service allowing users to directly fund Glidera bank accounts with fiat for the purchase of cryptocurrencies on the Kraken exchange.[2]
In March 2017, Kraken acquired Cryptowatch, a charting and trading platform.
In April 2018, Kraken announced closure of its services in Japan due to the rising costs of doing business.
In February 2019, Kraken acquired Crypto Facilities. In June 2019, Kraken received $13.5 million from 2,263 individual investors via a 'BnkToTheFuture' special purpose vehicle.[2]
In September 2020, Kraken was granted a special purpose depository institution (SPDI) charter in Wyoming.
In early 2021, Kraken sought additional funding from investors at a valuation of over $20 billion, with Tribe Capital becoming the company's second largest institutional investor behind Hummingbird Ventures and Arjun Sethi being appointed to the board of directors. In January 2021, Kraken released a mobile app for international users.
In September 2022, Dave Ripley was COO, who later replaced Powell and was inducted as the chairman of Kraken's board of directors. David Ripley is now CEO of Kraken, right after Jesse Powell stepped down in September, 2022. In November 2022, the company launched a beta version of its non-fungible token (NFT) marketplace.
In February 2023, Kraken shut down its operations in Japan and United Arab Emirates.[6] Kraken says it'll continue offering its staking services outside the US. It also says that its clients in the US will automatically have their non-Ethereum crypto un-staked and that their Ethereum stakes will be removed as soon as possible.[9]
Overview
Kraken is used by crypto investors and traders seeking low trading fees and access to a wide selection of coins. In order to make a Kraken account, users must be 18 years and older and live in the US, minus Washington and New York.
We're building all these components of things, and I think the next decade is really going to be about seeing how all these components fit together to build this new world of the tokenized system and things existing without middlemen into the metaverse.[5]
In addition to enabling convenient online currency exchange, Kraken also provides expert financial resources and support to individual and institutional traders.
Kraken is a privately held company and is not publicly traded on NYSE or NASDAQ in the US. To buy pre-IPO[Initial Public Offering] shares of a private company, the user needed to be an accredited investor.[12]
Mt. Gox Bankruptcy Response
Mt. Gox, which once claimed to be the largest Bitcoin exchange, filed for bankruptcy in early 2014. It was struggling with a huge debt pile, and 850,000 lost bitcoins. Up to that point, Kraken was not among the largest exchanges, and was primarily serving European customers through a partnership with Germany-based Fidor Bank, and had just started in Japan.
In February 2016, Kraken announced it was making significant progress in its Mt. Gox investigations and had approved numerous claims from thousands of creditors of Mt. Gox. The bankruptees of Mt. Gox then started to believe in Kraken, due to its feature of being able to handle the highly lost amounts and the secured mechanism.
Growth during early 2015 was boosted by launching the margin trading facility, and the dark pool services. [8]
SEC Settlement
In 2021, SEC (Securities and Exchange Commission) got into a dispute with Coinbase over the exchange plans, to launch a lending feature in the US. But, in 2020, it settled with BlockFi for $100 million over the company's interest accounts.
Coinbase's CEO, Brian Armstrong tweeting about the SEC's 'rumors' did not make any good, instead, subjected the blockchain operations like Ethereum-2.0 to much stricter laws. Armstrong said,
We need to make sure that new technologies are encouraged to grow in the US, and not stifled by lack of clear rule
SEC Chair, Gary Gensler disagreed with the 'rumors' tweeted and said,
This agreement should make clear to the marketplace that staking-as-a-service providers must register and provide full, fair, and truthful disclosure and investor protection.
When this settlement news broke to the public, the price of Ethereum dropped sharply, falling over 4 percent in 30 minutes. The so-called 'rumors' are:[18]
The U.S. SEC charged Payward Ventures Inc. and Payward Trading Ltd., aka Kraken, with the unlawful offer and sale of its crypto asset staking services.
The SEC alleged that the staking services Kraken offered and sold were securities subject to the registration requirements of the Securities Act of 1933 (Securities Act).
Per the settlement with the SEC, Kraken agreed to pay a $30 million fine and unstake assets staked by U.S. investors; however, non-U.S. investors will be unaffected.
According to the SEC, Kraken took investors' crypto and put it into a staking pool with the hope of earning rewards. In return for having their crypto locked up, Kraken's users would earn interest on that crypto. But the regulator says that the returns Kraken promised were untethered to any economic realities and that the exchange provided zero insight into and among other things, its financial condition and whether it even had the means of paying the marketed returns in the first place.[21]
The SEC took this issue with the lack of consumer protections available for Kraken's staking service, saying that,
The exchange retained the right to pay them no returns at all.

Kraken wanted to end its crypto staking program in the US and pay $30 million in penalties as part of a settlement with the SEC. It is said that it'll continue offering its staking services outside the US and its clients in the US will automatically have their non-Ethereum crypto un-staked and that their Ethereum stakes will be removed as soon as possible.[11]

DDOS Attack
In May 2017, Kraken was hit with Distributed Denial of Service (DDoS) attacks, leading to huge losses for market participants. This incident led to a class action lawsuit being filed against Kraken, where plaintiffs are seeking over $5 million which they claim they lost as a result of Kraken's mishandling of the DDoS attack. The exchange has also fallen under scrutiny by government regulators.
US Regulators
Kraken has then fallen under scrutiny by government regulators. In 2018, the New York Attorney General identified it as one of several exchanges that were not following the state's financial regulations.[22]
In late September 2021, Kraken was ordered to pay a fine of $1.25 million to the Commodity Futures Trading Commission for offering unregistered margin trading.
As a result, In February 2023, the SEC categorized Kraken's staking service as an illegal sale of securities. The company agreed to a $30 million settlement with the SEC in response to allegations that its crypto-asset staking products broke the regulator's rules. Kraken also agreed to cease selling its staking service in the U.S.
[23]
US Treasury Case
In November 2022, Kraken agreed to pay a settlement of $362,159 to the US treasury, OFAC (Office of Foreign Assets Control) for its potential civil liability for apparent violations of sanctions against Iran and invest another $100,000 in implementing additional sanctions compliance controls.
Marco Santori, the chief legal officer at Kraken said,
The company was pleased to have resolved this matter.
adding that it had already taken steps to strengthen control systems and expand its compliance team before entering into the resolution.[10]
Suspension of trading for USDT, DAI, WBTC, WETH and WAXL in Canada
In October 2023, Kraken announced that it was suspending the trading of USDT, DAI, WBTC, WETH, and WAXL in Canada. This is due to recent Canadian regulatory changes. Kraken users in Canada will not be able to deposit, trade, or withdraw these assets after the suspension dates. [24] [25]
According to an email to its Canadian customers, "as of November 30th," deposits and trading functions will cease for the aforementioned assets. Then, "as of December 4th," users will no longer be able to perform withdrawals of the associated assets.
Finally, "as of December 5th," continues the email, any remaining related assets will be converted to U.S. dollars at the "prevailing market rate" and credited to users' accounts.
In response to a request for comment from Cointelegraph, a Kraken spokesperson said:
"In accordance with recent Canadian regulatory changes and following extensive consultation with the CSA and OSC, we today notified our clients that we will soon be suspending trading for USDT, DAI, WBTC, WETH, and WAXL." [24]
Ventures
Kraken Funding
| Funding Round | Date | Amount Raised | Investors |
| --- | --- | --- | --- |
| Late Venture Capital[VC] | February 2022 | | - Investbridge Capital- Andra Capital- Venture Garage- SBX Capital- Raison Asset Management- Skyvision Capital- 2bgc- Crosesell |
| Growth Equity VC | April 2021 | | RIT Capital Partners |
| Series C | February 2019 | $100 M | - Hummingbird Ventures- Digital Currency Group (formerly Bitcoin Opportunity Fund) |
| Series A | March 2014 | $5 M | - Pamir Gelenbe- Meni Rosenfeld- Jimmy Furland- Trace Mayer- Kevin Bombino- Trammell Ventures |
| Series A | March 2012 | $5 M | |
| Seed | June 2011 | $1.5 M | - Jesse Powell- Blockchain Capital- Roger Ver |
| | | | |
A total of $112 M was raised from all the funding rounds.[20]
Kraken Investments
| Funding Round | Date | Amount Raised | Organizations |
| --- | --- | --- | --- |
| Initial Coin Offering | July 12, 2022 | $100 M | Gnosis |
| Series D | December 15, 2021 | $350 M | Anchorage Digital |
| Venture | November 18, 2021 | $4 M | Blockchain Association |
| Series A | October 8, 2021 | $19 M | Chingari |
| Series B | September 21, 2021 | $155 M | Blockdaemon |
| Series A | September 9, 2021 | $8 M | Rocket Dollar |
| Series A | August 5, 2021 | $21 M | Messari |
| Series A | July 28, 2021 | $64 M | Prime Trust |
| Series B | August 3, 2020 | $3 M | Wyre |
| Grant | June 25, 2020 | $150 K | BTCPay Server |
Acquisitions
Kraken has acquired the following companies:[3][4]
Staked us
Bit Trade
Circle Trade
Picks & Shovels
CryptoFinance.ai
CryptoFacilities
Cryptowatch
Glidera
CleverCoin
Coinsetter
See something wrong?
Report to us.
Kraken
Did you find this article interesting?