Tether (USDT)
Tether (USDT) is a blockchain-based stablecoin pegged 1:1 to the U.S. dollar and backed 100% by actual assets in the Tether platform's reserve account. Tether Limited is owned by Hong Kong-based company iFinex, which also owns Bitfinex.[1][2][3]
In July 2014, Tether was launched as RealCoin then later rebranded as Tether in November 2014 and went public in February 2015. Tether, which was initially built on the Bitcoin blockchain using the Omni platform is now supported on multi-chains including the Ethereum, TRON, EOS, Algorand, Solana, OMG Network, Polkadot, and Polygon blockchains.[4]

In April 2022, Tether's USDT accounted for two-thirds of exchanges out of Bitcoin by value.[8] As of November 2022, Tether is the largest stablecoin and third-largest cryptocurrency by Market cap after Bitcoin and Ethereum.[5]
Overview
Tether was issued on the Bitcoin blockchain through the Omni Layer Protocol. Each unit of Tether is said to be backed by actual assets in the Tether Limited reserve and may be redeemed via its platform. The primary objective is to facilitate transactions between cryptocurrency exchanges with a rate fixed to the United States dollar allowing traders to take advantage of high-speed arbitrage opportunities without resorting to slow bank wires.[6]

Tether is the first stablecoin to be created and the most popular stablecoin used in the cryptocurrency ecosystem. Tether tokens are issued by Tether Limited. Tether converts cash into its own cryptocurrency - 'tether' or attaches the value of a coin to the price of fiat currencies such as the US dollar, Euro, and Yen. The ideal situation would be one in which the conversion rate is always 1 tether USDT = 1 USD (i.e., tether trades at $1 on all markets) and that it can be used in place of a dollar.[7]
According to Tether Limited, the tether is fully reserved i.e the total number of tethers in circulation is less than or equal to the remaining balance of fiat currency in its reserve. Exchanges have been the primary users of USDT as an alternative to fiat currencies, which minimizes or completely eliminates the need to maintain external banking relations. Some of the notable exchanges that utilize Tether include Bitfinex, Binance, Coinbase, Kraken, Huobi, Poloniex, Liquid.io, and OKX.[7]
History
Early Beginnings (2014-2015)
Tether, known initially as Realcoin, was founded in July 2014 by Brock Pierce, Reeve Collins, and Craig Sellars. Through the Omni platform, it was developed as a second-layer cryptocurrency token created on top of the Bitcoin blockchain. It was later rebranded to USTether and then to USDT in Q4 2014.[9]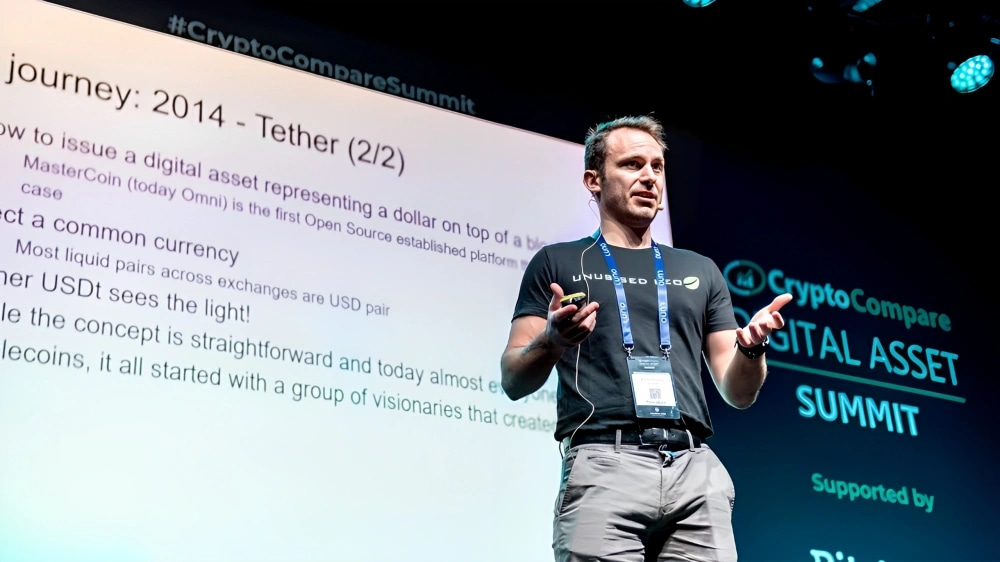 Tether was created as an attempt to solve two major issues with existing cryptocurrencies: high volatility and convertibility between fiat currencies and cryptocurrencies. Tether developed a
cryptocurrency
that is fully backed 1:1 by bank deposits of U.S. dollars in order to overcome these alleged difficulties. While Tether used the Omni layer to represent USDT tokens on Bitcoin,
ERC-20
tokens were used to represent USDT tokens on
Ethereum
. While the tokens themselves operated in a decentralized network, Hong Kong-based Tether Ltd was solely responsible for creating and redeeming tokens as well as maintaining the 1:1 deposit backing.
[9]
Further Development (2016-2023)
In November 2018, Tether announced Deltec as its new banking partner to quell rumors about its solvency raised by the associated crypto exchange, Bitfinex.[10]
In March 2019, Tether updated its disclosure statement and stated that its tokens are no longer fully backed by deposits in U.S. dollars. Instead, Tether is now fully backed by reserves, which include conventional currency, cash equivalents, and occasionally other assets and receivables from loans that Tether has given to third parties, including perhaps connected organizations.[11]
Tether Enters the Latin American Market
In May 2022, Tether announced the launch of MXNT, a new stablecoin backed by the Mexican peso. Following earlier launches of its USDT, EURT, and CNHT stablecoins, tied to the U.S. dollar, euro, and Chinese yuan respectively, the move signified its entrance into the Latin American market. At first, MXNT will be accessible on the Ethereum, Polygon, and TRON blockchains.[12]
According to the firm's CTO, Paolo Ardoino[24], the decision to enter Latin America was motivated by the region's rising Bitcoin adoption. Notably, a study by bitcoin payments firm Triple A found that 40% of Mexican businesses were interested in implementing cryptocurrencies in some capacity, with 71% of those in the segment concentrating especially on doing so.[12]
Tether named Mexico a "prime location" for the next Latin American crypto hub. In order to assess the viability of future fiat-pegged currencies in the region, the launch of MXNT is said to be used to onboard as many new users as possible inside the Latin American market.[12]

In May 2022, Tether's price momentarily dropped to $0.96 as a result of the depreciation of a different stablecoin, TerraUSD (UST), issued by an entity unrelated to Tether or BitFinex. Tether stated it was continuing to satisfy redemption requests that surpassed 2 billion tokens on May 12 at a ratio of 1 token to 1 U.S. dollar. The price of Tether tokens rapidly recovered to more than $0.99.[13]
Integrations
On May 27, 2022, Tether Operations Limited announced the launch of Tether tokens(USD₮) on Polygon, a leading blockchain development platform. The addition of Tether to the Polygon ecosystem offers a new stablecoin option for more than 8,000 teams building on Polygon.[14]
On June 9, 2022, Tether Operations Limited announced the launch of Tether tokens(USD₮) on Tezos, a pioneering upgradable Proof-of-Stake blockchain. The addition of USD₮ to Tezos demonstrates its growing momentum as a thriving Proof-of-Stake blockchain of choice for brands and projects looking to build the Web3 revolution.[15]
On September 12, 2022, Tether launched Tether tokens pegged to the U.S. dollar on the NEAR Network, a smart contract blockchain designed to provide the ideal environment for DApps which is enabled by its unique scaling solution.[16]
On September 23, 2022, Tether announced the launch of Tether tokens(USD₮) on Polkadot, a decentralized, open-source blockchain platform. The addition of Tether to the Polkadot ecosystem will aid to increase its presence in decentralized ecosystems.[17]
On October 20, 2022, Tether Operations Limited announced SmartPay's launch plans of tether tokens (USD₮) in over 24,000 ATMs across Brazil.[18]
On December 26, 2022, Tether Operations Limited announced the addition of its offshore Chinese Yuan (CNH₮) to the Tron blockchain. At launch, Bitfinex will be the first exchange to enable its users to deposit and withdraw CNH₮ using the Tron blockchain transport layer from the platform. [29]
On January 9, 2023, Tether announced that Tether Gold (XAU₮) will be listed on ICRYPEX[30], one of Turkey's leading cryptocurrency trading platforms. With this listing, ICRYPEX users can buy and sell XAU₮, a crypto asset that represents ownership of physical gold held in a vault in Switzerland. [31]
Pear Credit
On October 28, 2022, Pear Credit — a peer-to-peer credit system that allows issuers to create peer-to-peer credit "tokens" was announced. Pear Credit was founded by Tether, Holepunch[34], and Synonym. It is a peer-to-peer protocol that gives credit issuers a faster, cheaper, and more scalable token format, without relying on blockchains or any global shared-state networks. [28]
"We think Pear Credit represents an easy-to-use, scalable module and flexible solution for all the companies in the world that issue credit; gift cards, rewards tokens, travel miles and stablecoins are all possible.," said Paolo Ardoino, CTO of Tether.
Tether x INHOPE
On January 26, 2023, Tether Operations Limited announced that they will collaborate with INHOPE[32], the leading global network combatting online Child Sexual Abuse Material (CSAM). Tether will work with INHOPE[32] to share information, facilitate conversations between stakeholders, and take action to drive bad actors out of the crypto ecosystem. Tether is the first cryptocurrency to take a stand with INHOPE[32] against CSAM. [33]
"Working alongside law enforcement, financial intelligence units, lawmakers and standard-setting bodies worldwide, Tether is committed to being a positive force in the crypto space by highlighting the risks of child exploitation and to help organise sensible risk mitigating controls in the cryptocurrency industry. We are especially interested in improving the ability of cryptocurrency businesses to identify transfers related to online CSAM marketplaces and report them to the authorities." - said Paolo Ardoino, CTO at Tether.
Regulation
In April 2019, the New York Attorney General's office alleged Bitfinex, who shares the same parent company as Tether of using Tether's reserves to cover up for its $850 million in losses connected to the controversial third-party payment processor known as Crypto Capital. Stuart Hoegner, general counsel for Bitfinex and Tether, filed an affidavit some days later after the NYAG's lawsuit stating that Tether was only backed by 74% cash and equivalents and the other portion was equity in iFinex.[19]
In May 2019, Bitfinex and Tether CTO, Paulo Ardoino announced Bitfinex had successfully raised $1 billion in a token sale, which proceeds were used to cover the $850 million in potentially lost funds from Crypto Capital.[19]

Legal status
According to the platform's documentation, Tether is not a legal tender currency or a financial instrument. The ownership of Tether has no contractual rights, other legal claims, or guarantees against losses.
Tether Limited is not a bank and is not required to, and does not, hold its reserves at the Federal Reserve. Tether tokens are not legal tender currency and are not covered by deposit insurance.[20]
Tether Governance
Tether Limited is the sole entity capable of altering the circulating supply of USDT tokens. When users deposit fiat money into accounts run by Tether Limited, Tether issues tokens, and when users exchange tokens for deposits of fiat money in Tether banks, Tether destroys tokens.
Tether uses a proof-of-reserves approach to demonstrate that reserves are present and the system is financially sound. The system is fully collateralized when the quantity of USDT in circulation equals the amount of money held in accounts managed by Tether Limited. To ensure openness and demonstrate its financial stability, Tether Limited has guaranteed to provide audits of its bank balances on its website.[11]
Other Stablecoins
Other Tether-issued stablecoins are:
Tether gold (AUXT)[27]: pegged to gold's price
Tether euro (EURT): pegged to the common currency of the European Union
Tether peso (MXNT): pegged to the Mexican peso
Tether yuan (CNHT): pegged to the offshore Chinese yuan
Team
JL van der Velde - Chief Executive Officer[21]
Giancarlo Devasini - Chief Financial Officer[22]
Stuart Hoegner - General Counsel[23]
Paolo Ardoino - Chief Technology Officer[24]
Leonardo Real - Chief Compliance Officer[25]
Claudia Lagorio - Chief Operating Officer[26]
See something wrong?
Report to us.
Tether (USDT)
Did you find this article interesting?