1INCH
1inch.exchange (1INCH) is a decentralized exchange (DEX) aggregator that sources liquidity from various exchanges and is capable of splitting a single trade transaction across multiple DEXs[3][4][5][1].
In December 2020, a month after the successful launch of 1inch v2, the 1inch team announced the closure of a $12 million funding round from institutional investors, including Pantera Capital, ParaFi Capital, and Nima Capital[21][22][23].
Trivia
The 1INCH Foundation announced its first airdrop on December 25, 2020.
A second airdrop was announced on February 12, 2021.
1inch was founded by Sergej Kunz and Anton Bukov over the course of the ETHNewYork hackathon in 2019. The two had earlier met during a live stream of Kunz's YouTube channel (CryptoManiacs), and began entering hackathons together, winning a prize at a hackathon in Singapore as well as two major awards from ETHGlobal.
1INCH Airdrops
The 1INCH Foundation announced the first airdrop on December 25th, 2020. The second one was announced on February 12, 2021[22].
The February airdrop provided another distribution under the same conditions as the December airdrop, to ensure that users who have not yet received their tokens could have a second chance of collecting them.
The February airdrop also distributed 6 million 1INCH tokens to some Uniswap traders.
History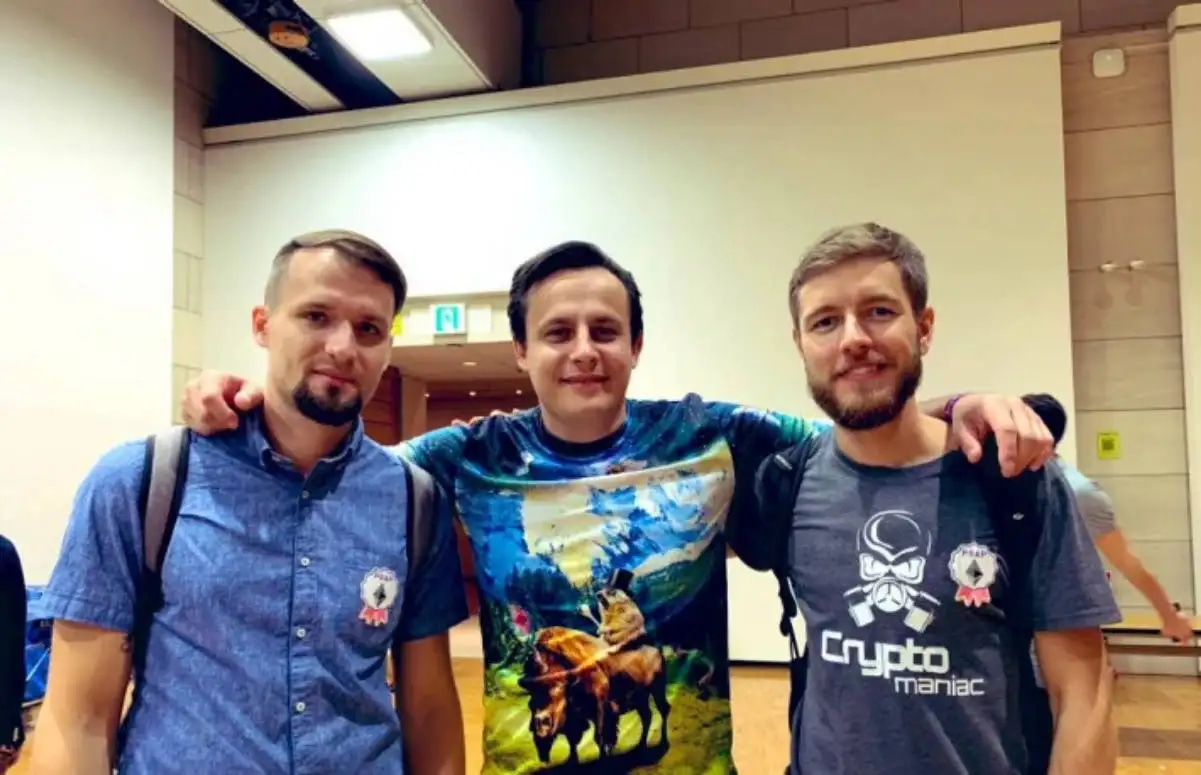 Left to right: 1inch CTO Anton Bukov, CEO Sergej Kunz and smart contract developer Mikhail Melnik.
The 1inch.exchange was founded by two Russian developers, Sergej Kunz and Anton Bukov, who came together to audit smart contracts. Before establishing the DEX aggregator, the two developers partook in and won various bounties at hackathons for MakerDAO, Set Protocol,
and Kyber Network. The scheme for 1inch was developed just weeks before the ETHNewYork convention, while the two co-founders were playing around with arbitrage bots. The project was then expanded during the hackathon event, creating the first iteration of the exchange: a minimum viable product (MVP) that aggregated Kyber Network, Bancor Network, and Uniswap liquidity.
The name of the project, 1inch, was inspired by Bruce Lee's legendary "1inch punch", an epitome of efficiency in martial arts, and aims to symbolize the project's efficiency in the crypto industry.
At the end of July 2020, 1inch reached $1billion in total trading volume[10].
Linch v2
On November 5, 2020, the 1inch team unveiled 1inch's version 2, having the following features:
Pathfinder: The main component of the release is Pathfinder, an API containing a new discovery and routing algorithm, which finds the best possible paths for a token swap in the shortest possible time. In addition to splitting a swap across multiple supported liquidity protocols, the new Pathfinder algorithm utilizes multiple 'market depths' within the same protocol.
UI improvements: Working on the new user interface, the team took into account suggestions from users and aimed to make the UI as intuitive and user-friendly, as possible. The team also added a table showing a user's return value in USD. Previously, the platform showed how many coins a user gets and the size of the gas fee. Now, the user sees an entire value of their deal in USD.
Speed: compare quote response time was reduced from 6 sec to 0.4 sec; the page load time was reduced from 5 sec to 1 sec; API quote response time was reduced from 5 sec to 0.4 sec.
Versatility: 1inch v2 supports all major protocols: Uniswap V1, Uniswap V2, WETH, Balancer, Curve, Chai, SushiSwap, Kyber, Oasis, Mooniswap, Compound, Aave, yEarn, Bancor, PMM, Cream Swap, Swerve, BlackholeSwap, Value Liquid, DODO, Shell.
Collateral tokens: Thanks to Pathfinder, users are able to pack, unpack and migrate collateral tokens from lending protocols Aave and Compound, as part of the swap path.
Partial and dynamic fill mechanism: When a user makes a swap on 1inch using splits or various routes, 1inch makes sure that the swap is done at the rate the user was offered in the UI. If the rate on one of the protocols has changed, one part of the route can be easily cancelled. Instead of a failed transaction, the user's unswapped coins return to their wallet. The dynamic component comes into play to allow parts of the swap to immediately switch to another protocol in the split or path. For instance, a swap is split between Uniswap, SushiSwap and Balancer. If the Uniswap swap has failed, the entire swap will switch to Sushiswap and Balancer. This allows the swap to still execute within the bounds of the user's acceptable rate.
Swap overhead optimizations: Version 2 reduces aggregation overhead gas costs to almost zero for direct swaps, e.g. on Uniswap. Complex (multi-path) swaps are also optimized to minimize gas costs.
Maximum return and lowest gas: Among Pathfinder's new features are also the 'Maximum return' and the 'Lowest gas' options. If a user chooses the former option, complex routes are used for the swap to make sure that the user gets the best rates. In the 'Lowest gas' option, swaps are done at market rates, without splits across different exchanges or complex routes, which enables the user to pay the lowest possible gas fee.
1inch v2 smart contract passed 5 security audits: CertiK, Hacken, Scott Bigelow, Mix Bytes, and Chainsulting. The team is waiting to receive completed audits from OpenZeppelin, ConsenSys diligence, SlowMist, Haechi Labs, and Coinfabrik soon[11].
Integrations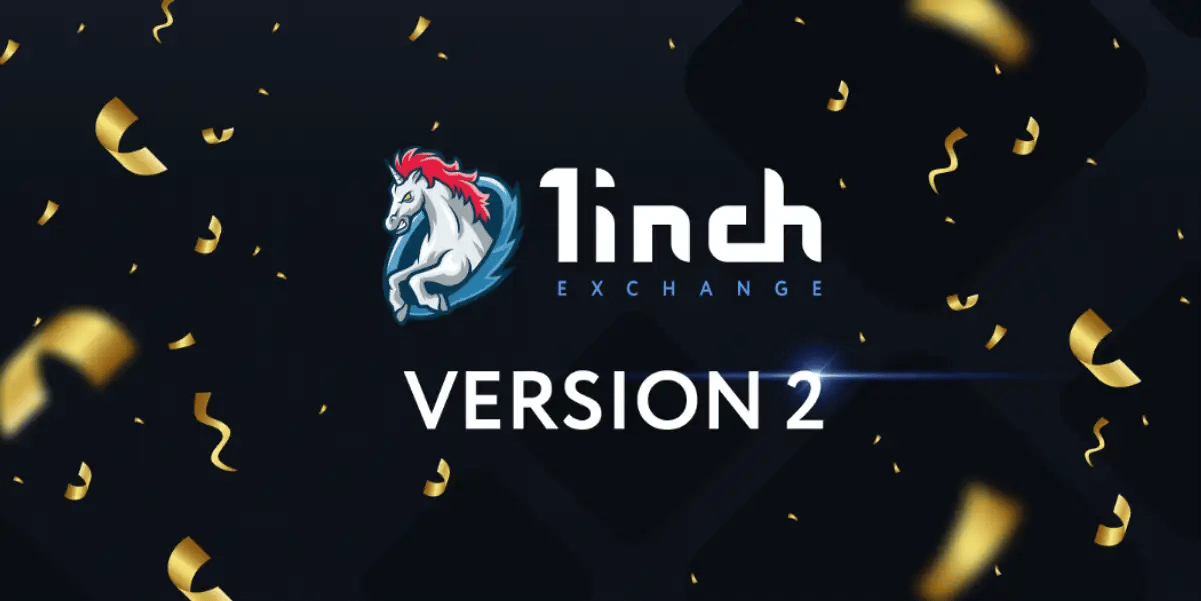 1inch V2 launched in November 2020
In April 2020, 1inch added native integration with Curve's sUSD exchange liquidity pool and Synthetix staking. Users who provide liquidity to the Curve pool, collect an annual percentage rate (APR). In addition, they receive Curve Pool Tokens, which can be staked in the Synthetix staking pool to collect an extra reward in Synthetix Network Tokens (SNX) given away by that pool. Each week, Synthetix distributes 64,000 SNX. The Curve sUSD pool became available on 1inch as a native tool, so users don't have to go first to Curve's website and then to that of Synthetix. All operations such as providing liquidity to Curve and staking sUSD on Synthetix can be done within 1inch.exchange unified interface.
In May 2020, 1inch added support for Compound cUSDT token in protocol and dApp. The main idea behind cUSDT is that a user provides liquidity to the platform in Tether (USDT) and collects an interest income. With the cUSDT integration, it is possible to do swaps between any ERC20 tokens and cUSDT with the low price slippage.
In May, 1inch integrated Uniswap V2 protocol. In the UI, users can see a list of all Uniswap V2 liquidity pools for selected tokens, including the pool's capitalization and annual percentage rate (APR). Funds provided by users to any Uniswap pool are used for token swaps, and for each swap, a transaction fee is charged. The collected fees are distributed between all users who have provided liquidity to the pool in the form of interest, depending on their share of liquidity provided to the pool.
In September 2020, 1inch partnered with TRON for JustSwap and Mooniswap integration. Under the partnership deal, 1inch fully integrated with JustSwap, TRON's decentralized trading protocol for automated liquidity provision, and 1inch's AMM, Mooniswap, integrated into TRON's blockchain. Liquidity providers on the TRON blockchain benefit from Mooniswap's "virtual balances", which slow down price changes, preventing arbitrage traders from earning up to 100% of the swap slippages and therefore increasing liquidity providers' earnings. TRON also rewards liquidity providers on Mooniswap with TRON tokens as an additional incentive and reward.
In September, 1inch announced a partnership with xBTC, Social Capital's first token. As part of the partnership, xBTC was supposed to have an exclusive IMO (Initial Mooniswap Offering). Sergej Kunz, 1inch co-founder and CEO, said:
"IMOs on 1inch are more attractive for token issuers than other platforms because we provide protection from so-called front running. In turn, 1inch liquidity providers will benefit from the xBTC IMO as there will be substantial trade volumes at the initial stage and they'll be able to collect significant interest."
In September, 1inch announced cooperation with cybersecurity firm Hacken. To add an extra layer of protection for users, 1 inch decided to collaborate with Hacken in several areas, including auditing code, APIs, and infrastructure.
In November 2020, 1inch announced an integration with MyEtherWallet, a wallet and client interface for interaction with the Ethereum blockchain. 1inch swaps became available directly in MEW users' wallets. Kosala Hemachandra, MyEtherWallet's founder and CEO, said:
"1inch has built a DEX aggregator that embodies some of the best aspects of decentralization. Working with them to make their platform more accessible to MEW users was an easy decision for us. DeFi is still in an experimental stage, and companies like 1inch are paving the way for greater adoption."
In August 2023, 1inch announced an integration with the Coinbase incubated Ethereum layer-2 network Base. The Base mainnet was launched to the general public on August 9. Since then, the number of the network's daily active users has surpassed 100,000. Meanwhile, the number of daily transactions has been approaching those on the most popular Optimistic Rollup scaling solutions, Optimism and Arbitrum.
The protocol will draw liquidity from decentralized exchanges such as Uniswap, Balancer, SushiSwap and Base Swap to optimize user swap rates. Additionally, the limit order protocol will enable Base users to trade at desired prices, executing only when the market price matches their set value.
Co-founder of 1inch Sergej Kunz said:
"Base is a very promising L2 solution, plus it's incubated by such a major player as Coinbase. In addition, we totally share Base's philosophy aimed at bringing the next billion users to blockchain."
Chi Gastoken
In June 2020, the 1inch team launched Chi, a gastoken that allows users to save on gas. The Chi Gastoken is an ERC20-standard token that is meant to be used on the 1inch.exchange to pay transaction costs. Chi is pegged to the Ethereum network's gas price. When the gas price is low, the Chi price is also low, and the opposite. Just like gastoken, Chi is tokenized gas on the Ethereum network. The only difference is that Chi is used on 1inch and Curve, while gastoken is used across the entire Ethereum network[8][9].
Minting Chi saves users 1% in comparison with minting gastoken (GST2). The burning of Chi saves users 10%, compared with GST2. In all other respects, Chi and GST2 are similar.
To get a discount on a transaction, the gas fee at the time of burning has to be twice as much as what it was at the time of minting. E.g., a user mints Chi at 20 and burns Chi when the gas price is >40. A user can mint Chi directly on Etherscan or on 1inch.exchange. It is also possible to swap coins for Chi on 1inch through the Uniswap liquidity pool.
Mooniswap
In August 2020, the 1inch team released their Automated Market Maker (AMM), Mooniswap, which redistributes earnings to liquidity pools, capitalizes on user slippages, and protects traders from front-running attacks. Mooniswap is capable of keeping most of the slippage revenue in the pool by maintaining virtual balances for different swap directions. When a swap happens, a market maker does not automatically apply the invariant algorithm and displays the new prices for upcoming trades. The AMM improves exchange rates for arbitrage traders slowly, over approximately a 5-minute time period. As a result, they are able to collect only a portion of slippage, while the rest remain in the pool shared among liquidity providers[11].
Swap and Referral Fees
Mooniswap initially utilizes 0.3% Swap Fee which can be lowered to 0% in the future as a way to provide more competitive prices to the market.
Mooniswap introduces Referral Fee to incentivize integrations with wallets and other services that increase trading volume and additional income for liquidity providers. Referral Fee is only charged when the referral wallet is specified in transaction arguments. Referral Fee is fixed and is equal to 5% of income earned by liquidity providers on the trade. So the initial 0.3% swap fee will be split into 0.015% going to referral and 0.285% going to liquidity providers. Additional profits generated by virtual balances are also split in the same ratio with 5% going to referral. Referral Fee does not introduce additional pressure on the price and rewards external actors who contribute to the protocol by providing trading volume.
Apart from Swap Fee and Referral Fee, Mooniswap does not charge any additional protocol fees.
VWAP Oracles
Mooniswap also introduced on-chain volume-weighted average price oracles. Price oracle data is stored as a cumulative sum of all trade inputs and outputs in both directions and it is updated after every transaction. By choosing different periods oracle users can configure the required level of price recency and manipulation resistance.
1INCH Token
In August 2020, the 1inch team announced the liquidity mining and 1INCH token release. The 1inch token is not for sale to users. It is a reward for using 1inch products. The tokenomics has not yet been disclosed[13].
The 1INCH token is a utility token that serves several network needs:
to ensure a permissionless fashion of interaction with the protocols
to secure funds for further ecosystem development
to incentivize participation in potential governance of specific network functionalities
to stake for the network security.
Distribution
A max vesting time of 1INCH distribution is four years. Over the course of this time, the distribution mechanism will be the following:
30% for the security of the network and maintenance of its functionality with a 4-year vesting
22.5% for the 1inch core team and future employees with a 4-year vesting
21% for ecosystem growth (yield farming, community building, research, etc.) with a 4-year vesting
19.5% to investors and shareholders with a 2,5-year vesting
5% to advisors with a 4-year vesting
2% to early Mooniswap liquidity providers with 1-year vesting.
The initial (circulating) supply of 1INCH tokens (16%) will be allocated to the security of the network, maintenance of its functionality, marketing, and community development.
Liquidity Mining on Mooniswap
1inch and Mooniswap protocols allow anybody to create next-generation AMM pools or add liquidity to existing ones. In August 2020, 1inch proposed and implemented the concept of security via the 1inch network token, 1INCH, which is distributed among liquidity providers in the amount of 2% from the total supply of 1INCH. 1inch network tokens that are allocated to early liquidity providers to Mooniswap pools will be distributed via vouchers retrospectively. A voucher entitles a user to receive a 1INCH token through vesting (a gradual unlock every second). Each voucher will be sent to a liquidity provider's Ethereum address with the portion of 1INCH tokens attached to it. A liquidity provider can exchange their unlocked voucher tokens on 1inch.exchange in the tab "swap" to any crypto-asset. Each voucher is valid for one year and a half only and has to be exchanged before the expiration date.
In November 2020, having received extensive feedback from the 1inch community, the team unveiled the second stage of the liquidity mining program, aimed at further incentivizing early providers of liquidity to four selected Mooniswap pools. Under stage 2, 1inch will distribute an additional 1% of the 1INCH token supply among users upon the issue of the token. Rewards will apply to liquidity providers to the following pools: ETH - WBTC, ETH - USDC, ETH - DAI, and ETH - USDT. The launch of the liquidity mining program's second stage will have no impact on the first stage, launched back in August. Users are still entitled to awards under stage 1. Those awards have been active since Mooniswap's launch on August 10, 2020, and are 2% of the 1INCH total token supply for providing liquidity to 40 pools.
Funding
In August 2020, the 1inch team closed the first investment round, in which they raised $2.8 million from top institutional investors, including Binance Labs, which led the funding round, as well as Galaxy Digital, Greenfield One, Libertus Capital, Dragonfly Capital Partners, FTX, IOSG, LAUNCHub Ventures, Divergence Ventures, Loi Luu, the Founder of Kyber Network, and Illia Polosukhin, the Co-Founder of NEAR Protocol[20].
In December 2020, the 1inch team announced a successful closure of a $12 million funding round from institutional investors, including Pantera Capital, ParaFi Capital, and Nima Capital. These funds will be used to further develop a variety of 1inch products, hire additional team members, fuel the project's expansion into new markets, and amplify marketing activities. The full list of investors in this round includes Pantera Capital, ParaFi Capital, Nima Capital, LAUNCHub Ventures, Spark Capital, gumi Cryptos, Fabriс Ventures, Struck Capital, Rockaway Blockchain Fund, Spartan Group, Blockchain Capital, as well as Josh Hannah, Kain Warwick, and Alexander Pack.
See also
See something wrong?
Report to us.
1INCH
Did you find this article interesting?