Cronos (CRO)
Cronos (CRO) is the cryptocurrency native to Crypto.com's decentralized, open-source blockchain - Cronos Chain. Holders of the CRO token are able to earn rewards through staking as well as receive benefits that are applicable when using any of Crypto.com's services. [1]
Cronos Chain
Cronos Chain's mainnet beta was launched on November 8th 2021. It is built on the Cosmos SDK and is also compatible with both the Ethereum Virtual Machine(EVM) and Inter-Blockchain Communication(IBC) Protocol. This allows users to import cryptocurrencies from both networks as well as DApps to be easily integrated to the ecosystem. Cronos Chain was made to have fast transaction speeds and high cost-effectiveness and utilizes Proof-of-Authority(PoA) to increase scalability.[1][2]
Utility
CRO is central to all of Crypto.com's platforms and is used in the payment, trading and financial services offered by Crypto.com. [11]
Payments: Crypto.com Pay, Crypto.com VISA Cards, Crypto.org Chain
Trading: Crypto.com Exchange/App
Financial: Crypto.com Earn/Credit/DeFi Swap
Holding or using CRO comes with benefits in terms of rewards or discounts when using any of the services provided by the ecosystem.
Staking
Users are able to get discounts on trading fees when paying with CRO and are also able to receive further benefits when staking their CRO tokens. Depending on how much is staked, users are able to become eligible for different Crypto.com's Visa cards that come with varying rewards, as well as benefit from the Crypto.com Pay platform.[14]

These rewards are paid on a weekly basis.
To stake CRO, the user needs to have enough CRO for the desired staking benefit in their wallet on the Crypto.com app. This can be done by purchasing or exchanging CRO from other cryptocurrencies, or allocating the tokens from an external wallet or exchange. CRO can be staked straight to a Crypto.com Visa card. Users are also able to increase their staking amount during the initial 180-day staking period. After the staking period is complete, staked CRO can be restaked to keep the benefits or, unlocked but certain wallet benefits will be lost.[15]
Governance
As a decentralized, open-source protocol, all CRO holders are able create and vote for governance proposals. To create a proposal, users need to: draft a clear overview of the proposal, including information about the team; the solution it provides; its impact on the network; a timeline and metrics for success. There are three types of proposal formats: parameter change, community pool spend, and text. Users are able to get feedback in order to improve their proposal by engaging with other community members on social platforms and revise their proposal before submitting it to the testnet or mainnet. When submitting a proposal, there is an initial deposit of 1000 CRO's to upload the proposal and a total of 10000 CRO must be deposited during the 14 day voting period to keep the proposal open for voting. If the proposal is approved, the deposit will be returned, and the proposal will be implemented into the Cronos ecosystem.[1][9][10][12]
The Cronos ecosystem utilizes the Proof-of-Authority consensus algorithm, which uses 'validators' to double check all transactions made within blocks. In order to make sure that these validators are capable and trustworthy, they have to go through a vetting process.  Once they have been verified, validators collect CRO from transaction fees and also hold Cronos Staking Tokens, which dictates each validator nodes' voting power and in turn helps maintain order and increase functionality of the governance system.[1][9]
History
Crypto.com, co-founded by Kris Marszalek, Rafael Melo, Gary Or, and Bobby Bao was founded under the name "Monaco Technologies GmbH" back in June of 2016, alongside their native token, MCO.
On July 6th 2018 Monaco was rebranded under the name of "Crypto.com". The rebranding was an act to further consolidate and align their vision of increasing the adoption of cryptocurrencies around the world, as explained by CEO, Kris Marszalek.[2][3][7]
"Crypto.com gives us a powerful new identity in line with our original vision to put cryptocurrency in every wallet. We will strive to deliver impact worthy of the name and build infrastructure that enables growth of the ecosystem, delivering on the promise of a decentralized future."
After the rebranding, Crypto.com announced the replacement of MCO with CRO.
From August 3rd 2020 to November 2nd 2020 all MCO token holders were given a window to swap all their MCO tokens for CRO. To speed up the process of transitioning from the MCO token to CRO, Crypto.com offered an early swapping bonus of 20% APR on their exchange and 18% APR for staking CRO on their app. The initial circulating supply of CRO was 100 billion.[13]
On 10th May 2021, Crypto.com announced Particle B(now known as Cronos Labs)'s $100 million fund towards projects that were built on their blockchain to further incentivize developers to expand the whole ecosystem. Partly due to this, the total value locked (TVL) reached over $2 billion, within 3 months of the mainnet going live.[2][6]
The CRO token burn
On February 22nd 2021, Crypto.com announced that 70 billion tokens were to be burned in order to fully decentralize their Cronos Chain.[5]
On the day of the announcement, 59.6 billion tokens were burned and the remaining 10.4 billion tokens were locked into a smart contract, to be unlocked and burned monthly. After the burning of 70 billion tokens, the circulating supply drastically increased, to just over 80% - leaving 5.9 billion CRO. 0.9 billion CRO was given to Particle B for the development of the Cronos Chain ecosystem and the remaining 5 billion CRO was assigned as rewards for Chain validator and delegators.[4]
Token Distribution
Following the mass burn of the CRO tokens, the new total supply of 30 billion tokens will be distributed into 5 different segments:
30% - Secondary distribution and launch incentives to be delivered in daily amounts across 5 years starting from November 14th 2018.
20% - Capital reserve that was frozen until November 7th 2022
20% - Long term incentives for the network, was also frozen until November 7th 2022
20% - Ecosystem grants
10% - Community development
See something wrong?
Report to us.
Cronos (CRO)
Did you find this article interesting?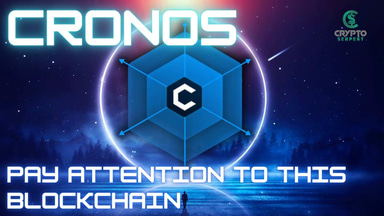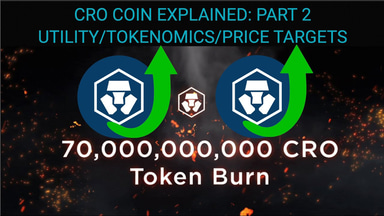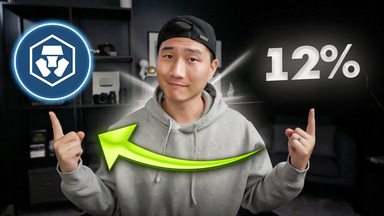 REFERENCES
[1]
Cronos whitepaper
Dec 5, 2022
[2]
Cronos Coinmarketcap profile
Dec 5, 2022
[3]
News on Monaco's rebranding
Dec 5, 2022
[4]
Crypto.com blog on CRO burn
Dec 5, 2022
[5]
CRO token burn announcement on Twitter
Dec 5, 2022
[6]
Particle B $100M fund announcement
Dec 5, 2022
[7]
Cronos Coinbase profile
Dec 5, 2022
[8]
Consensys blog on Cronos
Dec 5, 2022
[9]
Coindesk learn, Proof of authority
Dec 5, 2022
[10]
Finbold, Cronos
Dec 5, 2022
[11]
bit2me Academy on Cronos
Dec 19, 2022
[12]
TheCronicle's guide to Crypto.com's governance
Dec 19, 2022
[13]
Altcoinbuzz news on replacement of MCO
Dec 19, 2022
[14]
Crypto.com VISA cards official website
Dec 19, 2022
[15]
Crypto.com's help page on staking
Dec 19, 2022