CoinGecko
CoinGecko is a cryptocurrency data aggregation and tracking website that provides a 360-degree overview of digital currencies and provides tools for users to analyze the market. In addition to tracking price, volume, and market capitalization, CoinGecko tracks community growth, open-source development, major events, and on-chain metrics.[1][2]
It is considered the world's largest independent cryptocurrency data aggregator with over 13,000+ different crypto assets tracked across more than 500+ exchanges worldwide. CoinGecko aims to empower users by being one of the most reliable sources for neutral, unbiased, and independent cryptocurrency data.[30]
In January 2022, CoinGecko released the 'How to NFT' book. CoinGecko has been mentioned in Forbes, Wall Street Journal (WSJ), CNBC, Decrypt, CoinDesk, Coin Telegraph, and various other major publications.[25][32][37]
As of October 2022, Coingeko had over 200 million + Monthly Page Views, 10 million + Average Monthly Users, 1 million + total App downloads, and 10 billion + monthly API calls.[31]
Timeline
In July 2018, CoinGecko launched its official iOS and Android app. In January 2020, CoinGecko launched its podcast. In August 2021, CoinGecko launched GeckoTerminal for live on-chain price charts. CoinGecko also partnered with Humboldt University of Berlin and Western University, Canada, for cryptocurrency research.
In March 2020, CoinGecko launched its first-ever book called 'How to DeFi'. In the months thereafter, it released more titles such as 'How to Bitcoin'.
In November 2021, CoinGecko hosted its first inaugural conference GeckoCon: NFTs Gone Wild.
In April 2021, CoinGecko launched multiple premium subscription offerings dubbed Premium and Premium Plus.
Throughout 2020 and 2021, CoinGecko made close to a dozen investments in companies such as DefiDollar, Dune Analytics, Sky Mavis (maker of Axie Infinity), ParaSwap, ZenLedger, and many others.
In February 2022, CoinGecko released its newly revamped Mobile App V2. In July 2022, CoinGecko hosted its second virtual conference GeckoCon: The Decentralized Future.[23][24]
Brief History
CoinGecko was founded in 2014 by TM Lee (CEO) and Bobby Ong (COO) with the mission to democratize access to crypto data and empower users with actionable insights.
Through mutual friends, the two first became connected. They met by coincidence in Singapore at the end of 2013, and as a result of that experience, they decided to launch a business together. They both started learning more about blockchains and cryptocurrencies at about the same time and got immediately fascinated by its enormous potential.[33]


While working on Coingecko both founders were still employed running their day-to-day activities. Ong was employed in digital marketing by a Malaysian property developer, while Lee was employed as a software engineer at several tech businesses.
[27]
Sadly, just months before their launch, the leading cryptocurrency exchange at the time, Mt. Gox, filed for bankruptcy after a breach resulted in the loss of 850,000 bitcoins. The price of Bitcoin dropped by more than 70% as a result, resulting in one of the longest bear markets in cryptocurrency history. In those early days, DDoS attacks and unanticipated traffic spikes frequently caused the website to crash, But, Lee and Ong kept working hard and gradually got better while maintaining their jobs.[11]
They were able to bring on their first external hire in January 2018. The team maintained its record-breaking pace of adding new features and products throughout the year. For example, released v1 of its Android and iOS mobile apps.
Over the coming months, CoinGecko continued to refine that system, making it easy and conducive for its users to access.[28][29]
Overview
CoinGecko provides a fundamental analysis of the cryptocurrency market. The platform tracks basic data like community growth, open-source code development, significant events, and on-chain metrics in addition to cryptocurrency price, volume, and Market Capitalization. The goal of CoinGecko is to improve participants' comprehension of the key market dynamics.[34]
Being one of the largest and first cryptocurrency data aggregators, CoinGecko has been tracking over 13,000 cryptocurrencies across 550 exchanges since it was launched in early 2014. Many cryptocurrency investors use CoinGecko as their go-to source for trustworthy information to guide their trading decisions. Additionally, CoinGecko is quite helpful for staying current with the trendiest cryptocurrency trends and new tokens.[35][36]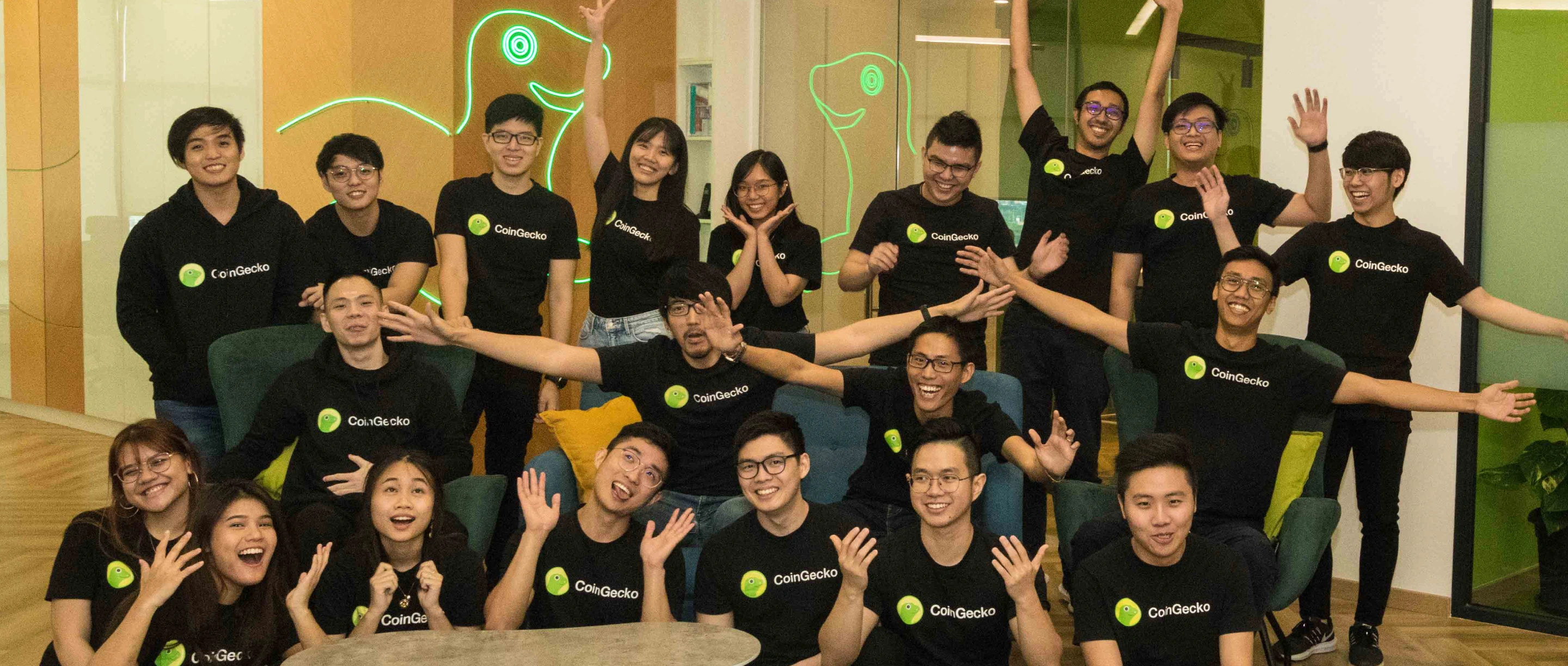 The Team's mission is to empower the crypto community with a 360° overview of the market to help you make better decisions. cryptocurrency ranking is quantitatively and qualitatively evaluated based on public data collected from the internet.
[38]
Coingecko Bot
Coingecko bots update the platform's data based on a variable schedule. They update information whenever possible as scheduled below, subject to rate limits imposed by data providers:
Price, trading volume, market capitalization - Updated every 1 to 10 minutes
Circulating supply - Updated every 5 minutes
Developer, Social, and Alexa Data - updated once per day
Blockchain information (Mining difficulty, total blocks, transactions per second,e tc) - updated every 1 hour.[3]
Features
Here are some features to be explored on coingecko:

Trending Search
This feature allows users to check the latest trending coin on coingecko by simply clicking on the search bar. This also come with the discover coin page which has a full list of various crypto and other information like Most Voted Coin, Positive Sentiments, Recently added, and Most Visited coins.[13]
Crypto Exchanges
Coingecko offers its users over 500+ Crypto Exchange Ranking Data. They can Get Trust Scores, trading volume, trading pair data, and more from Centralized exchanges (CEX), decentralized exchanges (DEX), and derivatives (Futures & Perpetual). It is linked to more than 20 derivative exchanges and 500+ exchanges worldwide, including Binance, Coinbase Pro, FTX, Bitfinex, Uniswap, Pancakeswap, Kraken, Huobi, and Kucoin, among others. Users who have a coin in mind and are looking to buy a particular coin only Markets which will lead to exchange trading pair and then to the exchanges directly.
Coingecko Trust Score
To combat fake volumes, Trust Score was launched in May 2019 to measure liquidity and more for trading pairs. Trust Score is a blended formula that takes into account exchanges' reported trading volume, web traffic, and order book depth. On coingecko the exchanges are ranked based on the trust score Algorithm this helps combat exchanges' wash trading and other manipulative behaviors to inflate their trading volume. The following are what the trust score measures for trading pairs and crypto exchanges :
Reported Trading Volume
Reported Orderbook data
Web traffic statistics by similarWeb
Overall trading activity
Exchanges scale of operations
Exchanges API technical coverage
Exchanges Cybersecurity by Hacken
Team Presence
Past Incidents.
On trading pairs, Trust Score represents how liquid a trading pair is, which translates to how likely users will be able to buy and sell an asset at the listed price. It is shown in Green/Yellow/Red colors so that users can easily discern between trading pairs at a glance. On spot cryptocurrency exchanges, Trust Score is calculated individually based on the overall Liquidity, Scale of Operations, and, API Coverage, and is displayed on a scale of 1 - 10 on coingecko's exchanges page.[8][9]
Coingecko Candy
Coingecko Candy is the platform's loyalty coin system that rewards users when using coingecko. Users can sign up or log in to collect daily candy bonuses. Redeem candies for exclusive rewards like discounts, books, NFTs, Premium subscriptions, and more.[14]
Currency Converter and Price Alerts
Users can easily convert crypto prices across over 25 fiat currencies and 12+ cryptocurrencies. Fiat support includes USD, GBP, EUR, AUD, JPY, CHF, CNY, INR, HKD, SGD, MYR, RUB, and PH. With Crypto support including BTC, ETH, LTC, BCH, BNB, EOS, XRP, XLM, LINK, DOT, and YFI.[15]
Coingecko also has a built-in price Alert system that notifies users of the prices of different cryptos, it also has a feature for large mover price alerts. This is made possible so users don't need to get worried about missing out on price actions for their favorite crypto.[16]
Coingecko crypto News
The CoinGecko News section is an easy way to keep up-to-date, not only with crypto prices but with the crypto industry news too! CoinGecko offers an aggregated news feed of blog posts from top blockchain and cryptocurrency publishing outlets. These include CoinTelegraph, CoinDesk, Blockchain News, Crypto Potato, AMBCrypto, and many more.
Products
GeckoTerminal
GeckoTerminal is a tracking platform making possible to check out pools and prices of coins listed on multiple exchanges and protocols. The team developed a charting application that supports over 20 EVM chains and over 100 AMMs (Automated Market Makers). CoinGecko has no advertisements on its website, and the website never promotes tokens.[6][7]
CoinGecko Premium
In May 2021, the team behind CoinGecko introduced the CoinGecko Premium subscription plan. As a CoinGecko premium user, one can have an ad-free experience on all CoinGecko platforms. This includes the web, mobile app, and even the newsletter. Other exclusive perks:
access to exclusive research articles prepared by CoinGecko analysts published every week
receiving newsletter twice a week
weekly roundup summaries
access to selected publications, including the How to Defi book series, How to NFT book, and more
private chat group with CoinGecko's research analysts
NFT-owners Telegram chat
early access to new features whenever they are released.[9]
On top of that, a user can claim an exclusive CoinGecko Genesis Premium NFT, which allows participating in the quarterly CoinGecko Premium Lucky Draw.[8]
CoinGecko App

The Coingecko App is a comprehensive and powerful tool for users to get updated on all things crypto, ranging from market insights, unbiased crypto data, news, and more.
CoinGecko's official mobile app was launched in 2018. The app is available on iOS and Android and offers a way to track the profitability of users' trades on the go. It also allows keeping the whole crypto market data in one place in a very easy form. The App helps track live prices and profit & losses of its user trades for over 13,000+ cryptocurrencies tracked across 500+ exchanges and also customizes it further with over 50+ supported currency options.[10]
Crypto Portfolio
This allows users to track all their Crypto holdings using the Coingecko Portfolio. This is available both on Desktop and Mobile devices making it easier for holders to track their portfolio on the go. The Portfolio is synced across the web and app so users never miss a move. They can Create multiple portfolios to suit different needs. By creating multiple Portfolios users can Cover all strategies, be it conservative, risky, long-term HODL, Defi, low-cap gems, high-risk positions, and more.[20][21]
Crypto API

Developers can leverage the powerful CoinGecko data market APIs to not only improve their current apps and services but also to create cutting-edge crypto market apps. Users can utilize CoinGecko's independently sourced cryptocurrency data to power their applications, including current prices, trading volume, exchange volumes, trading pairs, historical data, contract address data, crypto categories, crypto derivatives, photos, and more.[18]
Crypto Widget
Users can explore a variety of crypto widgets to track real-time prices for any cryptocurrency.
Coingecko allows users to create a variety of cryptocurrency widget designs, including a gorgeous cryptocurrency price ticker that can be displayed as a fixed header or footer, a coins Table, price labels, simple crypto-list widgets, and multi-currency tabs widgets.
These virtual coin widgets can also be colored to match the aesthetic of their website.[19]
GeckoCon
2021 (NFTs Gone Wild)
The GeckoCon 2021 was a 3-day virtual conference that took place on the 17 – 19 November 2021, featuring over 200+ speakers, and 50+ sessions with over $100,000 worth of prizes. The inaugural GeckoCon – NFTs Gone Wild brings together key minds, and voices of the NFT space to enlighten enthusiasts on the now and future of all things and non-fungible. 
The 3-day virtual conference will cover a kaleidoscope of NFT themes ranging from art, music, collectibles, gaming, sports, monetization, and more.[22]
2022 (The Advent of Web3)
GeckoCon 2021 tagged the Advent of Web3 was a 2-day event that took place on the 14 & 15 July 2022. The event was made to give individuals an idea of how Web3 will empower the Decentralized Future. The event featured over 120+ speakers, 40+ sessions lots of activities, and over $30,000 worth of prizes.[23]
Coingecko Store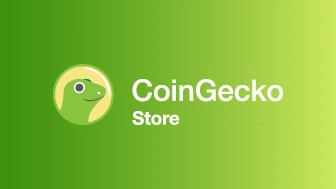 The store features merchandise such as notebooks, t-shirts, lanyards, and even limited-edition masks. Here users can also purchase the online 'How to DeFi' book, ''How To Bitcoin'' and How to NFT Products.
Users can choose to spend their candies on the ultimate CoinGecko Swag Pack for 6000 candies. Or, users can spend just 800 candies to receive a $10 discount on the CoinGecko Swag Store Products.
[26]
Partnership
ZenLedger VS CoinGecko
On 2 February 2021, ZenLedger a cryptocurrency tax software and blockchain analytics startup partnered up with Coingecko to provide a discount reward to US-based CoinGecko users for their cryptocurrency accounting and tax preparation. This new reward will help CoinGecko users easily receive tax assistance and accurately complete their cryptocurrency tax reporting.[11]
"Partnering with ZenLedger is a great and novel way for us to offer our users the opportunity to access the platform and understand their taxes better. We're happy to help relieve some of the the headaches that comes with crypto taxes."
Bobby Ong, Co-Founder, and COO of CoinGecko
AMLT Network VS Coingecko
In August 2019, Coingecko partnered with AMLT Network which is powered by Coinfirm, leading blockchain analytics and AML company. to enhance its exchange pages with additional information.[12]
"We are excited to join Coinfirm's AMLT Network and make use of the dataset available to provide a richer browsing experience to our users. We believe that transparency is key in this industry and hope that by using the AMLT Network's and Coinfirm's data, our users will be better able to make judgments on exchanges while also helping provide data to bring even more transparency and security. With this initiative, we hope exchanges will continue improving their practices to ensure a safe trading experience for all users," said Bobby Ong, co-founder of CoinGecko.
Team Members
TM Lee - Co-founder & CEO[4]
Bobby Ong - Co-founder & COO[5]
Chan Zhong Yang - Head of Research
Aimann Faiz - Head of Business Development & Events
Xingyi Ho - Head of Growth
Cedric Chan - Head of Engineering
Sze Jin - Principal Product Manager
Iqbal Ikram - Human Resources Lead
Kristian Kho - Operations Lead
Jack Wong - Software Engineering Lead
Amree Zaid - Software Engineering Lead
Daniel Hum - Software Engineering Lead[39]
The CoinGecko Story
2014
April: CoinGecko launches to provide a 360 overview on the crypto market.
2017
October: CoinGecko launches its quarterly cryptocurrency report.
2018
April: CoinGecko launches its daily newsletter to provide curated crypto news
May: CoinGecko launches its free public API with over 20 endpoints available
July: CoinGecko launches its official iOS and Android app.
2019
May: CoinGecko launches Trust Score to combat fake exchange volume data
October: CoinGecko launches its Derivatives section
2020
Jan: CoinGecko launches its podcast
March: CoinGecko launches world-first Defi book (How to DeFi) and Earn section
June: CoinGecko launches CoinGecko Candy - be rewarded for using CoinGecko!
August: CoinGecko launches Portfolio
September: CoinGecko launches new DeFi page.
2021
February: CoinGecko releases its second book, How To Bitcoin, and Category section
March: CoinGecko releases its Enterprise API
April: CoinGecko launches Premium and Premium+ Subscription and NFT Spotlight
July: CoinGecko releases How to Defi: Advanced
August: CoinGecko launches GeckoTerminal for live on-chain price charts
November: CoinGecko hosts its first inaugural conference GeckoCon: NFTs Gone Wild.
2022
January: CoinGecko releases How to NFT book
February: CoinGecko releases its newly revamped Mobile App V2
May: CoinGecko revamps its Premium Subscription to focus on providing alphas and exclusive research articles
July: CoinGecko hosts its second virtual conference GeckoCon: The Decentralized Future.[24]
See something wrong?
Report to us.
CoinGecko
Did you find this article interesting?