KuCoin
KuCoin is a centralized cryptocurrency exchange operating in more than 200 countries. KuCoin is a full-featured spot trading platform for many digital assets and cryptocurrencies, including Bitcoin, Ethereum, NEO, EOS, Tether, and more. The exchange has its own cryptocurrency, known as KuCoin Shares (KCS). It was founded in 2017 by Michael Gan, Eric Don, Top Lan, Kent Li, John Lee, Jack Zhu, and Linda Lin. [1]

History
Corporate Restructuring
On October 14, 2019, directors of the Singapore-based entity PhoenixFin Pte Limited — the legal entity behind KuCoin and owner of the KuCoin.com domain — resigned. There was no public announcement made about these resignations, but records filed with Singapore's Accounting and Regulatory Authority show that co-founders Michael Gan and Tang Ke, as well as Lian Meng, a representative of financial backers IDG Capital, all resigned as directors of PhoenixFin Pte Limited. Two days later, on October 16, 2019, the KuCoin name and logo trademark was transferred from MEK Global, a Seychelles-based entity that had previously inherited the trademark from PhoenixFin Pte Limited. The trademark was subsequently acquired by another Seychelles-registered entity, FortuneIcon, which shares the exact same physical address as MEK Global. [6]
With the co-founders of KuCoin and PhoenixFin Pte Limited no longer at the company, new directors such as Chinese resident You Au were appointed. On November 20, 2019, the ownership of PhoenixFin Pte Limited was transferred from PhoenixFin Limited, a Cayman-based holding company, to You Au. He had been appointed to the board at the time of the October 14 corporate restructuring, but his prior relation to KuCoin is unclear. He is not mentioned on the exchange's website, in any of its marketing material, in the March 17, 2020 press release, or in the 2017 White Paper describing the exchange. Although Johnny Lyu, the CEO of Phoenix Pte Limited, was appointed CEO of KuCoin Global on March 17, the ultimate owner of KuCoin Global seemed to be You Au. [5]
On March 17, 2020, KuCoin issued a press release from Victoria, the capital city of Seychelles, describing a sweeping corporate restructuring. It announced the establishment of KuGroup, which "consists of three business groups, namely KuCoin Global, KuCloud and the KuChain & KCS Business Group." KuCoin's March 17 announcement came just six days before the U.S.-based law firm Schall announced its investigation into KuCoin and another exchange accused of "false and misleading statements to account holders" in a pending class action. The exchange is also the subject of a separate class action filed by Chase Williams in the United States District Court for the Southern District of New York regarding the selling of unregistered securities. [5]
Singapore Court Restrictions
In April 2020, Cointelegraph reported that KuCoin.com, the primary web domain of the KuCoin exchange, was locked since the end of March by order of the High Court of Singapore. The court issued a temporary injunction on March 24 barring KuCoin from moving its assets, including its website, from the country. A March 30 email from domain registrar GoDaddy provided to Cointelegraph showed that GoDaddy was complying with the court order. [4]
'Empty Office' Rumor
In August 2018, the Medium user known as Jackson Wong discovered that the crypto exchange KuCoin had an empty office in Hong Kong. KuCoin responded to an "empty office" claim, asserting that its operational headquarters were in fact in Singapore. The company's response stated:
"In fact, KuCoin's public address in Hong Kong is merely a mailing address of one of KuCoin's many subsidiary companies. KuCoin Headquarters is in Singapore. KuCoin has always been a global firm, with over 300 employees and four major offices in China, the Philippines, Singapore, and Thailand."
The exchange's current geographic situation is not clear. On its website, the company profile states it "operates in Seychelles," a jurisdiction not mentioned in its 2018 blog post. Unlike Binance, Coinbase, and Ripple, KuCoin did not file with the Monetary Authority of Singapore to request a deferral of the requirement to operate without a payments license. Without a license or a deferral, KuCoin cannot legally operate in Singapore. [3]
Hacking Incident
On September 26, 2020, the KuCoin exchange team said in a statement that it detected large withdrawals of Bitcoin, Ethereum, and other ERC-20 tokens to an unknown wallet beginning at 19:05 UTC time on Friday, September 25, 2020. In a live stream Chief Executive Officer, Johnny Lyu said that one or more hackers obtained the private keys to the exchange's hot wallets. KuCoin transferred what was left in them to new hot wallets, abandoned the old ones, and froze customer deposits and withdrawals. He also claimed that KuCoin's cold wallets were unaffected. He did not disclose the number of cryptocurrency assets that were stolen but said that KuCoin would release the hacker's wallet address and a list of stolen funds. This is what he said additionally in the statement.
"We are in contact with many major crypto exchanges such as Huobi, Binance, OKEx, BitMax and Bybit, as well as blockchain projects, security agencies, and law enforcement to work on this. Some effective measures have been taken, and we will update with more details soon."
Reports on the various portals estimate the breach to have affected $150 million USD in user funds. Later on the same day, the KuCoin team released information and suspicious addresses involved in hacking activity. It confirmed that the damage was worse than was initially thought, closer to $200 million. Some of the other tokens were also affected, including Velo, VIDT, SNTR, and Presearch. According to the update, Tether company froze the assets of the 20,000,000 USDT withdrawn from KuCoin and helped KuCoin to recover funds. [2]
On September 28, 2020, CEO Johnny Lyu announced that the KuCoin team worked with Tether (USDT), Orion Protocol, KAI Chain, NOIA Network, VELO, VIDT Datalink, #Silent Notary, Covesting (COV), Opacity (OPQ) & Ampleforth to resolve the incident, and the affected tokens of these projects are safe or in a position to be recovered now.
Commenting on the hack, Charlie Cai, the media manager at KuCoin, told CoinTelegraph that a total of 130 million of the stolen digital tokens had already been secured or in the process of being recovered by the KuCoin security team. In this regard, Cai further stated that Tether (USDT) had successfully frozen a total of 22 million USDT stablecoins that were compromised while Velo Labs, too, announced that it will redeploy and replace each of the VELO tokens that were transferred as part of the heist. He added: "The 122 million VELO tokens (about $75.7 million) that were affected will be invalidated."
According to data from crypto transaction tracking service Whale Alert, on September 28, KuCoin hackers kept sending thousands of dollars worth of Synthetix Network Token (SNX) to Uniswap. Alongside using Uniswap to send stolen SNX tokens, KuCoin hackers also moved $5 million in LINK and SNX to unknown wallets, according to Whale Alert data. A spokesperson at Whale Alert elaborated to CoinTelegraph that at least $4.2 million out of this amount was actually converted into ETH using Uniswap and Kyber Network. Analysts at Whale Alert were able to identify at least three ETH addresses containing dirty ETH coming from the KuCoin hack. [1]
On September 27, artificial intelligence and data service Ocean Protocol announced that it had migrated from its old token address to a new one to thwart the KuCoin hacker's attempts to offload 21 million OCEAN tokens worth some $8.6 million. According to a Sept. 27 blog post from the Ocean Protocol team:
"At 1600 GMT, a new contract was instantiated reflecting the balances of OCEAN as of block height 10943665 on the Ethereum mainnet. The new smart contract will allocate stolen token balances to an address which will be held in trust in Singapore for persons affected by the theft."
On October 3, 2020, KuCoin exchange CEO Johnny Lyu updated the public in regard to the security incident.
"A quick update since my last live stream on Sep 30. After a thorough investigation, we have found the suspects of the KuCoin Security Incident with substantial proof at hand. Law enforcement officials and police are officially involved to take action. With great support from our partners in the industry, another $64 million in assets are now out of the control of the suspicious addresses, bringing the total value to $204 million since Oct 1."
The KuCoin CEO added:
"KuCoin is coming back to full functionality. My team and I will continue to do our best to offset the impact of the incident. As of now, a total of 31 tokens have opened [for] deposits [and] withdrawal services, and more tokens including BTC, ETH, and USDT will follow."
| Cryptocurrency | No.of tokens | Value of Hacked coin in USD (Sep 26, 2020) | Suspicious Hacker Addresses | Precautionary Measure |
| --- | --- | --- | --- | --- |
| Bitcoin | 1,008 BTC | $10.1 Million | 1NRsEQRg5EjmJHbPUX7YADVPcPzCQBkyU7 | |
| Ethereum and ERC Tokens | ~12 ETH and rest are tokens | $153 Million | 0xeb31973e0febf3e3d7058234a5ebbae1ab4b8c23 | $20 Million USDT frozen by Tether Company |
| Litecoin | 26,733 LTC | $1.2 Million | LQtFoidy5TmLrPP77MZzgMRffqPsmRfMXE | |
| Ripple | 18,495,798 XRP | $4.5 Million | r3mZvvHVLPtRWAujzBsAoXqH11jhwQZvzY | |
| Bitcoin SV | 14,713 BSV | $2.2 Million | 15mC7zKbLyErSKzGRHpy6gyqS7GyRpWjEi | |
| Stellar | 9,588,383 XLM | $705, 522 | GBM3PJWNB5VKNOFXCDTTNXPMUNBMYTLAAPYDIIKLHUGMKX7ZGN2FNGFU | |
| TRON | 228,952,838 TRX | $6.3 Million | TB3j1gUXaLXXq2bstiSMfjQ9R7Yh9DdDgK | |
| Tether ( on Omni and EOS blockchains) | ~ 14 million USDT | $14 Million | 1NRsEQRg5EjmJHbPUX7YADVPcPzCQBkyU7 | Frozen By Bitfinex |
Overview
Users can buy, sell, and trade more than 400 cryptocurrencies in KuCoin. The exchange offers services such as spot, margin, futures, and P2P trading, as well as lending and staking. [2]
In September 2023, KuCoin marked its 6th anniversary by surpassing 30 million users. During the same month, the exchange listed Paypal's PYUSD stablecoin. [15][16]
In July 2023, KuCoin announced it to be considering a reduction in its staff as part of a standard personnel adjustment. Some Twitter sources shared that the exchange planned to lay off as many as 30% of its employees, but the company refuted any intention of conducting significant layoffs.
In June 2023, KuCoin introduced mandatory know-your-customer (KYC) checks starting the following month. Users not completing the process are not able to trade or make deposits. [17]
In March 2023, New York State Attorney General Letitia James initiated a lawsuit against KuCoin, asserting that the Seychelles-based cryptocurrency exchange was in violation of securities laws. The allegation was based on the exchange's offering of tokens, including ETH, which are considered securities, without proper registration with the attorney general's office. [18]
In December 2022, the Dutch Central Bank accused KuCoin of operating without a license in the Netherlands. De Nederlandsche Bank (DNB) stated that MEK Global Limited (MGL), a company registered in Seychelles and operating as KuCoin in the Netherlands, lacks a "legal registration" with the DNB. A representative from KuCoin stated that the company is registered in the Seychelles and does not maintain an office in the Netherlands. [19]
In April 2022, KuCoin launched a $100 million fund for NFT creators to support early-stage projects. The KuCoin Creators Fund is a collaborative effort between Windvane and the venture capital arm of the exchange, KuCoin Ventures. The designated NFT categories encompass art, sports, profile pictures (PFPs), Asian culture, celebrities, and GameFi, as outlined in the provided press release. [20]
Windvane NFT Marketplace
Windvane is a decentralized NFT marketplace powered by KuCoin. Users have access to a wide range of NFTs through KuCoin's cross-chain aggregator, providing a convenient selection of top NFTs on Windvane's platform. To celebrate the launch of the platform, Hurricane Round All NFTs were offered to users for free. [21]
KuCoin Account Verification
On November 1, 2018, KuCoin implemented Know Your Customer (KYC) verification. Verified users get benefits such as increased daily withdrawal limits or simplified account recovery in case of a lost password or two-factor authentication device. [1]
KuCoin has three verification levels:
Unverified account. It requires email verification and lets a user withdraw up to 2 BTC per 24 hours.
Verified Individual account. Requires a user to submit their identity details such as ID or passport, as well as their country of residence, and increases their withdrawal limit to 100 BTC per 24 hours.
Verified institutional account. Increases a user's withdrawal limit to 500 BTC per 24 hours. [2]
In June 2020, KuCoin announced its partnership with crypto on-chain analytics and surveillance company Chainalysis in order to increase its compliance efforts further. [4]
KuCoin Mandatory KYC
On July 15th, 2023, KuCoin implemented a mandatory KYC for users who wish to use all the features on the exchange. Without KYC, users are limited to very basic features, while users who verify themselves have access to all the markets and features provided. [13]
Existing users who are non-KYC users are not able to deposit their funds into their accounts.
KuCoin Futures
KuCoin launched its Futures (previously known as KuMEX) platform in mid-2019. It allows users to trade Bitcoin (BTC) and Tether (USDT) margined contracts with up to 100x leverage. There are two versions of KuCoin Futures - one designated for beginners (lite version) and one oriented towards more experienced traders (pro version). [2]

The Lite interface lets a user trade USDT-Margined Bitcoin (BTC) and Ethereum (ETH) contracts, as well as BTC-margined BTC futures contracts. [1]
The Pro interface is more advanced and allows users to switch between the following contracts:
USDT-margined: BTC perpetual, ETH perpetual
BTC-margined: BTC perpetual, BTC Quarterly 0925, and BTC Quarterly 1225
KuCoin Programs
KuCoin also offers its users the ability to employ their digital assets in a variety of staking and lending programs. These include:
KuCoin Lend. Users can earn interest on their digital assets by lending them out for the funding of margin accounts. The loans last for either 7, 14, or 28 days, and users can earn up to 12% annualized interest rate from their holdings. The lending service accepts Tether (USDT), Bitcoin, Ethereum, EOS, Litecoin, Ripple, Cardano, Cosmos, TRON, Bitcoin Cash, Bitcoin SV, Ethereum Classic, Tezos, Dash, Zcash, and Stellar cryptocurrencies.
Pool-X. Pool-X is a Proof-of-Stake (PoS) mining pool - an exchange designed to deliver liquidity services for staked tokens. It lets a user earn a high yield for PoS cryptocurrencies like EOS, TOMO, Zilliqa, Cosmos, KCS, Tezos, 0x, IOST, TRON, and many others. Pool-X is fueled by Proof of Liquidity (POL), a decentralized zero-reservation credit issued on TRON's TRC-20 protocol.
Soft staking. As a part of Pool-X, soft staking lets a user earn rewards for holding coins and tokens. [7]
KuCoin Spotlight IEO platform
Aside from trading, staking, exchange, and swapping services, KuCoin also has its initial exchange offering (IEO) launchpad, known as KuCoin Spotlight. Users can invest in new crypto projects, all vetted and supported by KuCoin. The launchpad has funded several IEOs, namely, Tokoin, Lukso, Coti, Chromia, MultiVAC, Bitbns, Trias, and VELO. To participate in KuCoin's IEOs, users need to have a verified account. Most of the offerings use KuCoin Shares (KCS) as the main currency of the crowdsale.[2]
KuCoin Shares (KCS)
KuCoin Shares (KCS) were used to fund the creation of the exchange. In total, 200,000,000 KCS were issued and distributed to founders, private investors, and regular investors. Funds issued in the first and second phases are subject to four (September 2, 2021, for phase one) and two-year lock-up periods (September 2, 2019, for phase two).
The initial supply of KCS was set at 200 million, but the number has been declining as roughly 10% of all the exchange profits each quarter is used to buy back KCS and burn them in order to support higher prices. This buyback and burn will continue until just 100 million KCS remain. KuCoin has named this the "buy-back" program. [10]
KCS holders have the following benefits:
Receive daily cryptocurrency dividends
Get a trading fee discount (min. 1000 KCS for 1% discount; max 30,000 KCS for 30% discount)
More trading pairs, including Bitcoin, Ethereum, Litecoin, Tether, Ripple, NEO, EOS, Credits, and Go.
Experience exclusive KCS holder perks and offers.
Lock-up Period
The 70 million KCS issued by the founders in the first phase were subject to a four-year lock-up period from Sep 2nd, 2017 to September 2nd, 2021. Founders were prohibited from assigning or selling their KCS holdings in any way before September 2nd, 2018. Team members could only assign or sell 25% of their largest historical exchange volume in 365 natural days from Sep 3rd, 2018 to the end of the lock-up period. The 30 million KCS exchanged by the consultants and angel investors in the second phase were subject to a two-year lock-up period from Sep 2nd, 2017 to Sep 2nd, 2019. Holders were not allowed to assign or sell their KCS holdings in any way before September 2nd, 2018. They could only assign or sell 50% of their largest historical exchange volume in 365 natural days from September 3rd, 2018 to the end of the lock-up period. The 100 million KCS issued by public users suffered no lock-up period and opened for exchange on Sep 2nd, 2017. [8][9]
Buy-back Mechanism
After the KuCoin platform opened for use, at least 10% of the net profit was applied to the buy-back of KCS every quarter. The KCS retrieved through buy-back are destroyed immediately. The buy-back record was released to the public, so that users can review it via a blockchain explorer, to ensure the open and transparent nature of the whole process. The team will continue the process until 100 million KCS destroyed. [7]
KuCoin Labs
On April 15, 2021, KuCoin announced the official launch of KuCoin Labs, an incubator and research arm in the KuCoin ecosystem. As the first step, KuCoin Labs also established a 50 million fund to empower the development of early-stage crypto projects. The predecessor of KuCoin Labs was the investment and incubation team, which was established by KuCoin in May 2018. KuCoin Labs possesses a portfolio of over 50 projects including Arweave (AR), MultiVAC (MTV), CertiK (CTK), OneLedger, LUKSO (LYXe), and Ankr (ANKR), in sectors such as infrastructure, DeFi, and NFT. [12]
Besides investments in building projects directly at an early stage, KuCoin Labs also empowers the development of high-quality blockchain projects through marketing and PR support, business partnership support, secondary market fast-track, blockchain technical support, legal advice, business planning, token economy design, and more. [12]
Incubation Program
In December 2022, KuCoin announced the launch of its first incubation program to accelerate builders and enable sustainable growth and success in the blockchain space. The first season, called Astro Selection, was an eight-week program that focused on Gamefi, NFT, and Metaverse. This incubation program had five main components: an eight-week journey, all-round guidance, a strong mentor line-up, additional investment, and networking resources. [11]
KuCard
KuCard is a VISA debit card issued by KuCoin. Users get benefits such as instant crypto-to-fiat conversion, exclusive rewards and benefits, a wide range of cryptocurrencies, and services such as Google Pay and Apple Pay. The card is supported in most countries in Europe and the United Kingdom. [14]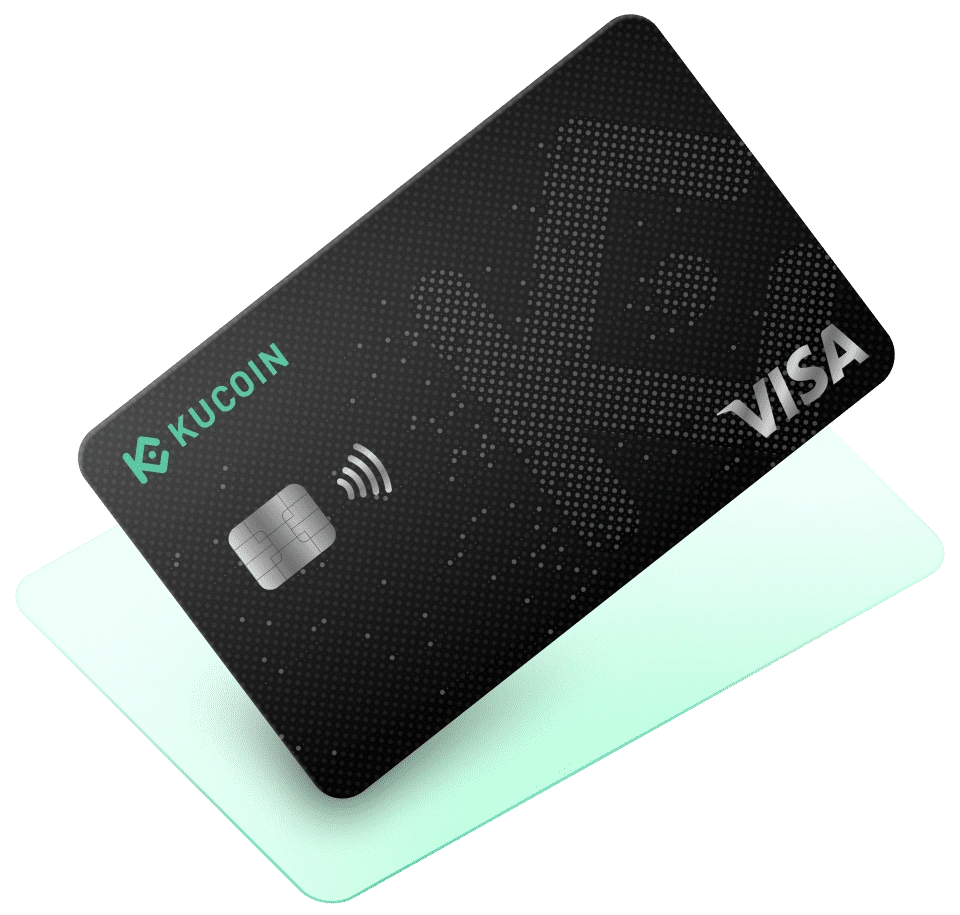 Partnerships
KuCoin x HackenProof
In March 2023, KuCoin announced a collaboration with cybersecurity firm Hacken to initiate a bug bounty program valued at $1 million. This program represents the highest reward offered by a cryptocurrency exchange for identifying vulnerabilities. Simultaneously, KuCoin introduced a new Security Landing Page on its website as part of this partnership. [22]
KuCoin x The Crypto App
The Crypto App is a platform where users can gather insights, conduct research, and analyze potential trades and investments before using the KuCoin exchange. After trading on KuCoin, users can synchronize their accounts with The Crypto App or self-custodial wallets, allowing for real-time tracking of their portfolios. This partnership is focused on improving the overall user experience by offering a comprehensive set of tools for crypto users. [23]
KuCoin x Sui
From May to July 2023, KuCoin Labs and Sui co-hosted the Labs X Sui Summer Hackathon, a global online event. KuCoin has partnered with Sui following a successful launch on KuCoin Spotlight in April 2023. [24]
With the Sui Network's mainnet live, the hackathon has been organized to encourage global innovators to compete for a total prize pool of US$285,000. The event progressed through three main stages: registration, shortlisting, and a demo day, which was planned to be held both online and offline. [24]
Funding
Funds for KuCoin development were raised via an ICO, which lasted from August 13, 2017, to September 1, 2017. During that time, KuCoin issued its native KuCoin Shares (KCS) tokens. The exchange raised nearly USD 20,000,000 in BTC (at the time) for 100,000,000 KCS. The ICO price for a single KCS was 0.000055 BTC. [1]
During the initial distribution, the founders of KuCoin received 35% of the KCS coins, 15% went to angel investors in the exchange and the remaining 50% was sold to investors. According to the KCS whitepaper the 35%, or 70 million KCS, that was distributed to the founders is locked up until September 2, 2021. In addition to that, the 30 million coins given to angel investors were also locked up, but only until September 2, 2019.
Team
Michael Gan - CEO
Eric Don - COO
Top Lan - CTO
Kent Li - Operations & Maintenance Director
John Lee - President of the Business Operations Group
Jack Zhu - Marketing Director
Linda Lin - Chief Legal Consultant
See something wrong?
Report to us.
KuCoin
Did you find this article interesting?