COTI
COTI is an enterprise-grade fintech platform that Enables Cross-Chain Interoperations between other Blockchains like Ethereum, EOS, and others. It is built on its own directed acyclic graph-based blockchain infrastructure with Proof of Trust consensus algorithm[1][2][3].
History
---
COTI was created by Samuel Falkon and David Assaraf in 2016. They both realized that there was a major need for a secure, scalable, and instant payment system that would support both fiat and crypto payments. They began to string together a number of advisors and partners to carry out the concept, including Shahaf Bar-Geffen who became the company's Chief Executive Officer[4][5].  
Overview
---
COTI stands for "Currency Of The Internet", which accurately refers to its vision. COTI's vision is to build a decentralized and scalable payments network to facilitate efficient global commerce[6]. 
At the core of COTI's infrastructure lies on the Trustchain, a proprietary consensus algorithm based on machine learning. The Trustchain lies on a "multi-DAG" (directed acyclic graph) data structure, which works in tandem to drive up scalability, processing over 100,000 transactions per second (TPS)[7][8].  
On June 4, 2019, COTI completed its IEO and listing on KuCoin and reached its hard cap in line with high IEO demand. 5,623 users became COTI coin holders. Out of the approximately 35,000 people that participated in the IEO[9]. 
COTI is also in the process of acquiring an EMI (Electronic Money Institute) License, which allows us to issue e-money or quasi-currency that can be withdrawn and converted into any other currencies and service third-party payments. EMI license holders are practically a bank, but only without the right to issue fiat loans[10]. 
Products
---
COTI's Universal Payment System (UPS)
COTI Pay
COTI Pay can process all payment types, both online and offline, including crypto and stable coins & credit cards & even a merchant's native coin. It also has built-in financing with interest earned on deposits and business loans[11][12].
COTI Pay components:
Wallets.

Trust scores for both consumers and merchants

Arbitration to support disputes between consumers and merchants .

COTI-X exchange.

Merchant API with the ability to embed a 'PAY WITH COTI' button on the merchant website, as well as
On August 31, 2020, COTI Pay v.1.0 Viper went live[14]. 
COTI Token: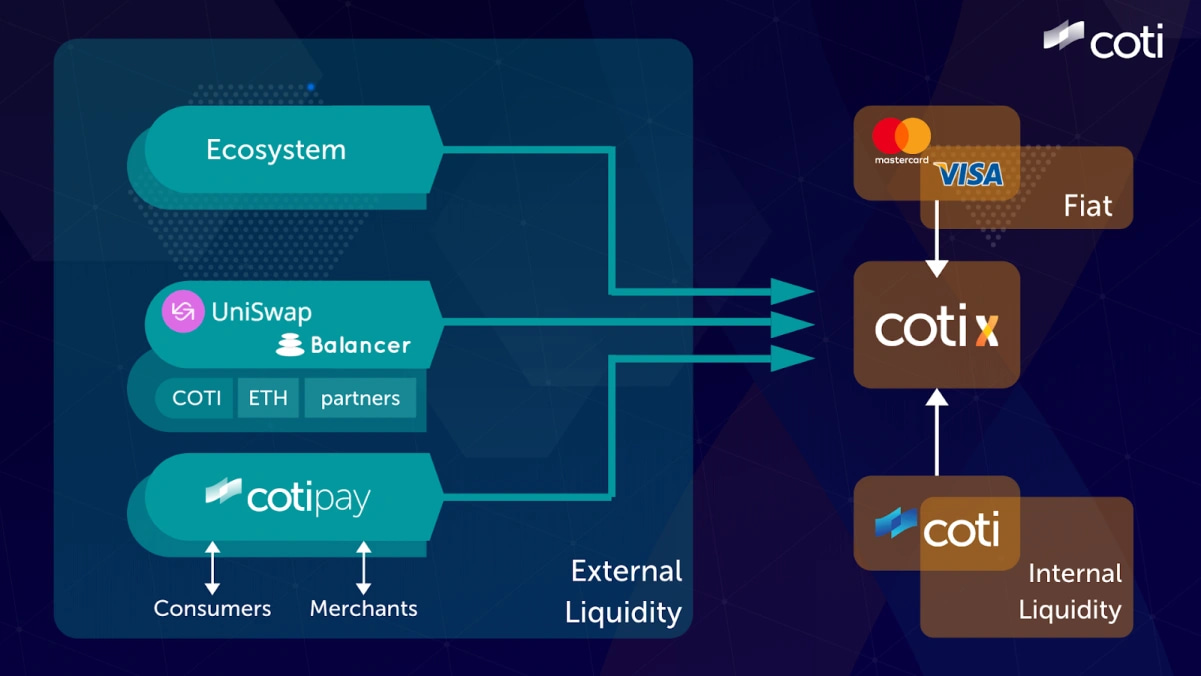 Liquidity pools on COTI-X
COTI coins are created during the network's genesis transaction, which makes COTI a fixed-supply DAG-based cryptocurrency. Following the network's inception, there is no possibility to create or destroy COTI tokens as there are no mining activities associated with the COTI network. The total supply of COTI to be distributed during the launch of the main net is 2,000,000,000 COTI. COTI protocol-based applications have the ability to support additional types of tokens, although they are not considered COTI tokens and do not impact COTI token supply and demand[15]. 
As of June 2020, COTI is listed on several exchanges: Binance, KuCoin, Binance DEX, BitMax.io now AscendEx, Bithumb, Gate.io, Bidesk, Coinbit, IDEX, CoinDCX, and Indodax[16]. 
COTI-X Exchange
COTI-X is built to provide liquidity to the COTI network. COTI-X will have 3 liquidity pools:
Internal licensed exchange.

Fiat On-Ramp

External pools.
The products that are entailed are:
Fiat On-Ramp for COTI - a website and an integration to COTI Pay .

COTI-X Swap Widget - a Fiat On-Ramp for partner tokens hosted on partners' websites .

COTI-X Swap pools - an incentivized external liquidity pools on various platforms
COTI-X is an instant settlement layer of all forms of value on the COTI network, between users & consumers, and merchants. Powered by the various COTI-X liquidity pools[17]. 
COTI-X is planned to be released around October 2020. COTI-X will launch on its own domain, cotix.io, but will also exist as a widget that will be installed both on COTI's website and on COTI Pay, COTI's official wallet[17]. 
Team
---
Shahaf Bar-Geffen - CEO
Dr. Nir Haloani - CTO.
David Assaraf - Co-founder, COO.
Yair Lavi - CFO.
Efrat Bar-Lev - VP Marketing.
Tamir Schwartz - VP Product.
Samuel Falkon - Co-founder.
Eli Hallufgil - Technology Team Leader.
Anton Suslonov - Data Scientist.
Costa Chervotkin - Product Manager.
Yoni Neeman - Software Engineer.
Yaniv Dadon - Software Developer.
Tomer Armarnik - Software Engineer
Alex Stoliar - Software Developer.
Anna Bocharov - Community.
Oriane Maire - Community
Shani Assaraf - Project Manager.
Vladyslav Ovadenko - Community
Tamar Drachli - Social.
Investors and Advisors
---
Blackedge Capital.
Ernst & Young.
Block Crafters.
Hard + Yaka.
Base 16
Lancaster Group.
Recruit Strategic Partners.
Wave Financial[7]
See something wrong?
Report to us.
COTI
Did you find this article interesting?