Coinweb
Coinweb.com is a pioneering comparison platform and AI company focusing on the blockchain and cryptocurrency ecosystem. It is known for providing in-depth comparisons across all facets of the cryptocurrency sector, guides on complex topics, news, and innovative tools for users.
Overview
Coinweb.com was established by Katana LLC, a UAE-based company founded by two entrepreneurs, Sam Farao and Shawn Munir. They started out with a distinct mission - to guide cryptocurrency enthusiasts to a singular platform where they could access detailed analyses and product recommendations.[1]
At that time, there was no straightforward entry point for new users nor a comparison platform encompassing all facets of the industry. Coinweb quickly became the most trusted source for users to fill this void and streamline the user experience. The company is headquartered in Dubai and has a global presence.
Coinweb.com's primary focus is being a first-of-its-kind comparison platform covering sectors that spans many categories. Its broad scope includes exchanges, NFT marketplaces, trading bots, tax software, crypto-banks, influencers, Web3 domains, venture capital firms, middleware, on and off-ramps, events, and more. As a result, Coinweb has set a new standard as a comprehensive, must-have crypto resource. The company has a team of experienced analysts who provide expert insights on these topics.[2][9][10]
Additionally, Coinweb hosts an array of tools to optimize the investment process. These features, such as advanced sorting options and real-time data, allow users to compare coins and track their preferred coins' performance effortlessly. Some of the platform's most popular tools include price prediction tools, conversion tools, and more.[3]
History
In response to the intricate world of crypto and Web 3.0, Katana LLC established Coinweb with a clear vision - to untangle the complexity of this landscape. Recognizing the user journey in 2017 was in an environment where information was dispersed and chaotic. They designed the platform as an educational hub, offering a user-friendly experience.[4]
Their innovative approach, coupled with the power of AI, resulted in the creation of AI-driven models presenting content through Y6K.ai. They engineered human-like entities, called 'humanoids,' to present the content to their users. A team of journalists and analysts produced the content before being communicated to their users by the humanoids.[8]
Having been involved in the crypto realm since 2016-2017, Farao and Munir capitalized on their prior business expertise and expansive networks. They brought together an eminent advisory team at Coinweb, including industry titans such as Sam Kazemian (Founder of Frax), Sachi Kamya (Polygon Ventures), and Jason Lou (Founder of Bitforex), among others. This team was responsible for diligently verifying and fact-checking content, a strategic measure that ultimately distinguished Coinweb from its competitors.[5]
Expansion
Coinweb.com, under the leadership of Katana LLC, has a strong vision to grow and become a global hub. In pursuing this vision, the platform extended its services and solutions to additional markets like the United States, Norway, Sweden, and Finland at the beginning of 2023.
The next focus areas will include Germany, France, India, Spain, Saudi Arabia, Turkey, Japan, and Singapore. This marks its continuous growth as a prominent player in the crypto and Web3 space.[6]
Services
In addition to providing education, Coinweb.com offers robust tools designed to optimize the investment process. The platform's advanced sorting options enable users to compare coins effortlessly while real-time data and charts facilitate seamless tracking of their favorite coins' performance.[11]
Moreover, Coinweb.com features innovative tools such as a price prediction tool, pricing widgets, and conversion tools. The platform continually improves its offerings, as seen in its comprehensive development roadmap. It aims to be the premier resource for beginner and seasoned crypto enthusiasts, serving as a reliable and user-friendly hub for all things cryptocurrency and Web3.[7]
See something wrong?
Report to us.
Coinweb
Did you find this article interesting?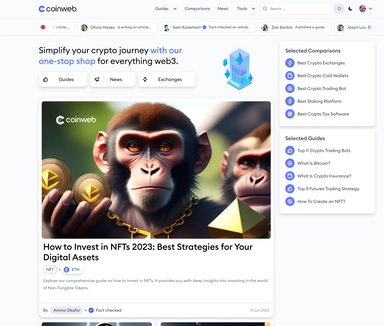 REFERENCES
[2]
Yahoo Finance
Jun 14, 2023
[3]
MarketWatch.com
Jun 14, 2023
[4]
Bloomberg.com
Jun 14, 2023
[6]
Businessinsider.com
Jun 14, 2023
[7]
markets.businessinsider.com
Jun 14, 2023
[8]
Y6K.ai AI Models
Jun 14, 2023
[9]
Best Crypto Exchange
Jun 14, 2023
[10]
Best Crypto Trading Bot
Jun 14, 2023