Cointelegraph
Cointelegraph is a independent digital media platform, focused on covering blockchain technology, crypto assets, and emerging fintech trends. With a commitment to unbiased reporting, Cointelegraph aims to deliver accurate news, insightful analysis, and comprehensive coverage of the social transformation brought about by digital currencies. [1][2]
Overview
Cointelegraph, founded in 2013 and headquartered in New York, has established itself as a reputable media platform with a team that delivers comprehensive news coverage, in-depth analysis, and insightful opinion pieces on developments in the crypto space. Cointelegraph's editorial content aims to delve into the wider social implications and transformative possibilities of digital currencies. By providing accurate reporting and thoughtful insights, the platform seeks to keep its audience well-informed about the ever-evolving world of cryptocurrencies. [1][4]
We are ready to help you form your own opinion regarding cryptocurrency with precise and clear coverage from our dedicated team of journalists and experts from around the globe. We publish articles and expert opinions in the fields of business, technology, society and law, as well as provide real-time commentary from leading experts across the entire spectrum of the Bitcoin community. The world of digital currencies is growing with each passing day; as more and more businesses, entrepreneurs, start-ups and everyday people begin to adopt this technology due to its many advantages, it is becoming increasingly important to educate yourself and be aware of these new financial and technological innovations. Cointelegraph is here to help you greet digital currency with open arms.
Products and Services
News
On their news platform, Cointelegraph covers a whole range of topics including, altcoins, blockchain, business, policy and regulation, NFTs, DeFi, and adoption. They also have a section dedicated to each of the two most prominent cryptocurrency projects in the market: Bitcoin and Ethereum. [5][6][7]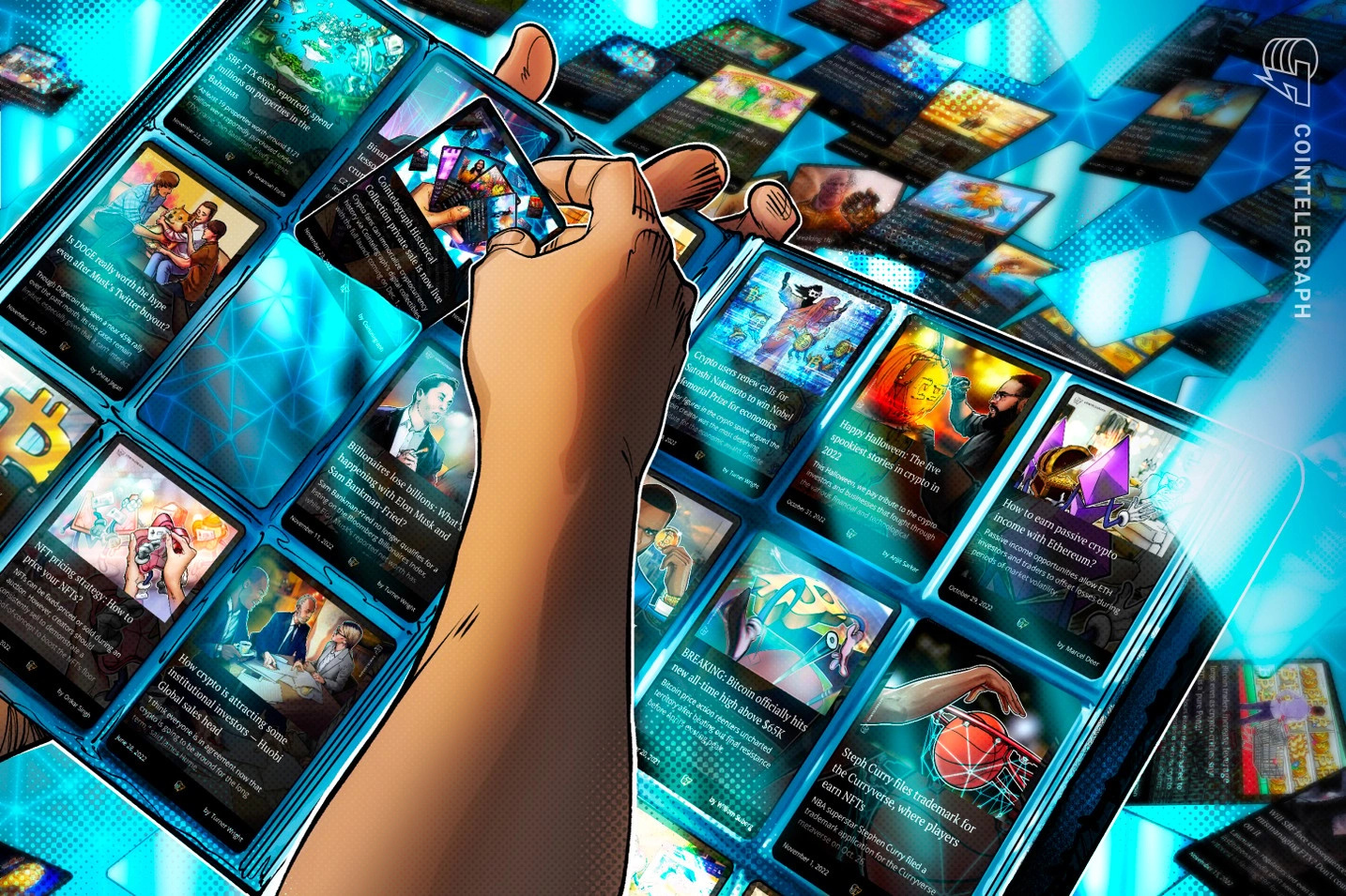 Market
Market News
Cointelegraph provides comprehensive coverage of the latest developments in the cryptocurrency and blockchain markets. This section offers timely news articles, reports, and insights that keep readers informed about market trends, regulatory updates, notable partnerships, and industry events. [8]
Price Indexes
Cointelegraph's Price Indexes serve as a resource for individuals seeking real-time and historical cryptocurrency price data. This section provides a comprehensive overview of various digital assets, including their current market prices, trading volumes, and market capitalization. [9]
Market Analysis
Cointelegraph's Market Analysis section offers insights into the crypto market from expert analysts and contributors. Through detailed technical analysis, market research, and expert opinions, this section provides readers with a deeper understanding of market dynamics, emerging trends, and potential investment opportunities. [10]
Heatmap
Cointelegraph's Heatmap, accessible through the Coin360 platform, offers a visual representation of the cryptocurrency market's performance. Using color-coded data visualization, the Heatmap provides an overview of price movements, market capitalization, and trading volumes across different cryptocurrencies. By assessing the market's performance at a glance, users can identify trends, spot potential investment opportunities, and gain a comprehensive understanding of the cryptocurrency ecosystem. [11]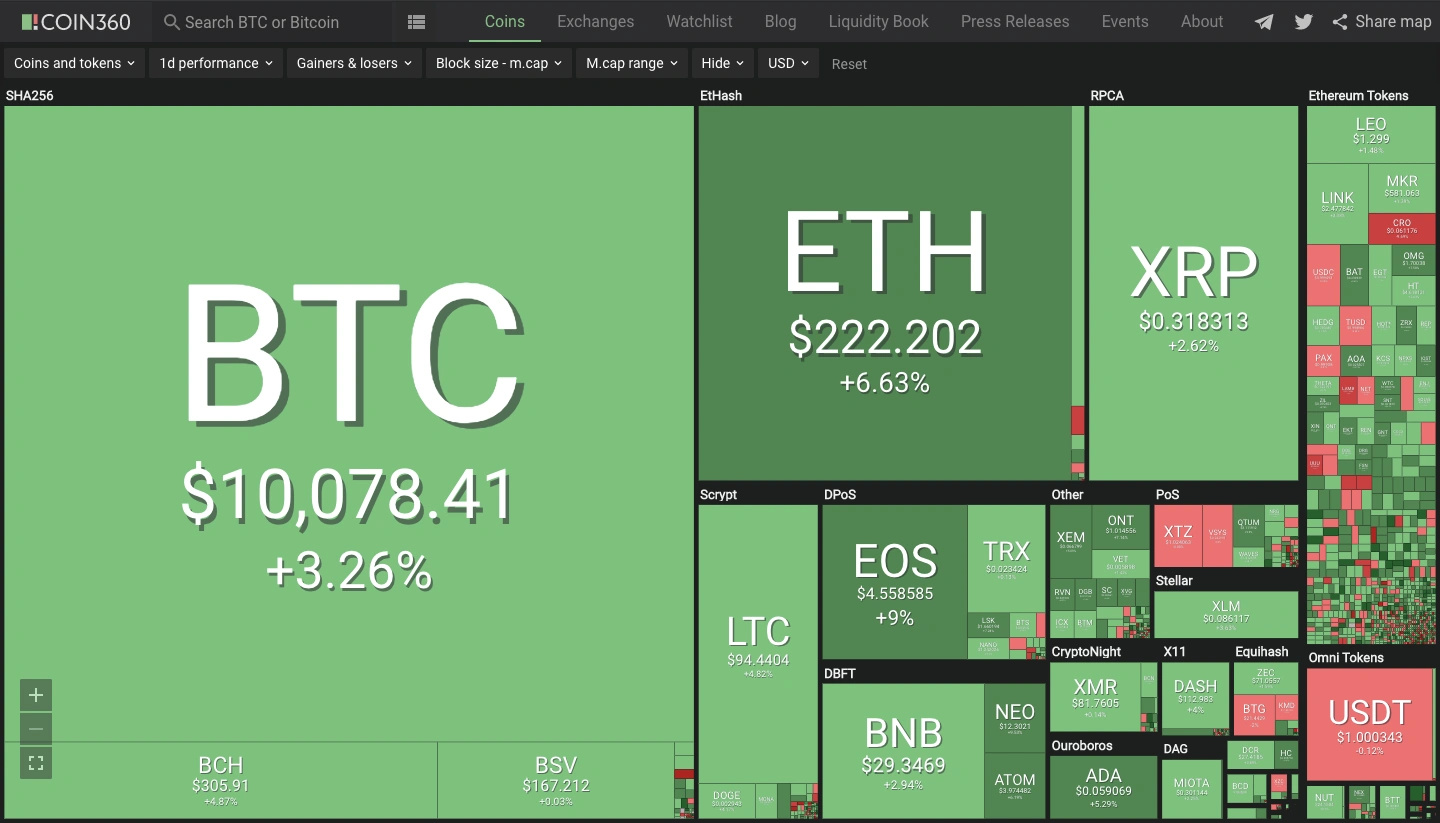 Top 10 Cryptocurrencies
The Top 10 Cryptocurrencies section on Cointelegraph provides readers with curated insights into the most prominent and influential digital assets in the market. Through comprehensive analysis this section highlights the key features, developments, and potential impact of these top cryptocurrencies. [12]
Calculator
Cointelegraph's Calculator is a tool for users to perform calculations for converting from one digital or FIAT currency to another. [13]
Magazine
Cointelegraph's Magazine is a digital publication that offers in-depth articles, features, and analysis on blockchain technology, cryptocurrencies, and the broader fintech industry. Through engaging storytelling and expert insights, the Magazine explores the latest trends, innovations, and challenges shaping the digital asset ecosystem. [14]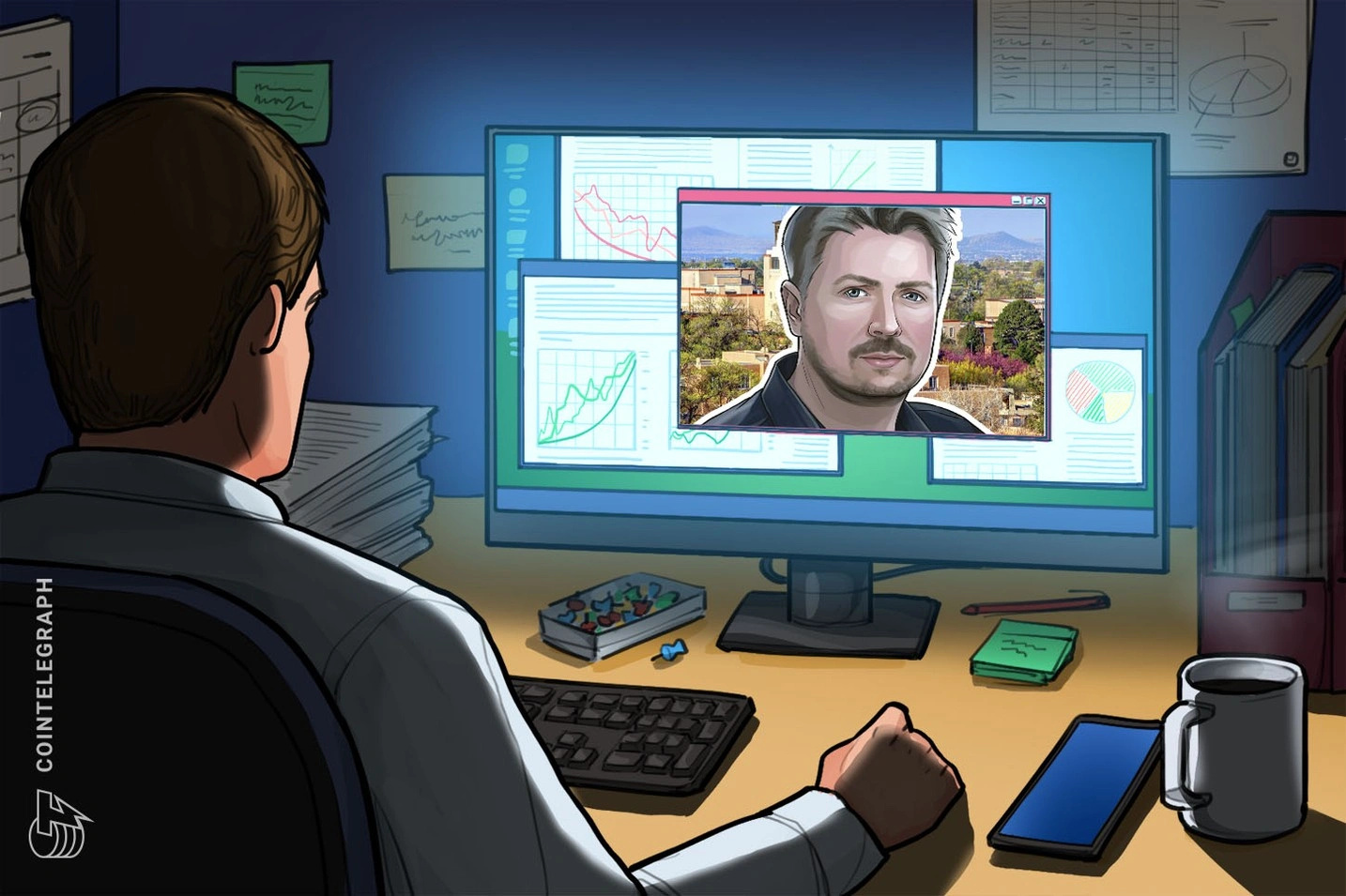 People
This section on Cointelegraph's website provides insightful content focused on individuals shaping the crypto and blockchain industry. It features an annual "Top 100" list that began in 2020, highlighting influential figures and leaders in the field. Additionally, the section includes opinion pieces, interviews, and expert takes, offering diverse perspectives and thought leadership from industry experts. The "Innovation Circle" category further showcases innovative ideas and projects from within the crypto community. [15][16][17][18][19]

Research
Cointelegraph's Research platform provides a comprehensive repository of research reports, market analysis, and industry insights. This platform serves as a resource for professionals, researchers, and enthusiasts seeking to gain deeper knowledge about blockchain technology, cryptocurrencies, and related sectors. [20]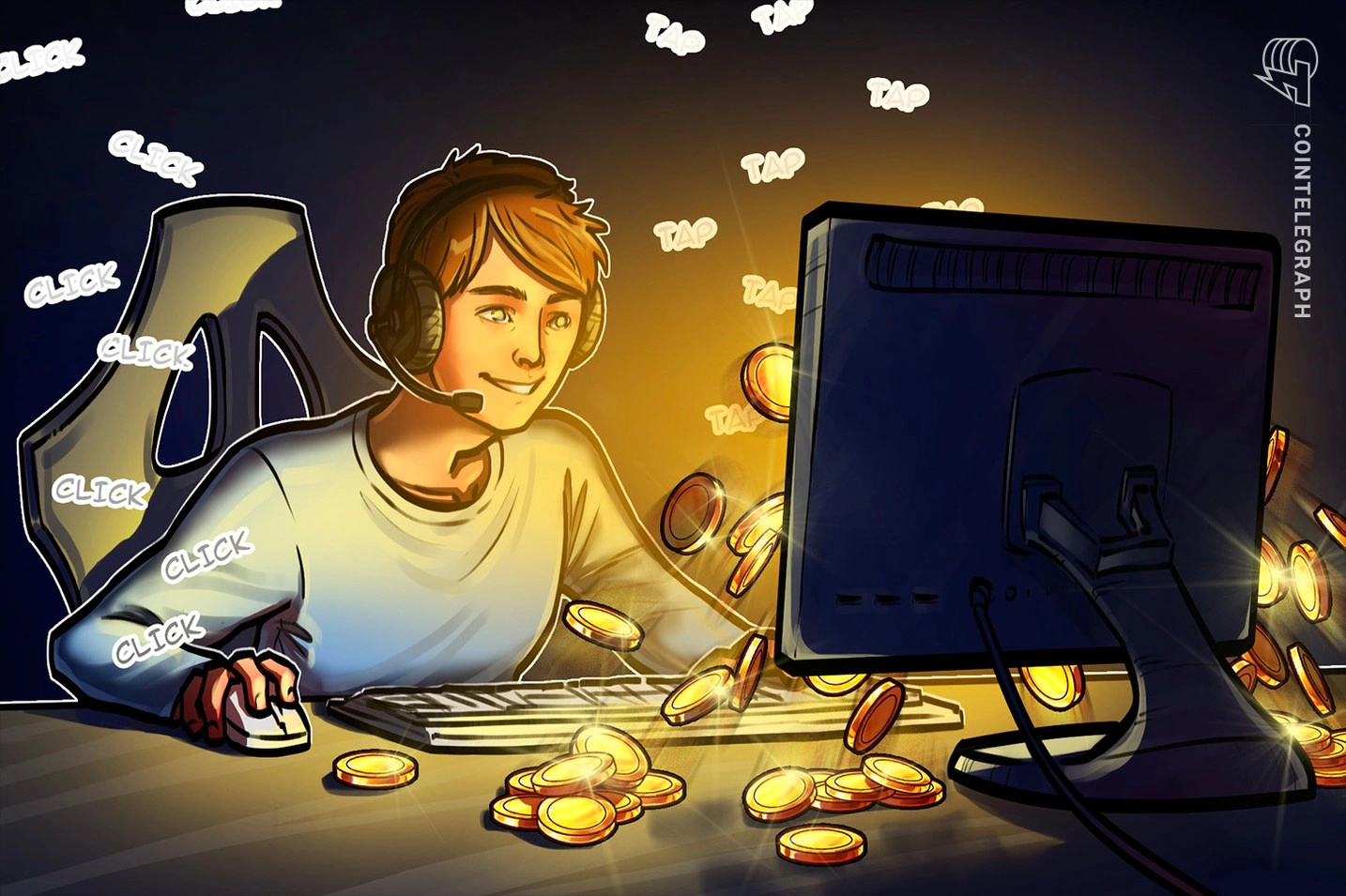 Video
Cointelegraph's Video section offers a multimedia experience with a collection of informative and engaging videos. Through its YouTube channel, Cointelegraph produces and curates a wide range of videos that cover blockchain technology, cryptocurrency news, interviews with industry experts, event coverage, and educational content. With a variety of playlists catering to different interests and topics, users can access insights and stay up to date with the latest developments in the crypto space. [21]

Podcasts
Hashing It Out
Hosted by Elisha Owusu Akyaw, "Hashing it out" engages in in-depth conversations with industry experts, thought leaders, and innovators. These discussions delve into various topics related to cryptocurrencies, blockchain technology, decentralized finance, and emerging trends. [22]
The Agenda
Hosted by Jonathan DeYoung and Ray Salmond, "The Agenda" offers an overview of the latest news, developments, and trends in the cryptocurrency and blockchain space. This podcast provides listeners with timely analysis and discussions on important topics shaping the industry. [22]
Decentralize with Cointelegraph
Hosted by Cointelegraph, "Decentralize with Cointelegraph" explores the transformative potential of blockchain technology and decentralized finance (DeFi) across different industries. Through interviews with experts, entrepreneurs, and visionaries, this podcast uncovers real-world applications, adoption stories, and the impact of decentralized solutions in areas such as finance, governance, supply chain, and more. [22]
Crypto Trading Secrets
Hosted by Benjamin Pirus, "Crypto Trading Secrets" is a podcast designed for any users or cryptocurrency traders seeking to enhance their trading strategies and knowledge. Guests share their insights, tips, and techniques for successful trading in the volatile crypto markets. [22]
NFT Steez
Hosted by Ray Salmond and Alyssa Exposito, "NFT Steez" focuses on the world of non-fungible tokens (NFTs), including art, collectibles, and the broader NFT ecosystem. This podcast delves into the trends, innovations, and opportunities within the NFT space. [22]
Markets Pro
Cointelegraph's Markets Pro is a premium subscription service that offers advanced tools and insights for traders and investors in the cryptocurrency market. By leveraging data-driven analysis, real-time market indicators, and advanced trading signals, Markets Pro provides subscribers with a competitive edge in navigating the complex world of digital assets. With access to exclusive content and personalized market intelligence, users can make more informed trading decisions and optimize their investment strategies. [27][28]

Cryptopedia
Cointelegraph's Cryptopedia is a dedicated section on their website that provides a wealth of educational resources and information about blockchain technology and cryptocurrencies. Through articles, guides, and explanatory content, Cryptopedia aims to demystify complex concepts, explain the workings of cryptocurrencies, and provide practical guidance on various topics. Whether it's exploring the fundamentals, learning how to navigate the crypto space, or understanding industry-specific terms, Cryptopedia serves as a valuable knowledge hub for beginners and enthusiasts alike. [23][24][25][26]

Team
Executive Team
George Givishvili: Chief Executive Officer (CT Media Group)
Nick Vilson: Chief Technology Officer
Management Team
Paul S.: Project Manager
Demelza Hays: Head of Research
Jason Choi: Head of Strategy
Editorial Team
Kristina Lucrezia Cornèr: Editor-in-Chief
Alex Cohen: Managing Editor
Aaron Wood: News Editor - Europe
Sam Bourgi: News Editor - United States
Erhan Kahraman: News Editor - Europe
Andrew Fenton: News Editor - Asia Pacific
Rudy Takala: Opinion Editor
Market Team
Ray Salmond: Head of Markets
Allen Scott: Markets Editor
Video Production Team
Jackson DuMont: Head of Video
Damian White: Video Director
George Schmitt-Rogers: Producer - Creative Ad Studio
Content and Publishing Team
Jonathan DeYoung: Senior Copy Editor
Aleksander Raserei: Head of Publishing
Guneet Kaur: Cryptopedia Editor
Dmitry S: Head of Visuals
Rudy Takala: Opinion Editor
Business Development Team
Yana: Head of Operations & Business Development
Orest P: Senior Business Development Manager
Vitalii B: Business Development Manager
Vlad S: Business Development Manager
Nataly Connor: Business Development Manager
Oli V: Business Development Manager
Mars Leung: Business Development Manager - APAC
Anna Shakola: Business Development at Cointelegraph Accelerator
Authors
Aaron Wood
Alex Cohen
Allen Scott
Alyssa Exposito
Amaka Nwaokocha
Ana Paula Pereira
Andrew Fenton
Andrew Singer
Arijit Sarkar
Brayden Lindrea
Brian Quarmby
David Attlee
Derek Andersen
Elena Perez
Erhan Kahraman
Ezra Reguerra
Felix Ng
Gareth Jenkinson
Helen Partz
J.W. Verret
Jackson Dumont
Jesse Coghlan
Joe Hall
Judith BannermanQuist
Kristina Lucrezia Cornèr
Marcel Pechman
Martin Young
Prashant Jha
Rachel Wolfson
Rakesh Upadhyay
Ray Salmond
Sam Bourgi
Savannah Fortis
Shiraz Jagati
Tom Blackstone
Tristan Greene
Turner Wright
William Suberg
Yashu Gola
Zhiyuan Sun
See something wrong?
Report to us.
Cointelegraph
Did you find this article interesting?