Orion Protocol
Orion Protocol (founded 2018) is a DeFi (Decentralized Finance) project aggregating the liquidity of the entire crypto market into one decentralized platform[1][2].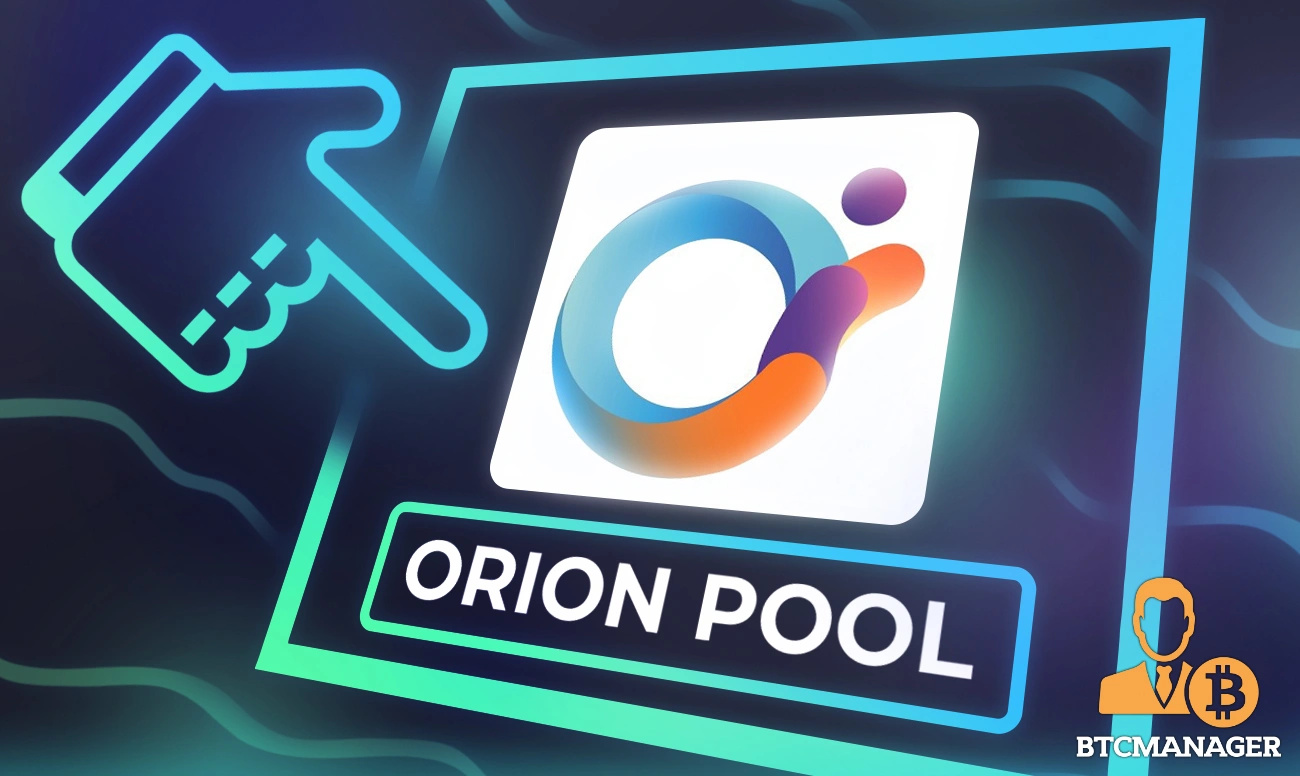 Orion Terminal: The Non-Custodial Gateway to Crypto
Phase one of the public mainnet of Orion Protocol's key feature, Orion Terminal will be launched on December 15. The Orion Terminal was audited by CertiK, which confirmed the stability of the platform. In order to ensure its security and proper operation, the launch of the platform will be followed by a month of continuous updates. Additional features to be added to the terminal in 2021 include lending, margin trading, leveraged exchange-traded funds (ETFs), derivatives, contract trading, non-fungible tokens (NFTs), and staking of any digital asset type[3].
Overview
Orion Protocol works on the proprietary staking mechanism, Delegated Proof of Broker, fulfilling every function on the protocol from order execution, to clearing, to the governance of choosing a broker, and everything in between via a decentralized brokerage. Designed using advantages from PoS, DPoB consists of two core components: Brokers and Non-Broker Stakers.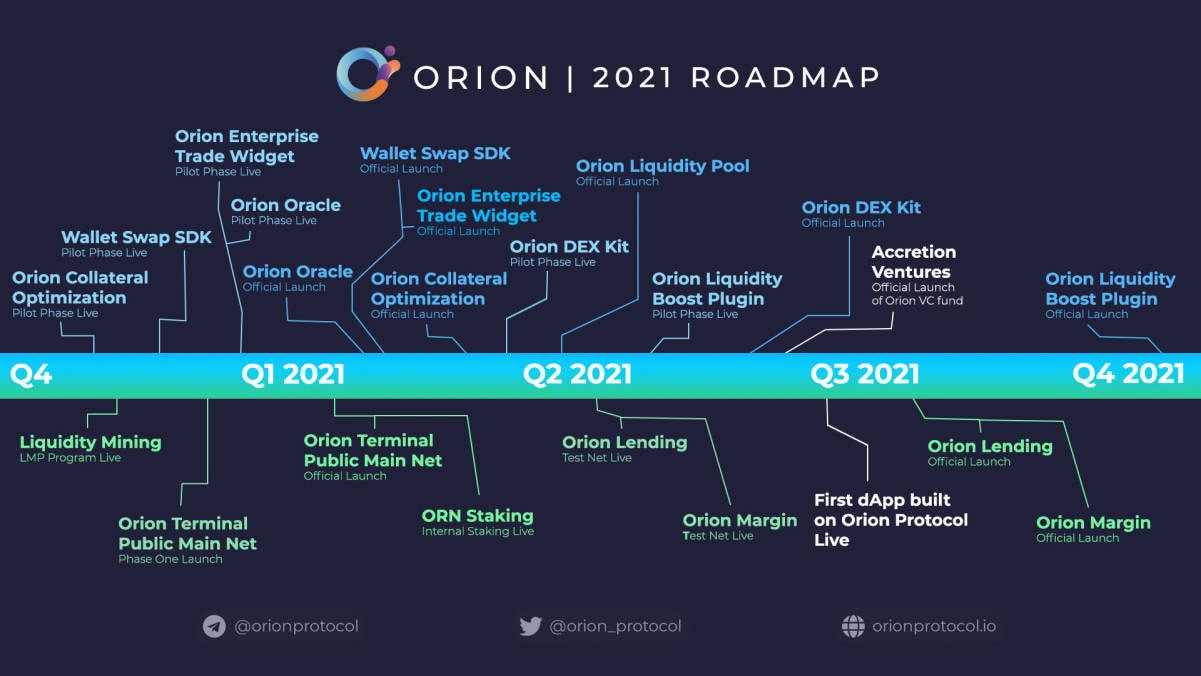 2021 Orion Roadmap
Brokers with exchange accounts run Orion Broker Software, automatically executing trades routed from the liquidity aggregator. Brokers are chosen to execute trades based on how much ORN, Orion's native token, they stake. Non-Broker Stakers stake ORN to 'vote' for their choice of Broker based on the variable benefit share offered. Brokers are incentivized to offer them attractive rates to grow their stake and increase their chance of being chosen.
In October 2020, Orion Protocol announced an integration with Chainlink to achieve full collateralization of Orion's Decentralized Brokerage. Orion Protocol started using and supporting a Chainlink-powered ORN/ETH price oracle, as well as integrating all price oracles available. Orion Protocol started to provide Chainlink with data from its advanced liquidity aggregator to bolster Chainlink's price oracle services, making Orion Protocol's trading data available to other DeFi dApps via the Chainlink Network[4].
In November 2020, Orion Protocol's Private mainnet went live and onboarding inaugural brokers for functionality and security optimization. With near full-functionality, this milestone is the final phase prior to Orion Terminal's launch to the public, set for Q4 2020. Half a dozen inaugural brokers were onboarded to take part in Orion Protocol's private mainnet and their input will be tested with the speed and efficiency of each broker's output on the network used to gauge future performance. This phase is also used to determine the rate of return for Non-Broker Staking on the Terminal. Non-Broker Stakers stake ORN to 'vote' for their choice of Broker based on the variable reward share offered. Brokers are incentivized to offer attractive rates to Non-Broker Stakers to grow their stake, increasing their chance of being chosen[5][6].
Features
Some of the features of the Orion Protocol include[7]:
Orion Terminal: providing access to the liquidity of the entire crypto market on one decentralized platform, without the need for users to ever give up their private keys.
Orion Lending: Similar to how Orion Terminal aggregates order books, Orion Lending aggregates lending APRs from centralized and decentralized providers to ensure both borrowers and lenders can seamlessly use the best available rate.
Orion Margin: The lack of order book depth on decentralized platforms hindered the creation of high-margin (ergo, 100x) trading on decentralized exchanges. However, Orion Protocol can enable such a service as it aggregates the liquidity and depth of centralized exchanges through decentralized executions.
Orion Enterprise: exists to help businesses in the space build sustainable, decentralized ecosystems, giving them the liquidity, accessibility, and growth they need.
Orion Price Oracle: Orion Protocol enables the market-leading price oracle that is resilient to price manipulation due to price derivation from every order book in the market.
Orion DEX Kit: allows blockchains to build decentralized exchanges, specific to their chain.
Orion Liquidity Boost Plugin: A pluggable liquidity source to any centralized or decentralized market. Exchanges can utilize the Orion Plugin to improve their order book depth and liquidity.
Orion Enterprise Widget: A middle layer between crypto projects with utility tokens and all available liquidity of the token on the markets. Tokenized projects' enterprise clients can purchase tokens directly from the project's platform or website by routing orders from all exchanges carrying the token, returning tokens for immediate use.
Orion App Store, where Orion-powered decentralized applications (DApps) can be safely accessed and leveraged.
Orion Terminal
Orion Terminal aggregates liquidity from the largest centralized and decentralized crypto exchanges as well as swap pools into a single order book.  In June 2020, Orion Terminal's Orbit testnet was rolled out to beta testers. Testers were invited to join Orion's Bug Hunter Program with a $10,000 USDT reward pool.  In October 2020, Orion Terminal was under a full-scale audit conducted by the CertiK Professional Services team. The official audit report is expected to be published during the Orion Terminal mainnet launch[8][9].
After rigorous testing with a closed group of brokers, the first phase of Orion Terminal will be live on December 15th at 2 pm UTC. Access to the first phase of the terminal will be prioritized based on share ranking through a referral scheme. Platform updates will be continually rolled out over the month following the launch of Orion Terminal, including ORN staking in early Q1. Additional features to be added to the terminal next year include lending, margin trading, leveraged ETFs, derivatives, contract trading, NFTs, and staking of any digital asset type.
Tokenomics
The Orion platform and ecosystem is powered by the ORN token, an ERC-20 token.
Orion ensured deep utility of the token across the ecosystem, integrating it into all main transactions to take the form of an internal currency or utility token. It's required for payments, staking, participation, and the unlocking of advantageous network access with discounts on trading, oracle usage, and protocol access.
Orion Terminal: Similar to the tokens integrated with platforms like Binance, ORN will give holders a range of benefits, plus additional functionality that will add further value to users. Orion Terminal users can gain a fee discount when paying with the ORN token, and also are able to earn additional transaction fees by staking ORN.
Decentralized Brokerage: Brokers must stake ORN tokens to be chosen to execute trades, while non-brokers stake ORN tokens to vote for their broker of choice.
Orion Enterprise: The token utility of each DeFi (Decentralized Finance) solution lies in the integral role the ORN token plays in the decentralized brokerage, with every transaction within each solution acting as a trade being carried out by a broker. Profit share from each transaction will be shared back to the respective brokers in the form of ORN tokens.
In June 2020, Orion Protocol's private sale was officially closed, having been oversubscribed by over 300%. After having experienced a significantly high volume of interest, the Orion team decided to reduce the public sale allocation by over 90%[10].
In July 2020, the first phase of Orion's public sale, the first-ever blockchain-based, non-custodial token sale lottery, was announced. $30,000 (75%) of the Orion Protocol public sale quota was allocated to $ERD holders through a lottery on the DYCO platform.  On July 14, 2020, BitMax.io announced the primary listing of ORN under the trading pair ORN/USDT[11][12].
In August 2020, Orion team developed an initiative to facilitate and incentivize staking. Through a lucrative multi-exchange pre-staking program, Orion Protocol's ORN token became available for staking on BitMax.io, KuCoin, and Biki for staking rewards at a 39% annual percentage rate (APR). In two weeks since the launch of Orion Protocol's pre-staking initiative, 50% of ORN's circulating supply was staked[13][14].
Liquidity Mining Program
In October 2020, Orion's first official liquidity mining program was launched via Uniswap. The program rewards ORN Liquidity Providers (LPs) on Uniswap with up to 150,000 ORN per month for ORN/ETH. This reward amount is distributed proportionally to the amount of liquidity each person provides, therefore the annual percentage rate per person will depend on how many LPs participate[15].
Orion Protocol implemented a time-based reward system to further incentivize long term liquidity providing via a 'bonus pool'. 80% are distributed proportionally to all LPs who commit liquidity to Uniswap, while 20% of LP rewards are reserved for those who have continuously provided liquidity for the previous month, starting from the 16th of October. Orion Protocol calculates this additional incentive based on the minimum amount of liquidity that each person provided in the previous month. This program remains in place for each subsequent month, therefore rewarding long-term LPs who continuously provide liquidity each month.
Pool rewards are calculated constantly by a smart contract and accrued rewards can be claimed at any time. Bonus pool rewards are proportional to the amount of time staked and are paid out at the end of the reward period (30 days). The longer a user provides liquidity, the higher the rewards.
KuCoin Hack
On September 26, 2020, KuCoin announced a hack that amounted to ~$200 million of stolen assets. A number of assets held on KuCoin were affected, including 3.8 million ORN. In order to prevent the hacker from profiting from the exploit at the expense of the ORN community, the Orion team took the executive decision to reissue all ORN tokens 1:1 via a token swap. ORN's ERC20 tokens were reissued 1:1 via a new smart contract, rendering the previous contract address, and tokens, obsolete. As a result, the stolen tokens became worthless and had no impact on the secondary market[16].
Aggregator Terminal for NFTs
In March 2021, Orion has announced that it will be including NFTs in its aggregator service, making it the first in the industry to provide a one-stop-shop for NFTs across all marketplaces and platforms. With the Orion NFT terminal, users will be able to browse all NFTs for sale across the entire market in a single interface and pay for their NFT purchases in any ERC20 token[17].
Alongside the NFT terminal, Orion Protocol will also operate a price oracle dedicated to NFTs. It will feed price data back to the marketplaces and ensure prices are fair based on sales and market sentiment.
Partners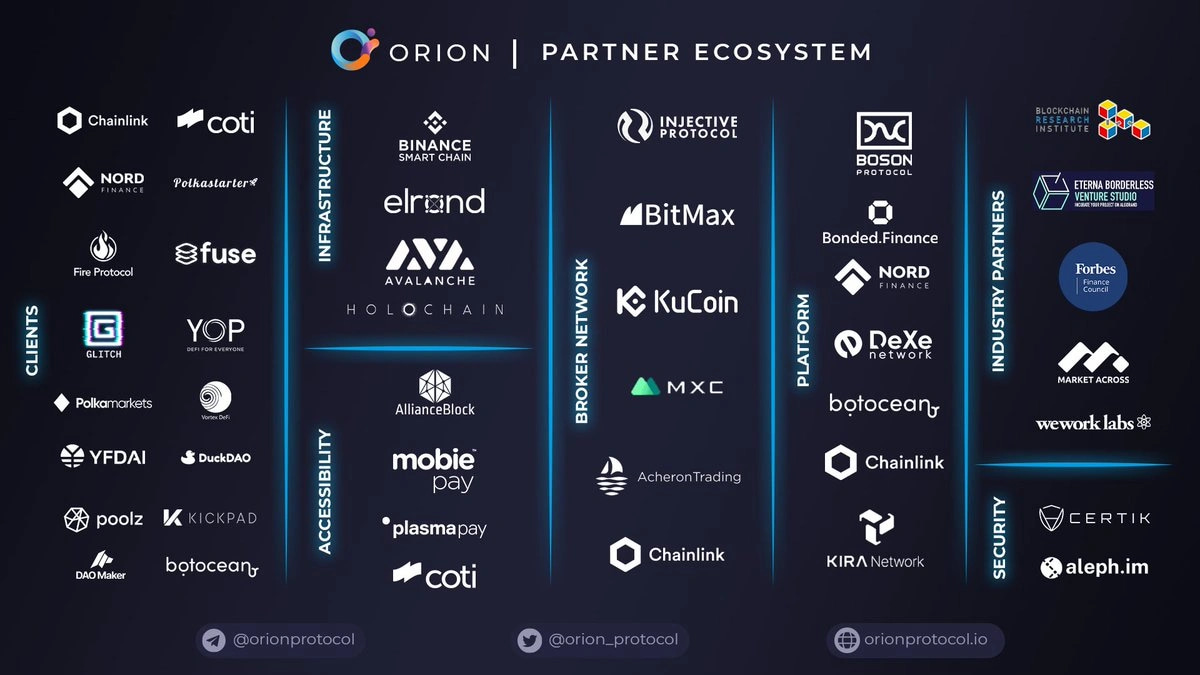 Orion Partners
BitMax.io now AscendEx
MXC
Elrond
Boson
KIRA Network
Eterna Borderless Venture Studio
Aleph.im
Holochain
Forbes
Market Across
CertiK
Blockchain Research Insitute
Wework labs
DeXe Network
MobiePay
BiKi
Polkastarter[18]
Team
Alexey Koloskov - CEO
Kal Ali - COO
Timothea Horwell - CMO
Yanush Ali - CSO
Eduardo Moreira - Head of Development
Simon Kruse - Lead Blockchain Engineer
Nail Fakhrutdinov - Lead Backend Developer
Eduard Zaydel - Lead Frontend Developer
Andrew Kirk - Community Director
In October 2020, Alexey Koloskov, CEO of Orion Protocol, was accepted into Forbes Finance Council, an invitation-only council for executives in accounting, financial planning, wealth and asset management, and investment firms. Koloskov was vetted and selected by a review committee based on the depth and diversity of his experience. Criteria for acceptance include a track record of successfully impacting business growth metrics, as well as personal and professional achievements and honors. Koloskov started his journey in the crypto space in 2016 as Chief Architect and Creator of the Waves DEX. Prior to this, he spent years creating software for some of the largest international banks (including Deutsche Bank and UniCredit).
Advisors
Charles Read - Venture Partner at LaunchTeam, and heads up growth for Zumo, a non-custodial crypto wallet
Brad Townsend - Founder of Latitude Financial Services
Matt Jones - Client Partner at Accenture
Pranav Sharma - Co-founder & Managing Partner at Woodstock Fund. He is also Managing Partner at Alpha Omega Capital Partners
Damon Nam - Founder and CEO of Coinvest
See something wrong?
Report to us.
Orion Protocol
Did you find this article interesting?