Tezos (XTZ)
XTZ is the native cryptocurrency of the Tezos blockchain. It was created in 2014 by husband-and-wife team Arthur and Kathleen Breitman. It is used to pay transaction and smart contract execution fees in the Tezos ecosystem. [1]

Tokenomics
The total supply of XTZ is unlimited. Inflationary rewards are issued to stakers. Assuming that not all XTZ is staked at any given time, stakers and delegators can expect their annualized rewards to exceed the issuance of new XTZ. Those who hold XTZ but choose not to stake or delegate their tokens will experience dilution over time due to new token issuance. [1]
Funding
The Tezos Initial Coin Offering (ICO) is considered one of the largest ICOs in history, having raised $232 million in 2018. [2]
At the end of its crowd sale, Tezos had raised a total of 65,627 BTC and 361,122 ETH. The ICO, which started on July 1 and coincided with the passage of 2,000 transaction blocks on the Bitcoin network, did not have a cap on the total amount of tokens sold. This fundraising surpassed the previous record set by Bancor, a platform for launching new blockchain tokens, which raised $150 million at the time in mid-June 2017. [3]
Initial Token Supply
The distribution of the initial token supply was as follows: 79.50% was allocated to ICO participants, 0.41% to early backers and contractors, 10% to the Tezos Foundation, and 10% to Dynamic Ledger Solutions.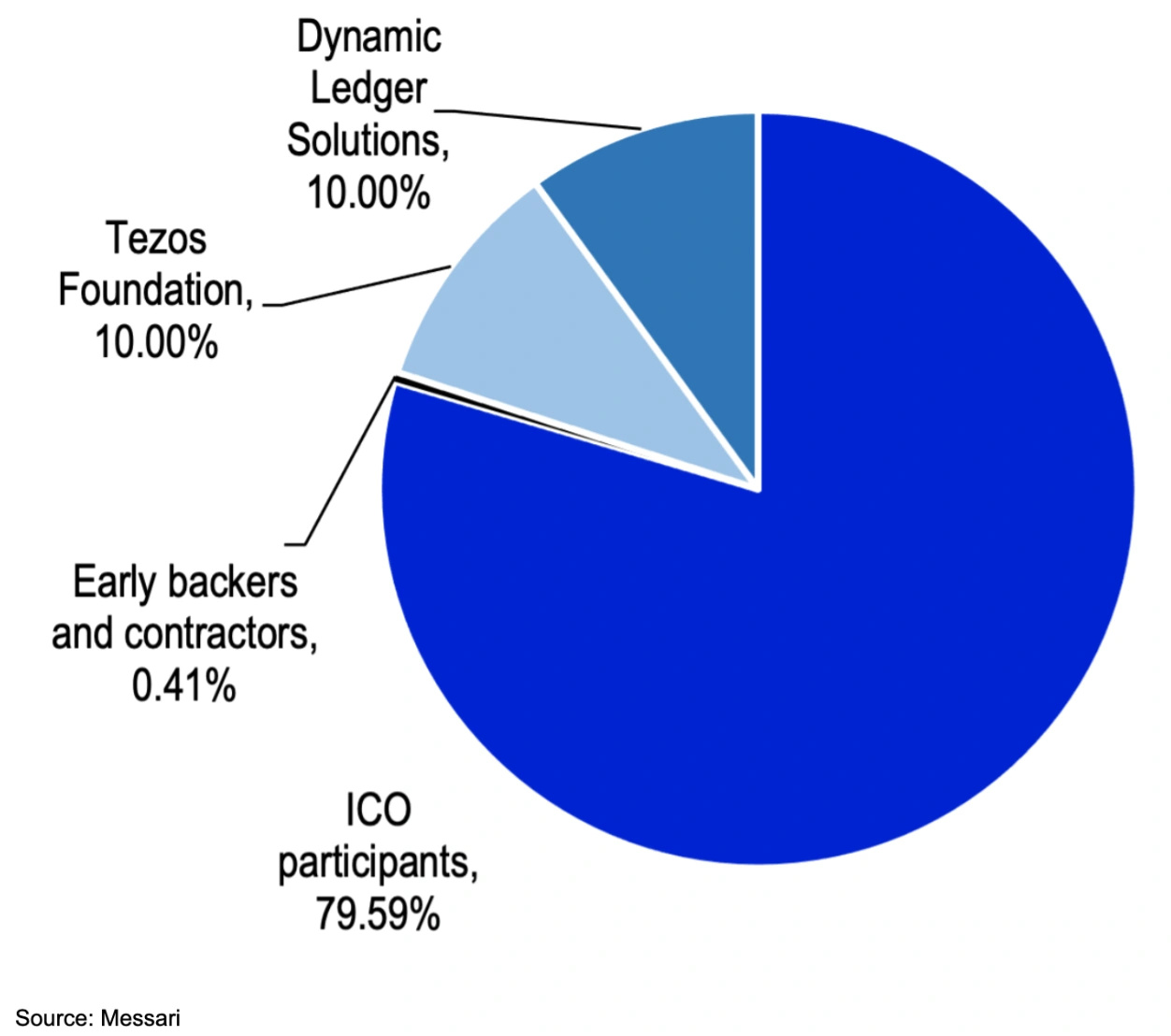 Utility
XTZ has various uses within the network. Firstly, it is primarily used to pay gas fees associated with transactions or smart contract execution. Secondly, holders can stake validator nodes to secure the network and receive newly issued XTZ tokens as rewards in proportion to the number of tokens staked. Additionally, members of the community who propose successful protocol upgrades are also awarded XTZ tokens. Tezos' unique on-chain governance system allows stakers of any size to participate in protocol development via pro-rata shares of voting rights. XTZ holders can also delegate their voting rights to other validators or stakers if they are unable to directly stake themselves. [1]
See something wrong?
Report to us.
Tezos (XTZ)
Did you find this article interesting?