PancakeSwap
PancakeSwap (launched in September 2020) is an automated market maker (AMM) and Decentralized Exchange (DEX) built on the Binance Smart Chain, that allows users to swap tokens (Buy and Sell), earn passive income by providing liquidity to the platform, stake coins to earn rewards and also get a chance to win some $CAKE tokens through a lottery.[1][2][3]
PancakeSwap Offers Its users access to lotteries, Digital collectibles (NFTs), trading tournaments, and launch pads for ambitious developers. PancakeSwap has two native tokens which are, $CAKE and $SYRUP which are both BEP-20 standard tokens, the token model involves using CAKE as a utility cryptocurrency and SYRUP as an LP token which earns its users rewards for holding it. Since it runs on the binance Smart Chain, users enjoy a much lower transaction fee compared to Ethereum or Bitcoin.[4][5][6]
On February 17, 2021, PancakeSwap became the first billion-dollar project on the Binance Smart Chain.[7][8]
On the 6 of June 2022, Binance Labs, the venture capital and incubation arm of Binance, announced that it has invested in PancakeSwap's utility and governance token ($CAKE), An investment, which is said to be part of Binance Labs' mission to facilitate the next wave of global blockchain adoption by providing technology development, marketing, community support, and enterprise solutions for Web3 transformation.[9][10]
In August 2022, PancakeSwap announced some adjustments to the Syrup pools rewards proposal. The proposal is said to reduce CAKE emissions from the Syrup pools. Also, a total of 7,040,800 $CAKE (about $34 million) were burned from trading fees, gambling prediction, and lottery fees.[11]
As of October 2, 2022, PancakeSwap gained over 1.9 million monthly users with a $4.1 billion Total Value Locked.[12]
Background
The platform was launched in September of 2020, by anonymous developers with an apparent passion for pancakes. This coincided with the peak of the DeFi market, which resulted in high gas prices and some congestion on the Ethereum network. The Ethereum network could barely keep up with the number of investors the market had attracted.


Therefore, PancakeSwap entered the market during this tough period, offering lower swap fees at 0.25% as well as bridges to wrap non-Binance Smart Chain compatible tokens that are not BEP-20. Due to these additions and enhancements, PancakeSwap and the CAKE token swiftly established themselves as market leaders. It went live as an alternative to decentralized exchanges, like
Uniswap
and
SushiSwap
, native to the Ethereum ecosystem.
The primary selling point of PancakeSwap is that it is a fully decentralized exchange where deals and orders are carried out automatically by smart contracts.[16][17]
Overview
PancakeSwap is a Binance Smart Chain-based decentralized exchange (DEX) with an automated market maker (AMM) model for swapping BEP-20 tokens. It offers its users various features such as Liquidity Pools, Swapping, Yield Farming, Syrup Pools, Initial Farm Offering (IFO), and an NFT profile system.
The decentralized exchange offers cheaper and faster trading without the involvement of a centralized authority. The trading platform eliminates order books and middlemen. To achieve this, the platform encourages users to add money to liquidity pools that other users can trade against using an AMM. Each liquidity provider (LP) gets rewarded in LP tokens, which can be obtained by using these tokens. it is made possible to transfer tokens from other platforms and "wrap" them as BEP-20 tokens for use on the DEX using Binance Bridge, PancakeSwap is used solely for BEP-20 tokens operating on Binance Smart Chain.
Along with this, the exchange helps users make the most out of their crypto assets by trading, earning through yield farming, and winning via lottery, prediction, and NFT collectibles. PancakeSwap has been leading the development and mass adoption of BNB Chain it is the most widely used dApp and the DeFi project with the highest TVL and over 400,000. daily users on BNB Chain.[13]

According to Binance Labs, ever since it launched back in 2020, The exchange has been regularly audited by blockchain security companies, such as Slowmist and Certik.[14][15]
How it Works
PancakeSwap utilizes user-generated liquidity pools to enable users to swap between cryptocurrency assets, much similar to the popular Uniswap DeFi AMM system that runs on Ethereum. It offers a diverse range of Defi farming alternatives for liquidity providers to construct said liquidity pools. The Exchange is decentralized as it does not require any form of KYC for users to begin trading.
Trades that occur on the Exchange are done by liquidity pools filled by users who lock their tokens through smart contracts. A commission is required for each exchange a trader makes. A further amount is allocated to the project budget, CAKE buyback, and burn plans.
A portion of the transaction fees paid by traders is given as an incentive to the liquidity providers. Depending on their portion of the overall liquidity placed in the pool, each liquidity provider is given a certain percentage. This percentage is given CAKE, the pancakeswap native currency. This governance utility, in particular, ensures that users can influence policy changes and developmental implementations.[18][19]
PancakeSwap works with multiple decentralized wallets, the most commonly used ones are MetaMask Wallet, Binance Smart Wallet, and Trust Wallet.
Products
Exchange
Token swaps on PancakeSwap allow users to trade one BEP-20 token for another via automated liquidity pools. The liquidity provided to the exchange comes from Liquidity Providers (LPs) who stake their tokens in "Pools. In exchange, they get FLIP (PancakeSwap Liquidity Provider) tokens, which can also be staked to earn CAKE tokens in the "farm".
When users make a successful token swap (trade) on the exchange they will pay a 0.2% trading fee, which is broken down as follows:
0.17% - Returned to liquidity pools in the form of a fee reward for liquidity providers.
0.03% - Sent to the PancakeSwap Treasury
Yield Farming
PancakSwap Yield Farms allow users to earn CAKE while supporting PancakeSwap by staking LP Tokens. On the farm, users can deposit their LP tokens, locking them up in a process that rewards the farmers with CAKE.
In essence, farms are LP staking pools that let their members increase the interest they receive on their holdings.
The Initial Liquidity Pools (LPs) for farming CAKE tokens included:
CAKE-BNB
BUSD-BNB
ADA-BNB
BAND-BNB
DOT-BNB
EOS-BNB
LINK-BNB
BAKERY LP
BURGER-BNB
Staking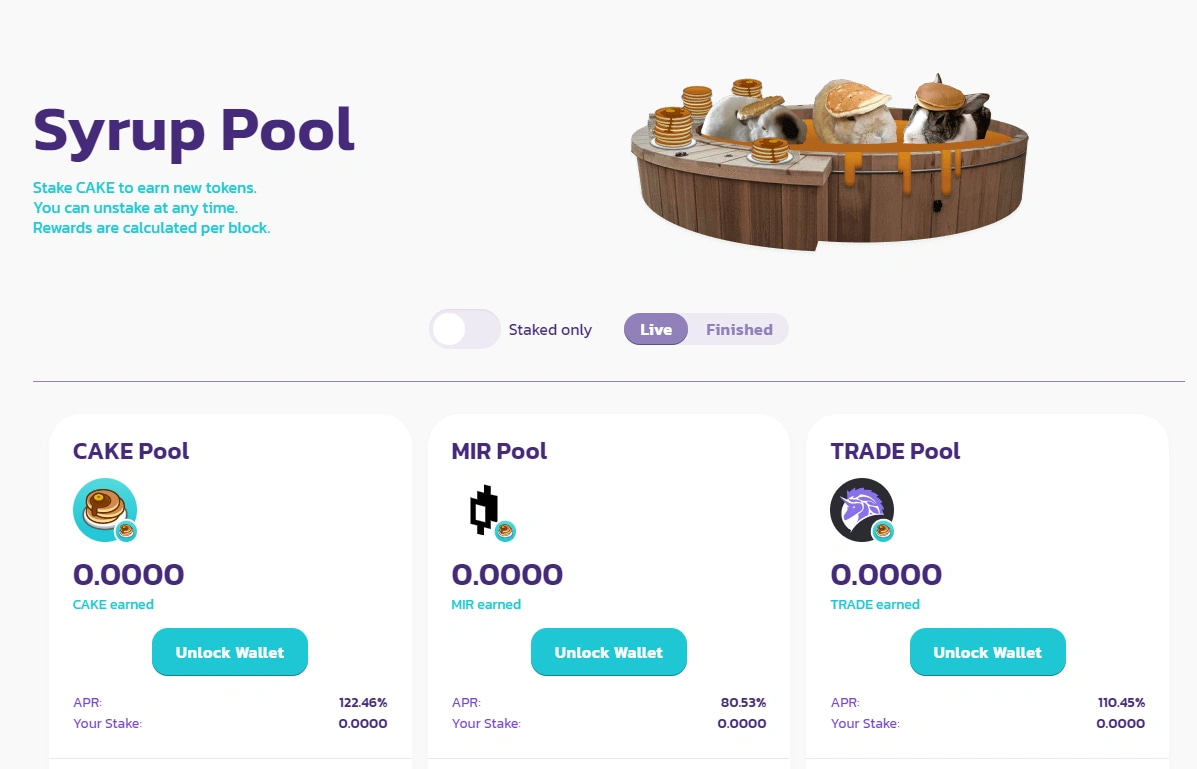 Syrup Pools is one of the simplest ways to earn free tokens on PancakeSwap. Syrup Pools is a way a user can stake their CAKE tokens. To do this users need to deposit their CAKE token in a syrup pool to receive the project's BEP-20 token in return.
The pool constitutes of two different options of staking, flexible staking, and fixed-term staking, and has a lock period of 1-52 weeks.
Pools
PancakeSwap pools allow users to provide liquidity by adding their tokens to liquidity pools or "LPs".
When users add their tokens to a liquidity pool (LP), they receive FLIP tokens (PancakeSwap's version of liquidity provider tokens).
As an example, if a user deposited $CAKE and $BNB into a liquidity pool, they would receive CAKE-BNB FLIP tokens. The number of FLIP tokens they receive represents their portion of the CAKE-BNB liquidity pool. They can also redeem their funds at any time by removing their liquidity.
Providing liquidity is not without risk, as users may be exposed to impermanent loss. Liquidity providers will also be given a reward in the form of trading fees. Whenever someone trades PancakeSwap, the trader pays a 0.2% fee, of which 0.17% is added to the liquidity pool of the swap pair they traded on.
Example
There are 10 FLIP tokens representing 10 CAKE and 10 BNB tokens.
1 FLIP token = 1 CAKE + 1 BNB
Someone trades 10 CAKE for 10 BNB.
Someone else trades 10 BNB for 10 CAKE.
The CAKE/BNB liquidity pool now has 10.017 CAKE and 10.017 BNB.
Each FLIP token is now worth 1.00017 CAKE + 1.00017 BNB.
Liquidity Providers can also put their FLIP tokens to work whipping up some fresh yield farming, while still earning their 0.17% trading fee reward.[14][16]
Lottery v2
PancakeSwap also offers its users the ability to play the lottery. Playing the PancakeSwap Lottery gives users a chance to win huge CAKE prizes, and unlimited entry tickets, so long as the user can afford the tickets.
To play the lottery, the user needs to guess a winning six-digit combination made up of numbers between 0 and 9. Each Lottery ticket cost for 1 ticket is USD 5 in CAKE.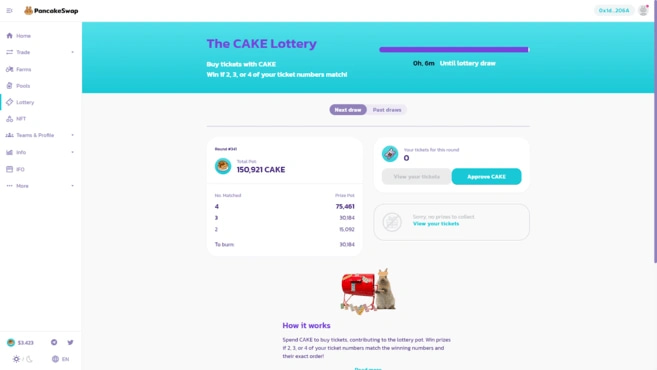 The system will automatically produce a random combination for a user when they purchase a ticket. If their combination matches the winning ticket, they will be declared the winner at the end of the lottery session and receive 50% of the total prize money.
However, even if the ticket does not match the winning tickets, the user may still be eligible for incentives if at least two of the winning numbers on their ticket match those on the losing ticket. They must, however, be placed in the same order as the winning combination's winning numbers.
The Lottery uses Chainlink's implementation of VRF for true, secure randomness.[21][22]
NFT Marketplace

Non-fungible tokens based on the BNB Chain can also be traded on PancakeSwap. Users can buy and Sell verified
Non-Fungible tokens
on the marketplace. Launched in 2021, THE marketplace recorded a trading volume of over $3.6 million on its first day of trading.
[23]
To mark the launch, PancakeSwap launched its special collection of NFTs called PancakeSquad. It is a collection of 10,000 unique, randomly-generated PancakeSwap NFTs from the mind of Chef Cecy Meade.
PancakeSwap, also allows its users to create customized profiles. These profiles give users the option to select their name, join a team, and select an image from their collection of NFT profile photographs to serve as their profile's display image.[24][25]
IFO (Initial Farm Offering)
An IFO enables CAKE-BNB liquidity providers to buy a new project's tokens. This enables the acquisition of tokens from fresh projects by liquidity providers on the CAKE-BNB currency pair using PancakeSwap.[26]
The Initial farm offerings give CAKE holders early access to projects[29]
CAKE Token
$CAKE is a BEP20 token that operates on the Binance Smart Chain. It also functions as the governance token of the PancakeSwap protocol, which ensures that users can influence policy changes and developmental implementations. It is also used to incentivize the liquidity providers of the PancakeSwap platform.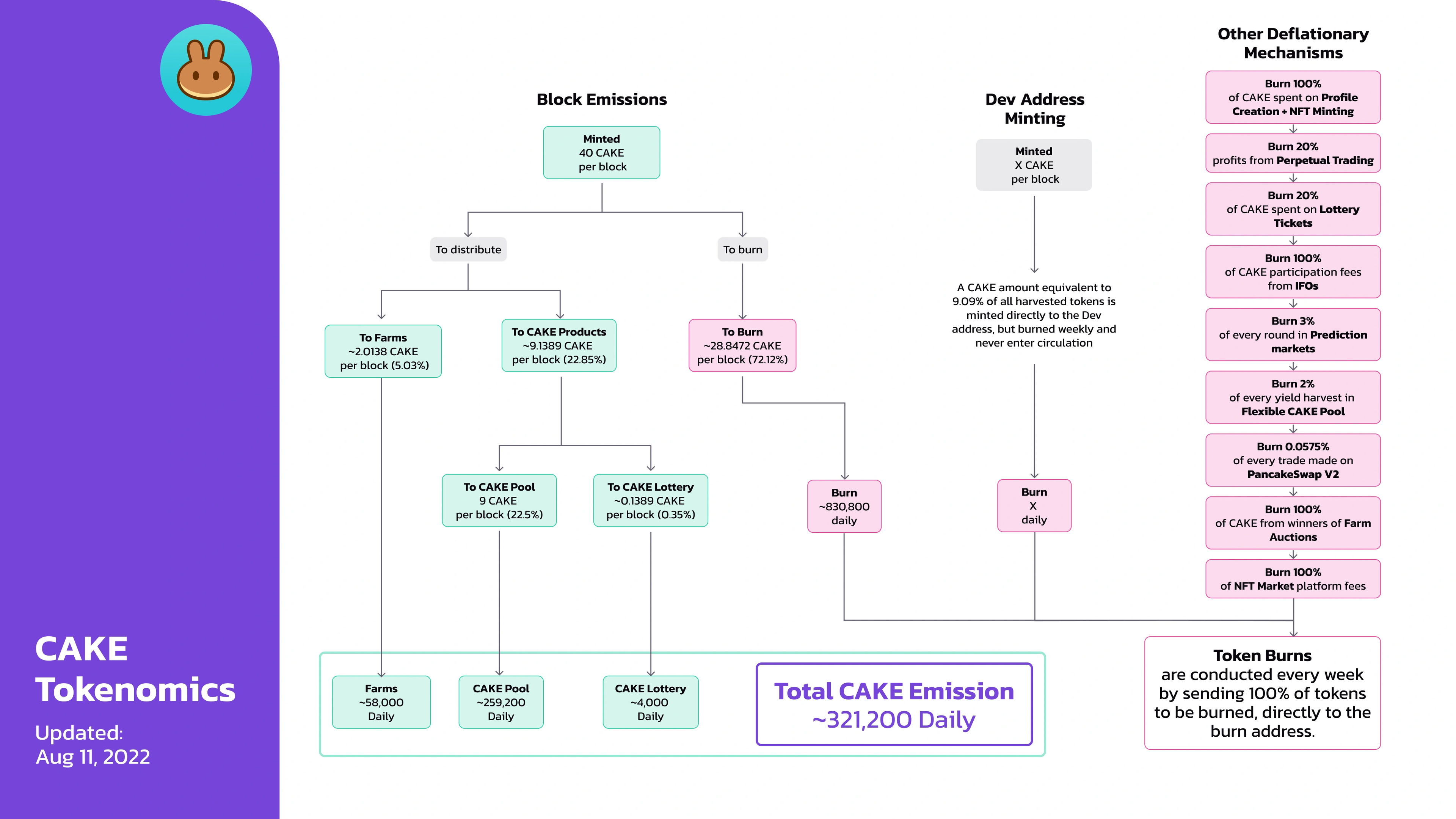 By depositing and locking
Liquidity Provider
tokens, users can stake their tokens to gain incentives. Farming is what this is referred to as, and the system awards CAKE tokens for it. The tokens have no holding period after being unstaked. CAKE offers customers the chance to put money aside now to increase earnings later on, but there are hazards.
On PancakeSwap, CAKE can be used to participate in a lottery. Each drawing lasts six hours. A single ticket costs 10 CAKE and has four numbers on it that are chosen at random from 1 to 14, for instance, 8-6-4-13. Your ticket's numbers must exactly match all four of the numbers on the winning entry to win the jackpot, which represents 50% of the total prize pool.
Additionally, users have the chance to win non-fungible tokens, which they can keep or exchange for CAKE.
As of October 2022, PancakeSwap (CAKE) has a circulating supply 139,533,277 CAKES and a total supply of 750,000,000 CAKE tokens.
Use Case
Used to govern the PancakeSwap Ecosystem
Yield Farming
The PancakeSwap Lottery
Can be staked to earn Rewards
Participate in IFO Token Sales
Create your Pancake Profile and mint NFTs
Emission rate
| Metric | Emission/block (CAKE) | Emission/day (CAKE) |
| --- | --- | --- |
| Emission | 40 | 1,152,000 |
| Burned Weekly | ~28.84 | ~830,800 |
| | | |
On August 11, 2022, Chefs implemented some configuration upgrades to take full advantage of MasterChef v2. It eliminates the 45,000 CAKE daily burn for the legacy lottery injections. Those burns will now be handled by MasterChef v2 directly along with the usual weekly CAKE burn. Therefore, the effective emissions are now even lower.
Distribution
| Distributed to | Reward/block (% of emission) | Reward/block (total CAKE) | Reward/day |
| --- | --- | --- | --- |
| Farms | ~5.03% | ~2.0138 | 58,000 (approx) |
| Lottery | ~0.35% | ~0.1389 | 4,000 (approx) |
| CAKE Syrup Pool | ~22.5% | ~9 | 259,200 |
| Total Daily CAKE Emission | | | 321,200 (approx)[20] |
Merch
On October October 12, 2020, PancakeSwap announced via Twitter, that users could purchase PancakeSwap merch on Teespring.
PancakeSwap Treasury
PancakeSwap Treasury functions as a platform for virtual currency exchange, much like a traditional bank would. As a result, it promotes the ecosystem's further expansion. PancakeSwap specifically levies a fee of about 0.03% of the number of fees gathered on its site. In order to protect against inflation, the Treasury also regularly conducts "burns" to modify supply and demand in response to market conditions.[28]
Binance Bridge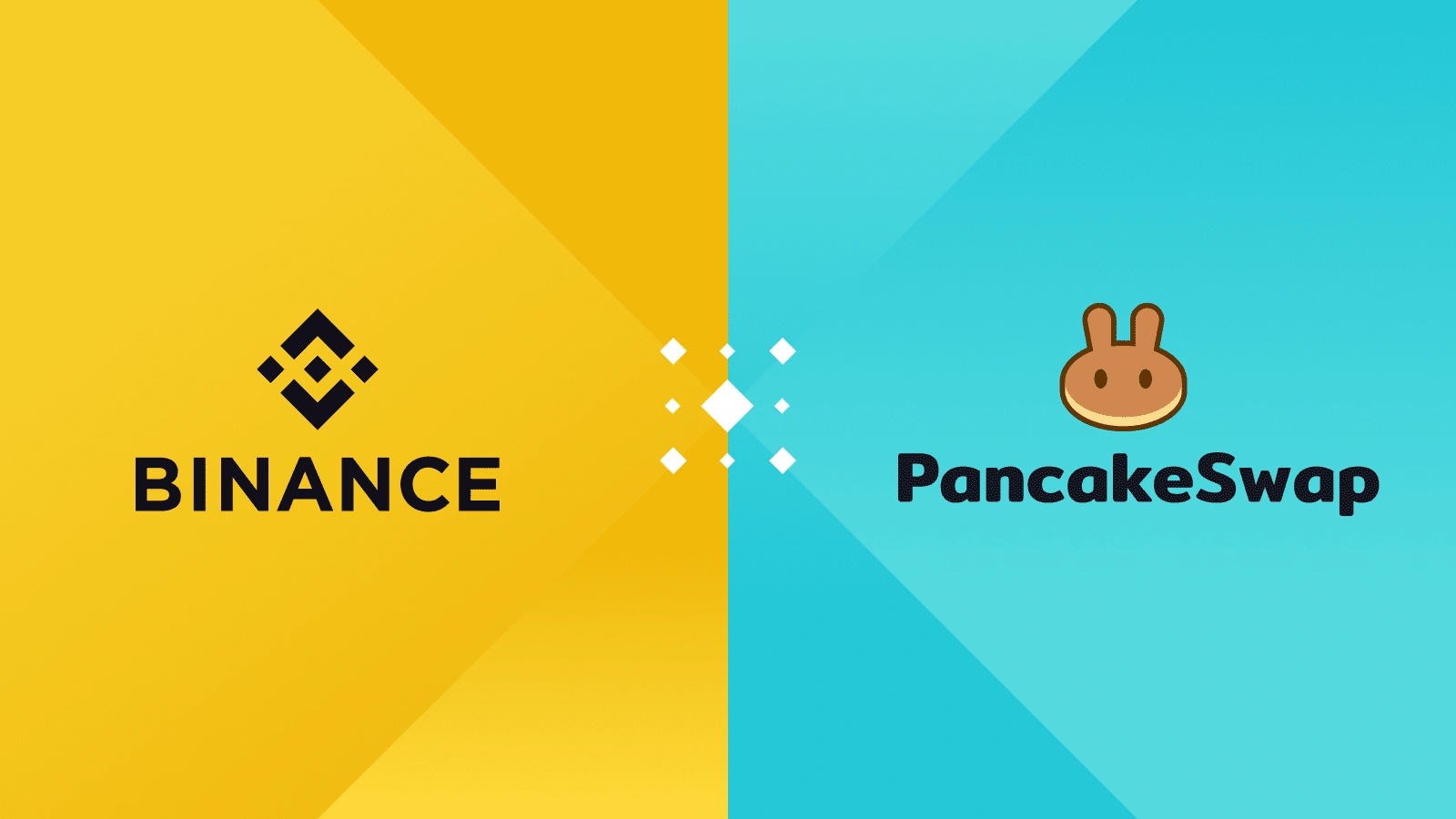 Pancakeswap through the help of
binance
offers its users a way to bridge their non-BEP 20 tokens. If a user wants to trade
ERC-20
tokens on PancakeSwap, they will need to wrap them on the Binance Bridge to turn them into BEP-20 assets. This allows the movement of tokens from the
Ethereum
network to the
binance smart chain
network and also back.
To do this, a user will need to connect any decentralized wallet either Metamask or Trust wallet to the Binance Bridge, sign into it, and perform the necessary transaction which will attract a gas fee in ETH.
The Binance Bridge isn't just for cross-chain assets used in trading. users can also use it to bridge Ethereum assets they want to use to provide liquidity and yield farming on PancakeSwap.[27][28]
See also
See something wrong?
Report to us.
PancakeSwap
Did you find this article interesting?